A naturally dominant black female and bodybuilder who's presence you can feel when she enters the room. You start to feel a rise and it's not just your pulse. As she makes her assessment and glares at you, you can sense and see the assertive, sadistic, and yet sensual ebony domme who stands before you. She enjoys flaunting her athletic and muscular body teasing you with her womanly curves, full lips, hypnotic eyes and seductive voice - but make no mistake she, can and will impose her will when needed. She will expose your weakness, dominate and control you, and your pain and desire will become her pleasure. Your fantasy will become a reality, as you will helplessly become her slave.
www.mistresstreasure.net
Personally, I'm still getting used to thinking about 2013 Nationals champion
Victoria Dominguez
as 'Victoria Dominguez'. When I first came across her, she was very much 'Mistress Treasure', and Mistress Treasure makes an impression on a boy.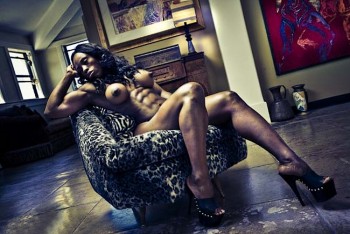 Mistress Treasure hung out and got down and dirty with Yvette Bova. Mistress Treasure promised to do all kinds of nasty things to your nether regions. Mistress Treasure stripped, slapped and then inserted all sorts of things into her unfortunate (or fortunate, I guess it depends on your point of view) chubby Asian flatmate.
Mistress Treasure hasn't gone away. You can still make your
Application for Servitude
on Mistress Treasure's
website
. However, it seems to me that in the last few years, Mistress Treasure has been getting more and more Victoria Dominguez.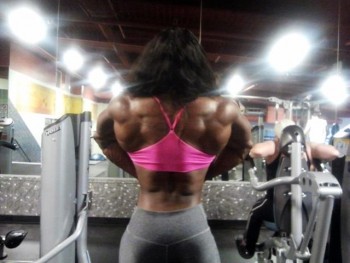 Not that Victoria/Treasure has any problem with her two personas.
Ever hear the phrase "There are two sides to every story"? Well, the same can be said about me. There are two sides to my persona and when they are brought together, they create the unique combination of muscles and curves that is Victoria Dominguez, a model and competitor on one hand...
www.victoriasplace.net
She has called the journey towards her win at the Nationals her 'Road to Max Muscle', and last weekend was the culmination of an amateur career that, in the last three years, has seen her competing at national level; three years of placing in the top five or six at every show; three years that have seen her grow and grow and grow...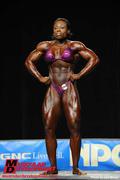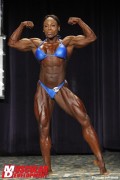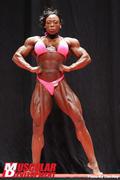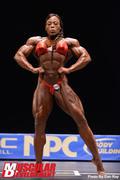 Victoria Dominguez, 2010
(top left)
to 2013
(bottom right)
I've SO MUCH respect for bodybuiilders that have been doing this year after year, for show after show,
she says.
I'm out of breath after holding that
[pose]
for like two seconds. Imagine being on stage, dehydrated, tired, hot lamps and you have to fucking smile in the process, I mean who wants to smile when you're dehydrated and tired and about to cramp the fuck up. Unbelievable! But yes, the show must go on...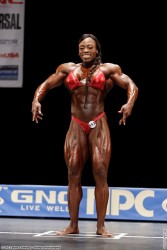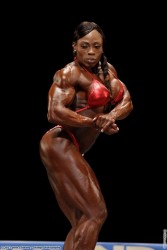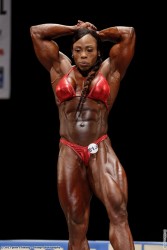 And, last weekend, she smiled and smiled and flexed and held her poses. Her combination of size and razor-sharp cuts saw her deservedly triumph. A worthy winner, and very probably the naughtiest woman ever to win the title!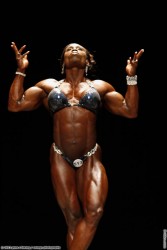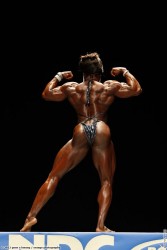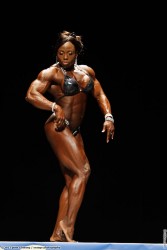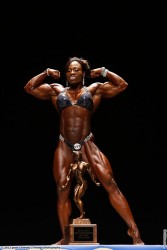 With every set back comes triumph and with every competition comes growth. My journey with the NPC has now come to an end and as I enter the IFBB I look forward to hitting the stage with old/new friends as well as athletes who have inspired me as well supported me at the NPC level. The road to success does not always equate to how one may finish but at times the hurdles one has overcome to get to the finish line. My story will continue...
Follow Victoria's continuing story on
her website
,
Facebook
and
YouTube
Or, if you prefer, Mistress Treasure, on
her website
and
Twitter
Congratulations Victoria!
Enjoy!