Imagine you could have a female bodybuilding contest where all the competitors were your favourites, and they would be at their absolute peak irrespective of the era they actually competed in. Kind of like Bill and Ted, you have a time machine and you can travel back and forth in time collecting your favourite FBBs for your dream show.
After much thought, probably too much, I narrowed my favorite FBBs down to twenty and will illustrate the post with the competitors I have selected in alphabetical order by surname. Meanwhile, I'll explain the format of the show, its rules, and how the judging will work.
So, to kick off, with a title borrowed from the excellent
Erotic Female Muscles
,
Female Muscle Slave presents its very own...
NUMBER ONE ORGASMIC MEAT EXHIBITION
The Judges
Me and two of my best female muscle lovin' buddies. But as I'll explain further below, the audience is also involved in the voting to varying degrees in different rounds during the contest.
Posing Suits
We really wanna see those glutes so thongs are mandatory. See-through posing suits may be a crowd pleaser, but are optional. We're trying to build to a climax, so only in the final two rounds will stripping be allowed, and only in the final posedown is full nudity permitted (and encouraged!)
Andrea, Boulanger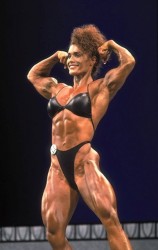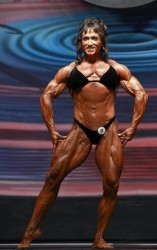 Coates, Colomb
The Format
Round 1: Compulsory Poses
Competitors take the stage one-by-one introduced (to rapturous applause, obviously) by the MC, Noel Edmonds (who is an FBB admirer for sure, he consistently had muscle women on his prime time shows back in the day, check out
this old clip
).
Gina Davis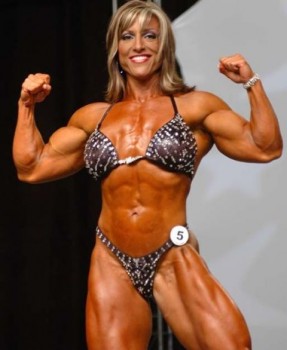 A pre-contest favourite with the bookies
I'd keep the same poses as normal, but add the most muscular pose to finish. Another addition would be allowing competitors to gain points by demonstrating muscle control, especially in the pec and glute departments and also by rolling their abs or shaking their quads when doing the abdominals and thigh pose. For the compulsory poses judges votes count for 75%, audience votes 25%.
Dennis, Dunlap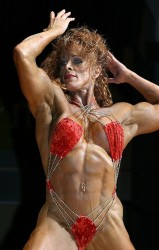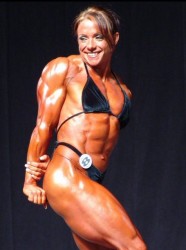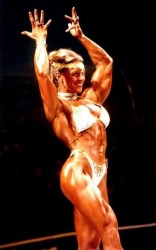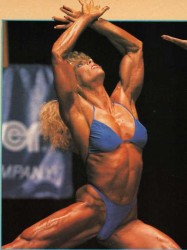 Duquette, Herndon
Round 2: Free-for-all
Call-outs seem like such a long, drawn-out way of doing things to me. Contestants spend so much time on stage doing nothing but dehydrating while others are front and centre. So rather than that, in my show the 'comparisons' round is a twenty-minute free posing round with all the competitors on stage at the same time. A sure fire crowd pleaser and a total meat-fest! Judges votes and audience votes count 50:50.
Hoshor, Hreapca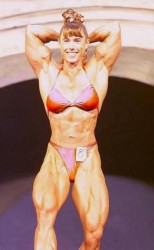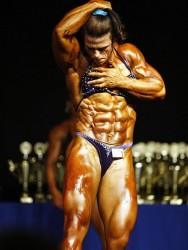 Cum-induction specialists
Round 3: Routines
Each competitor gets five full minutes to bring the audience to their feet. Or to attention, if you know what I mean. Again, voting is split, this time judges votes count 25% and audience 75%, so the ladies will be looking to whip the crowd into a right frenzy.
Korinkova
Just about to give it a good licking
There are no restrictions on what the competitors wear at this stage. And as the purpose of a routine (in my opinion anyway) should be to give the ladies a chance to express themselves, that's what we want them to do here. Self-admiration (feeling, kissing or licking the muscles) or busting out of your posing top at the finale of your routine is likely to prove popular with the fans, although taking it all off is not allowed yet!
Lehtonen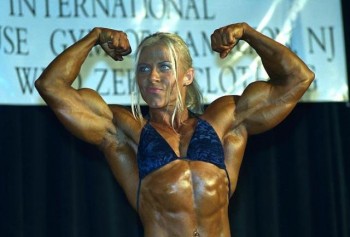 Looking smug as she causes another spectator to pass out
Round 4: Posedown
The top six competitors are called back on stage and there's an almighty posedown lasting ten minutes, and ideally ending with all six competitors naked. Any members of the audience and judging panel still able to vote (ie. able to tear one hand away from their groin area and press a button on a keypad) do so, each vote counting equal.
Murnikoviene, Neil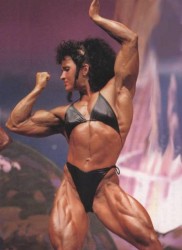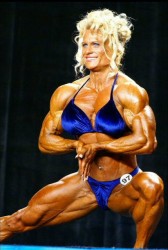 Mistresses of muscle control
In reverse order, the top six are anointed, literally. We cover them in high quality oil. Then the glistening body of the tearful winner, the muscle goddess of muscle goddesses, stays on stage to be admired, photographed and worshipped by all and sundry. Noel gets his money. We would like to ask members of the audience to put any used tissues in the receptacles provided, and see you next year.
Nielsen, Popa, Rutkowski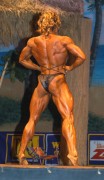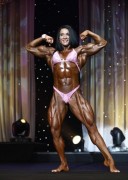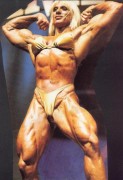 Six of the best legs in the show
Female Muscle Slave would love to hear what your dream line-up would be and how the contest would pan out. Comments can be left below, or if you prefer, email at the usual address (6ft1swell@gmail.com) and I will publish your choices on the blog with your permission.
Suzuki, Young
Igniting the chest debate
You can have as many or as few competitors as you wish. And as it's your show, you can also design the format and make the rules. There are literally no restrictions. Evening wear round? Armwrestling? Striptease routines? General knowledge? It's your call.
FMS looks forward to hearing from you. Hope you have enjoyed the posts this week when size has been everything. I'll be doing a spring-clean of the site soon (checking links etc still work), and normal service will be resumed shortly.
In the meantime, I leave you with the winner of the Number One Orgasmic Meat Exhibition...