In just over three weeks from now, the greatest female muscle show on Earth will be getting under way in Scottsdale, Arizona. This will be the fourth running of the contest the ladies themselves call "our Olympia", and - of Wings of Strength's own pre-show blurb is to be believed - the first to which no "special invites" will be handed out.

The reason for no invites, as far as I can tell, is that the line-up is already "stacked". Although not 100% confirmed as a line-up, with twenty-four women already qualified from placing high at last year's RP, winning a pro show in 2018, or earning four or more qualifying points, the show promises to be the biggest, best RP to date.

So I'm getting the preview in early...
HELLE TREVINO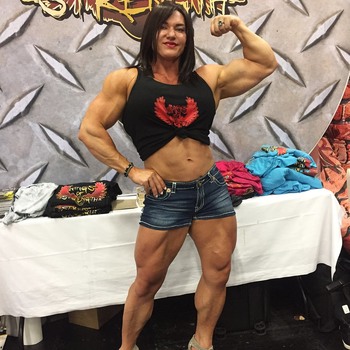 The reigning Queen of Female Bodybuilding has done her bit at WoS booths during the course of 2018, but otherwise she's been fairly low profile - and that's just the way she likes it. Helle is not the biggest fan of the likes of us - who can blame her?! - so rather than Instagram,
her YouTube channel
is the place to go if you want to see the kind of shape. Watch her destroy (male and female) training partners in clips with names such as
Funny Chest Workout
,
Building Massive Legs
and
Monster Calves & Shoulders
.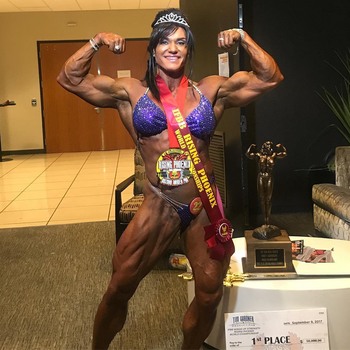 Though the champ, she probably isn't
the
favourite, but discount her at your peril - she's never turned up for the Rising Phoenix in less than immaculate condition, has only been out of the top two once, and deserved better than her 4th two years ago.
LE DUE ITALIANE
For the first time since
the days of Claudias Profanter and Montemaggi
, two Italians will strut their stuff at the world's premier female muscle show.
Barbara Carita
and
Cristina Franzoso
were the sole FBBs on show at the new-look San Marino Pro in June. Barbara earned her pro card the day before then outmuscled her veteran compatriot. Cristina, however, picked up four qualifying points for 2nd as a result, and added to the four she'd already got at the Galaxy Pro a couple of weeks earlier, she flew to the top of the points table, and has been there ever since.
MUSCLEDOLL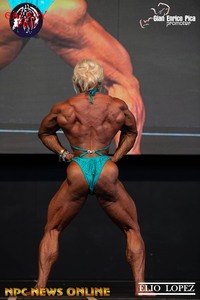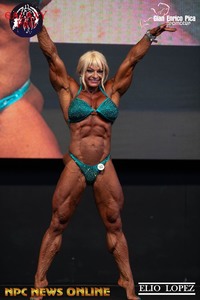 Also getting her RP qualification in early was
Maryse Manios
, winner of that Galaxy Pro in Bari, Italy.
She regally dominates... A true MASSIVE MATURE MUSCLE QUEEN!
proclaimed one of her many devotees on the forums after her victory, but 5th in Toronto (out of 7) was probably a better reflection of where Maryse truly is in the grand scheme of IFBB Pro Female Bodybuilding these days. Highly unlikely that she, or either of our two Italians will make the placings, but they all deserve their place.
JACQUELINE "JAY" FUCHS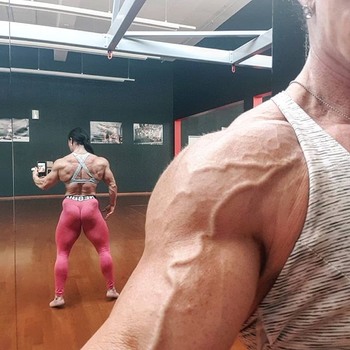 Another Euro muscle legend, however, is - particularly if current form (see above) is maintained - going to be in the mix for a automatic qualification for next year. Jay's 3rd in Chicago was met with consternation by her band of merry men, but they (and she) didn't have to wait long before she was handed a big (first place) sword.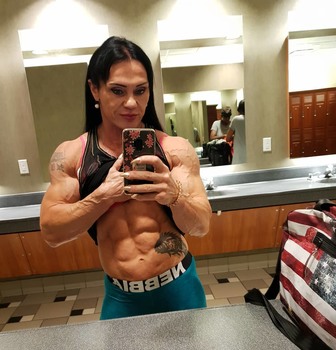 To me she never looks quite as breathtaking on stage as she does off it (not the only woman I could say that of), but a week after the Chicago show, Jay was crowned at the Lenda Murray Pro in Norfolk, and most recently placed 5th in Tampa in the best line-up of 2018 so far. She was 12th in her one and only RP appearance (last year), she could well break into the top 10 this time. Loyal fans will be hoping for even more.
DISTINGUISHED SERVICE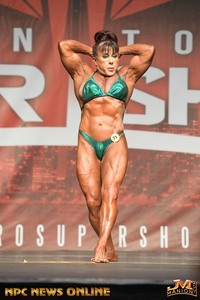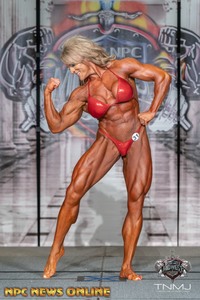 Over 55 as long ago as 2014,
Patricia
"Patty"
Corbett
just made it to the show on points, as did the equally long-serving (but a good ten years younger)
Angela Rayburn
- who of course has been to the RP before. Expect wardrobe malfunctions and a big bulge from Patty, that signature pose and a big bulge from Angela...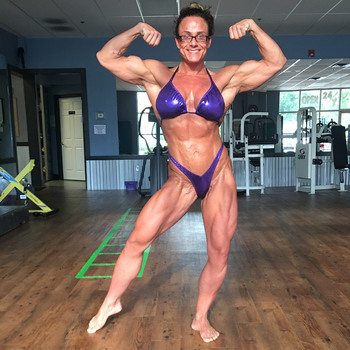 Tara, meanwhile, with not quite got as many years under her weight belt as Patty and Angela, spent the first couple of years of her pro career slumming it in Physique, but a decision this year to "go big" has paid off handsomely. She was immediately into the prize money as runner-up to Jay in Norfolk, and now she's now prepping for Arizona.
FBBUK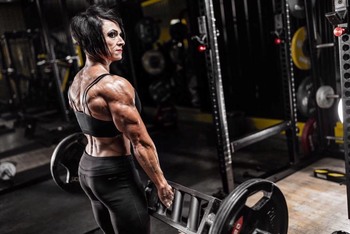 With no
Lisa Cross
this year - her 4th in Tampa wasn't enough (and wasn't right as far as I'm concerned either!) - British fans will be hoping that 2017's surprise RP package
Wendy McCready
can repeat the trick. Like Queen Helle, Wendy tends to keep a pretty low social media profile, but one thing we can say is that she's rather excited about going back again this year.
Just under 7 weeks until the greatest female bodybuilder competition in the world!
she wrote just over a month ago.
My MONDAY, Tuesday, Wednesday, Thursday, Friday, Saturday & Sunday MOTIVATION!!!
NICKI CHARTRAND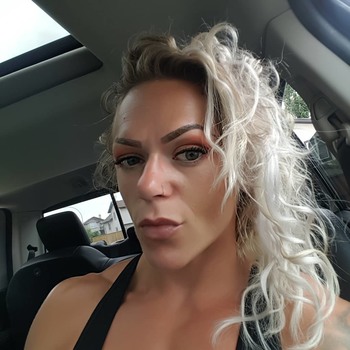 Whacky hair days notwithstanding,
Nicki Chartrand
is, I think, one of the shrewder operators in the WoS schedule game. Consequently, she's one of the bigger success stories of the last couple of years, apparently coming from nowhere to last year's Rising Phoenix (invite) and then her first pro win (Hawaii) at the start of this season.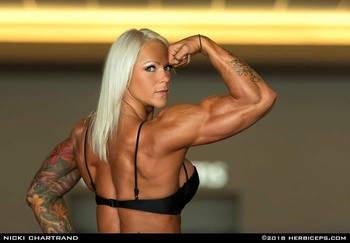 "Nicki! What's your secret?"
is, she says, a question she gets asked a lot.
Maybe I DO have a few tricks up my sleeve,
she says - not that she wears sleeves much, and who can blame her? But despite promising a new website where all will be told, so far those tricks are staying put. 12th on her RP debut, she'll probably do better than expected.
YER MS. INTERNATIONAL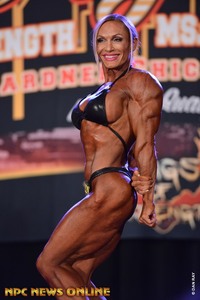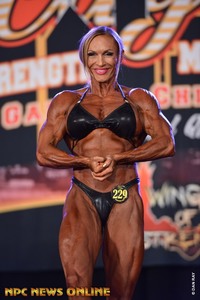 Crashing back into the collective consciousness in Chicago this year, the woman formerly known as
Susanna
(Bet You Can't Keep Your)
Hand
(s Above the Table) won the Ms International Classic in Chicago under her married name of
Susanna Jacobs
.
Who is this woman?
I, and I imagine many like me wondered as we clicked on her name at the Maximum Muscle Report gallery.
Oh! It's her...
we sighed, swooning, before reliving what we always used to do when Susanna was in her pomp.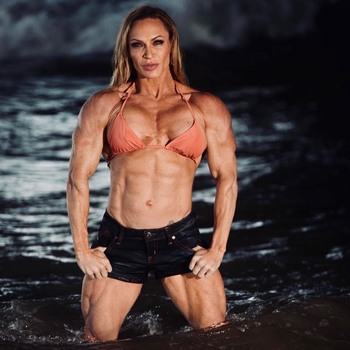 Susanna had nailed the conditioning like never before - good enough to place 4th the next day at the pro show - and although, yes, there's clearly been a bit of facial work, her eyes still have that same smouldering intensity when she wants to turn it on.
SADLY NOT JOINING US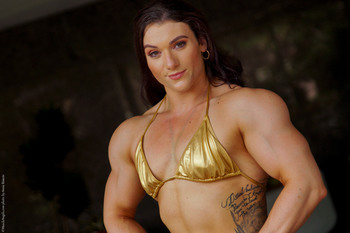 Jennie Roosa
, qualified on points thanks to her runner's-up finish behind
Nicki Chartrand
in Hawaii, won't, unfortunately, be making her RP debut this year. Jennie and her fella are expecting their first child, and we wish them well. I do hope this Alina-trained phenom will be back one day, but fear that day won't be anytime soon.
Our RP preview will conclude later this week.