At the rate she's going, it may soon be easier to list the women Lisa hasn't been filmed kissing and cuddling with. Today's survey is by no means comprehensive.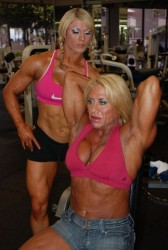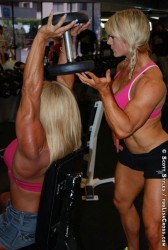 Lisa with Wanda Moore working out and then having 'a hot and exciting muscle showdown at the parking lot,' according to the description on World Class Muscle, which also promises 'lots of flexing and hardcore muscle pumping as these two girls shows off their hard, toned female physiques to each other!' Lisa led astray by an older muscle woman? The look in her eyes says she didn't need much leading...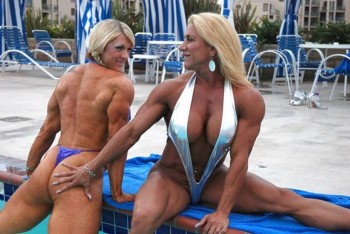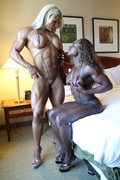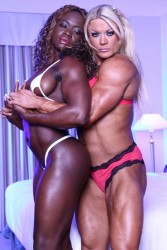 Lisa with Charmaine Patterson aka Sexy Charmaine aka Angel Curvz for Muscle Fantasies. No doubt who's in charge here, a role that Lisa has played again and again in her work. She looks huge compared to the Jamaican-born fitness model.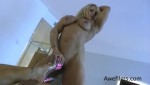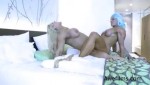 With Awefilms, Lisa has made a number of girl-girl clips. "Contract on the Queen Pin" with Nicole Pfuetzenreuter is an epic four-parter (20+ minutes in all) with a story line no less. As the 'film' reaches its, er, climax, Lisa's assassin is unable to fulfil her mission to kill 'The Queen Pin' (Nicole) as the latter seduces her. Cue all sorts of girl on girl naughtiness.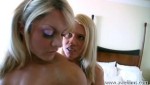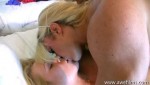 According to Lisa's website, 'Awefilms decided to get the 2 hottest girls on the planet together for some serious x-rated fun.' Turns out Lisa and Melissa Detwiller are the two in question. Melissa seems to be really really into Lisa, and vice versa. Apparently, this is one of the most requested/downloaded clips ever.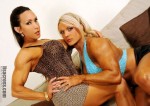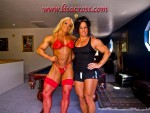 Lisa with female muscle directing legends Denise Masino and Annie Riveccio, both of whom she has worked with extensively. Or perhaps intimately would be a better word...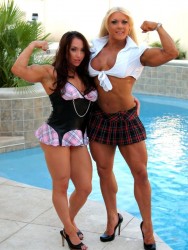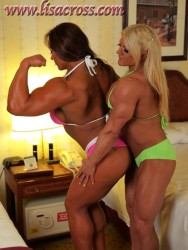 Lisa with Brandi Mae Akers (left) and Amber De Luca (right). The fact that Lisa can more than hold her own against two of the filthiest female muscle performers on the planet makes me proud to be British.
[eh? - ed.]
According to Lisa's website the Brandi Mae clip has them playing biology students who learn all about human anatomy with each other, 'Don't you just wish these two hot FBBs were in you class at school?' Meanwhile, Lisa finds herself in trouble when Amber finds out she has trained with another woman. Female muscle betrayal! 'Amber shows her who is boss, and for once, Lisa plays the sub,' says the blurb.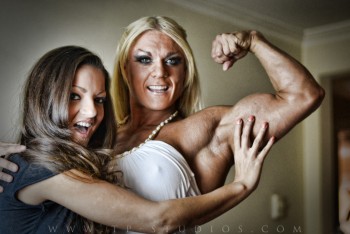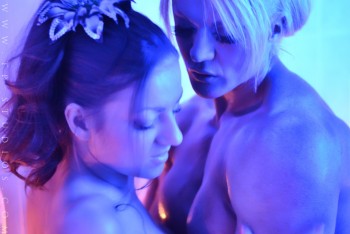 Most recently, though, Lisa has mined the seam left behind by the legendary Pam Angel - the muscle woman worshipped by a petite, sometimes fearful, subordinate. With the excellently-named Thought Provoking Studios, Lisa has been adored by American Charlie Mancini (above).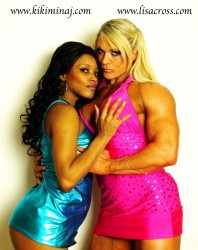 And for her own website, Lisa has worked with UK performer Kiki Minaj, exploring the female muscle head's fantasy of the girlfriend and the muscle goddess. 'Lisa has been tricked into a hotel room by one of her fans' girlfriends. She is not happy as she has found emails on her man's laptop about female muscle with Lisa. So she duped Lisa into thinking he had booked a session. Lisa is not bothered by this at all and dominates this little gorgeous black girl and spanks her for daring to trick her,' says the description. Lisa goes on to force Kiki to 'suck her huge clit while she sits on top of her posing and showing her superiority' before forcing a vibrator onto the smaller girl 'until Kiki explodes with her hardest biggest orgasm ever.' Phew!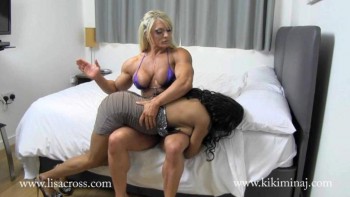 Seems like Lisa's going to run with this one. In "Las Vegas Threesome" she gets sinful with not one but two women - porn stars no less - hired as a treat for Lisa, who finds them waiting for her when she arrives back at her hotel room in the City of Sin. Obviously there is more than enough of Lisa to go around.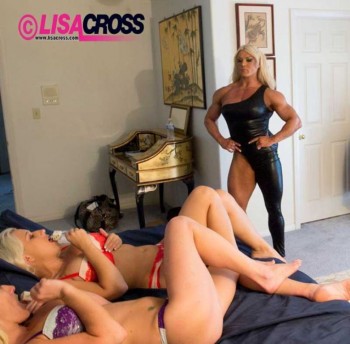 If you think you'd like to watch any of these clips in full, you can find them and a whole lot more on
Lisa's website
. You'll need a credit card. And the cardholder's permission.
Don't spend it all at once!