A veritable meat fest today as
Back Is Beautiful
continues with the magnificent backs of a selection of champions, both professional and amateur, from 2013.
(left)
Tana McGowan
, CBBF Champion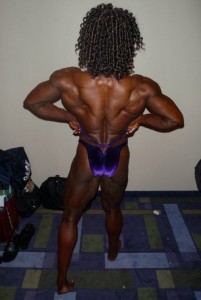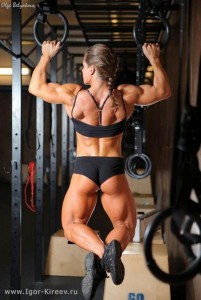 (right)
Olga Belyakova
, IFBB World Amateur Champion
Belated congratulations to Tana, Canadian champion at the 7th attempt (she won the Masters 35+ title for the second consecutive year as well). And spare a thought for those women who sought to follow in Olga Belyakova's footsteps and become IFBB World Amateur Champion because currently the IFBB have decided to eliminate the bodybuilding class from that contest and all other IFBB amateur shows. Olga, sadly, may well be the last ever World Amateur Bodybuilding Champion.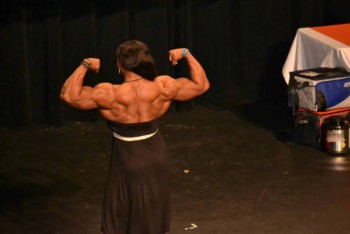 Monique Jones
, IFBB Chicago Pro Champion
One of the wonders of the female muscle world, Mmmonique displays her monumental back during a guest posing routine. I believe this is from a couple of years ago, and she hasn't stopped growing in the meantime - she's even bigger now! Swell's been having a recurring dream involving Mmmonique's back, some soft lighting, a bit of mood music and a bottle of massage oil. He's been going to the laundrette with his bed sheets a bit more often than normal, too.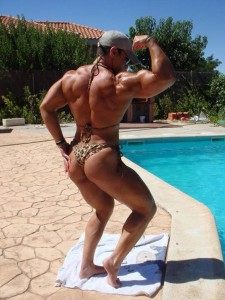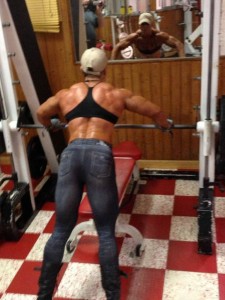 Virginia Sanchez Macias
, Arnold Amateur Europe Champion
Virginia in bulbous off-season shape on the left, and lean and sweaty in the gym on the right. Hard to imagine the power those muscles contain (and what she might use the power they contain to do to me!) Did I say "hard"? I meant "fun".
Victoria Dominguez
, NPC Nationals Champion
As noted on FMS last November, Victoria (aka Mistress Treasure) became quite probably the naughtiest professional female bodybuilder by winning the NPC Nationals.
The Muscled Dominatrix dominated her way to victory in the heavyweight category!
she blogged after her win. Her back provides an almost perfect illustration of the wider the back, the tinier the waist seems. In 2014, she says she'll be not only dominating
behind closed doors
, but also
looking to dominate the stage.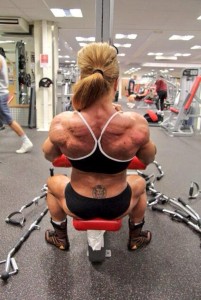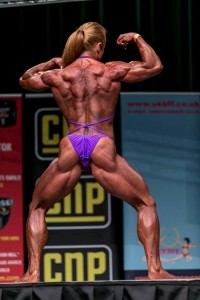 Silvana Imbrogno
, UKBFF Champion
As reported on FMS in November, Aussie-born Silvana not only became the reigning British champion in 2013, but she also made bodybuilding history. At the UKBFF Midlands show Silvana became the first woman (we know of) to stand on stage and compete against men. By all accounts, she almost won the world's first unisex posedown. There must be at least a couple of top male amateur bodybuilders around the Midlands who have taken inspiration from Silvana's mass and conditioning.
(left)
Jennifer Abshire
, IFBB Toronto Pro Champion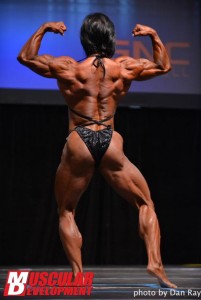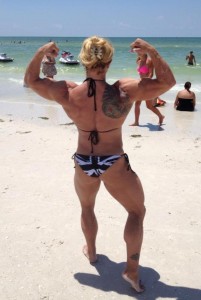 (right)
Shawna Pierce
, NPC Masters Nationals Champion
Hot and Hard 100 #21 Jennifer Abshire reckons her legs are her best body part, but looking at her from the rear during her victory at the Toronto Pro last year, Swell is sorry, but he has to disagree. And I reckon that beautiful back of hers goes at least part of the way to explaining Mrs Megan Abshire's "surprise" win at that show, which was her first show as a pro and her first for three years. Shawna Pierce ,aka Shawna Strong, meanwhile, has had a slightly longer road to pro status but this FMS Woman of the Year 2013 has finally made it. Here we see her showing all the men and the rest of the women on the beach exactly who the boss is.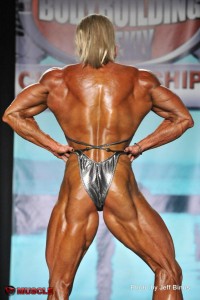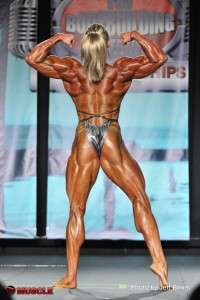 Tammy Jones
, IFBB Tampa Pro Champion
Over ten years after her first competition (as a figure competitor), Tammy Jones won
a highly competitive event
according to one report, beating the likes of Rita Bello, Tina Chandler and Helle Nielsen to triumph in her first show as a pro. She's an inspiration to single mothers everywhere... Well, no, actually she isn't.
But she damn well SHOULD be!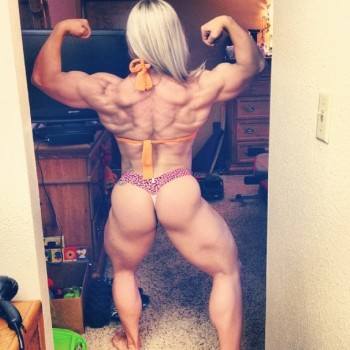 Shannon Courtney
, NPC USA Champion
Witness the thickness. Witness the MEAT on FMS Readers' 2nd Hottest Hard Woman in the World and genetic envy of budding female bodybuilders everywhere. Chocolate Muscle on Tumblr, for one, says,
Shannon stresses me out!!! She has probably the best physique I've seen in a while, but at one point in time she almost decided to throw that away because she thought that IFBB was getting rid of FBB. That was until they came out with the IFBB 2014 schedule and there were not 4 (like last year), but 5 shows. Since then she has kept with bodybuilding.
What stresses me out is that she almost got rid of it to compete at a smaller physique. Man, if I had her body... fuck competing if they cut FBB. I'd keep it just to keep it.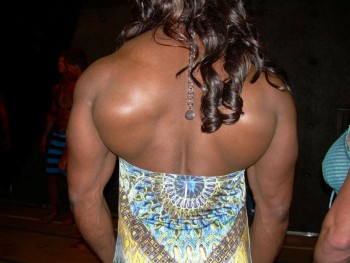 Iris Kyle
, Ms International & Ms Olympia
And finally, it has taken years and years of work from some of the top minds in the world to find a dress fabric strong enough to contain the mighty mass of muscle that is Iris Kyle's back without ripping apart. And if you're familiar with what happened straight after this photo was taken, you'll know those fine minds are still at it.
Enjoy!