Due to some work commitments and Mr and Mrs Swell's now annual sojourn to the South of France (not the bit that was recently on fire, thankfully), the FMS offices are going to be closed this week, next week and the week after. Nevertheless, as always, we don't want to leave you totally FMS-less, so we've lined up
21 Reasons
, one daily picture (or two or three), plus one reason why we love doing what we do, as if we were explaining it to one not so convinced of the glory of the muscular female.
Enjoy!
#18
EXHIBITIONISM
All that hard work might as well be appreciated in full.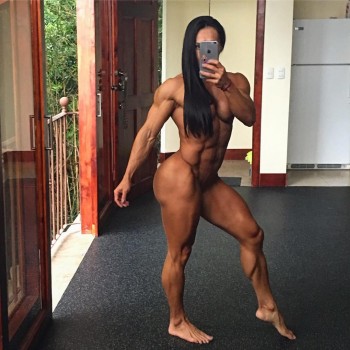 #musclesaresexy
notes Physique competitor and living proof
Gaby Quiros
, stating the obvious. She does like to show it off
on her Instagram
. Quite frankly I am somewhat surprised this one made it past the Instapolice, though I am bloody glad it did!