Due to some work commitments and Mr and Mrs Swell's now annual sojourn to the South of France (not the bit that was recently on fire, thankfully), the FMS offices are going to be closed this week, next week and the week after. Nevertheless, as always, we don't want to leave you totally FMS-less, so we've lined up
21 Reasons
, one daily picture (or two or three), plus one reason why we love doing what we do, as if we were explaining it to one not so convinced of the glory of the muscular female.
Enjoy!
#4
LAUREN MARTIN STOW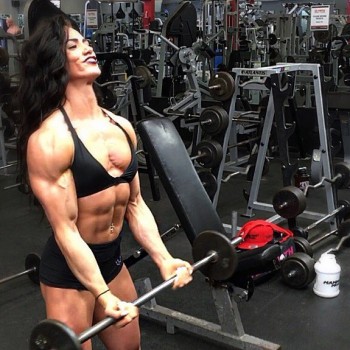 How anyone could look at this woman and not want her is beyond me, but on top of all those muscles and all that beauty, Lauren is an ambitious, inspirational, totally Alpha woman.
I'm trying to reach my potential in life,
she says.
Don't hold me down, don't try to dim my light. I'm out here grinding each & every night. Just know I'm 'bout it, ready for the fight. Don't be afraid to live your dreams and make them a reality.
Did I miss a meeting?
When did we decide this sort of discipline and drive was an
unattractive
quality?
Lauren for She-Hulk