A new occasional series, Underrated is not intended to be about judging decisions - if it was, we could probably run a post about every single woman who's ever competed! Instead, we aim to (re)focus on women who we think do not enjoy the prominence they deserve in the collective female muscle consciousness - someone a new recruit to the female muscle lovin' world would not necessarily come across.
UNDERRATED?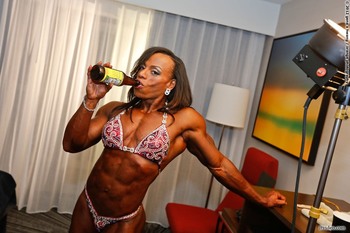 If you know her, it's highly unlikely you would underrate her. The combination of size and sexy Juanita brought to the stage made her one of the outstanding competitive Female Bodybuilders of the first part of this decade. And that's not just my opinion - this "powerful goddess of muscle" is none other than
Margie Martin
's all-time favourite, and few would disagree with her that it's high time Juanita rose again.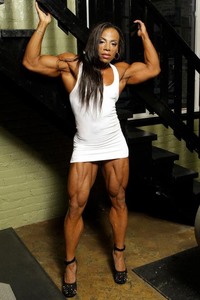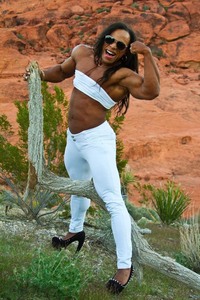 The fact that she's become so (relatively) unknown so quickly since her retirement is largely down to Juanita herself. She's retired most effectively! Like, say, her more famous admirer or - as another example -
Iris Kyle
,
Juanita has social media
but unlike them she hardly ever posts. When she does, it's hardly ever a picture of herself, and on those rare occasions when it is, it's hardly ever a current picture of herself.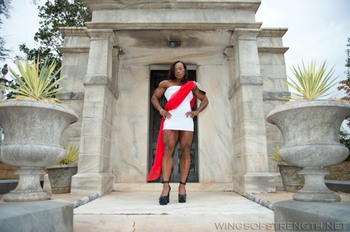 Consequently, the well of "new" Juanita material dried up almost as soon as she stopped competing in 2014. With nothing new to add, her forum threads and
GWM page
have largely stagnated, kept alive only by rumour and occasional "look what I found when I was cleaning out my hard drive" images from Juanita's pomp.
CAREER
Juanita Malone, pre-1994
The period of her career for which she is known runs from 2010 to 2014. However, and this has only recently, thanks to some serious FBB archaeology by a well-known forum poster, come to light,
Juanita Malone
(as she was then) can be found competing in the early 90s, and at the NPC USAs in 1994 she shared the stage with (among other Heavyweights)
Annie Rivieccio
,
Rozann Keyser
, and
Suzan Kaminga
.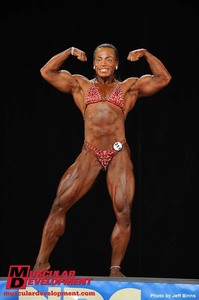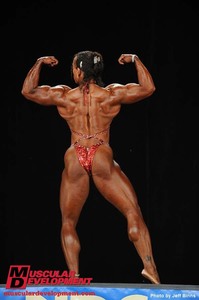 Nationals, 2010
After a break of some 15 or so years, she returned to competition in 2010, lining up at the Masters Nationals, the North Americans (in the 35+ Masters class), and the Nationals, where she was the Heavyweight runner-up to
Amber Defrancesco
.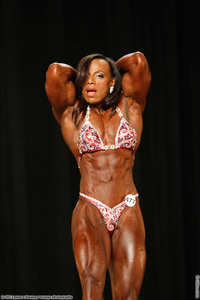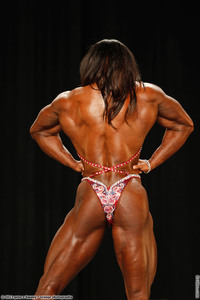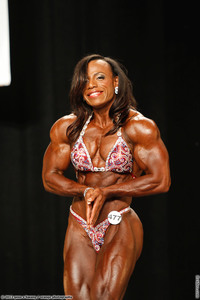 Champion - Nationals, 2012
Two years later and Juanita was back at the Nationals, and this time there was no denying her. After winning the Heavyweight class, she saw off
Kira Neuman
and
Rene Marven
in the posedown to be crowned Overall champion, and new IFBB pro.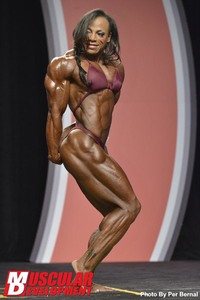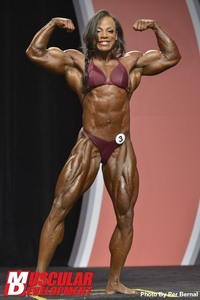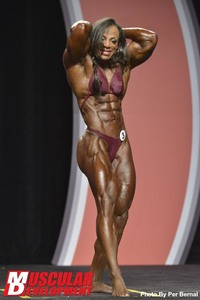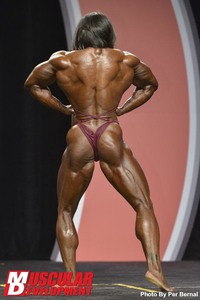 Olympia, 2013
On her pro debut in Chicago the following year she placed 2nd (to
Mmmmonique Jones
), and though she failed to place in Tampa a month later, those runner's-up qualifying points were enough (just) to get her to her one and only Olympia. There (in possibly her best ever shape and in a posing suit that bordered dangerously - and thrillingly - close to a thong) she placed above Mmmmonique - 6th out of 12. It took legends to beat her, and only Kyle, Popa, Laszewski, Oriquen and Brezovac did.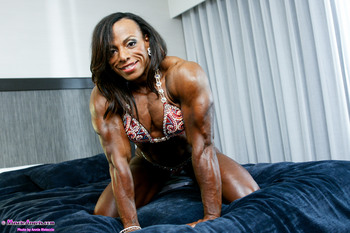 This period also brought us the majority of the non-contest Juanita material we can still enjoy today. She worked with HerBiceps, briefly - but gloriously - with Female Muscle Clips, and most memorably with Muscle Angels. As we look back now we can see that even then there were signs that Juanita was not 100% happy at putting herself out there (as they say), with much of the Muscle Angels' material listed not under her name but the alias "Massive Muscle". Nevertheless, this moniker seemed completely appropriate to me. I had fallen massively for Juanita's muscles, and I wasn't alone.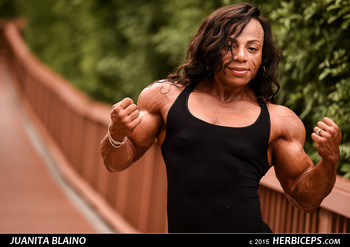 The following March (2014), FMS readers voted her into
the top 30 of our inaugural Hot and Hard 100
poll. As the 2014 contest season got under way, she seemed a serious contender, and my female muscle notebook of the time reveals I was as excited about seeing Juanita again as I was about seeing anyone. Had her time come?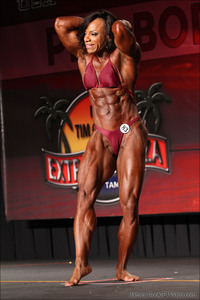 Tampa, 2014
2014. however, didn't quite live up to the promise of her debut pro season. 4th this time in Chicago, she did better in Tampa than she had done the previous year, but 7th there was nowhere near enough. The last ever Ms Olympia took place without her.
APPRECIATION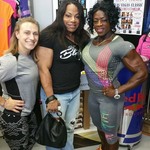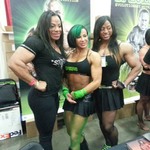 First of all, and make no mistake about this, Juanita was (and may well still be) massive. You really only get a true sense of her overwhelming scale when you see her next to other, undeniably huge, women. As well as being a bit taller than both Iris
and
Mmmmonique, Juanita (at the very least) matches both of them for sheer arm size.
Imagine her strength!
a 2015 forum poster gasps. I
do
- and I imagine it is incredible. Chicago crims restrained by Officer Blaino, don't, I imagine, ever forget it!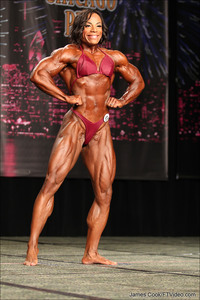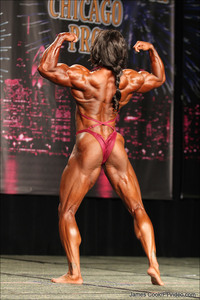 Chicago, 2014
Most importantly though, Juanita simply "oozed sex appeal", and while this does come across in photos, you really have to
see her move on stage
to fully understand just how sexy she was, and what a huge influence she was on
Margie Martin
. Even if Juanita was never quite as aggressively, in-yer-face sexy as her most decorated devotee, the more that Margie took from Juanita's playbook, the more successful she became.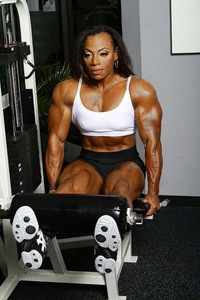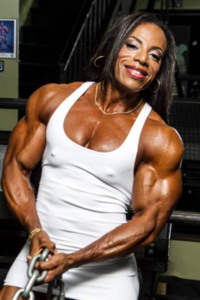 My favourite clips of hers would have to be
the first set she did with Muscle Angels as "Massive Muscle"
- hotel room setting, small white bikini, just flexing hard and slow while the camera catches all her ripples and striations in close-up detail. Perhaps even more thrilling though was
Female Muscle Clips' shooting of Juanita in dress and heels
. 30 minutes which, if you are lucky enough to enjoy, stay with you long after.
NOW?
Rumours only.
Still a big and beautiful girl,
apparently, but not planning to come back - at least not as a Bodybuilder. According to one forum poster, Juanita told him in an email that she's "downsizing in the near future", a decision that, in his words is "more personal than political".
She said she's "tired of not being able to buy regular clothes",
he continues,
"tired of carrying so much weight around". The muscle mass is that serious!
That was last October, and nothing since then suggests Juanita's return is imminent - whatever size she is going to be if she does indeed return to competition.
I do believe that last bit about serious muscle mass though...
Enjoy!