VANESSA LOPES MORAES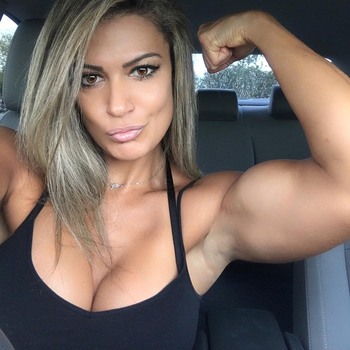 Beginning our selection of one-armed wonders today, a woman with muscle who - surely! - nobody can object to. Ladies! Do you worry that lifting weights will somehow make you "manly"? Think again. Gentlemen! Are you still of the (out-dated) opinion that muscular women "look like men"? Allow Vanessa to re-align your perception.
MICHELLE VJACOBO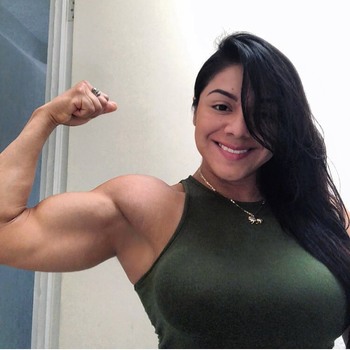 Michelle is currently preparing for competition in her native Mexico.
Happiness and tranquility is found in the domain of pain,
she recently wrote. She looks happy enough here. So that beautiful boulder must be hurting. Anyone up for kissing it better?
JESSICA TOMLINSON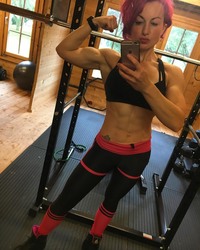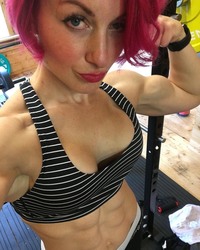 A former kickboxer and IT specialist, Milton Keynes-based fitness trainer Jessica (or Jessie) has just started appearing on the forums, so we thought we'd jump on the bandwagon.
Looks like a skinny Michaela Aycock,
says one forum poster, which may or may not be intended as a compliment. Jessica has competed in the past, but work and being the mother of three is keeping her plenty busy at the moment.
LEVIE NACIONAL HAMAD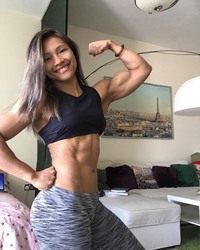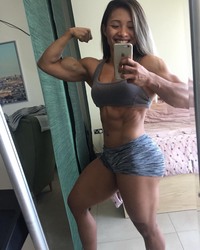 Awesome girl. Where is she from?
a curious fan demands to know. Where indeed her origins lie remains a bit of a mystery, but what we do know is that these days Levi can be found in Dubai, where she offers personal and rehab training services in between working on her own body and being almost ridiculously positive on
her Instagram
.
MEGAN ELIZABETH COLVIN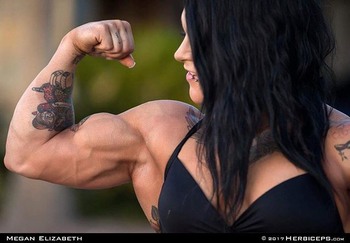 For an altogether darker ride, try "The Original Miss Mightyy Mouse", a former Figure turned Physique competitor - feature video on
her YouTube channel
has the title
My Struggle with Self-Worth
.
Her seven-year transformation
from skinny and average to thick and thrilling suggests to me that Megan Elizabeth is overcoming her struggle daily.
I will get my pro card and get to the Olympia stage,
she says. Believe.
ARIELLE BAKER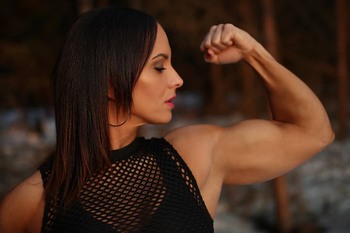 Arielle calls herself an "Athlete & Influencer", which sounds a bit made up to me, but then she's got 15,000 followers and I've got, er, 76 signed up readers here - and I
LOVE
you all! - so she would probably win an influencing duel, so who am I to judge? She also, reassuringly, calls herself a "Bodybuilder", and on this evidence I have zero complaints about that.
She's got the goods and she knows it,
reckons one Arielle devotee. She's also - amazingly - got four children! I would
really
look forward to parent-teacher evenings if one of hers was classmates with one of mine.
ANNIE LEMAY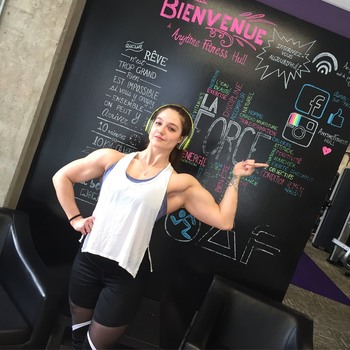 At first sight I thought that Ottawa's
Annie Lemay
had found employment as one of those sign people - without the sign, more of a pointer. I thought that was perhaps the worst employment decision ever, I mean surely everybody would just gather round Annie and stare in lust and awe rather than go in the direction suggested. In fact, this is how Annie "celebrated" finishing her exams - "with some back and bis". Dreamy.
More wonder of the one-armed variety tomorrow!