First things first, our April Pic of the Month winner is...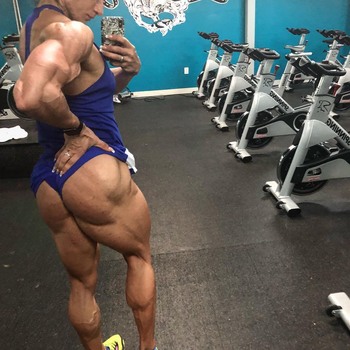 Valentina Mishina's Meat Feast

By some distance too, with 47% of all the votes.

Поздравления to Valentina, our first ever Pic of the Month winner.

And so to this month's five.

Check them out then follow the link at the bottom to vote with a single click.
AMY NEELANDS: WITNESS THE THICKNESS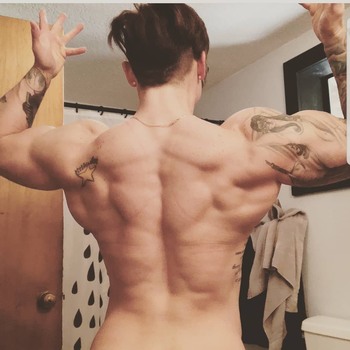 She has
a private IG account
(I'm still hoping to be accepted as follower #320), so there's not much I can tell you about Amy other than that she describes herself as a "giant foody", "photographer" and "bodybuilder" in that order. She also says she is a "rock & roll, hillbilly delux with a nice pick 'em up truck!" Some of which I understand. Anyway, none of that hits the nail on the head like one forum poster did in his comment on the above pic:
Absolutely gorgeous meaty tattooed beast!
Indeed.
MIREA HENRIQUEZ: FULLY PUMPED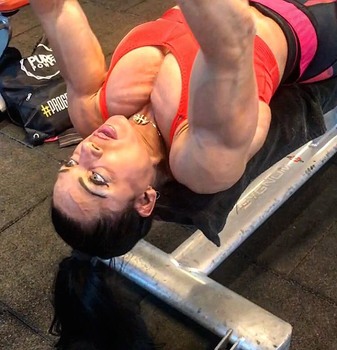 Right now, with her next contest (Olympia Amateur Spain) fast approaching, Dutch Physique star
Mirea is posting
a truly awe-inspiring pic per day - sometimes several. We had to choose one, so we did - partly because it gives the viewer such a great angle from which to fully appreciate the thickness of her pecs, partly because of the wide, intense eyes, and partly because of those veins exploding all over her forehead.
ROSIE HARTE: (MUSCLE) PIT LICKIN' GOOD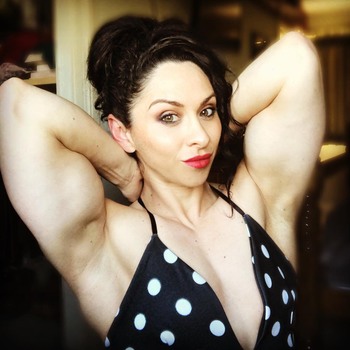 Just over a year ago,
ol' Swell here was confessing
his sthenolagnia had taken a somewhat maschalagniacal turn, ie. I was into "muscle pits". Not armpits as such, but something better,
MUCH
better - a confluence of muscle, a glorious meeting of bicep, delt, lat and pec. Rosie seems to have brought out the feeling again. I'm even enjoying deluding myself that Rosie read
that post
then made this picture just for me!
MEGAN ELIZABETH COLVIN: BODY ART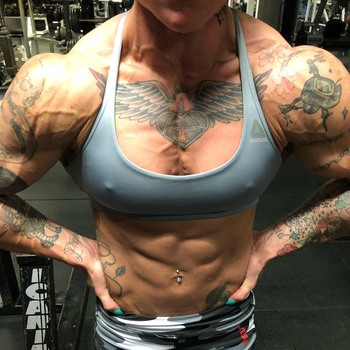 First of all, let me say that I think Megan, aka "Miss Mightyy Mouse" is absolutely gorgeous,
and
she has great hair. Nevertheless, this upper body close-up literally made me gasp when I first saw it last week, so if you want to check how gorgeous she is and see her magnificent mane for yourself, you'll have to check
her Instagram
. Before you do though, take a very good gander at those hard abs, those veiny (and thrillingly pointy) pecs, and last but not least those mightyy traps and shoulders... Megan is doing an amazing job at filling the hole in my life left by
Sierra Mangus
' step back from the limelight. What's that? The tats are "too much", are they? Well, fine. It's your loss.
TOKS MACAULAY: CONTEST READY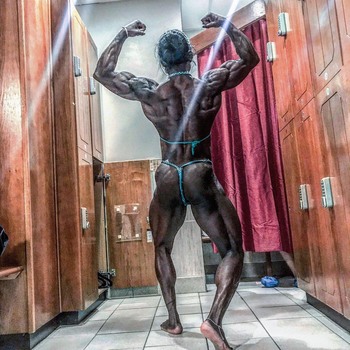 I'm no expert, but I doubt very much this particular pic is 100% natural, but anyway,
WOW!
Judging by the posing suit (and the shredz), Toks was not about to go on stage at a contest with any IFBB links, and all the better for it - why shouldn't the ladies display all the muscles they've worked so hard for, especially ones that look
so
good?
Choose your favourite then go HERE to vote.

We'll post the winner next month when we invite you to vote for June's best.

Enjoy! And thanks in advance for voting!