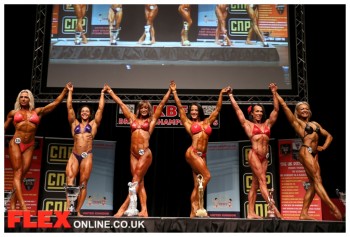 UKBFF British Championships
Physique
20th October, Harrogate
In what was the first ever Physique contest at the UKBFF British championships,
FMS
favourite
Ria Ward
was the clear winner.
Ria reigns in Harrogate,
the headline in
Flex Online UK
read, calling her performance 'stunning', and adding that Ria
epitomises the blend of muscularity and femininity that women's physique is all about.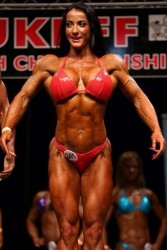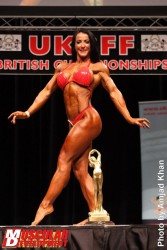 Last year's UKBFF bodybuilding champion, the lovely Rosanna Harte, was commenting live on the show on the
Muscular Development forum
. Rosie reckoned Ria was
a clear winner,
[she's]
already got such a polished and pretty look.
Judging by the photos I've seen, Rosie's assessment was spot on. [It'd]
be nice to see how well she'd do in the European's or World's,
Rosie added, and
FMS
quite agrees. If the first UKBFF Physique champion is indicative of the quality of future winners, then Britain can expect to be well-represented internationally in this division.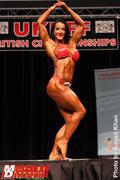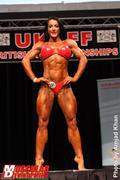 And among the other competitors who made the top six on the day,
Michelle Williams
is FMS' top tip for future Physique champion. Like Ria Ward, Michelle has come to the Physique class via unsuccessful outings in Body Fitness in competitions past, but unlike Ria (and so many other UK muscle women) Michelle is actually from the South of England (!) training herself and clients at the Resistance Gym in Bognor Regis.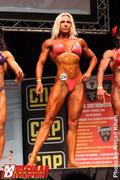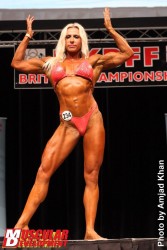 I'm liking this girl more and more,
wrote Rosie Harte.
Nice feminine shape and classic, almost '80s look to her presentation.
Once again, we can't fault Rosie's trained eye. We're liking Michelle a lot too, and if you agree with us and Rosie you might want to start following this potential future star via her
Facebook
and
Instagram
pages.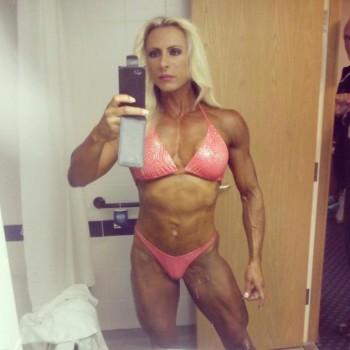 Attention-grabbing as Ria and Michelle were once the photos of the contest had started to go up, while I was glued to Rosie's play-by-play descriptions as the contest was actually taking place, it was two women whose names didn't appear among those who made the top six who were in my thoughts.
Northern Ireland's
Lesley-Ann Armstrong
, NABBA World champion in 2012 (see
FMS July 2012
), had, along with Ria Ward, been a pre-contest favourite with most commentators. She had the contest experience, and a proven track record of getting her prep right for showtime. Just two weeks before the finals, she posted these images on
her Facebook
.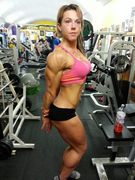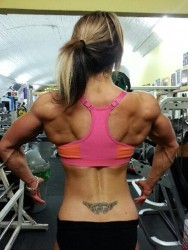 Unfortunately, attempts to actually find a picture of Lesley-Ann during the show have proved fruitless, so we'll just have to go on another of Rosie's comments that
it was a shame that Lesley-Ann wasn't in tighter condition.
But even during the pre-judging, Rosie Harte had Ria Ward, Michelle Williams
and
Lesley-Ann as the 'standouts' in the class, and was surprised when Lesley-Ann wasn't called out with Ria Ward for the first comparison round. A mystery indeed.
Meanwhile,
FMS
had been whipping themselves (and attempting to whip readers) into a frenzy of anticipation over teenage female muscle sensation
Georgina McConnell
's appearance at Harrogate for months now (see
FMS posts past
). However, we waited in vain for her name to appear even once on Rosie's commentary. But Georgina herself cleared up the mystery as to why that was almost immediately.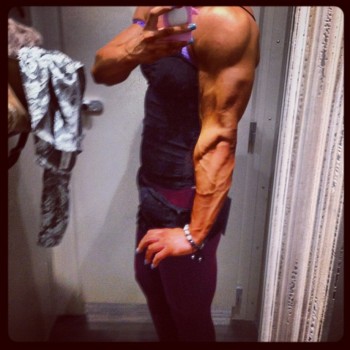 The day after the contest, she posted this to
her Instagram
, bemoaning her body's lack of timing:
Aye just full up now! Not show day tho stupid body.
And a few days later, this mission statement appeared.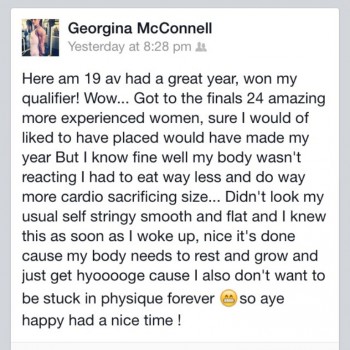 It's comforting to know that Georgina isn't too disappointed by her experience, and very exciting that she is still determined to 'get hyoooge'. At the time of writing, Georgina says she's
Getting massive n fat n stuff
, and her most recent
Instagram
post suggests that the 'massive' part is true, anyway.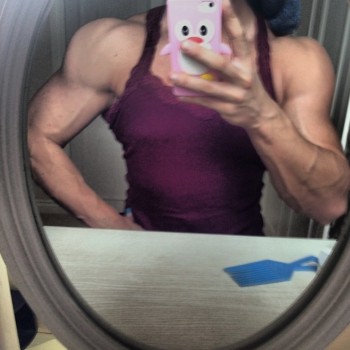 But however great we continue to think Georgina is, this is, after all, a post about a contest, and it would be wrong of me not to finish by giving the last word to the winner.
It feels amazing to be the first champion,
Ria said afterwards.
This class is perfect for me.
And we think Ria's perfect for the class!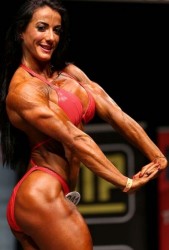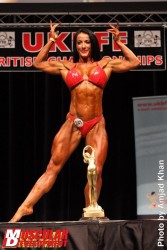 In the year ahead,
FMS
is looking forward to seeing Georgina continuing her development, and to seeing Lesley-Ann Armstrong and Michelle Williams coming back next year better than ever. But most of all,
FMS
is really looking forward now to seeing Ria representing the UK internationally in the Physique class.
We reckon she'll do us proud.
Tomorrow, UKBFF Part II, Bodybuilding.