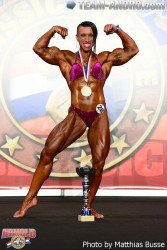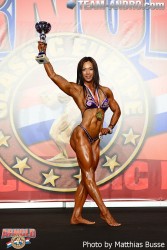 Arnold Classic Europe
11th October, Madrid
Although it is ignored by US muscle websites such as
Muscular Development
and
RxMuscle
, for a lot of European fans, the Arnold Classic Europe Amateur competition is one of the most eagerly-anticipated of the year. This year, as with the IFBB Worlds as we reported yesterday, there were no weight classes in the Bodybuilding division, just one open class. Fifteen women lined up, thirteen Europeans, a Brazilian, and
Kashma Maharaj
, (4th place) competing for the British Virgin Islands.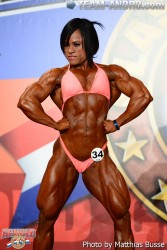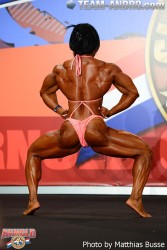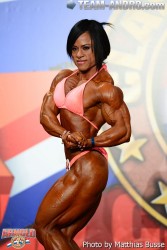 This year for
FMS
, the Arnold Amateur was all about the return of Britain's
Lisa Cross
. Readers will remember we devoted
a whole week
to our golden muscle girl in the run up to the contest, working ourselves up into quite a tizz at the thought of Lisa, bronzed and ripped, stepping onto a bodybuilding stage once more. Perhaps she was a little less lush than at her 2011 best, but even so she didn't disappoint. With her beautiful blond locks complementing her deep deep tan, Lisa exceeded our (ridiculously high) expectations. She was pure mouth-watering muscular sex appeal. And British too! As we reported late on the night of the contest (see
Cross Is Back for Real
), the judges gave her second place. Whatever. Lisa is back. And how!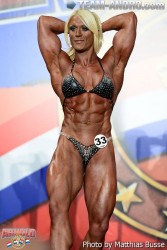 Little did we know that as we were going on about Lisa's return, another competitor was returning from her own 'break' from competition. Once we had had a little lie down after checking out Lisa's showing (courtesy of the ever-dependable
TEAM-ANDRO
website, who had the pictures up within hours), third place finisher
Natalia Yariz
of Russia most definitely caught our eye. A little bit of research later and we had her story. Perhaps the best way of describing this year's Arnold Amateur would be 'The All-Is-Forgiven Show'! Perhaps there's a Russian female muscle blog somewhere that devoted a week to the lovely Natalia in anticipation of her return to the stage after a two-year absence...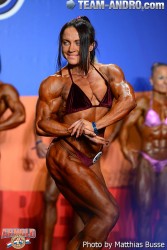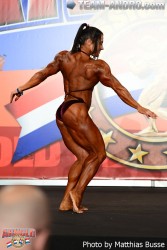 Who doesn't like a routine that gets down (and dirty) on the stage floor?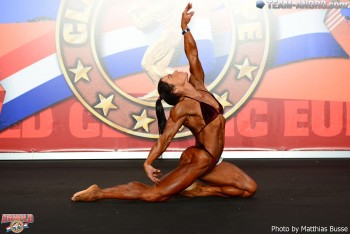 Lithuania's 4th place finisher at the Worlds,
Elena Stasiukyniene
, came fifth, rounding off a very satisfactory couple of months for her. And completing the top six was Brazil's
Ana Claudia Pires
who I swear looks like a different woman every time I see a new picture of her. Check out her gallery at
Girls with Muscle
, compare it with the image below, and see what
you
think.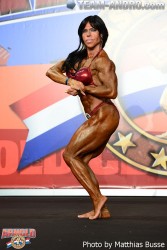 But despite the hype
FMS
tried to generate around Lisa, which I'm sure must have had
some
influence on the judges (!), the night ultimately belonged to
Virginia Sanchez Macias
, and even we, ardent Lisa fans that we are, couldn't begrudge 'La Tora' her victory.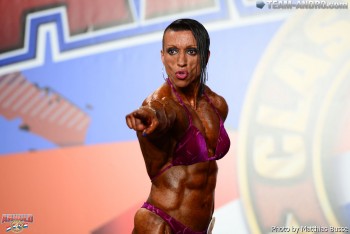 She may not have been the tallest competitor on the stage, but even to my Lisa-biased gaze, it was clear Virginia was a worthy winner. In her hometown, she was both the most muscular and the best-conditioned woman on the stage. And we really do like what she does with those super-sized lips while she's flexing.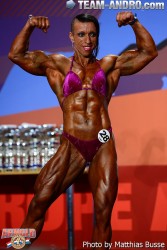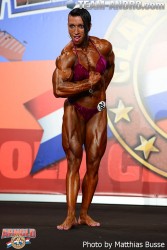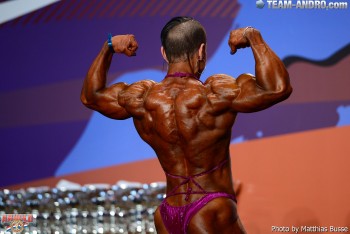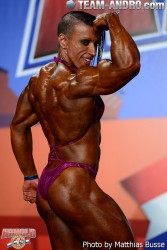 On
her Facebook page
on the night of October 11th, probably typing with one hand and still cuddling the trophy with the other, she wrote,
Still getting used to the fact that I've won the Arnold... thanks to everyone who supports me and follows me on the internet from all over the world, it is a compliment, and helps me a lot as I try to improve every day, a kiss to all.
So we all got a kiss from the winner. A kiss from those lips. Sweet.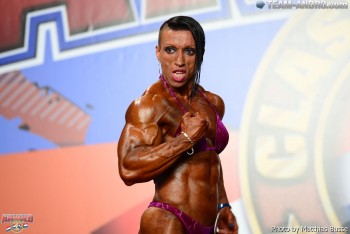 But wait! There's more.
It would be remiss of me not to mention the two Physique classes, not least because there were some seriously sexy women among the 28 contestants. Two of the most beautiful women in the world of female muscle,
Mavi Gioia
and newly-crowned IFBB World Bodybuilding champion
Olga Belyakova
both competed in the shorter class and came absolutely nowhere - a point which I feel necessitates illustration.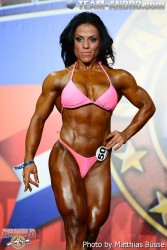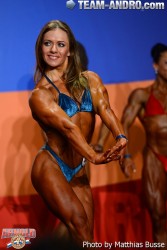 Italian NABBA veteran and
FMS
fave
Federica Ortu
, much smoother than we've seen her on when competing in NABBA shows (as well as having a posing suit that covers a lot more of her rear than we're used to) came fifth, and the incredibly gorgeous
Joanna Romano
of Spain, who finished second, also grabbed our attention in the short class.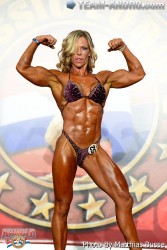 But it was in the taller class that the real action was. Spanish stunner and runner-up,
Cristina Arellano
, unknown to me before this contest, is a woman who I promise to keep a very close eye on in the future. 'Caliente or what?' as they say in Madrid when the temperature soars. With her flowing jet black hair and (for me anyway) the best abs in her class, I think she's just
devine
.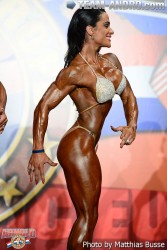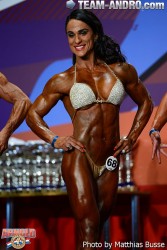 You can knock Physique if you like, say they're too small or something, and it's true these women may not look very big compared to their sisters in the Bodybuilding division, but winner
Yeon Woo-ji
would be plenty big if she came strutting along your street. And she's no plain Jane either. Wow.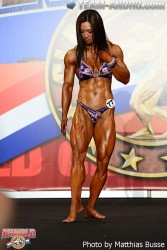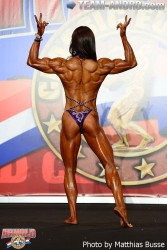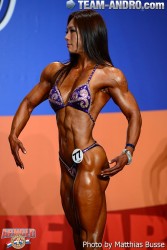 I did find, though, that while she looks sensational in these pictures, when I watched footage of her on stage, I was a bit underwhelmed. She seemed to be almost embarrassed to be there, rushing through poses. She may have been suffering from cramp for all I know. Apparently a worthy winner in the pictures, having seen video, I am a little surprised that she won.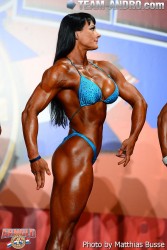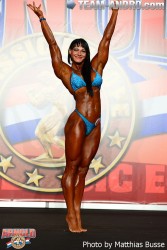 It was
Maria Kuzmina
(Russia, 4th) who for me was the one truly class act of the whole show. Maria was the overall NABBA Miss Universe in 2011 and 2012, and I doubt she will be ignored by
Muscular Development
or
RxMuscle
for very much longer. She looks (to me) like a pro already. A pro who could be a serious challenger in the biggest US shows, a serious challenger for the biggest titles in the sport.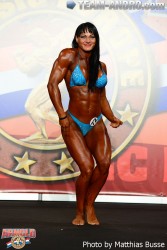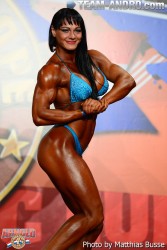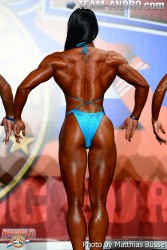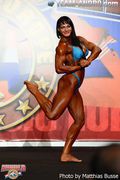 Maria oozes stage presence, and in fact won the final round. Her fourth place finish was probably down to her softer look in comparison to the top three, but hey, what do I know? Well, I know what I like and I really really like sourcing images of Maria Kuzmina to post here. I'll just roll my tongue back into my mouth, pick my jaw off the floor and start typing with both hands again...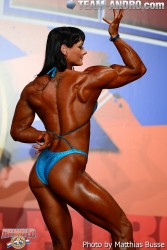 Many many many more pictures of the Bodybuilding and Physique contests available at
TEAM-ANDRO
. Video of all these magnificent creatures flexing their beautiful bodies are also there, so you can see if you agree how charismatic Maria is.
What are you waiting for?