And we finish our week of candids with the magnificent example of muscular womanhood that is
Marthe Sundby
, out in public and seemingly wearing nothing but a smile, a T-shirt, and a tan. Quite apart from the sheer sex appeal of Norway's number 1 muscle goddess arrogantly parading her bare legs and glutes,
FMS
digs how it's been taken from behind what looks like a tree, as if the photographer were one of us, consumed by The Madness, compelled to preserve the moment. Of course, she doesn't mind that you're following her and snapping away, she knows the power she has over you. In fact, she even turns and flashes you a smile... Yes!
Without a shadow of a doubt, this is
FMS
' Candid of the Year (so far).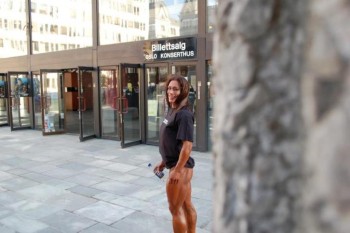 Enjoy!