AUGUST 10th
Shannon Courtney
makes her pro debut in Tampa, finishing 7th out of 30.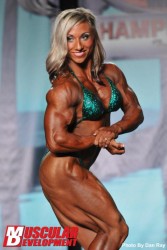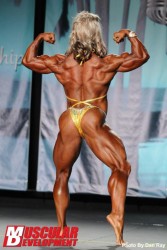 She is the new poster girl of female muscle, but more than that her youth and beauty make her the great hope for the future of female bodybuilding, a future that the demise of the Ms International has cast doubt upon. Fans dub her 'THE GEM of the sport'.
SEPTEMBER 9th
While seemingly pledging her future to bodybuilding, Shannon says the 'P' word...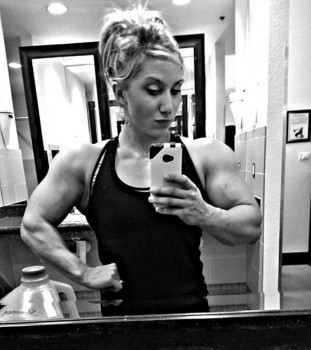 Once FBB is gone I will be switching into the WPD,
Shannon writes on
Facebook
.
But until that time comes... I will be destroying the weights as the female BODYBUILDER I AM. THIS IS WHAT I LOVE.
SEPTEMBER 17th
A lot of things on my mind...,
she writes,
like should I start down sizing to Physique??? Hmm would that mean no leg day for a year?
Seemingly a joke, but I can feel the tension on the fan forums. She said the 'P' word again, the second time in just over a week.
And then the very same day, exactly what I and so many others around the world had been absolutely dreading...
Okay... LET THE DOWN SIZING BEGIN!!! MY FINAL DECISION.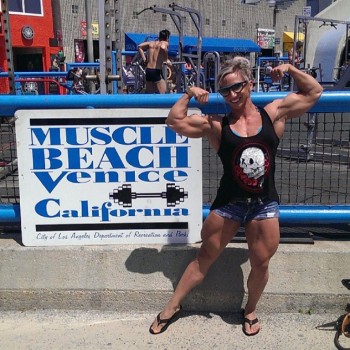 You can almost hear the weeping coming from female muscle lovin' bedrooms all over the planet as the brethren pay their respects. I gaze at the magnificence of Shannon the bodybuilder and my heart sinks at the thought we will not see her like again.
SEPTEMBER 28th
Well, on the plus side she doesn't seem to have lost much size... yet. But neither, it seems, has she changed her mind...
Just heard DLB won Ms Physique
[Olympia], she writes.
Hmmmm okay... Time to get super small lol... ugh.
I may be clutching at straws, but I wonder if I'm the only fan who has just found a little solace in that 'ugh'. Doesn't sound very gung-ho, does it? Perhaps she's having second thoughts. Or perhaps I just need to stop obsessing over this. Frankly, the whole thing is just upsetting me and I should just forget about Shannon and let her get on with her 'downsizing'.
A month goes by... And for a change the IFBB has some good news for female bodybuilding fans. A new pro show has been added to the 2014 calendar, to take place in Omaha, Nebraska. Sponsors of the show are the mighty
Wings of Strength
(already sponsors of the Chicago Pro), who, even if they didn't have such wonderful photography and video clips on the site, would still be worth joining to help them in their avowed aim 'to support women bodybuilders'.
And then, from Shannon...
OCTOBER 28th
Sooo I received the new schedule today for IFBB Women's Bodybuilding... not going to lie, has me confused on what I'm doing now...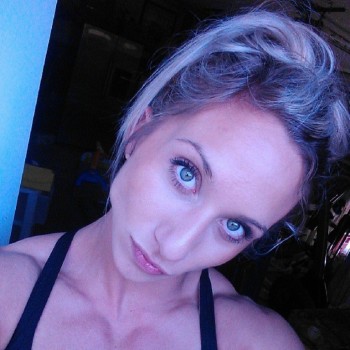 Yes? YES?
OCTOBER 29th
Enough is enough... Screw this Physique transformation... I Can't Hide the BODYBUILDER inside. #fbb #forlife Back to real training!
And since then, it's been nothing but...
Guess what day it is today!?!?!? LEG DAY!!!!!!!! You guys have no idea how excited I am!
[Oh, I think YOU have no idea how excited I am about the prospect of following your BODYBUILDING progress through the off-season, Shannon...]
Haven't been able to train them in 6 weeks!!! I feel like a little kid Christmas morning haha!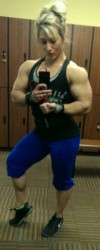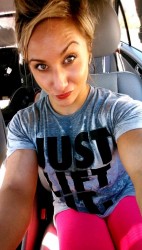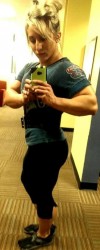 Love off-season training heavy and hard with some good foods to follow. Happy Sunday everyone! #backtobodybuilding #growmfergrow
Welcome to a week of posts dedicated to Shannon Courtney.
BODYBUILDER!
gif by The Ankle