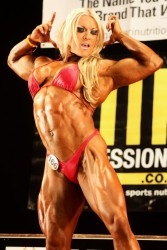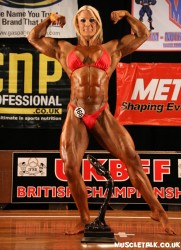 Lisa Cross winning the 2010 UKBFF title
Although she had competed at the 2009 NABBA Universe (finishing 2nd to Larissa Cunha), the 2011 Arnold Classic Europe was
Lisa Cross
' first international IFBB contest and a major step up in terms of the class of her competition. She arrived there as a relatively new 'face' in the world of female bodybuilding, but she was Britain's leading amateur, and a woman with a growing fanbase.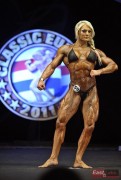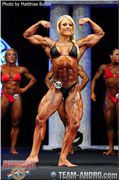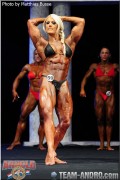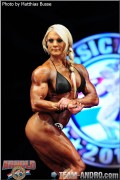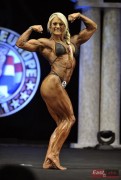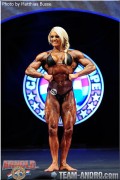 Lisa wows at the 2011 Arnold Amateur
She finished a very creditable fourth, with only winner Elena Shportun, runner-up Katka Kyptova, and the massive Nina Loebardt of Germany ahead of her. At the time,
FMS
wrote that
Britain's finest, Lisa Cross, was as ripped and vascular as I've ever seen her. Lisa's unhurried presence on stage and her pouts and knowing smiles give me the impression that she loves being the centre of the audience's attention, she's well aware what an awesome sight she is. And that is very very sexy.
This may be one of those rare occasions where I stand by what I've written in the past! Decide for yourself if
FMS
was spot on or wide of the mark as you (re)view Lisa's posing routine from the show, set to Queen's 'We Are the Champions'.
A more knowledgeable FBB watcher than I said at the time that in Madrid
she had the most impressive physique. Yes, she was not hard enough to place better but because of her frame, presentation [and] personality, everyone noticed her first in the line-up.
She had clearly made a big impression in Madrid, and the very next weekend, Lisa was in Novi Sad, Serbia, where she took to the stage at the IFBB World Amateur Championships for her second crack at gaining her pro card.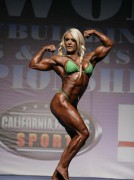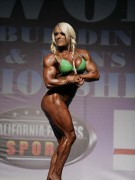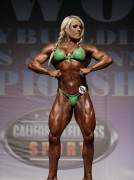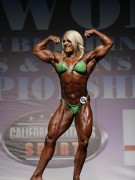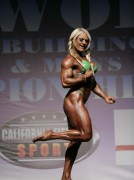 Lisa at the 2011 IFBB Worlds
Lisa was in much the same shape she had been in in Madrid, not surprising given the proximity of the two shows. And although not generally known for their consistency, the IFBB judges gave her the same placing that she had had the week before - 4th.
But by the beginning of 2012, the news was on the forums: Lisa had been disqualified due to an anti-doping violation. Russians Tatiana Dvortsova (fitness) and Oksana Markovetskaya (bikini), and Nina Furseth (bodyfitness) from Norway had also been disqualified.
At the time, more than one commentator felt that it was just too convenient that in EACH division ONE single competitor had failed their test. And my feelings on the subject can be summed up nicely if I (mis)quote Martin Sheen's character in
Apocalypse Now
: 'Handing out doping bans at bodybuilding shows is like handing out speeding tickets at the Indy 500.'
Nevertheless, she received a two-year ban.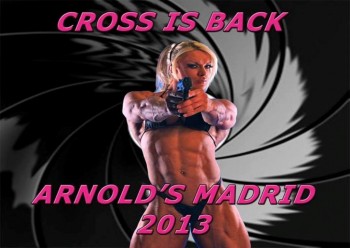 But the good news is those two years are nearly up, and this weekend Britain's golden muscle goddess will once again take to the stage in Madrid, and if that isn't cause for a long-overdue
FMS
tribute, I don't know what is.
Cross Is Back
all week.
Enjoy!