Back in May, FMS brought you a selection of
'Bare Backs'
that included a few selfies, and today we're expanding on that theme with nothing but bare backs taken exclusively by the women themselves. At the time, we noted that taking a picture of your own back is not the simplest thing in the world, or as Mistress Treasure/Victoria Dominguez puts it, 'This shit ain't easy'.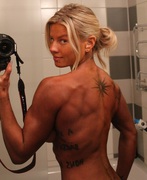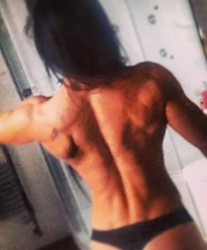 So forgive the hottie on the left (I feel like I should know her name, but it escapes me) who, despite the decent camera, hasn't quite managed to get it all in (although we'll forgive her because firstly, she is an absolute stunner, and secondly, because what we can see of her back is sexy as). And forgive newly-crowned (and first ever) UKBFF Physique champ
Ria Ward
for not quite nailing it, because again, what we can see is a treat.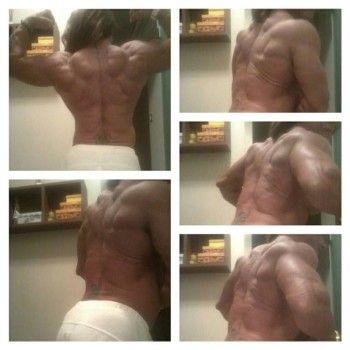 But Spanish femuscle beast
Estefania Saura Moya
has a cunning plan. Take lots of shots from lots of angles and its all covered. I like her thinking.
top:
FMG
Ariel Gail
, an NPC Physique competitor from Denver, remembers to get her luscious dark hair out of the way of her increasingly impressive back. You can take Swell's word for it that Ariel looks as good from front-on as she does from behind or you can follow Ariel's
Facebook
and
Twitter
. And if you want to see Ariel back posing (though unfortunately not bare) there's a YouTube clip
here
.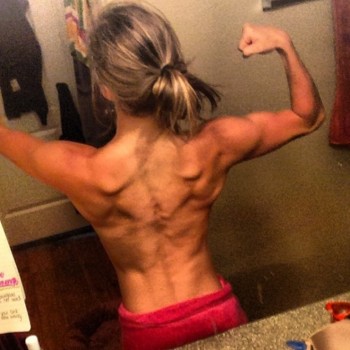 bottom:
the bare back of
Leah Peters
, fitness and bikini competitor. Leah is a serial self-snapper, and, like Ariel, is no plain Jane, and if you want to see much much more you can visit
her website/blog
or, if you'd rather have the pictures without the words (and you'd be missing out, she's pretty funny), she's on
Instagram
.
top:
I don't know who this is, but I like what she's doing because if it's hard to take a photo of your own back it's even harder to take one of your own back while flexing. And she seems to be doing it without wearing much below the waist, so that's another reason to applaud. ID anyone?
bottom:
this is how it's done by the pros. From
Larissa Reis
' "Bare Back Selfie Masterclass":
Have a big mirror. Move away from it. Keep yourself steady with your free arm while holding up the phone far enough away so you can see what you're shooting. And for extra credit wear a nice thong so you give the boys some glute action to go with your sexy muscled back. Any questions?
BARE BACK SELFIE MEISTERWERK I:
Mette Stensland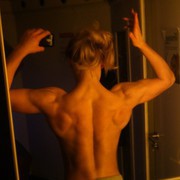 The sort of image you want to whip out when someone in your earshot starts bad-mouthing women with muscle. Mette is a Norweigian bodyfitness competitor and personal trainer who is very very adroit at the bare back selfie. Another great bare back selfie of her (among many many others) can be found
here
, and though it's a couple of years old, you might also like to read an interview with her
here
.
BARE BACK SELFIE MEISTERWERK II:
Shayla Turcotte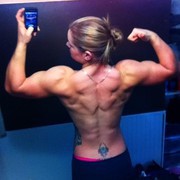 A perfect bare back selfie with double biceps from a rising female muscle star. Shayla is a former wrestler, now a physique competitor, who is a jaw-dropping 6ft (1.83m). Nickname: The Specimen. In her first attempt at a physique contest, she finished third at the Canadian Nationals earlier in the year. Her
YouTube trailer
for
Athletic Women Magazine
is a must see. You have not heard the last of her (in fact, she'll be back on
FMS
tomorrow!).
Now, what could be better than this bare back selfie of Swedish hair extension specialist (no, really, check out
the website
)
Adriana Kuhl
?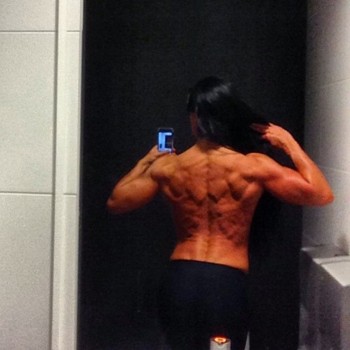 Perhaps a bare back selfie of Adriana AND her mystery friend. A mystery friend who has quite a back, I must say...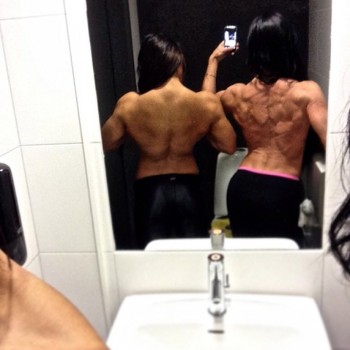 Wait a minute, I KNOW that back. OH MY GOD IT'S SEXY
SOPHIE ARVEBRINK
AND SHE'S
TOPLESS!!!
In just the few days since it was posted on
Insane Muscle Girls
, the bathroom where these two muscle maidens derobed and made this (already iconic) image has become a place of pilgrimage for female muscle heads. The first to arrive were natives of Stockholm, but soon brethren were arriving from all over Scandinavia, Europe, and in the last twenty-four hours, the world. Join the queue to enter this holy place by tipping the doorman. Pilgrims get access one at a time, can spend up to five minutes paying tribute, and are asked to leave the bathroom as they found it. Exact location on request from
IMG
.
Our week of selfies ends tomorrow. Unless I can get a stand by to Stockholm.