Thongs. YESSSSS! Greatest invention ever. If C. Moore was Mr IFBB, Mr 'No Female Bodybuilding for Me', thongs would be compulsory. Bikini, fitness, figure, physique, bodybuilding, whatever. Thongs. Hell, if I was Mr IFBB it would be g-strings!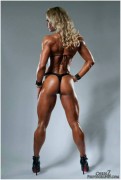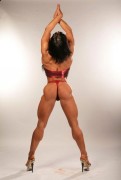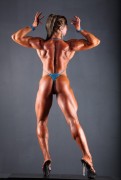 Lacking gainful employment ain't good for the bank balance, but for the first time in a long time C. Moore has free time. Am I sitting around at home playing with my plums? Hell, no! C. Moore's been getting himself all over the country on National Express to BBing shows. My reward? Many many MANY beautiful pairs of perfick contest glutes to feast my eyes on. Trouble is, C. Moore can't settle for just LOOKING.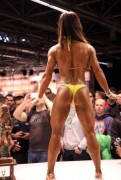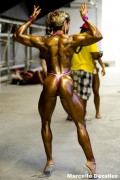 Consequently, my relationship with event promoters is now about the same as those guys in Vegas who count cards have with the casinos. Not good. Long and the short of it is I can only attend in disguise, and it'll have to be better than the hat and sunnies I kitted myself out in last time. Spotted, pummelled, and escorted to the nearest bus station by a man with no neck. Not a good day. Bruises are going down, but saw ZERO glootage. AND he stole my hat. Next time I'm going as a bird.