The female muscle freedom fighter...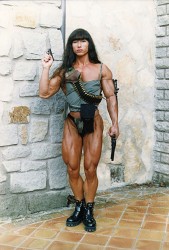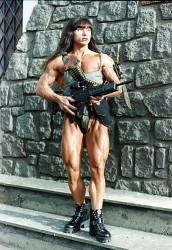 The first two images that I can remember of a muscle woman 'tooled up' came courtesy of
WPW
(I think) back in the early 1990s (again, I'm relying on memory). Italian female muscle legend Lorena Ferruzzi provided the beautiful frame to hang the weapons on. That
chest
in that vest, those
legs
in those boots. I was
innamorato a prima vista
(as they say in her hometown of Viterbo) and such is her enduring power over me that all these years later I'm getting all tingly just thinking about that first time.
More Lorena minus the weaponry (but still with that chest)
on YouTube
Enjoy!