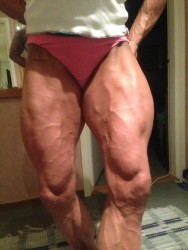 How many times have you heard that people are using mirrors to the gym to "do it right"? I use the mirror because I love the sight of a real pump in the muscles, seeing them almost explode! Veins coming out... It makes me psyched to train harder.
Frida Palmell's blog
, 1st October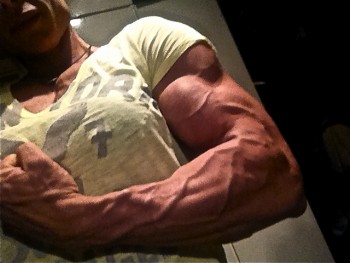 Sweden's IFBB pro
Frida Palmell
must have spent much of the last few years in a state of total psychedness because when it comes to pumped-up muscles and vascularity, there aren't many active FBBs I can think of who even come close.
Nor are there any FBB blogs that are quite as entertaining, thought-provoking or written with such disarming honesty as Frida's. As well as her body, she bares her soul on it, and as an insight into the life of a female bodybuilder, it's second to none.
In the last month Frida has shared her thoughts on why teenagers turn to drugs (and what the Swedish government should be doing about it) and a post entitled 'I'm so damn special/I'm so fucking special'. She's outed and taken on a Facebook bully, and written about a horrific experience of abuse she suffered a number of years ago. She's written extensively about her 14th place in her first try at physique at the Tampa Pro (too veiny according to the judges), and lamented Swedish conservatism.
All in the last month.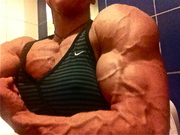 And then there are the images she uploads to go with her ever-interesting words. If you like the muscles on your woman pumped beyond belief and traversed with fully-engorged veins, you'll like these. They are images as freaky as you could ever wish for.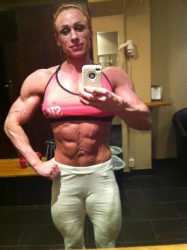 Watch Frida days after competing at the Tampa Pro and see if you agree with the judges that she is too vascular. She might like to hear what you think. She did put a still from the clip
on Facebook
with the question 'Too much veins?'
Follow Frida on
her blog
or
Facebook page
.
More freakiness tomorrow. Enjoy!