ROCK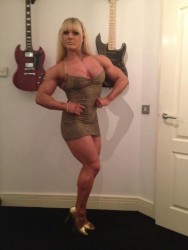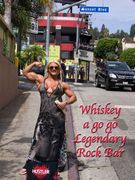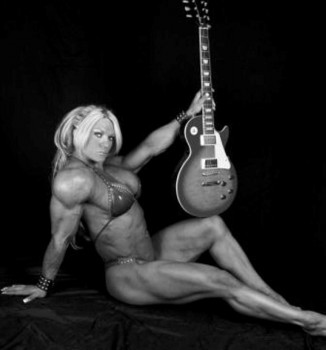 As we saw yesterday, she's posed to Queen (
I am a massive fan of Freddie Mercury - so charismatic and unique
), and in the past done a routine to the wholly appropriate Iron Maiden. She says she loves too many bands to chose a favourite, and regularly rocks out at gigs (there's a Lisa-made clip of Black Stone Cherry on
her Facebook
). We reckon Lisa would be a great lead in a music video.
LENDA MURRAY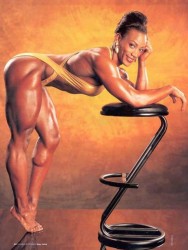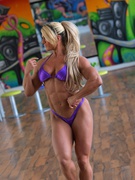 My all time favourite female bodybuilder,
says Lisa.
I remember the first time I saw a video of her posing and was mesmerised.
TRAINING LEGS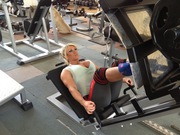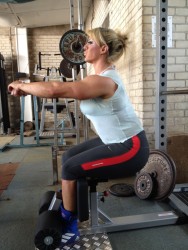 They are my favourite body part to train. You know when you have a had a good leg session when you have to be picked up off the floor and it takes about a week for you to be able to manage stairs again.
You can watch Lisa reaching that point
here
. Lisa says
When I see a female bodybuilder with what I consider to be good legs I am always impressed.
OVAL BALLS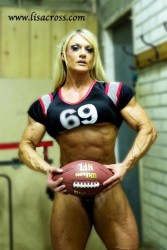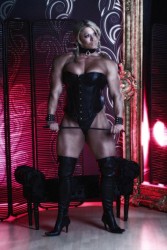 Rugby is a bit like what you call Football and we call American Football, but not much. There is Rugby League and there is Rugby Union. They are similar, but different. New Zealand are the team to beat in Union, Australia in League. And I can tell you from personal experience, rugby
hurts
. A lot. But Lisa also likes what we call American Football and you call Football. Clear? Good.
MAFIA FILMS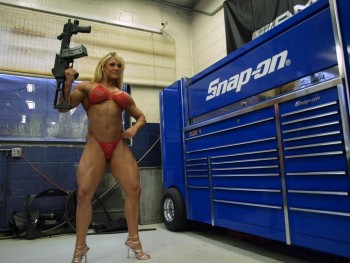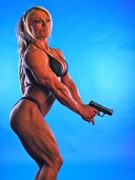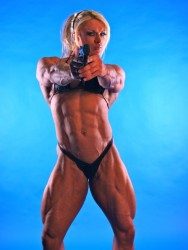 Ever since I can remember I always wanted to be a female bodybuilder...
My favourite films are all mafia films such as the Godfather trilogy, Scarface and Goodfellas.
Everytime I think I'm out of the gym, it pulls me back in... The young Al Pacino was her favourite actor, although according to Lisa
he tends to overact nowadays.
First you get the muscles, then you get the pro card, then you win the Olympia...
CONAN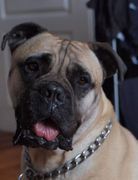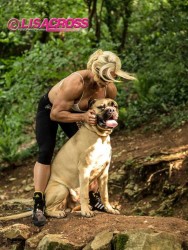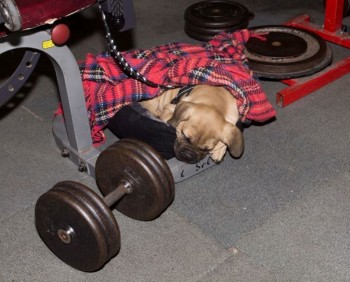 Conan is Lisa's bull mastiff.
I wish I could put size on as quick as he does and with such little effort,
she tweeted in August when Conan was eight months.
He comes to the gym every day but just falls asleep.
It's a dog's life.
BODYBUILDING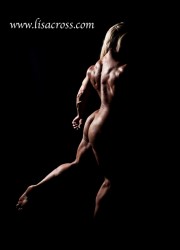 Fairly obvious this one, but hey. Lisa says,
You do get addicted to it because you get addicted to the endorphins your body is producing in the gym. When I'm training, that's my time. It's when I really feel at one with myself.
But it's not just about the highs. Lisa also sees bodybuilding as freedom, a means to live the life she wants to live.
I enjoy having a fanbase and sport is all about promoting yourself. The website allows me to do the job I love. I honestly can't imagine my life without bodybuilding - I love it. My body is just on the cusp of becoming really great and I'll keep bodybuilding as long as I am able to do it.
SOUTH PARK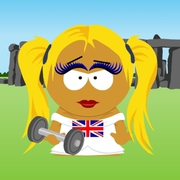 I could not resist. Please go to
SP Studio
and do better!
BEING WORSHIPPED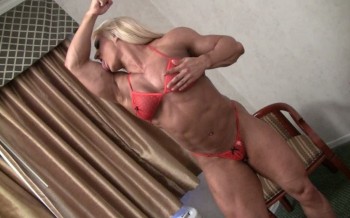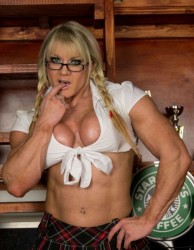 I love to see you cum as well so send in those pictures of you blowing your load over me. I just love getting those in the mail.
I'm off to get a stamp. Enjoy!