REMEMBRANCE OF HOT AND HARD PAST
7. Denise Denise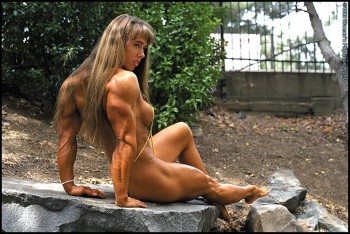 This photo should, in my opinion, be the first photo inducted into the (at the time of writing, mythical)
Female Muscle Hall of Fame
. Today I'm looking at it and it feels as if I've never noticed the veins in her forearms before. Every time I look at the photo, it seems to stimulate my imagination in a different way. It's like I'm seeing her for the first time every time. And what a sight she is! Denise's WPW sets are the most popular of all time, so she has a reasonable claim to be the fan's favourite fbb ever, her body and her almost magical sex appeal fulfilling a kind of collective notion of perfection.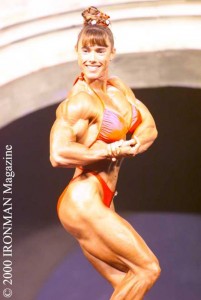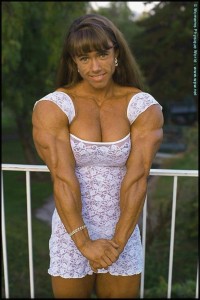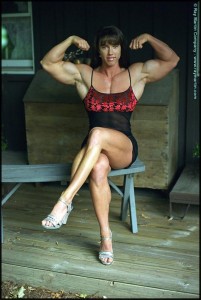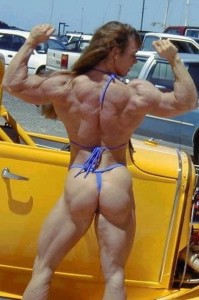 As far as I'm concerned, everything she did as a bodybuilder was magic, but two moments stand out. First,
Denise in Hawaii
, posing in a purple bikini and white heels in public. She's in incredible shape. Huge and chiselled from head to toe, oozing feminine sex appeal. As the crowd (of men) watching her grows, the more provocative and sexier her posing gets. The second is in a tiny segment of a
GMV
video (can't remember which, I bought it and threw it out so long ago now, and have never found the exact clip). She's at an Expo, strutting through the crowd in a tight, sleeveless black dress. The
GMV
camera person asks her to flex, and when she does, there is stunned silence from behind the camera. She flexes one last magnificent bicep, holds the pose, and looks beyond the camera.
Good?
she asks, raising an eyebrow. There's no reply. Whoever is holding that camera has been struck dumb. She smiles, and struts away.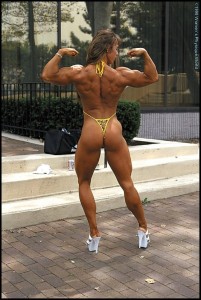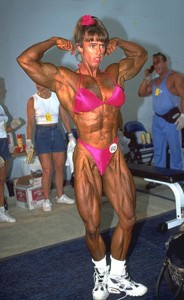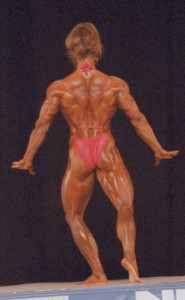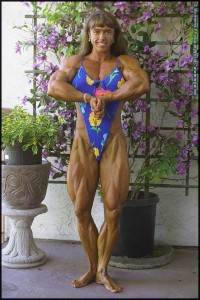 And we leave this week of memories with a beautifully edited tribute to Denise, courtesy of
jerrymail
(who also brought us the "Denise in Hawaii" clip linked above). The title,
Denise Hoshor Sexy
, is as good a three-word summary as you will find.
Enjoy!
HOT and HARD 2015 LAST DAY OF VOTING IS TODAY
Obviously I'll take time zones into account, and to be honest, if you are a bit late, I'll still accept your votes (especially if you are all complimentary about the blog), but please, as soon as you can so I can start to put the posts together. Many thanks to all who have voted so far. You make the Hot and Hard 100 what it is, a thing of beauties!
Inspiration, rules and how to vote
here
.