REMEMBRANCE OF HOT AND HARD PAST
3. Iron Woman
Cory. So many many images, so many many moments spent with her...
I had thought it would be impossible to pick one, that I'd have to compile some sort of 'Best of' post, but when I closed my eyes and remembered, immediately and vividly one did, in fact, come to mind. A magazine cover.
Ironman
, November 1991. Cory.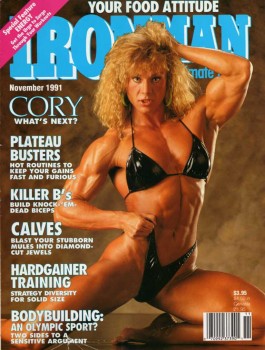 The pose. Left hand in hair, her bicep full, defined. Her right suggestively pulling her suit up, the veins on her bicep. The look. Straight to camera. Boring into the viewer, into me. Intense, powerful. Her mouth, her lips, slightly opened. Her abs, a fissure running from top to bottom, separating hard slabs of muscle. Beautiful. Animal.
This was Cory as I'd never seen her before. I guess now I'd say she was more 'swole'. At the time, I didn't have the vocabulary. Just the feeling, The Madness, adrenaline pumping, hypnotised by her beauty, her power, her sexuality, her
muscle
.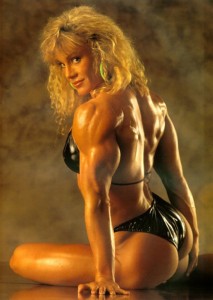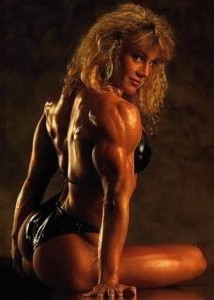 Perhaps this cover, this shoot, is bringing back special memories for you too, dear reader, and it really is a female muscle landmark. Perhaps not, and it was merely the time in my life and the time of the year that has made this cover stay with me for so long. I was 17, and the long winter nights were drawing in, if you know what I mean. Perhaps it's because 1991 was towards the end of her career as a cover model, that she'd stopped competing and had filled out because she didn't have to toe the Weider-winner line anymore. Honestly, I don't know why this cover photo and the few images inside that
Ironman
, November 1991, made such a big impression on me. But they did.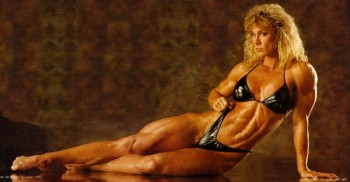 Remembrance continues tomorrow...
And P.S.
ONLY FIVE DAYS OF

HOT and HARD

VOTING LEFT!
Ge busy if you want your women to make the list this year!