WARNING
Dear reader, I should probably make you aware of a couple of things before you peruse today's post. Firstly, the subject of today's post is NOT a bodybuilder. And apart from having particularly shapely legs that she says are the result of 'two parts genetics and one part healthy lifestyle', she is not what you or I would call 'muscular'. And secondly, there are some rather naughty pictures in this post (although they are not nearly as naughty as some of her other pictures are), so if you are at work or somewhere someone might be looking over your shoulder, you might want to save this one for a more appropriate, private time.
All good? OK. Read on...
The evolution of today's post could be said to have begun a long time ago, back in the days when a good place to find female muscle material were the kind of shops in Soho that your mother wouldn't be proud to know you frequented. In short, sex shops. Not only were these the only places that I knew of where you could buy copies of
WPW
, but they also sold female muscle VHS,
Bill Wick
and the like. Of course, the female muscle material was only a very small part of their stock, and not once did I ever see another guy checking out the muscle women (mini-) section, so if the shop was busy, I'd sort of circle around it, pretending I was looking at other things (in almost exactly the same holding pattern I'd learned to do when I was in a busy 'normal' magazine shop and was waiting for the number of customers to die down before checking out
Musclemag
or something). As I recall, the female muscle product was part of a more general 'fetish' section. And one of the fetishes, 'Legs', was, I discovered, always worth a perusal as sometimes one of the models was actually quite, or even, once in a while, very muscular.
I never developed what you'd call a 'thing' for legs, but magazines like
Leg Show
and
Leg World
did broaden my mind a little as to how that fetish might be expressed. I could see how my chances of meeting a woman with muscular calves were infinitely more than my chances of meeting a full-on female bodybuilder.
Today's post comes partly out of these experiences when I was (much) younger.
But it also comes out of a more recent interaction with a fellow female muscle fan (and though we've never actually met, I hope he won't mind if I call him a friend) who can also appreciate a shapely (though not obviously 'muscular') leg, and who introduced Andrea Rosu to me along with some other models who can be found on the website
Legs Ultra
.
Of those featured on the site, I reckon Andrea was the stand out new find for me, for overall voluptuous appeal,
he said.
Could you imagine how she'd look if she really pumped up and went down the bodybuilding route?
As I looked at the images of Andrea that he had sent me, I had to agree that indeed she was most certainly the pick of the bunch.
Wonder if she's done any stuff elsewhere,
he added.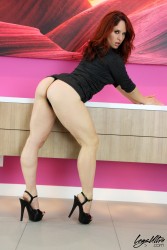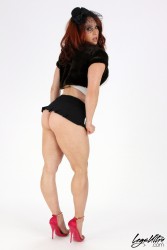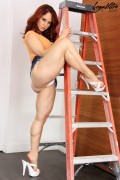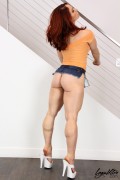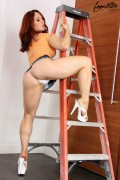 I was intrigued, and set about finding out.
What I discovered was that she has 'done stuff elsewhere'. In fact, she has done a hell of a lot of stuff elsewhere. Moreover, she has
her own Tumblr page
(called
What Is Etched onto My Eyelids
) where she's not shy about showing some of this elsewhere stuff, or indeed talking about herself, her sexuality or anything else that her fans might ask her (from 'Which WWE wrestler would you hook up with?' to 'Would your boyfriend let you have sex with someone else? And if so, would you have sex with me if you thought I was attractive and good-looking and had a nice athletic body and stuff?').
It's quite a ride.
top left: An image from one of my first shoots, says Andrea, Needless to say, I just jumped right in!; top right: image by Bear Photo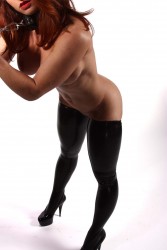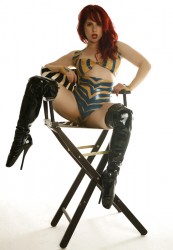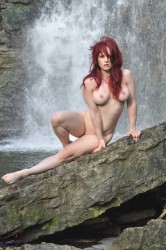 bottom left: image by Brett Hunt; bottom right: image by Holly Randall
Andrea says,
Modeling, for me, is a creative manifestation of my passions, curiosities, and desires. And for that reason, I have chosen the genres I have: erotic art and fetish.
image by Ed Fox
The fetishes I have experience in and have great fun doing as a model: latex fashion, bondage/suspension, stocking/foot worship/tickling, giantess, DID, submission, domination, pony play, and exercise fetish/muscle worship.
[Can anyone enlighten me as to exactly what DID is?]
top left: image by Mykal Binds; top right: image by Dan Richards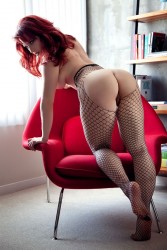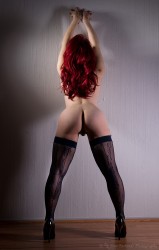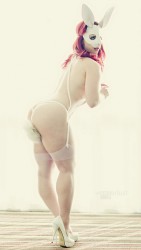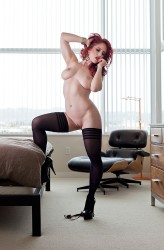 bottom left: image by Andy Wanderlust; bottom right: image by Zhen Images
My extensive history in dance (especially in ballet and modern) has proven to be inordinately beneficial. I have an innate sense of my body, how it moves, and how I use it to express an emotion. Furthermore, it has given me the physical strength and personal dedication to bring myself to whatever limit is needed to create that awesome image.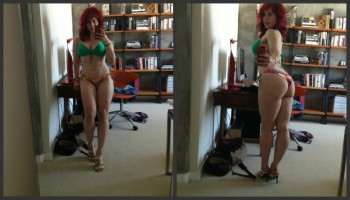 Packing for Hawaii!! One of the bathing suits I can't wait to prance around in!
So it's dance that has shaped those lovely legs. I hope you have enjoyed them as much as I did while I was choosing which of the hundreds of amazing images of Andrea that are out there to include. If only there were as many creative female muscle photographers for the female bodybuilders to work with as there are for models like Andrea.
top left: image by Keith S. Photography; top right: image by Axongap Imagery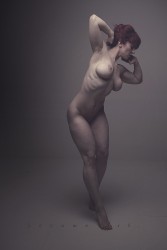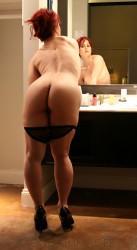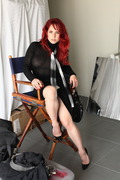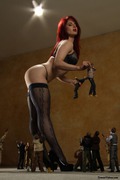 bottom left: image by Ed Fox; bottom right: image by Tywest
And if you are a fan of Andrea's work with
Legs Ultra
you'll be pleased to know she posted this on
her Tumblr
on Monday:
I'm finally back working with
Legs Ultra
It's been too long!! I'm sitting here, getting my make-up done. Can't wait to strut my stuff!!
Can't wait to see her strutting it.
Dedicated to P, with admiration, respect and thanks.
6ft1swell