I've been planning to devote a week of posts to the remarkable and ever-gorgeous
Colette Nelson
since forever. I can't quite put my finger on why I haven't got round to it yet, but today's post will, I hope, make up for the criminal lack of Colette on
FMS
until now. I wish I could say that I'm posting Colette today because she has announced her return to competition, but sadly, that's not the reason (unless you know something I don't!). In fact, today's post developed as I was raiding the
FMS
archive for our ongoing series of
Heels
posts during
Legs Month
. I simply found so many images of Colette's groin-activating body perched atop killer heels that in the end there was no option but to give her her own post. So here it is, finally,
FMS
' tribute to one of our all-time favourites, and, we imagine, probably one of yours too.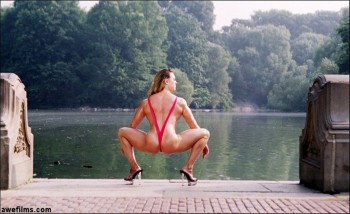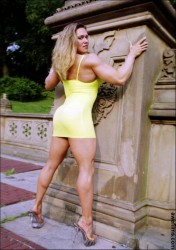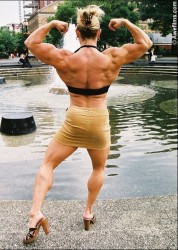 Classic images from
Awefilms
in Colette's beloved New York City,
the city that owns my heart,
as she calls it. The set of pics of her in the tiny red swimsuit at the lake in Central Park were particularly influential in Colette gaining ownership of my female muscle lovin' heart. Back from deep in the archive, it feels like meeting old friends again. Hot old friends who were more fuck-buddies than friends.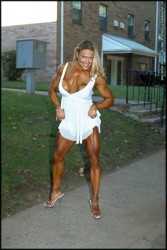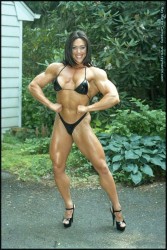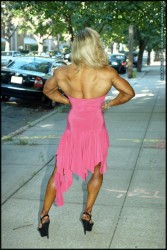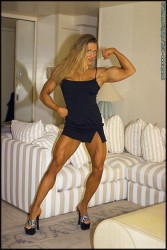 The WPW Max website has, by my reckoning, around thirty different photosets of Colette available, so the images I've chosen here really are just the peak of the bicep. It's not hard to understand why, during her career, Colette has been one of the most photographed female bodybuilders of all, not just by WPW and Ray Martin, but by all the major female muscle photo and video websites. Whatever she's wearing, whatever the location, whatever shape she's in, she's a winner every time. Try to recall a bad Colette Nelson photoset...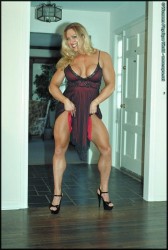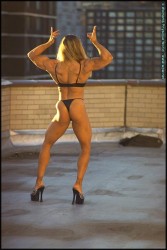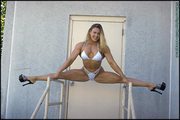 Colette says:
My real passion for weight training began when I was 19, a freshman at MSU, I walked through the doors of the Powerhouse Gym and was awestruck by a woman working at the front desk. She was the first female bodybuilder I had encountered (outside of the pages of a magazine) and I had never seen such muscles on a woman before. I was totally intrigued by her appearance and inspired to see if I could transform my skinny body into a piece of muscular artwork.
I think we can all agree that she has succeeded. For my money, there are few finer sights in this world than Colette's bikini-clad muscular curves standing on top of the kind of heels that were made to give you impure thoughts.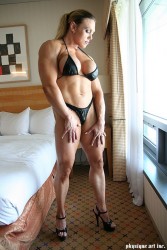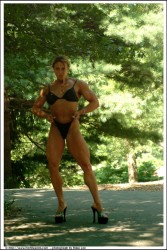 But before I go on about her facial and physical beauty any more, I think I should probably take a breather (we should all take a breather) and remember that this amazing woman is not just a stunning face and a devastating body. Colette didn't just spend her time at university getting hooked on muscle. She also gained Bachelor's (Dietetics and a minor in Dance) and Master's (Clinical Nutrition) degrees there. If you have heard her speak, for example, on HBO's
Bryant Gumbel's Real Sports: Female Bodybuilding
(you can watch Part 1 here and Part 2 here), you'll know that she is as intelligent, engaging and eloquent a spokesperson as female bodybuilding could ever wish for. And furthermore, she's the only female bodybuilder I know who has a link on her website to one of Dr Tanya Bunsell's pre-Strong and Hard Women research papers (co-authored with Chris Shilling), The Female Bodybuilder as a Gender Outlaw. Make no mistake, I find her intelligence at least as intoxicating as her physique.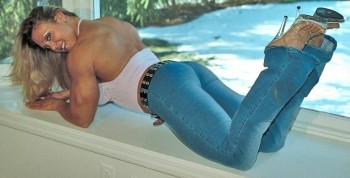 Beauty, muscles, brains: what else could you possibly want from a woman? Passion? Talent? Well, Colette certainly has passion. She probably does everything with a passion, but let's just stick to female bodybuilding. She's not just a competitor. Colette is also a mentor. She advises on diet, training and posing. She choreographs and mixes music for routines. She designs and maintains female bodybuilders' websites. And she does hair and make-up and runs a spray tanning service at contests. I think it's safe to say she is 'passionate' about her sport with that level of involvement! And as for talent, her performances in the Flex and the City spoofs, her scintillating routines (examples here and here), need I go on?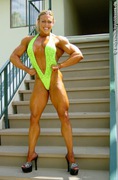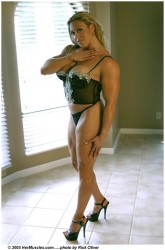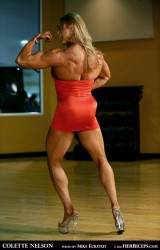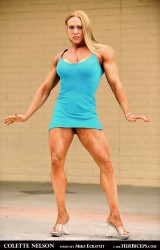 Now, a little earlier I think I said something along the lines that Colette in a bikini was one of the finest sights in the female bodybuilding world. I stand by that. But I would add that another one of the finest sights in the female bodybuilding world is Colette Nelson in a tight-fitting dress standing on top of the kind of heels that were made to give you impure thoughts. So much woman packed into so little fabric...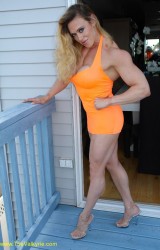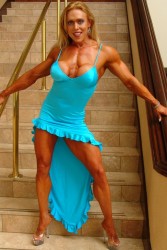 And since the age of 12, before she had even dreamed of taking up bodybuilding, through her years as a fitness instructor, through university (both undergraduate and post-graduate), through her many years as a bodybuilder, she has been living with type I diabetes. You can read more about how this affects her life in an excellent article by Leigh Penman, Portrait of a Pioneer... Bodybuilding with Diabetes, so I won't go into it any further here. I will quote one of the comments connected with that article though, as I can't think of a better tribute to Colette to finish with...
If I hadn't been informed of her health situation, I'd merely say she was magnificent. However, given the type I diabetic diagnosis, I'd add she is a magnificent role model too. That diagnosis is one of the most challenging ones to get for anyone. To overcome this and also be the absolute model of fitness and beauty is, well, incredible.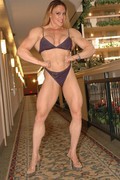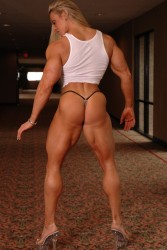 Amen. And in heels too.
Enjoy!