Today's post is a retelling of one reader's true story.

It is, quite simply, the most epic story of its kind that I have have ever heard or read, spanning as it does a full decade. This most definitely could have happened to me. I can strongly relate to the actions and reactions of our protagonist/hero, and quite possibly you, dear reader, will relate to them to.

It is, I think, in part, a story of obsession, but at the same time it is, in my opinion, equally reminiscent of a great love story, even though, in the end, that love is unrequited. But above all, I feel, it is a testament to the power that muscular women have over us.
[I have changed the story as it was recounted to me only by using the third person (a little dramatic effect), and removing any specific names (of places) that might lead to someone working out who the people involved are.]
HER LEGS, HIS OBSESSION
He works in the heart of the city, and in summer he has his lunch by the river because there you get a lot of people jogging in their lunch hour and he loves to see the fit women run by. And ten years ago, back in 2003, he first witnessed the sight that would dominate many of his waking thoughts for much of the next ten years.

The biggest muscle woman he had ever seen in real life ran by.

She was in her early 20s, about 5'4", with long light brown hair tied in a ponytail. She was very tanned, and her face was very pretty. She also happened to have a lot of muscle. She wore a sports bra and shorts that showed off her big, wide shoulders and muscled back, a back that tapered to a slim, defined waist. But the best bit was her massive muscular legs. Seeing those muscles working with every stride she took was a sight to behold.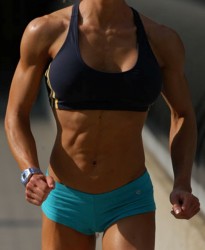 Luckily for him, she had a routine and ran at the same time on a Monday and Wednesday. On those days he was excited just to go to work because he knew he would catch a glimpse of her, and one day he even went for a jog so he could find out her route and where she worked, which turned out to be about ten minutes from him.

In that same year he was at an office party, chatting to the girlfriend of one of his colleagues, telling her an edited version of this story, that he always had his lunch next to the river and often saw a good-looking woman jogging.

The first thing she said to him was 'Does she have big legs?'

'Yes,' he replied, 'not fat but...' and before he could finish, the colleague's girlfriend had cut in.

'Really big muscles?'

He couldn't believe this girl happened to work at the same company, this was a huge big company with a large work force. But more than that he couldn't believe that she was known in her company for having big muscles!!!

'I want to work there!!!' he thought to himself, but his heart sank when she told him his object of desire was married.

He continued to see her in the summer months for the next three years as she jogged by the river at lunchtime but he never spoke to her, just admired as she went by. Later, he would regret that he never approached her.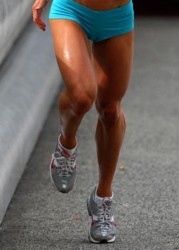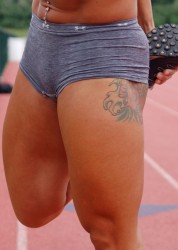 Then for years he never saw her, but last year, while heading for the station to take the train back home to the wife and family he now had, he spotted her.

She was in her running gear, walking towards him, and she looked bigger than ever.

'It's now or never,' he thought to himself.

He just stopped, and stood staring at her. He could feel his heart beating fast.

She didn't notice him at first but as she drew nearer he heard himself saying 'Wow, you are fit.'

She looked at him and casually thanked him.

She continued walking and as though in a trance he then walked with her for about thirty seconds, just staring at her enormous muscles, particularly her legs, her thighs bulging with every step. She didn't seem to mind and for those thirty seconds he was in heaven.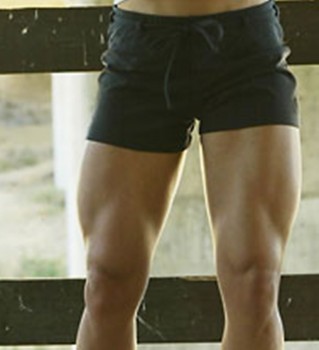 But again, he was compelled to speak.

'Your muscles are really big!'

She just laughed, almost mockingly he thought, and simply said 'I know.'

And he watched her run off until she had disappeared completely from his view. And then he kept staring at the point where she had gone out of sight, and he wondered if he would ever see her again.