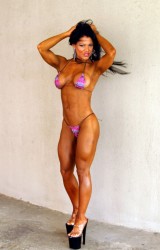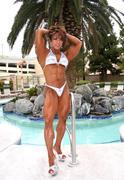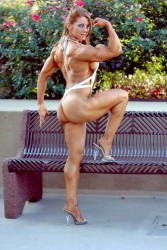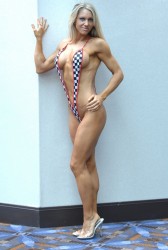 Muscle women look great in swimwear, their perfect bodies covered just enough to leave a little to the female muscle head imagination. Muscle women look great in heels; their thighs, calves and hamstrings brought out just that little bit more. So a muscle woman in a bikini or a revealing swimsuit
AND
heels is, in my opinion anyway, about as good as it gets. Today, a couple of images nominated by readers and a selection from the
FMS
archive to stimulate your imagination and brighten up your hump day.
No Surnames Necessary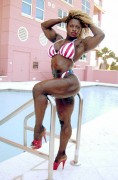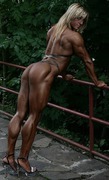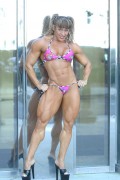 Dayana, Katka and Betty. When I was going through a stage of irregularly indulging myself in webcam shows, Betty (at the time a top three Ms O finisher) and her perfect Latin legs managed to siphon off more than her fair share of my money into her bank account. And every penny she took I still reckon was well-spent.
Oh Canada!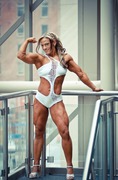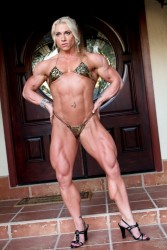 Iris Swatuk and FMS fave Gillian Kovack. Iris says her favourite training day
[has] Gotta be wheels. Leg day kicks your butt and reminds you of what hard work really is!
And the results are not too shabby. Follow Iris (phytgrl) on Twitter. And see a little bit more of Gillian's mighty 'wheels' in an FTVideo clip here.
Blond vs Brunette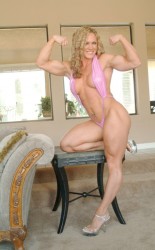 In the blond corner, the gorgeous Heather Lee. Where is she now? And fighting out of Newport Beach, California for the brunettes, Kira Ana Gbur and her exotic beauty.
Witness the Fitness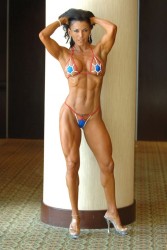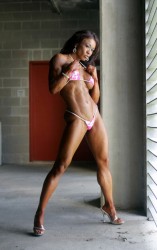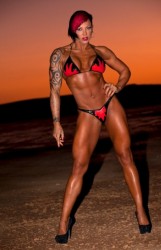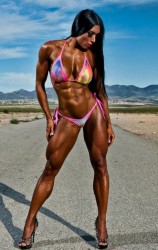 Ines Jimenez, Krissy Chin, Mikaila Soto and Gal Ferreira aka Mrs Dorian Yates. It's been an interesting 2013 for Mikaila in particular. In April she finished 2nd at the Europa Show of Champions, but days later was in intensive care (read all about it on her website, Soto CPT Fitness). Amazingly, a couple of weeks ago she was back on stage at the Tampa Pro, and by the time this post goes out will have competed again at the Europa Supershow (assuming she didn't react to her contest prep for Tampa as it had done after the Show of Champions). Fingers crossed!
MMMC (and Heels!)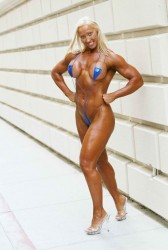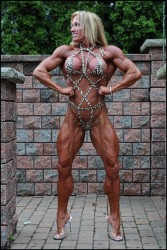 Ruthie Lucchesi and Bonnie Pappas model the kind of maximum muscle in minimal clothing that FMS loves to see (a week was devoted to just this subject last November, see MMMC of the Day). Bonnie's leaves very little to the imagination and Ruthie's even less. Neither really deserves to be called swimwear. Heatwear might be a better way of putting it. Top top stuff.
Reader Faves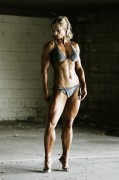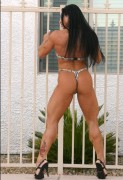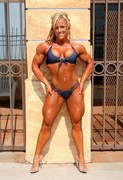 Thanks to the readers who sent in these suggestions for this post. From right to left, a seductively-lit Lisa Tose, fun from rear with Monica Martin, and an iconic image of Cindy Phillips. Cindy is now a proud mother, having given birth to twins in May. You can follow her and her babies on her Twitter, Canchick.
Any Which Way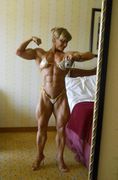 Put a female bodybuilder in a bikini and heels, and it's irrelevant whether she's taking a shaky snap of herself in her mirror at home, or whether she's all glammed-up and lit to perfection. Either way, and any way in between, she's more beautiful, more exciting, more woman than any other female you care to put up against her. And the killer is she's well-aware of it. Emery Miller and Karen Garrett deliver the knowing smiles on this occasion.
And finally...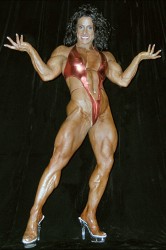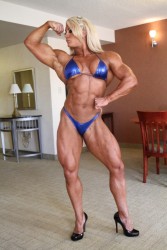 A couple of Swell's own favourites of this little mini-genre of female muscle. Firstly, Debbie Bramwell and her red metallic number, first appearing on Awefilms a good few years ago but never going out of style. And secondly, one of the greatest living Britons, Dame Lisa Cross, admiring her own work while we admire the rest of her.
Enjoy!