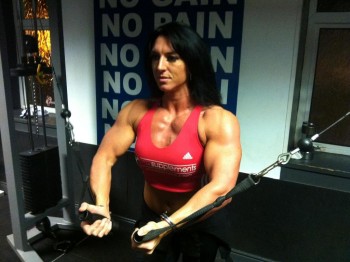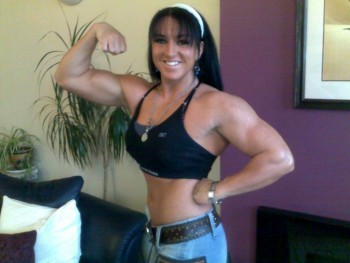 From South Wales,
Kate Austin
is a former night-club bouncer turned competitive bodybuilder and personal trainer who runs her own gym in the coastal town of Porthcawl.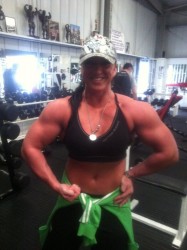 I like to stand out from the crowd – I've never been a person who wants to blend in with everyone. I don't care if people don't like the way I look, I do it for myself.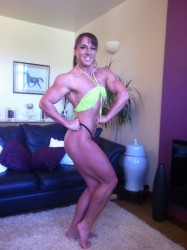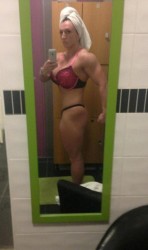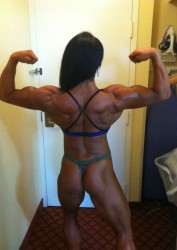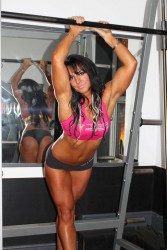 And this kind of philosophy applies not just to her lifestyle, but also her bodybuilding career to date. Like many women in the UK, her first competitive experience came in a NABBA contest, and she was crowned Miss Wales in 2010. Her next move, though, was uncommon for a British female bodybuilder. Rather than going national and then international up the NABBA pyramid, she went instead to an amateur show in the US, and won the overall women's title at the NPC Flex Lewis Classic in Tennessee in 2011.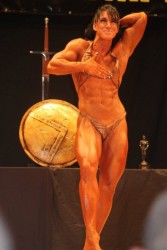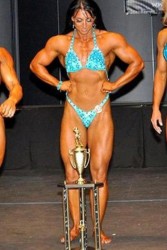 left:
NABBA Wales 2010
; right:
winning the Flex Lewis Classic 2011
Obviously, here is a woman who likes to do things her own way. An independent woman in more ways than one, a woman who isn't going to let other people's opinions affect her.
Negative comments about my appearance are more to do with other people's insecurities,
she says.
No matter what you look like there's always someone who says nasty things about you.
Kate has been into muscles from a very early age, so it's not surprising she is so at home in her own body.
When I was three or four my mum taped three hours of
He-Man
for me to watch because I was completely obsessed by it. It was the only thing that kept me quiet! I loved (TV show)
Gladiators
as well. Jet was always my favourite and when I grew up that's what I wanted to be.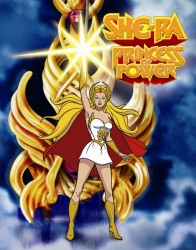 Having been sporty at school, Kate began weight-training in her late teens, and, unsurprisingly given her youthful dreams, felt right at home straight away.
I didn't feel intimidated and I got used to the weights and stuff and noticed my body changing shape.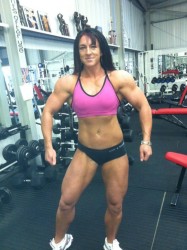 Initially, she didn't intend to get big, but by the age of 23, being lean wasn't enough for her and she made the decision to train for muscle gains. Now she says,
I can't imagine my life without bodybuilding. Once you get into it, it's pretty addictive.
The results speak for themselves.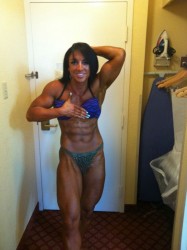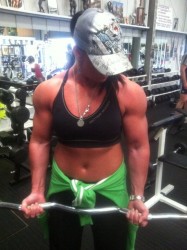 People assume she won't be very feminine because she's into bodybuilding, but that couldn't be further from the truth.
I always wear my false eyelashes and I love having my nails done and going out in my heels
, she says. Considering who her childhood heroes were, it's probably not surprising that she doesn't see having muscles and being feminine as mutually exclusive things.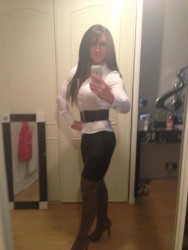 As far as I know, Kate never made it onto
Gladiators
, but now, having just turned 30, she has indeed grown up into a real-life She-ra, a dark-eyed Welsh She-ra with long, black hair who wields a barbell (one-handed!) rather than a sword.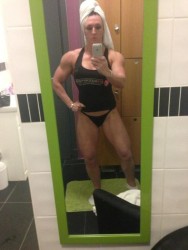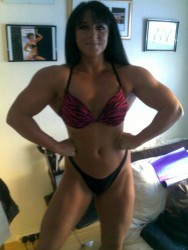 I leave you today with Kate's winning routine from the 2011 Flex Lewis Classic
Check out a very cool (but short) preview of her workout from
fitvids.co.uk
here
and footage from her Miss Wales 2010 victory
here
.
You might also like to check out Kate's website,
www.kateaustinbodybuilder.co.uk
at some stage, but at the time of writing, it was, unfortunately, down.
More FBBUK tomorrow!