Finally! Here they are...
THE FMS
HOT AND HARD 100
20
LEA WIEHL
NEW ENTRY

IFBB Physique Athlete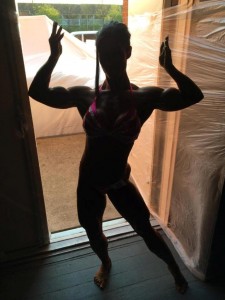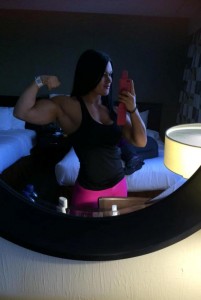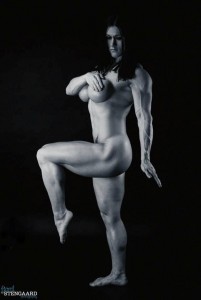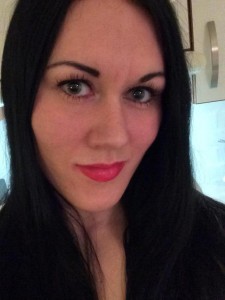 Sex, weights and cheat meal dates
is what
Lea Wiehl
reckons every bodybuilder is after. As far as the weights are concerned, well, it hardly needs saying, she does plenty of those, and if you follow her adventures
on Instagram
you'll know she certainly does love her food. Recently, she was eating her way around America on a holiday after doing some work at the Arnold Classic Expo, returning to Denmark as (in her own words!) "a fat cow". Hard to believe she ate all that food at a table for one. Which just leaves the sex. And I'm far too much of a gentleman to comment on that.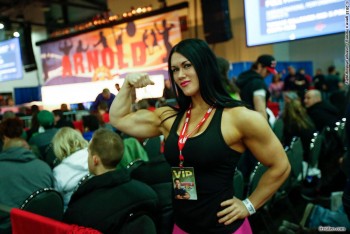 Lea, who turned 25 last month, has only been training for a little over five years.
In the summer of 2009 I wanted a change in my life,
she says.
One night, while flipping through the channels on TV, I saw a beautiful female athlete. I decided I wanted to start getting myself in shape.
She was competing just over a year later.
Progress was quick,
she says. Indeed it was. It took her just three years to get in shape to such an extent that she was crowned Denmark's Female Bodybuilding champion.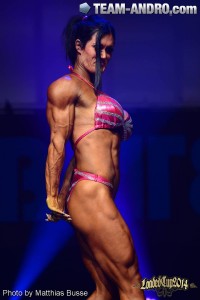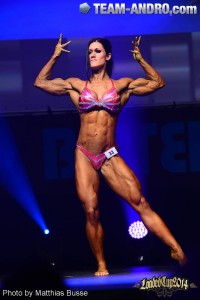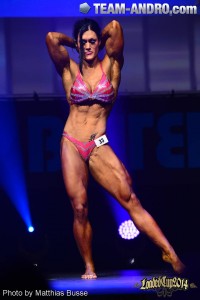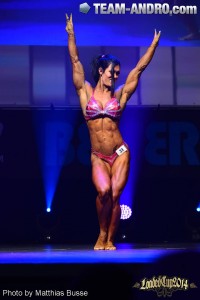 At that point she decided to make the switch to Physique, and early in 2014 made her debut in the division at the Loaded Cup. It's Denmark's biggest international bodybuilding event, but the Loaded Cup had previously, in the words of
Freya
,
only superficially attracted the attention of female bodybuilding observers.
This year it was different, though, because Lea's online fans were paying attention.
Those who had already noticed her thunderous physique flooded social networks and fan forums with photographs of this amazing young woman,
the article
continues.
And she made a further leap in online popularity, gaining a whole new contingent of fans.
European photographers took note, and even
Awefilms
came a-knockin' at Lea's door, bringing her yet more fans... Seems it's not just her body that progresses fast.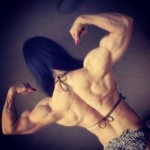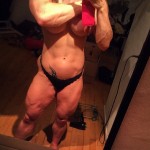 Freshness, beauty, presence and volume,
is how
Freya
describes Lea's appeal. If you actually read as well as gawp at her posts
on Instagram
you might also add that she's funny, she's ballsy, and at times she can be charmingly self-effacing as well.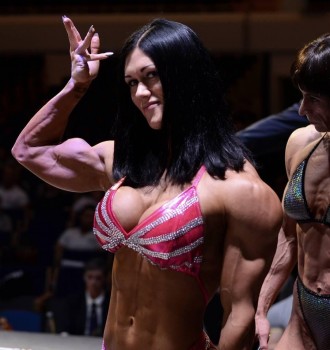 Follow
that Instagram
. On
her YouTube channel
there are some (short) clips from her prep for the Loaded Cup, and you can check out Lea's presence (and freshness and beauty and volume) as she performs at the show
here
. And you can also
watch a drunk Lea ride a mechanical bull on her birthday
if you like. Really! I'm not joking.
19
RENE CAMPBELL
#20

IFBB Pro Bodybuilder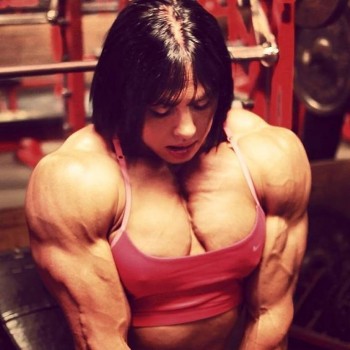 Rene Campbell is,
according to
Closer magazine
,
14st [196lbs, 89kg] of pure muscle and she's not afraid to show it off. The mum-of-two is already the UK's largest female bodybuilder but incredibly she wants to be even bigger. And her obsession - medically referred to as bigorexia, when a person is fixated on the idea they're not muscular enough - has made her an unlikely sex symbol with thousands of men viewing her pictures online everyday.
And thus she ends up at #19 on our list!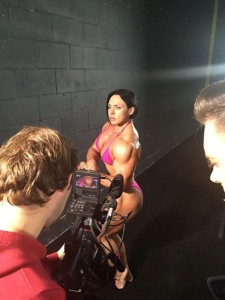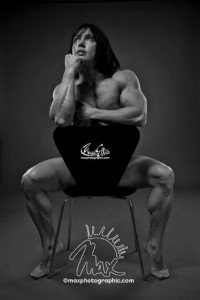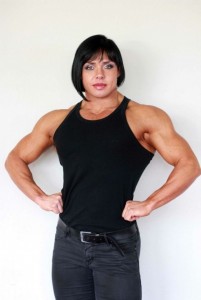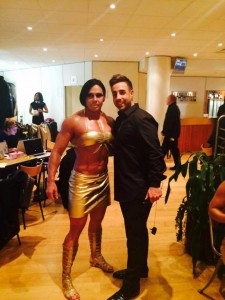 The article in Closer
- a
very
mainstream UK magazine - is just the latest bit of media exposure Rene has had for herself in the last few years. They've included
articles in a national newspaper
and
a feature in Cosmopolitan
,
a commercial for a fizzy drink
, and even
an appearance on the X-Factor
. Most recently, she was interviewed for
a series about the nutritional regimes of athletes
, and her "chicken shake diet" was picked up by online media resources and spread far and wide. And this year she also featured in
the music video for Cyril Hahn's Perfect Form
, a video that claims to
question ideas of what perfect body form and sexuality really are
and features all 14st of Rene walking through the night in heels and a dress that you will not forget in a hurry.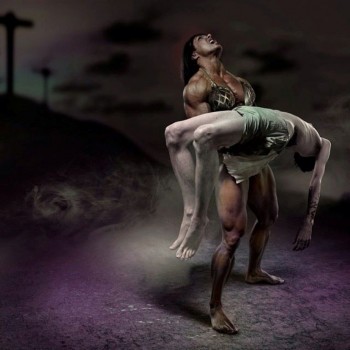 And meanwhile she continues to work with photographers from outside the traditional pool. Whether these images are your cup of tea or not, you have to admit that what Rene and her photographers have created is a unique portfolio of images which go way beyond what the majority of female muscle photography and the majority of female bodybuilders would even attempt to achieve with their work.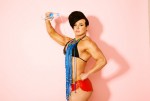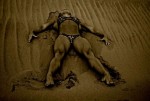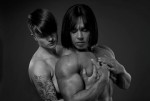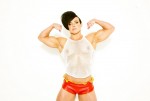 Whatever she's doing, she's doing it with class and total confidence.
I love being muscular, it makes me feel strong. It's not to please anyone,
she says.
I want to be a stone heavier and, if men like me bigger too, it's a bonus!
Well, right now this must be bonus time for Rene, because clearly many
FMS
readers (and writers!) do.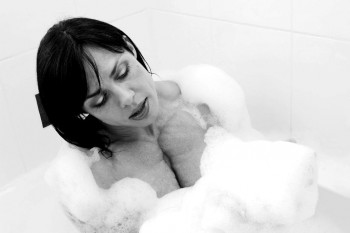 Follow Rene on
her website
,
on Twitter
and
Facebook
.
18
KASHMA MAHARAJ
#6

IFBB Bodybuilder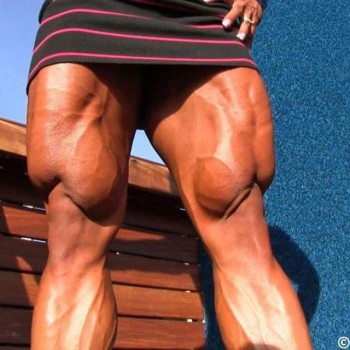 Unbelievable quads! I like!!! How big and thick your legs are... Those quads are bulging out so much beyond your knees it's like they stick out 6 inches! Touching them must be like feeling a sculpture carved out of marble - ROCK HARD... Breathtaking, electrifying legs... unbelievable, perfect... faultless perfection... I want to touch!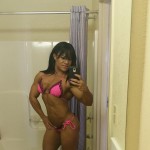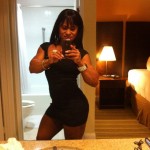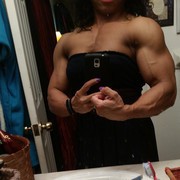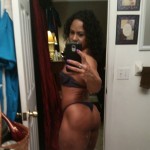 Kashma may not have been on stage for a couple of years, but she's still more than capable of bringing the female muscle brethren to its collective knees. You can almost hear the breathlessness in the comments. And now she's (finally)
on Instagram
, there's plenty more where that image (and those words of devotion) came from.
Rumours that she was downsizing and planning to move into the Physique division proved utterly unfounded (hardly surprising) as more reliable sources confirmed what we can all see with our own eyes.
She is still bodybuilding,
according to a forum poster lucky enough to have got up close and personal with the Caribbean Queen,
and she will try to move into the heavyweight class from light-heavyweight as long as female bodybuilding is around.
Now, isn't that
much
more believable?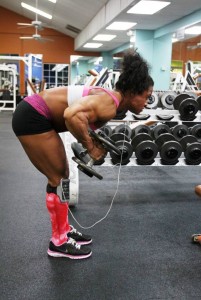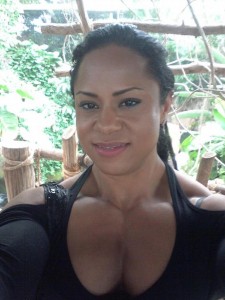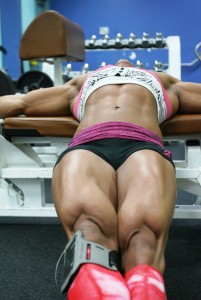 Since she burst onto our screens while she was still competing in her native Trinidad, it's seemed only a matter of time before Kashma would achieve her dream of pro status, and yet she's still dreaming. After she came so close at the Arnold Classic Amateur in 2013, winning her class but losing out in the overall posedown to lightweight winner
Branka Njegovec
, her legion of fans are no doubt (breathlessly) wishing 2015 will be the year that Kashma's dream finally becomes a reality.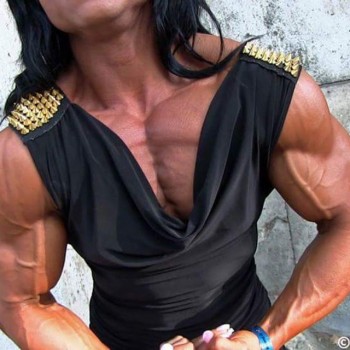 Kashma has featured many a time on
FMS passim
, but for breathlessness of the more recent kind check out the ever excellent
Female Muscle Clips' Kashma preview
. If you've got anything left after that,
FMS
(as always) recommends
watatiwatatio's channel
and
a T-shirt ripping Kashma
. Best of the bunch (and that's saying something) is
Kashma "showing her beautiful muscles"
for
female-bodybuilders.org
.
Pace yourself though, because it's not about to get any softer or cooler.
In a little while it's going to get
distinctly unsafe for your work environment
.
Unless you work from home that is. And
even
then...
17
BRIE EUBANKS
#5

Physique Competitor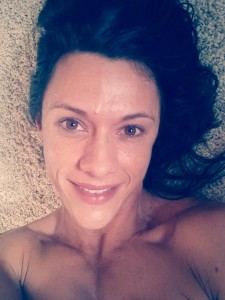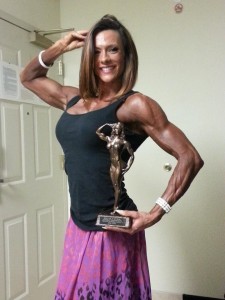 The single biggest mental obstacle I've had to overcome is remembering that when the competition is done, it's okay to look like a "normal" person. It's okay to have some body fat and not every muscle stretching itself out of my skin!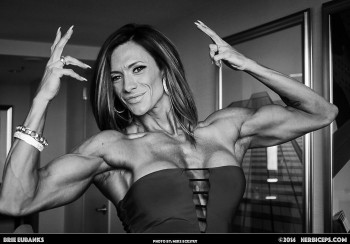 Safe to assume then that Washington's
Brie Eubanks
- a surprising #5 in last year's poll, and back again in the top 20 this year - loves showing off her freakishly vascular contest shape body just as much as
FMS
and its readers love looking at it. In 2014 that contest body got her 3rd place in the tallest Physique class class at the NPC Jr Nationals in June, and she was 3rd again at the NPC USAs in July. And yes, she does look like she's enjoying herself rather a lot on that stage, doesn't she?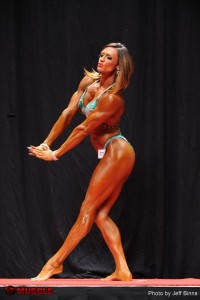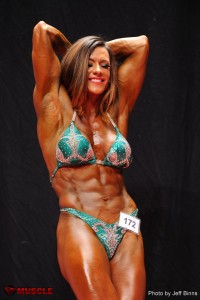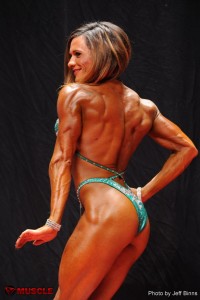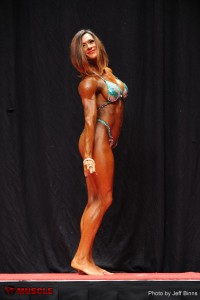 It was her husband of fifteen years that first got Brie into the gym, and seven years later, it was her husband who encouraged her to try a show.
He noticed that I had the "physical" attributes to compete after all the years of lifting,
she says.
He knew the "mental" attributes were already there just waiting to be unleashed.
She calls him her "source of inspiration", and he's the only coach, "mostly for workouts and a little dieting info" at the beginning, she's ever had. All of which, as a husband who got his wife into the gym and lifting last year, I have to say I find pretty damn inspirational!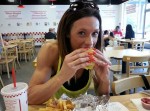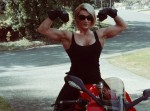 Brie says,
I am very down to earth,
and even the most cursory perusal of
her Facebook
or
Twitter
will confirm that, and that's also how she comes across in her training clips on
her YouTube channel
. But then there's also the sultry, pouting, strutting, flexing Brie with those muscles stretching out of her skin and all those swollen veins... Well, you can find her in recent
HerBiceps
previews
here
and
here
.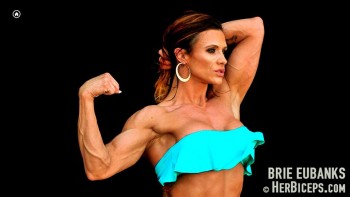 So today a girl who works at the gym brought an ad of a girl she said I looked like,
Brie told
her Twitter
followers recently.
She showed me and I blushed. Jamie Eason!
I think
FMS
readers would agree that actually it's Jamie who should be blushing...
16
ANGIE SALVAGNO
#39

IFBB Pro Bodybuilder, Entertainer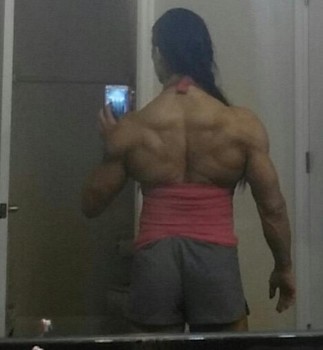 21st February 2014. The picture
shows a dildo, or at least what was very recently a dildo. Now it's just a kind of vaguely dildo-shaped piece of shredded plastic. The caption reads
I knew I had a powerful pussy but damn!
Welcome to the "not safe for work" section of today's post. Welcome to the world of
Angie Salvagno
.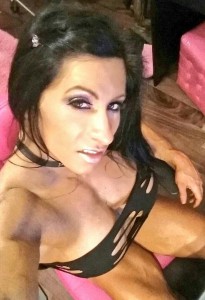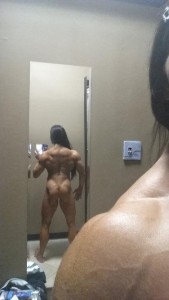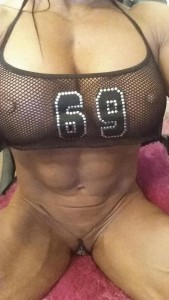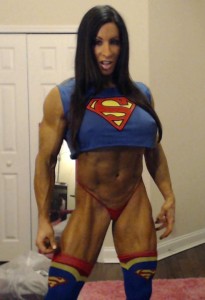 It's a world where the word "come" is never spelt with either an "o" or an "e", where Angie's spectacular body is hardly ever more than barely covered. It's where Angie models the gifts her fans have sent her, gifts that more often than not appear on
her Amazon wishlist
, and where she promotes
her Clips4Sale
videos, videos with titles like "Horny Shower", "Possessed with Muscles" and "Cuckold Bitch & His Wife". In this world Angie dominates everything, and every
body
- male or female, with or without their consent - and where she joyfully displays every inch of her hot and hard physique for her own pleasure as much as for the pleasure of her fans. And she tells us so.
I have to tell you I absolutely love, LOVE my muscles. Every time I look at myself I get so turned on by them. They are SO sexy. Big... hard... and they feel SO good.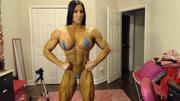 As a youth, she was a baseball player, but lost interest when she couldn't play with the boys anymore.
I had to play girl's softball and it just wasn't the same,
she says.
I love hardball[!]
She took up taekwondo at 10 and was a black belt by the age of 13, but it was her brother who inspired her to start weight training.
He used to work out and made such a transformation that it got me wanting to try it,
she says. Within seven years she did her first competition, and her love affair with the "lean, hard look" began.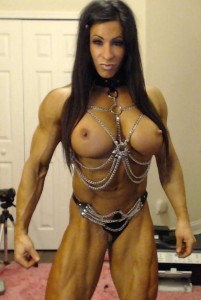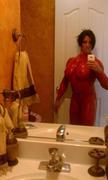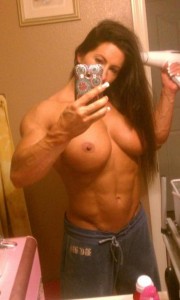 Despite consecutive class wins (light-heavyweight) at the 2006 and 2007 NPC USAs, it was only when she won her class (again)
and
the overall title in 2009 that she was awarded her pro card. She'd been competing for ten years. By that time she was already grabbing our attention through her work with some of the bigger female muscle websites. Angie in an
Awefilms
clip flexing her pecs in a bikini as she stands on a balcony is the one that comes to my mind as being when I first felt Angie's love of muscle. She had three top 6 finishes in her first three shows, and big shows they were too. A glance at the names of those who finished above Angie indicate how strong the line-ups were. For example, at the 2011 Europa, Angie completed a top 5 consisting of
Kim Buck
,
Monique Jones
,
Kim Perez
and
Tazzie Colomb
. But then, as she prepared for her first contest in 2012, instead of the lean, hard look she so loves, she actually started to
gain
weight on an hour of cardio and only 1,000 calories a day.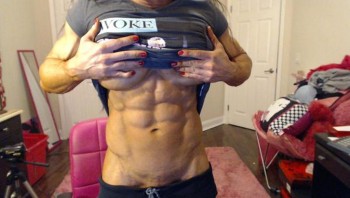 Three years and upwards of $20,000 in medical bills later, Angie has continued to train through the pain and keep her world alive. And the good news is she is ready, willing and able - finally! - to compete again this year. You can read what she's gone through on her
Go Fund Me
page and decide for yourself whether you want to make a donation towards helping Angie to stand on stage and show us her passion again.
15
JOANNA ROMANO
NEW ENTRY

Winner, IFBB Worlds & Arnold Classic Europe Masters Physique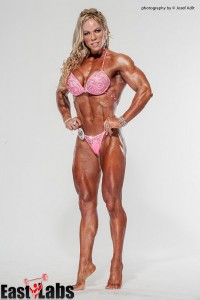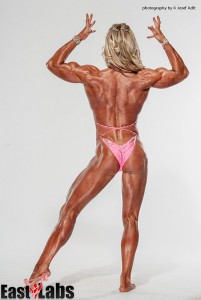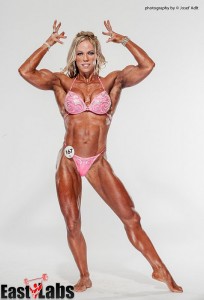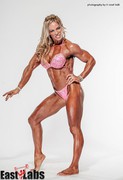 I wonder just how many of the many readers who voted for Joanna were first introduced to her by the wonderful self-made video edits of
Hemuvisa
. I know
I
was, via
The Sexy Joanna Romano at Arnold Classic Europe 2013
, made and posted on
his channel
when he (I assume) was still calling himself "sisse".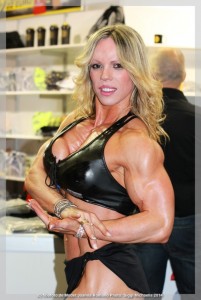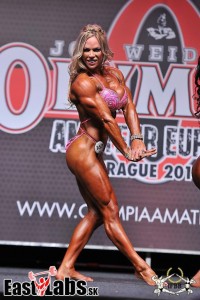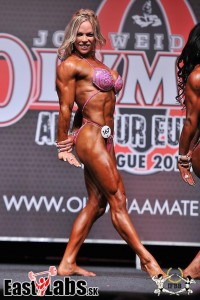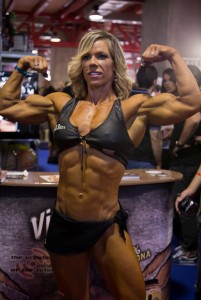 And though he makes at least a few clips for each of the events he attends, and these clips feature dozens of different muscular and not so muscular beauties, Joanna seems to be by far his favourite muse. At the time of writing, I reckon there is about half an hour of footage on
the channel
exclusively devoted to Joanna and her beautiful body.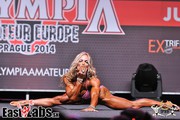 As Mr. Churchill might have said, NEVER, in the field of female muscle fandom, has one woman gained so much exposure and so many new fans because of the work of so few.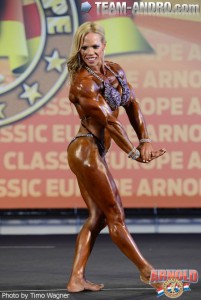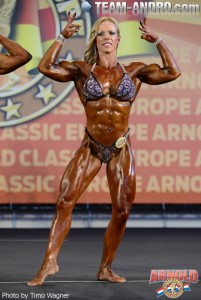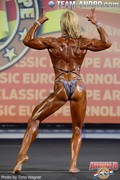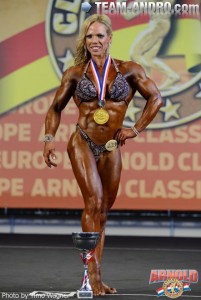 Joanna was, of course, competing long before
Hemuvisa
booked his first Madrid hotel and made sure his camera was fully charged. In 1999 she was an Athletic Fitness competitor at regional (Catalunya) and national level. By 2001 she had switched to Body Fitness (ie. Figure), and there she remained until about three ago when she grew into the Physique division. I'm sure that I'd seen the odd picture of her before I first saw
Hemuvisa's 2013 tribute
, but Body Fitness Joanna and Physique Joanna are two very different animals, and it was only when I saw the latter that I was hooked.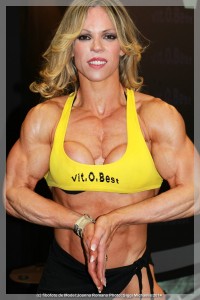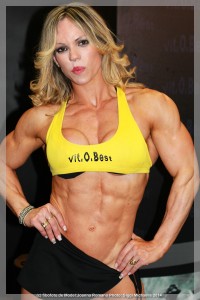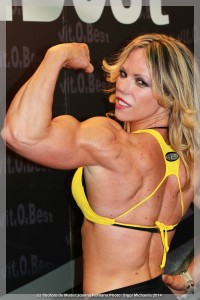 Now a pro, she should get more and more exposure from all sorts of differebt places, but in the meantime, you can explore Joanna flexing, preening, wiggling and jiggling, and pulling her (minimal) clothing up and down as necessary to give the assembled throng a better look at her divine cuts
on Hemuvisa's channel
. You can also follow
Joanna on Facebook
, and she also features in a couple of ads (made to look like interviews) in Spanish
on her sponsor, Vitobest's channel
.
14
DEBBIE BRAMWELL
#45

Retired IFBB Pro Bodybuilder, Biceps Legend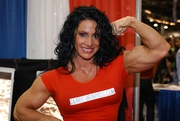 As with our #30,
Ginger Martin
, the longer
Debbie Bramwell
has been out of competitive bodybuilding, the higher she has climbed on the Hot and Hard 100 list.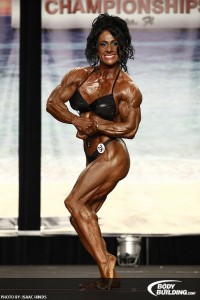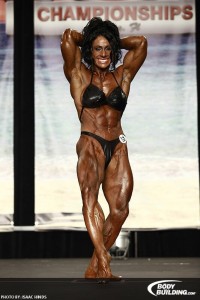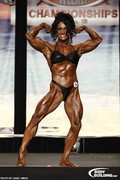 Her final contest was in Tampa well over two years ago. As always, her tan was deep and dark, and her conditioning and styling both razor sharp. And her muscles, especially those big beautiful biceps she was - still is - famous for, didn't disappoint. She was awarded 8th place and officially retired very soon after the show.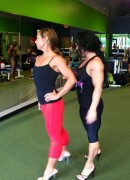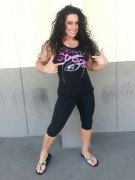 There were a few rumours on the boards as to why she had retired - motherhood, injury etc. - but what I do know for sure is that these days Debbie is using her (considerable) knowledge and experience to help some of the lucky people in and around Birmingham, Alabama, where she lives with her husband.
I give 100% to each client to help them be their best. Everyone is unique and requires specific attention to fit their needs. I love what I do,
she says. And those arms still look pretty good!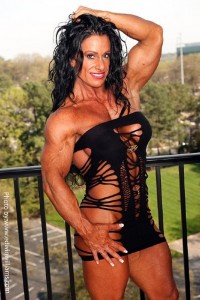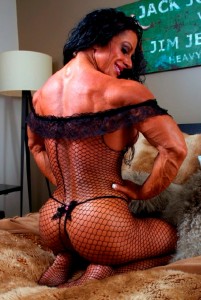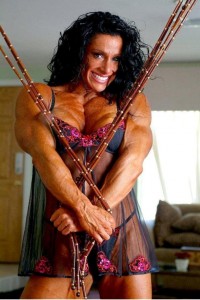 But I suspect our readers weren't really voting for Debbie v.2014, but the Debbie of their memory. And I am only too happy to oblige with just a few of my own personal favourites from the
FMS
archive. The Bramwell legend, it seems, continues to grow.
13
KATKA KYPTOVA
#40

IFBB Physique Pro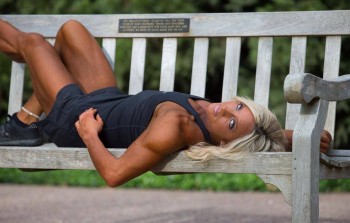 I think the female muscle lovin' brethren are beginning to feel a lot more comfortable with the downsized Katka.
She looks nice as a Physique competitor,
says one forum poster.
She's actually quite fetching,
is how another puts it. Hardly effusive language, but positive nonetheless. And plenty of you are impressed enough with Physique Katka to give her your vote this year, whereas last year she barely made the top 40.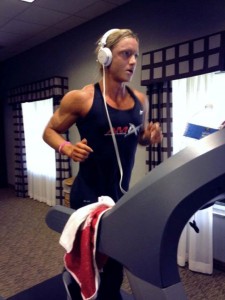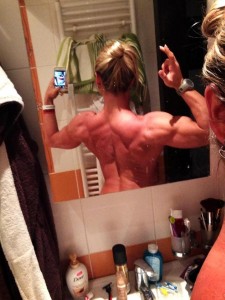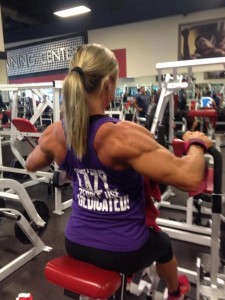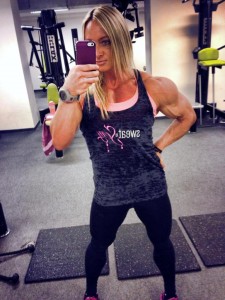 In 2014 there was ample opportunity to assess the new-look in her first season of IFBB pro competition. By my reckoning she competed five times during the year.
FMS reported in May
how she'd appeared on the same stage as
Valentina Chepiga
at the Emerald Cup back in April. Katka finished 6th there, and week later in Slovakia she came 4th (in a field of just 5) at the new Mozolani Pro. At the end of October she failed to place at the Europa in Phoenix, but earlier the same month, at the Titans Grand Prix in California, she had finished runner-up, by far her best result of the year. Then, in November, no lesser authority than
Steve Wennerstrom was a little confused
that despite the fact that "her posing routine was one of the best", she placed no higher than 7th at a pro event in San Diego. Maybe Katka's not going to have a lot more luck with the judges than she did during her bodybuilding years, but Wennerstrom does predict "higher placements in her future". I do hope he's right - Katka deserves them.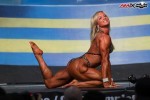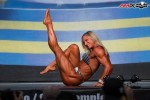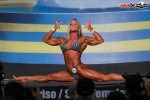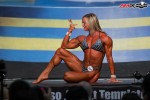 She may have sacrificed some size, but that doesn't mean she's lost any of her stage presence. She's just as watchable as she was as a bodybuilder, and no less likely to take her routine onto the floor (which regular readers will know is a big winner with
FMS
). On top of that, Katka continues to fly the flag for "the pecs, the whole pecs and nothing but the pecs" brigade, and those calves of hers aren't any less arresting either...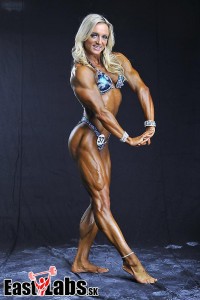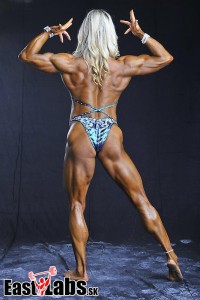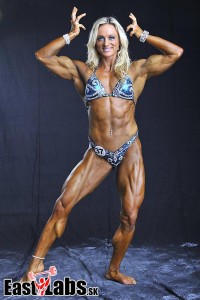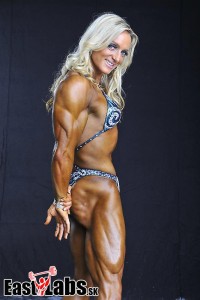 Met her briefly,
said one lucky fan after the Titans Grand Prix.
She's uber hot in person, sweet as hell with a huge smile, and she's hard as rock!
In other words, exactly as you hope and expect Katka would be, whether she's bodybuilding or physique.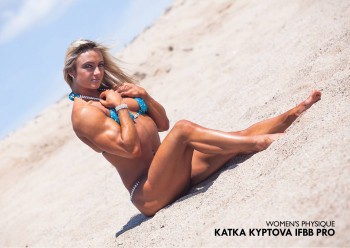 Her sponsors,
Amix Nutrition, have a YouTube channel
with very very cool clips of Katka
3 days before the Emerald Cup
, and
working on her lats
, among others. And you can follow Katka's Physique adventure in 2015 on
her Instagram
and/or
Twitter
.
12
THERESA IVANCIK
NEW ENTRY

NPC Bodybuilder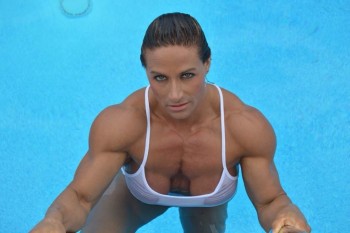 With her drop-dead gorgeous looks, her penchant for low-cut dresses, those sumptuous and (seemingly) perma-pumped and perma-tanned muscles,
Theresa Ivancik
has became a favourite to many of the brethren, and old Swell and the rest of the
FMS
family are no exceptions.
Our May 2014 tribute to Theresa
was one of the most popular posts of the last year.
Her regular Facebook posts are always a treat,
wrote one reader at the time.
She is damn beautiful!
He is damn right.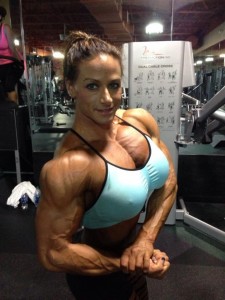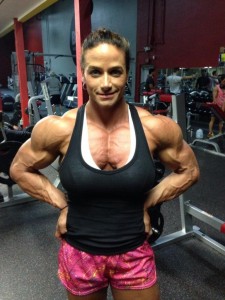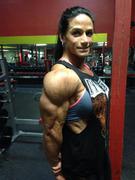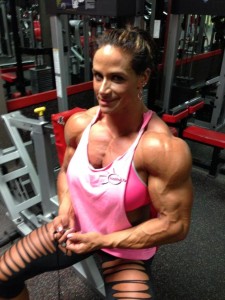 The fact that Theresa is the highest new entry on the
Hot and Hard 100
list is perhaps not as surprising as the fact that she didn't feature on the list at all last year. One explanation for that might be that for a couple of years she had been on a break from competition, but she certainly returned to both the stage and to the collective female muscle lovin' consciousness with an almighty bang in 2014. There were contests, there was lots and lots of modelling, and there was even mainstream press for Theresa, both in the US -
Theresa Ivancik was trapped in a dangerous anorexic/bulimic lifestyle until she found her passion. Now she's never felt more feminine or more beautiful...
(
People magazine
) - and the UK -
My Boyfriend Loves My Sexy Body
(
Best magazine
).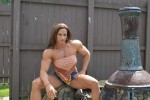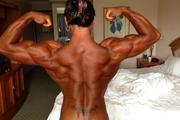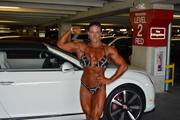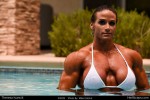 So there was a veritable plethora of Theresa material in 2014 to choose from for this post.
I love the modeling side of bodybuilding,
she says.
It's a wonderful feeling to see the final product!
Good to know it's as good for her as it has for us!
In modeling,
she adds,
I always make sure not to let the photographer photoshop my pictures for I want it to be the real me people see.
And the result of that is that it doesn't seem to matter whether the image is the lit-to-bits work of a top femuscle photographer, or a simple holiday candid taken by her significant other, she's always the real her, always nothing less than glorious to look at. Dear reader, you have absolutely no idea how very very hard it has been to look at glorious image after glorious image of the glorious Theresa and her glorious muscles and decide which ones to include!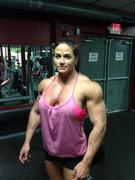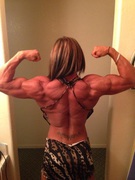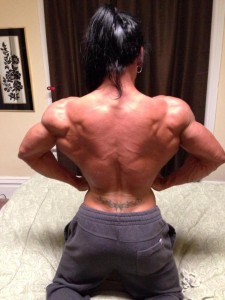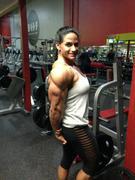 The one bit of Theresa's year that didn't quite go according to plan was her 3rd place at the NPC USAs, which means at least one more year as an amateur, one more year chasing her dream of pro status. Rest assured though that she won't be giving up on it though.
It's not a matter of IF I reach my goal but only WHEN,
she says on
her website
, and despite the fact that she once competed in Figure, that goal will always be pro status as a
BODYBUILDER
.
I love the muscle look!
she says.
I love the feeling of lifting heavy, the hard intense training and the crazy pumps. It's so addictive.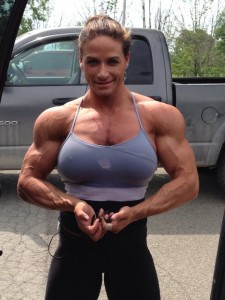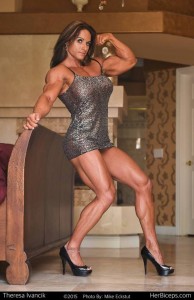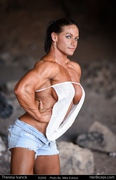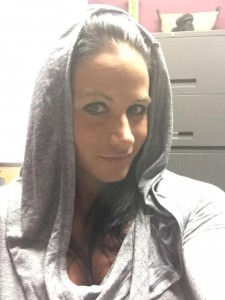 Follow Theresa feeding her addiction on
her Facebook page
of treats and/or
Instagram
. She regularly updates
her YouTube channel
, and there you'll find a really cool (and you know me well enough by now to understand that means "really hot")
guest posing appearance
- her first ever - from last year.
HerBiceps have a breathless teaser of their work with Theresa from last year
, and
a longer clip focusing on her chest and triceps
. And before you go blind, check out
this commercial Theresa appears in
which, if I'm not very mistaken, confirms what we know. When it comes to dream women, Theresa's smouldering muscle beauty is what men really want.
11
JULIANA MALACARNE
#4

2014 Europa Super Show Winner, 2014 New York Pro Winner, Ms Physique Olympia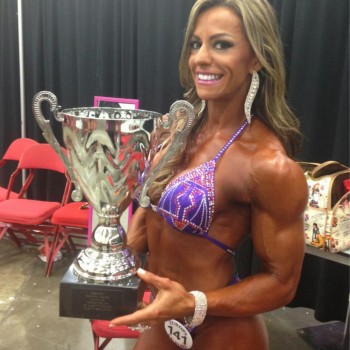 As soon as she stepped onto the stage, the verdicts started to go up on the forums.
Juliana owns this contest!!!
they agreed. The contest in question was the 2014 New York Pro, and they were not wrong. Your #11 (surprisingly down from #4 last year) did indeed rule the Physique division in the Big Apple - for the third successive year. A week earlier she had already taken the Physique crown at the Europa Super Show in Dallas, even though delayed flights had messed with her preparation and meant she had not been at her best, but there were no such issues in New York.
Juliana carries more muscle than many of the other competitors in the division,
noted Hardbody News,
but dare I say it's a "pretty" look to her muscle. No disrespect to the other women in this show but it was Juliana and everyone else.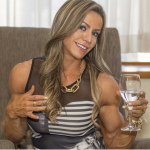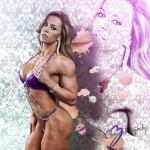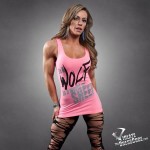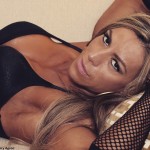 After the New York show predictions of a Malacarne win at the Olympia were already being made.
I have to think she's the favorite to win come September,
said Dave Palumbo.
Malacarne is what this division was created for - muscle and beauty.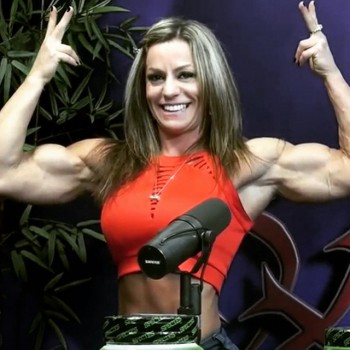 And when September came Juliana proved him right, unleashing a package of such muscle and beauty that she carried all before her. In the closest and therefore most compelling contest (male or female) in Las Vegas this year, it was,
according to Steve Wennerstrom
, Juliana's
flawless symmetry and balance, with her flowing and flawless muscle shapes in every bodypart
that triumphed over the reigning champ
Dana Linn Bailey
. Juliana was, it seems to me, not just the star of the Women's Physique Olympia in 2014, but the star of the entire Olympia weekend. And the "Malacarne magic" shows no signs of waning just yet. Already in 2015 she has been crowned the first ever Women's Physique champion at the Arnold Classic.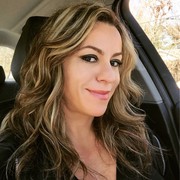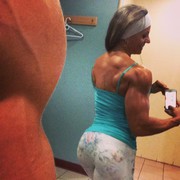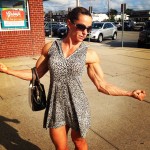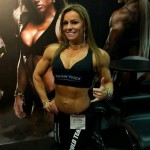 It's easy to forget that all this success and all of those "flowing and flawless muscle shapes" have taken Juliana nearly twenty years to achieve.
When I was 20 years old I wanted to get my abs tighter and my legs more muscular, so I signed up for a gym membership,
she says.
I didn't go straight to the weight train room, I decided to take the classes that were more fun. For about 2 years I went to the gym 4 to 5 times a week and my body improved tremendously. Body sculpting, step and some dance classes were the ones I used to go to most, sometimes I visited the weight-training room mostly focusing on legs and glutes, which are a "must-have" in Brazil. One day someone in the gym invited me to compete in a fitness show...
And through years of Fitness contests, through some very lean years as a Figure competitor, and now into the Physique era, Juliana has kept on going, continuing to hone her beautiful Brazilian body to perfection.
I love what I do, I love my lifestyle,
she says. I think it's fair to say that more than a few
FMS
readers are loving what Juliana does as well.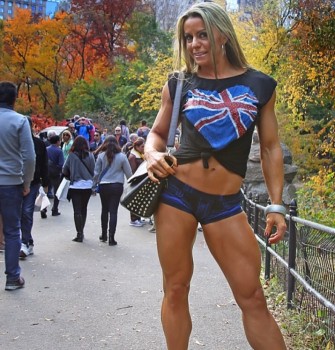 Watch Juliana
owning the New York Pro on YouTube
, and see
FMS' Olympia review
for much more Malacarne. She's on
Facebook
,
Twitter
and
Instagram
, and there are some great training clips of her out there - for example on the
NPC News Online
and
Violate the Dress Code
channels. You will also want to see the Ms Physique Olympia's quad shake, courtesy of
this Femflex preview
. Trust me, you really really want to.
So, that just leaves us with the Top Ten. Soon, soon...