Buckle up you lovely people. Today we'll be meeting the first ten ladies that you the voters reckon are the top 40 hottest and hardest in the world. And it would be churlish of me not to say that I think you all have the most excellent, excellent taste.
THE FMS
HOT AND HARD 100
40
GILLIAN KOVACK
#44

IFBB Pro Bodybuilder
It's a wonder anybody else gets any lifting done in the Edmonton gym that
FMS
fave (and former
Woman of the Year
)
Gillian Kovack
frequents (rules?) if our opening pic is anything to go by. Imagine how you would react if you wandered in there to be greeted by the "Alberta Athena" casually spreading her wings between sets?!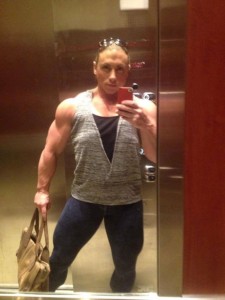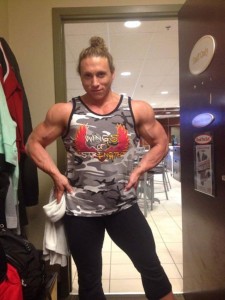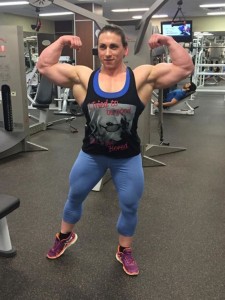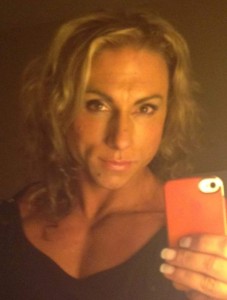 She is an fbb that holds a TON of muscle,
says one excited Gillian fan (his capitals),
such a powerful woman.
Agreed. Gillian's power emanates from every inch of her mighty frame, but I also agree with the fans who can't help but focus on those beautiful big brown eyes of hers, and it's not just because they're big brown and beautiful either. it's more about the eyes as the window of the soul thing, because as much as Gillian's body transmits physical power, it seems to me that is nothing compared to the power emanating through her eyes. The power in her
soul
, if you will.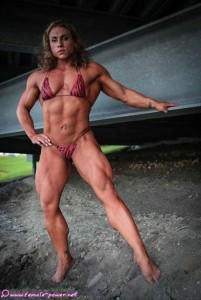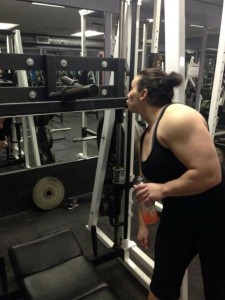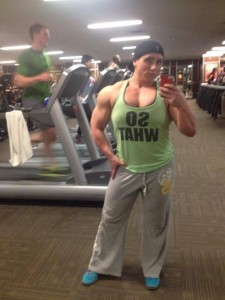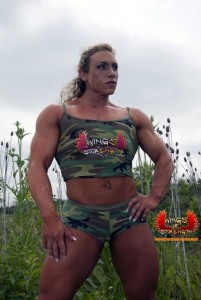 For the last couple of years Gillian hasn't been at her best come competition time - in 2014 she didn't even make the top 15 in Chicago - but that doesn't seem to have affected the brethren's enthusiasm for this stunning woman. Quite the opposite, in fact.
I really hope this is the Year of Gillian...
one forum poster wished before Chicago,
and she gets back to the incredible shape she was in more than 2 years ago when she won her pro card.
It seems we're all rooting for Gillian to get back to her best and the longer it takes, the more we want it. She's currently prepping for the new season. I, for one, am praying that her 2015 package will live up to her incredible potential.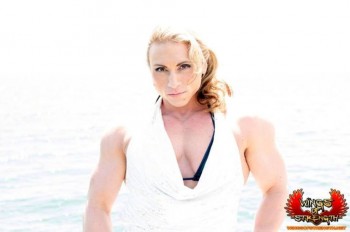 Follow her progress - and gaze into those eyes - on
her Facebook page
.
39
SELMA LABAT
#71

IFBB Pro Bodybuilder,
Campeã Brasileira e Sulamericano
2014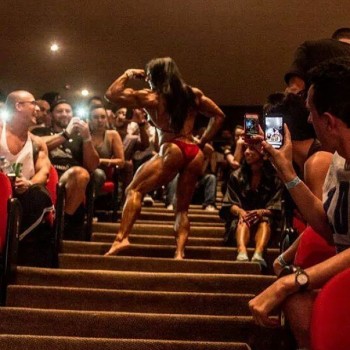 While federations all over the world have been (whether gleefully or not) deleting female bodybuilding from their contest calendars, in South America opportunities for women like our #39 still exist. She only started competing in 2013 when she won both her State (São Paulo) and her National (Brazilian) championships and the Arnold South America qualifier, finishing a lowly(!) 2nd at the event proper. Last year she followed up by retaining her Brazilian title and then taking the South American crown as well.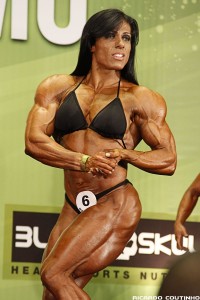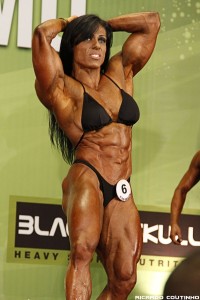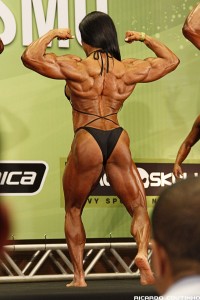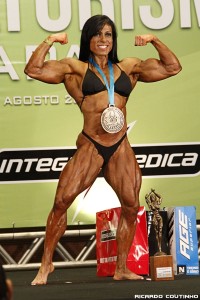 Todo bodybuilder é um super star!
, she says. True, but some bodybuilders are definitely
more
"super star" than others. Ladies and gentlemen, the woman most likely to be the next South American female muscle super star:
Selma Labat
.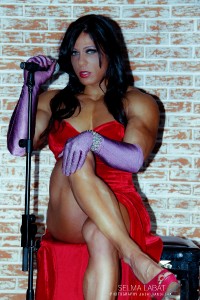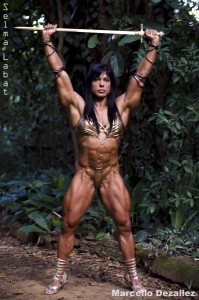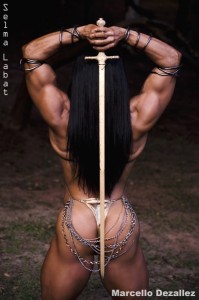 Selma is a little under 5' (1.50m) tall, a mother of two, a belly dancer (imagine!), and
all
woman, expressing her own particular brand of strong and sexy femininity as an Amazon warrior or (a brethren favourite) "Jessica Muscle Rabbit" for photoshoots in the last year.
She loves to be elegant,
her website
tells us,
to wear short dresses and high heels, big jewellery, costume jelwellery, make-up and perfumes.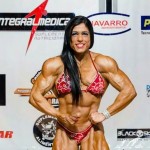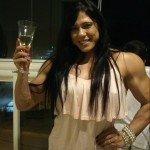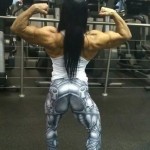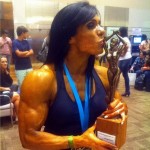 You can follow Selma's inexorable rise via
her Facebook
and
Instagram
pages as well as
her (excellent) website
, which has plenty of free photos and videos to enjoy. Watch
Selma's winning Brazilian championship routine
and
a sizzling guest posing appearance at the Trofeu Praia Grande
(in her Jessica Muscle Rabbit guise).
Divirta-se!
38
BEATA ANTONINAS
NEW ENTRY

IFBB/CBBF/OPA Figure Competitor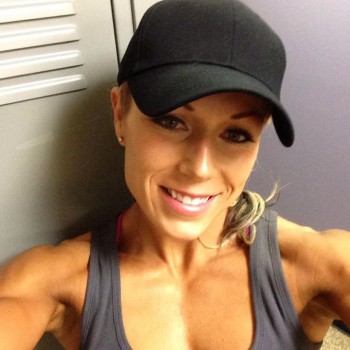 You may remember that in
the previous installment of our countdown
, we reported how
Susanna Tirpak
's confidence had been knocked by comments made about her physique. Such problems don't appear to be an issue for our
Beata Antoninas
.
I've been told,
she says,
that I have the perfect combination of muscle and beauty.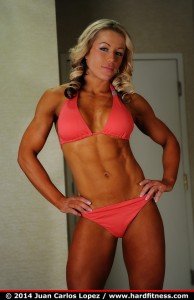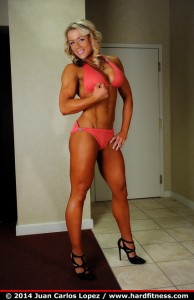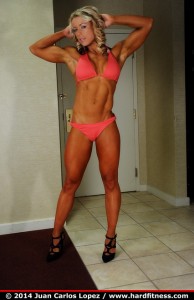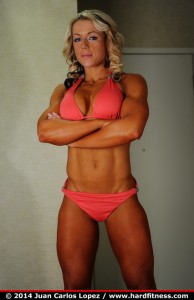 I wonder who's doing the telling. Every guy she ever meets? Probably. And also plenty she's never met as well.
Her Facebook
guy fans confess to "drooling" over her pictures, tell her she's "smokin", "yummy", "stunning", "gorgeous", "the most beautiful woman I have ever seen". And she has girl fans too, and they tell her she's "stunning", "beautiful", "gorgeous" and "fresh", living proof that "women with muscles can be sexy".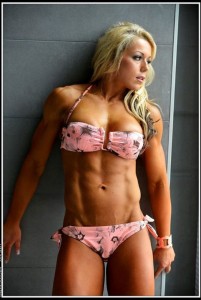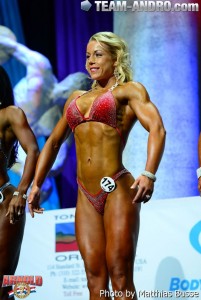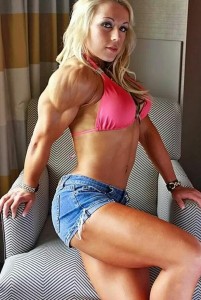 The self-confidence is hardly surprising then, but Beata, inspired by
Monica Brant
and
Erin Stern
(who she says
have incredible physiques and are both gorgeous
), had decided what she wanted to do, and wasn't exactly lacking self-belief about whether she could do it, long before she had all those fans.
In my first year college I asked my physiology professor to help me start prepping for my first show,
she tells us. Just like that! A year later, at the age of 21, she stepped onto the stage for the first time.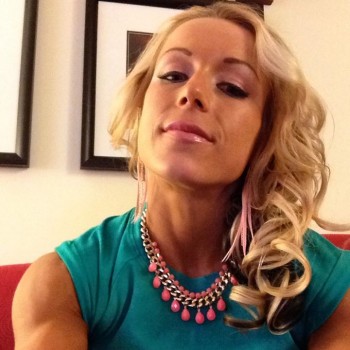 If You like Female Muscle You Will Love Beata Antoninas
promises one of her
Muscle Appeal
previews on YouTube, Other previews tell us she's a
Bad (as in "naughty") Muscle Girl
, and ask if she is the
Hottest Muscle Girl Ever?
Those loyal fans have been commenting in the affirmative, but even if you wouldn't go quite that far, you'll probably agree she's more than hot an hard enough to belong on our list.
37
JULIE BONNETT
#94

2x WBFF Pro Fitness Model Champion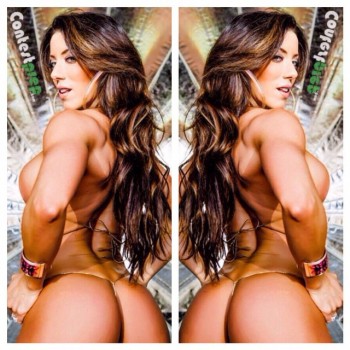 I am OBSESSED with glutes!
says #37
Julie
"Jewels"
Bonnett
.
I began with no bum, and have had to diet and train exceptionally hard to shape and maintain my lower body.
And having made so much effort to create such a stunning rear, she's not about to cover it up.
When I vacation with
[husband]
Craig on the beaches in Mexico or at the pools in Las Vegas, I love rocking itsy bitsy bikinis – it's my reward for all that hard work!
I guess that's what you might call a "revealing" quote...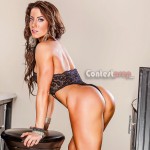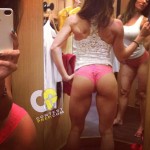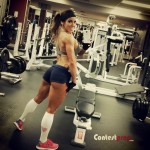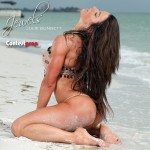 With its focus on glitz, glamour and glutes, and the relatively un-muscular competitors, World Beauty Fitness & Fashion Inc. shows tend to be dismissed by hardcore female muscle fans as little more than beauty pageants. But it would be a mistake not to recognise that competitors like Julie do the training and dieting just the same as any woman the hardcore fans would deem worthy of the "female bodybuilder" tag. And as a result, Julie in contest shape - even Julie a week out - is a sight to behold. She may not have masses of muscle on her frame, but she's so cut that every single muscle stands out. She's lean, she's hard, and she's very very vascular.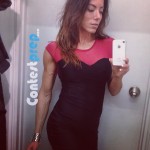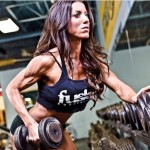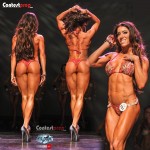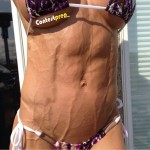 And what's more, WBFF the organisation (unlike some other "bodybuilding" federations) is growing, and has been growing for some time. Julie has certainly had a major role in that. She is, without question, one of the organisation's most important and best-known "faces". And she doesn't just work hard on that body, she is tireless in the promotion of herself and her lifestyle and the promotion of the "Premier Fitness Consultancy" she runs with her husband,
Contest Prep
.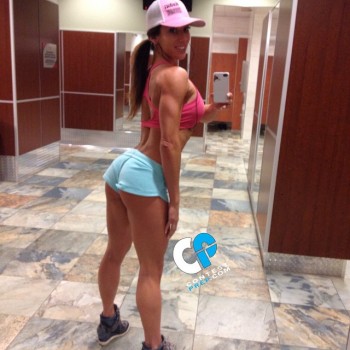 "Fit and Firm" seems to be the WBFF's catchphrase these days. Well Julie is most certainly both of those things. But she also qualifies, according to some of our voters here anyway, as "Hot and Hard". Tot up the ratio of posts Julie makes that focus on her glutes compared to her other body parts for yourself on
her Instagram
.
36
LISA GIESBRECHT
#74

IFBB Pro Bodybuilder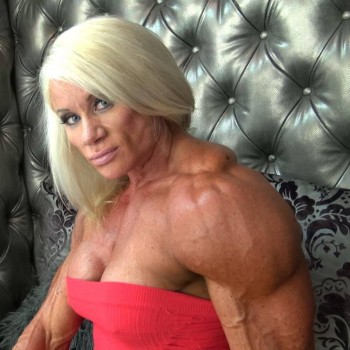 Last year,
Awefilms
shot #36
Lisa Giesbrecht
bulging out of a tight and tiny red dress - to say she was wearing it would, I think, be somewhat misleading because that thing is fighting for its life. The location was a public place, a coffee shop it seems, and for the first five minutes or so, Lisa sits in a booth not exactly posing, more like surreptitiously rippling. The camera closes in on her calves, her traps, her thighs, her arms, her shoulders. She looks huge, freakishly vascular, and every muscle reveals itself in glorious detail. With ice blue eyes she gazes long and deep into the camera... The effect the clip so successfully creates for the viewer is that it's
YOU
who are sitting there next to Lisa in that coffee shop. The show she is putting on is a private one - just for you - but it's the fact it's all taking place in public that, in my opinion anyway, takes this clip into the realm of greatness, nailing a fantasy of being with a female bodybuilder in public. In my imagination, this scenario tends to play out in the evening and in a restaurant, but the location is less important than the fact that Lisa (or the Lisa she is playing in the clip, anyway) loves, or even can't help herself, putting on a display that is both secretive (just for you)
and
public at the same time.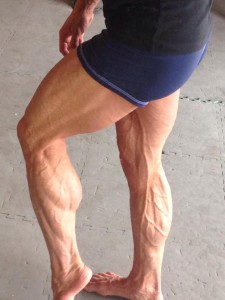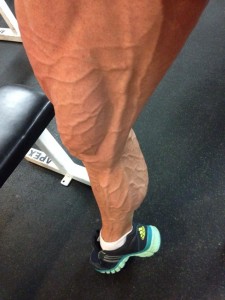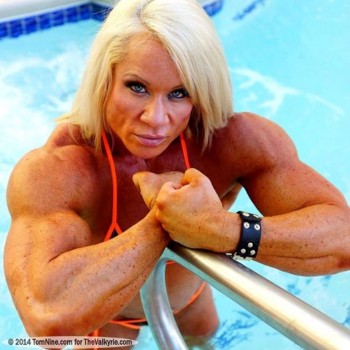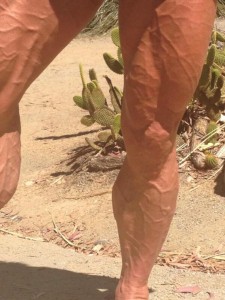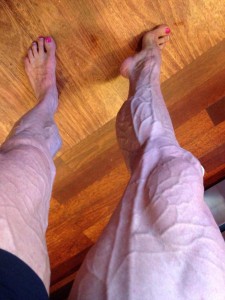 It was a meeting with a professional female bodybuilder that inspired her to compete.
I just loved the whole muscle look,
she says. Lisa - big though she undoubtedly is - may not be the biggest female bodybuilder around, but, as the
Awefilms
clip shows, in contest shape her body is certainly one of the most freakishly vascular, those "road map" legs in particular. And both in the pictures of herself she posts, as well as in the clip described and many many others, Lisa seems to take genuine delight in displaying her unique physique - forever "intense and seductive", as one fan puts it. She's still in love with that "muscle look", it's just now the look and the muscle is her very own.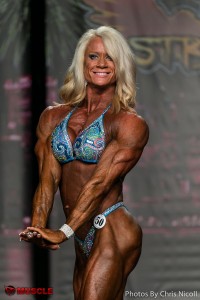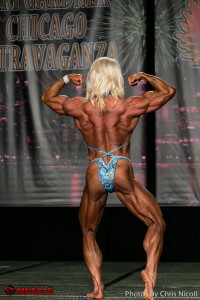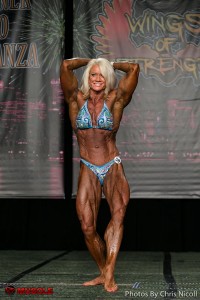 Having taken a break from competition in 2013, Lisa was back with a bang on stage last year. She couldn't repeat her 2012 win in Toronto, but fifth there followed by a second place in Chicago in July qualified her for her second Ms Olympia.
I do this because I love it,
she says,
and I'm going to continue doing it, to look what I like to look like, and as long as there's a stage I can stand on, I'll be there.
Well amen to that!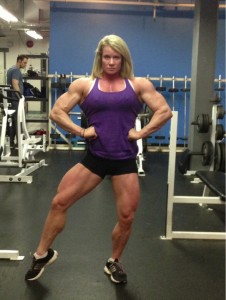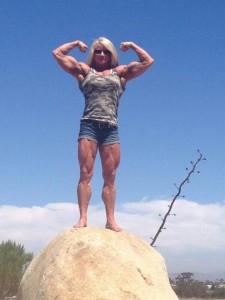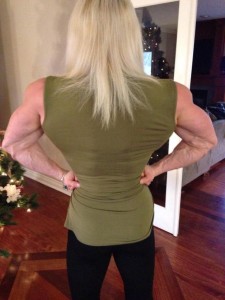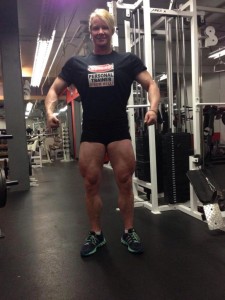 If you fancy getting trained by the "personal trainer from hell", your first port of call should be
her Ironworks website
. Otherwise, Lisa is
on Facebook
and
Twitter
(where those road map legs proudly provide the banner picture). Enjoy
her routine from Toronto on watatiwatatio's excellent channel
, and
a veintastic Female Muscle Clips preview
from the same show - those calves have to be seen to be believed!
35
VIRGINIA SANCHEZ MACIAS
#41
IFBB Pro Bodybuilder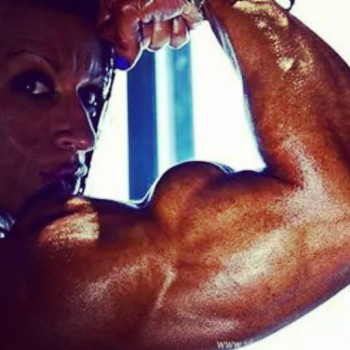 Madrid, 1988.
I started at 17 years old. My father was a great sportsman who I greatly admired and one day he told me to train with him. I touched my first weight, and from that instant I fell in love. I knew it was mine.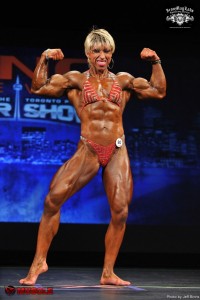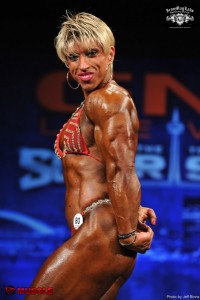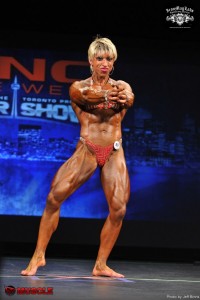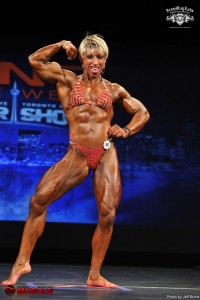 26 years and 20 years of training later,
Virginia Sanchez Macias
takes the stage in Toronto. Not since the pre-millennium days of
Amelia Hernandez
has a Spanish female bodybuilder stood delt to delt with the IFBB pros. Virginia places 3rd.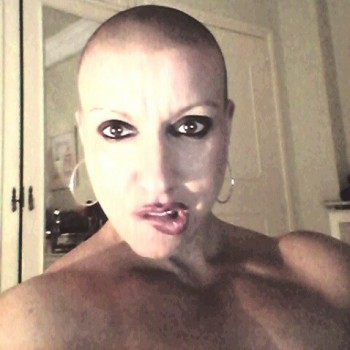 Now a lot gets written about the hair, or lack of.
I liked her with hair,
some say,
She might have the worst haircut of all time,
say others. They say,
Good arms/pecs/back etc., bad hair
, and they also say,
Love how she looks with the buzzcut.
One says,
I like the shaved head look,
but another says,
Fully-shaved is too extreme for me,
and yet another says,
I just really hate that hairstyle.
Gentlemen, please! Are we fans of female muscle or characters in Sex and the City? Really... But if you want my opinion, I'll tell you. I think Virginia has such strong features - those big big eyes, those lustrous lips - she pulls off the fully-shaved look very nicely indeed (and that could definitely not be said of every woman). Amazingly enough, that's also her own personal preference. So why the blond wig? Did the IFBB pass yet another missive about fbb femininity? I think we should be told, because after all,
hair
is what it's all about!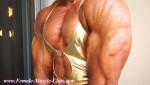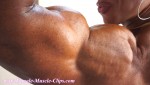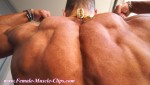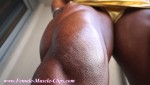 Fortunately, there are also plenty of those out there who focus on what it's
really
all about - the
MUSCLE
. And these days, there are not too many women who wear such a lot of it. As one fan eloquently puts it,
Her bicep looks like a ball of granite wrapped in womanly flesh, her pecs so big, thick and full they look as if they are about to explode out of her top - she's a monster!
And is it just me, or does it seem like every time you see a more recent pic or clip of Virginia it looks like there's
MORE
of it?
Don't stop Virginia,
they write breathlessly to their "Lady of Spain",
don't EVER stop!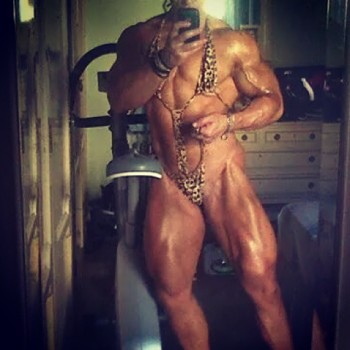 Follow her mind-boggling progress (and ever-changing hairdos)
on Facebook
and
Instagram
. She also has
her own website
with lots of info and pics, though little's been added since Toronto. Watch her
in action in Toronto
(
watatiwatatio
again, what a legend!), and there's
a nice little interview of her after the show
as well.
Female Muscle Clips
have also shot some exceptional footage of Virginia. My personal fave, though sadly also the shortest, is of
Virginia's bulging muscles bulging out of and under that tiny (on her, anyway) gold dres
s, but there are others
here
and
here
. You can also check out an excellent and extensive article and interview with her on
the excellent Mexican female muscle blog, Female Muscle Universe
.
Disfrutar!
34
RENE MARVEN
#24

IFBB Pro Bodybuilder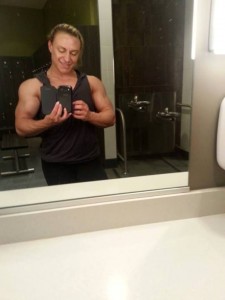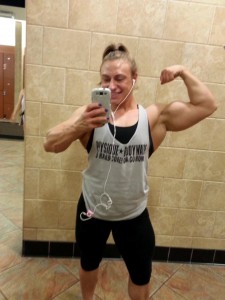 First thing about Rene that I'm going to say is that she is, without question, the
worst
taker of selfies of any woman on our list, and quite probably in the whole female muscle lovin' world! The two above are by far the best I could find, and I've tried to find better, I've really really tried. Is there something wrong (or something on) the lens of her phone? Does her gym have particularly dirty mirrors, perhaps? Or maybe it's just that Rene works those muscles so damn hard that by the time she gets round to taking her post-workout selfie, her arms are like jelly! Whatever the reason, they are not good - and some, it has to be said, are truly
awful
.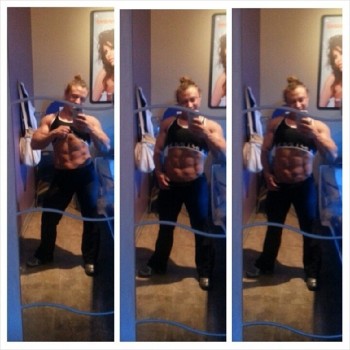 It's a damn shame, because as we can (just about) see above, there is so much of Rene that is worth a good picture. Those big, thick abs, for example, deserve so much better. Imagine if the photo had even half the kind of definition they have...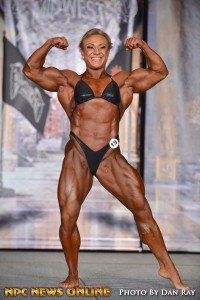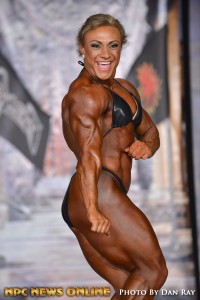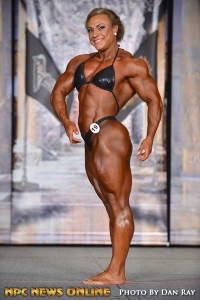 Thankfully, Rene competed at the Omaha Pro in 2014, finishing eighth, so we don't have to depend on her selfie skills (or lack of) for recent-ish images of our #34.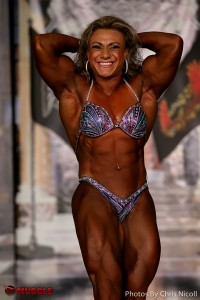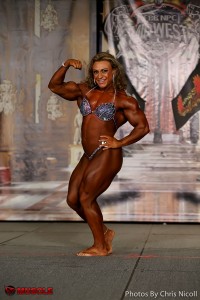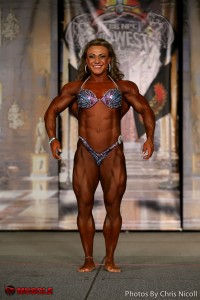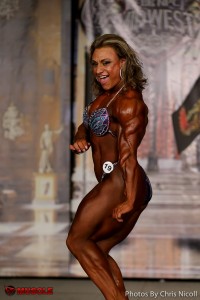 And maybe that's a good thing, because Rene lives for just that moment.
There really is nothing like that feeling.
[The first time]
I thought it would be similar to how I felt during cheerleading/gymnastics events, but it was so much better than that! I feel like a star and everyone is there to see me (not really, but it feels like it!).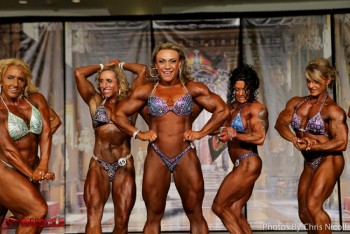 Her enjoyment certainly comes across in these pictures, not least the above image taken during the posedown with Rene front and centre and feeling (and looking like she's feeling) every inch the star. And, though it's easy to forget, she's still only 28, so in the future there should be a good few more contests for her to enjoy, and that means a good few more contest pics of her for us to enjoy. In the meantime you can follow Rene
on Instagram
and
Facebook
. Just don't hold your breath for quaiity selfies!
33
TINA NGUYEN
NEW ENTRY


IFBB Pro Figure Competitor, 2014 NPC Nationals Class C Champion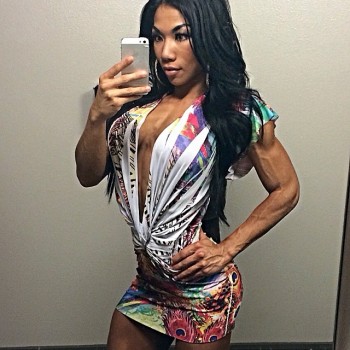 It's somewhat ironic that the woman who is right after Rene on our countdown is very much at the other end of the selfie-taking scale, Figure phenomenon
Tina Nguyen
.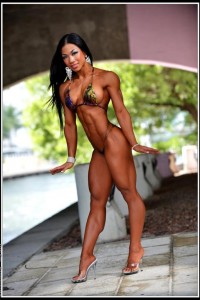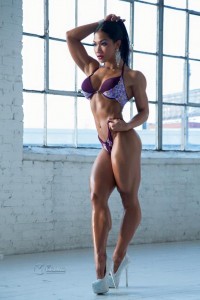 It shouldn't be a surprise that Tina's a selfie master, though, because you get the feeling she excels at whatever she does. Originally from Vietnam and now based in Texas, Tina was a beauty contestant who took out a gym membership in an effort to lose a little weight before an upcoming pageant.
I had no idea what I was doing,
she says.
Then one day I came over to a friends house and they were talking about getting fit, and I told them "I just don't have time, I'm too busy". That night I came home from my friend's house, realized I was done making up excuses for myself and started training...
That was in 2011. Within two years she was competing at the Ronnie Coleman Classic, finishing second in her first contest. By the end of last year she had won her class at the NPC Nationals in what was only her third ever show, and consequently gained her pro card. All before she'd turned 23.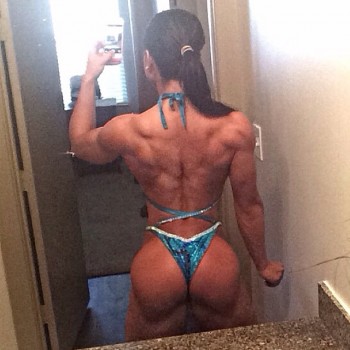 But Tina isn't just any old new pro, not by a long shot.
In an industry filled with amazing physiques,
writes C-Ray in
a recent interview with Tina on Fit Gems Nation
,
to have yours be the one that people can't get enough of speaks volumes. In 2014, no one embodied that more than Tina Nguyen.
As I said before, she's a phenomenon.
Everyone is beginning to notice her eye-catching physique. If her debut year is any indication, Tina is going to be someone people are going to be talking about for years to come. We could see her as the face of the Figure division sooner rather than later.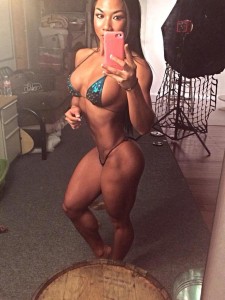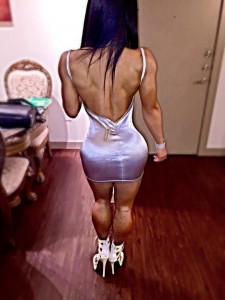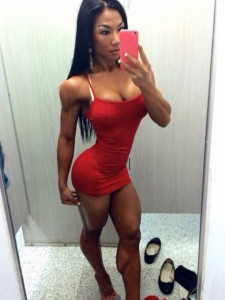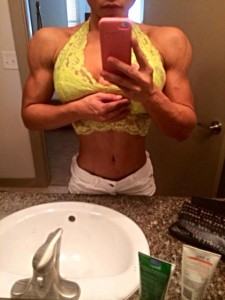 High praise indeed. And the "everyone" whose eye is being caught by Tina's physique very much includes yours truly and the brethren in general. I've noticed though that when it comes to posts about Tina, no one seems to write very many words. There's no effusive paragraphs of praise, no poetic eulogies, and often the comments consist of a single extreme adjective ("incredible" is the one that seems to crop up the most). It's almost as if we all lose the power to type when Tina's on our minds, and looking back through
the (by no means extensive) Tina Nguyen archive on FMS
, I appear to be suffering from that loss of typing power as well. The most I've previously managed to write about Tina consisted of a few lines bemoaning - yes, bemoaning - what sinful thoughts she always makes me have, especially when that eye-catching bod of hers is snugly inside what I call "a ridiculously tight and revealing outfit".
So having written so much more this time, I guess I should be feeling rather proud of myself, if only because I seem to have become a most excellent one-handed typist. Trust me, you
need
Tina in your life.
Instagram
. Go! Go now!
32
KARINA AKMENS
#22

WBFF Figure Pro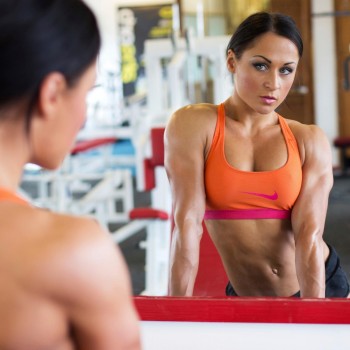 Stunning WBFF "Supergirl"
Karina Akmens
didn't get quite as many votes this year as last. I can only assume word of her engagement got round and heart-broken voters, robbed of their "that girl's gonna be my wife" dream, tearfully crossed her name off their lists. Yes, she's the considerably less exotic-sounding
Karina Smith
now.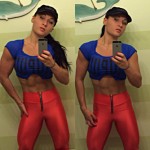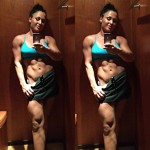 But wait!
1. Is your lady never satisfied with the way she looks?
2. Does she "feel fat" even though she's actually skinny?
3. Is she constantly trying crazy diets that do her body more harm than good?
4. Is it so bad that sometimes she even faints as a result?
If you answered "Yes" to any of the above questions, then you can just stop your sniffling, mister, because I may yet have a Karina-based fantasy for you...
I never felt satisfied with myself, and even though I was skinny, I always felt fat. I felt sick, at a loss for energy, and would faint often when I was underweight. I found new crazy diets that just harmed my body,
says...
KARINA
! Now, can you imagine your lady saying that? Of course you can. Now, what happened next do you think?
Everything changed when I saw a photo of a random fitness girl on the internet. She looked so healthy, fit, and sexy. I realized that I wanted to be healthy, fit, and sexy. I started searching for info and Bodybuilding.com came up. That's the day my transformation began. Now, I'm a fitness model and a figure competitor...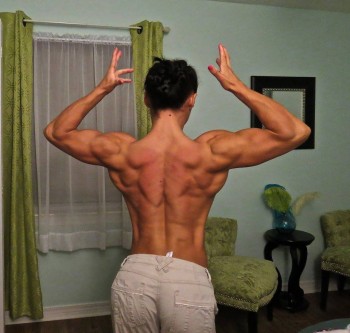 Ok? If you can imagine your lady saying the first bit, then, my friend, you are only a random internet fitness model picture away from having a fitness model and pro figure competitor on your (hopefully pretty ripped) arm. Via a total lifestyle and body transformation (perhaps for you as well as her) of course.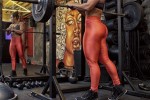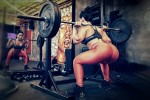 Now, doesn't that make you feel better? You're
VERY
welcome.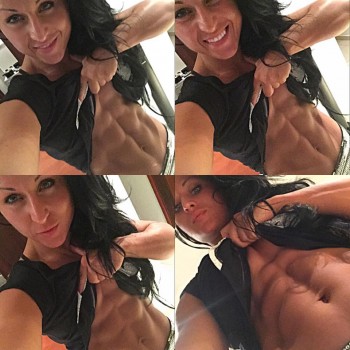 Source random hot and hard fitness model pics at
Karina's Instagram
. Good luck.
See also FMS passim.
31
RIA WARD
#23

IFBB Physique Competitor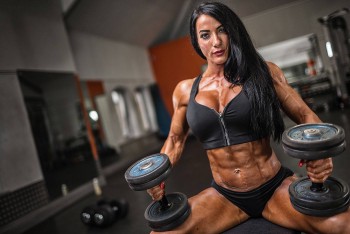 From the very epicentre of British female muscle - Rochdale, Greater Manchester - the gorgeous
Ria Ward
completes today's installment of heat and hardness.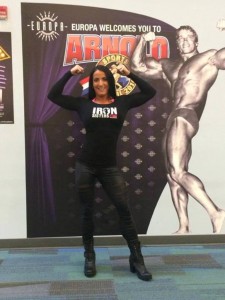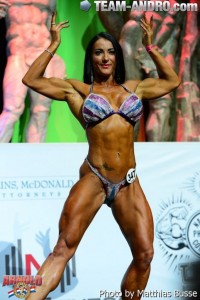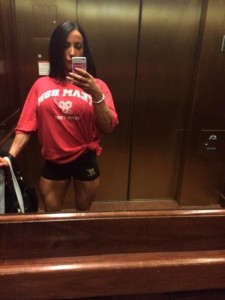 Readers may remember
FMS following Ria
, along with
Hayley Brylewski
(#65) and
Rosanna Harte
(#98),
to the Arnold Amateur
back in March last year, where Ria, despite not placing, received much-appreciated "physique is the right division for you" feedback, got to meet her hero (
Dana Linn Bailey
, #42) and generally had a whale of a time. Even being delayed by bad weather on the return journey from Ohio couldn't dampen her spirits.
I will bring it next time that's for sure,
she promised.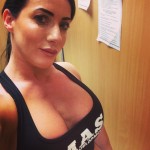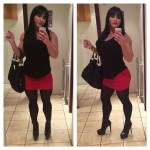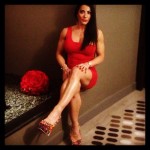 "Next time" has been a little longer in coming than most Ria fans (myself included) would have anticipated then, but the wait to see her fly the flag for Britain on stage again is nearly over. Ria is already well into her preparation for the IFBB European Championships in Santa Susanna in Spain in mid-May.
Ria runs her own training business with her "iron sister" and "best friend"
Sarah Whitney
. Visit
their website
,
joint Instagram
, and
their YouTube channel
. You can also follow Ria as she prepares for the Europeans on
her Facebook
.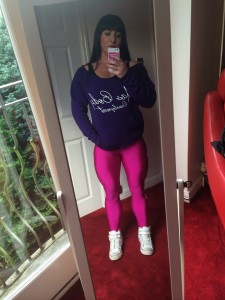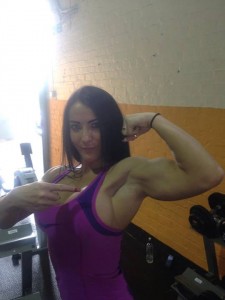 Is Ria your British #1? Only one way to find out...

We'll be back after Easter with your Top 30 hot and hard women.

Enjoy!