Apologies, first of all, for taking so long to compile the next installment of our Hot and Hard 100 countdown. Believe me, if I could have got it posted earlier, I would have.

I hope you will find it was worth the wait.
And so, into the top 50 we go... And how!
The ten hot and hard women your votes place from 50 to 41 would make a pretty damn good top 10. One of them, in fact, was in the top 10 on last year's list, and no fewer than four of them were in my own personal top 10 for this year!
THE FMS
HOT AND HARD 100
50
KIM JI-HYUN
NEW ENTRY

2014 WFF Worlds-Australia SuperBody Champion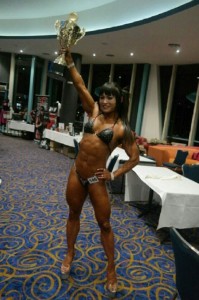 Our #50 should be a familiar sight to
FMS
readers from
Korean Week
back in September last year. The Korean-English language barrier and the fact that she competes in a federation that is truly awful at posting the results of its contests mean that now, as then, we don't have a lot of solid information about this stunning woman, but I'm fairly sure that won't spoil your enjoyment of her too much.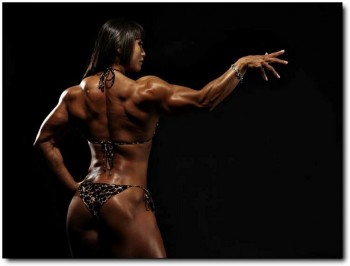 Back in September we noted that
her Facebook page
address was "badjihyoun", and since then she's adopted the same name for her Instagram as well. While compiling our previous post, we got so lost in a daydream about spanking the perfect muscle booty of this bad, bad girl that we failed to notice that there is another very different and considerably more famous (partly for extensive cosmetic surgery) Korean woman with exactly the same name. This other Kim Ji-Hyun turns out to have been in a '90s Korean pop girl band, and image-wise probably still has to be "good" (in public at least). Maybe the "badjihyoun" moniker adopted by
our
Kim Ji-Hyun
is to stop fans of the good, girl group Kim Ji-Hyun stumbling across our heroine's social media and getting the shock of their lives. Or maybe she really is just a bad, bad girl.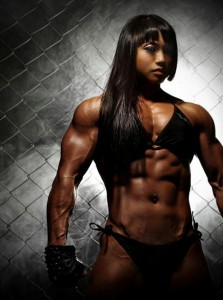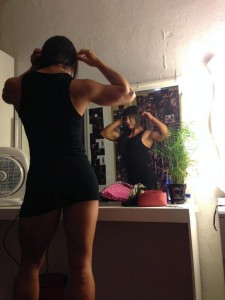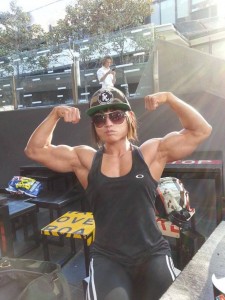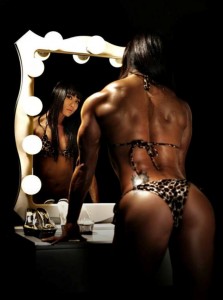 But whether she's
Kim Ji-Hyun
(or one of the variant spellings thereof), or
Chun Li Kim
(another of her aliases) or
Chunri
(without the Kim), or good old
badjihyoun
, the brethren seem to agree she's worthy of much attention. She's "gorgeous", she's "awesome", she's "flawless", and if the federation(s) she competes in sort out their webpages, they would probably get a hell of a lot more traffic purely from the lovestruck fans of their female World "SuperBody" champion.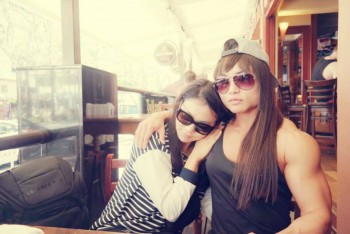 More? We posted
badjihyoun's posing routine from the 2014 WFF Universe
last time we saw her.
Muscle & Fitness Korea
have a couple of nice clips,
one of her training with her "family"
(fit female Koreans!) and
another featuring Kim, a gold bikini, great lighting, and lots of definition
. And, of course, there's always
her badjihyoun Facebook
and (since February this year)
Instagram
. 즐기십시오!
49
ALANA SHIPP
NEW ENTRY

IFBB Pro Bodybuilder, 4th place Ms Olympia 2014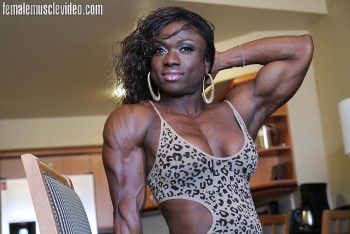 Just can't get enough of watching her flex,
says one Alana fan. And
FMS
knows how he feels. In October, as
we posted yet another tribute
to "glorious muscle goddess" Alana, we warned readers that unless they told us not to we were going to keep on presenting her "magnificent mouth-watering muscles" until
we
got tired of this jaw-dropping woman. Nobody complained and we kept on posting!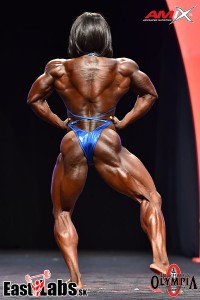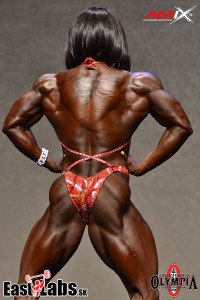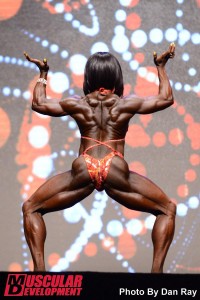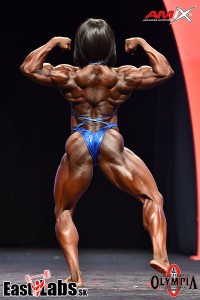 After a stellar first pro season that saw her finish 2nd in Toronto at her first pro show, nail her Olympia qualification a week later in Omaha, and then go on to debut in Las Vegas by finishing 4th, Alana probably thought things couldn't get any better. But then
C. Moore Glootz awarded her the Granite Glootz trophy
for best bum at the Olympia weekend, and to top it all she was one of
FMS' Women of the Year
.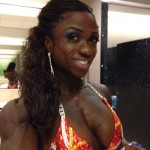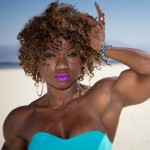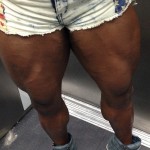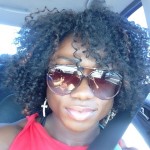 One of the brethren writes,
So hard to believe she keeps making so much progress and just looks better and better
. Indeed. We should remember that it's only taken a little over three years for 'The Talented Ms Ripped' (as
one article on Alana
dubbed her) to go from being an overweight housewife to the top of the her sport. So hard to believe, too, that Alana is only just inside the top 50 in our readers' poll!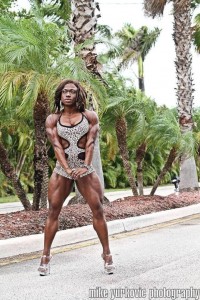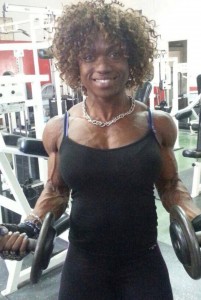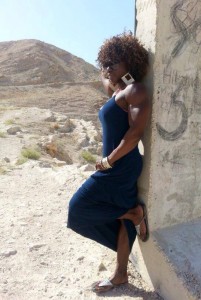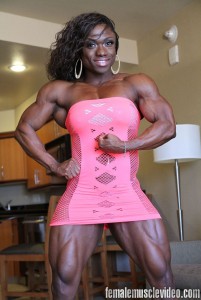 You can also follow Alana
on Instagram
and
Facebook
. Watch
her sizzling Toronto routine
, enjoy her up-close in
a post-Toronto Female Muscle Clips preview
, or
a second, longer preview
from the same source. Listen to her gorgeous Caribbean lilt as
she poses for a post-Olympia photoshoot
in the desert. And if you still want more after that, well, she's been
all over FMS
in the last year!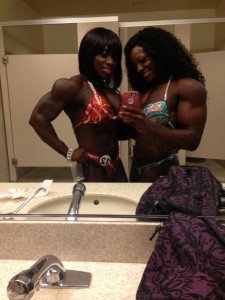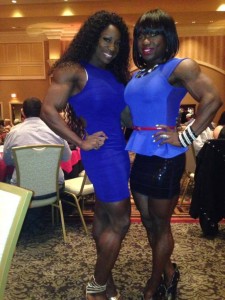 In our Olympia preview last year we noted some of the similarities in the careers (and to some extent the lives) of Alana and another woman who was making her Las Vegas debut. So it's a curious thing that once again we find them together right here...
48
MARGIE MARTIN
NEW ENTRY

IFBB Pro Bodybuilder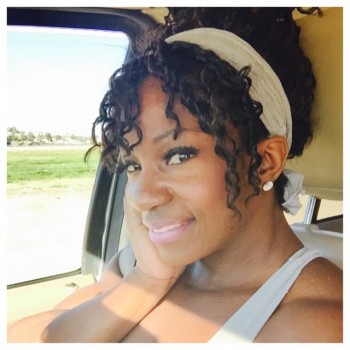 Reporting on her pro debut in Toronto
last year,
FMS
found the vocabulary of English inadequate to fully describe the heat emanating from every single pore of Margie on stage there. In the end, we were forced to invent a new adjective, and our word, so far ignored by the OED, was
Vesuvial
(adj.)
hot like Vesuvius
.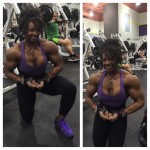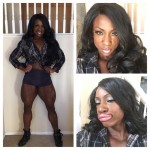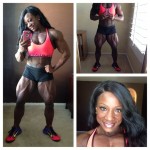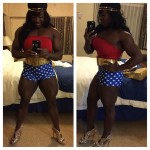 So it was with his (volcanic) heat-proof goggles on that Swell entered the
FMS
archive's inner sanctum earlier this week and opened the 'Special Favourites' folder (just to the right of the 'Favourites' folder, marked 'Caution! Hot!'), and attempted to select the ten or so images that we needed for the post from the dozens of Margie therein...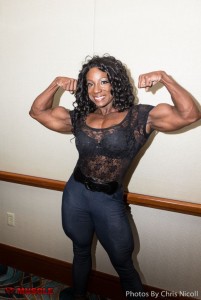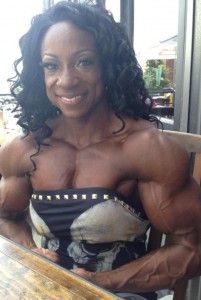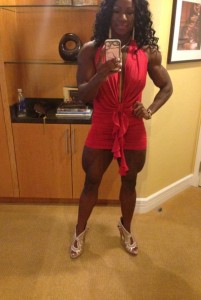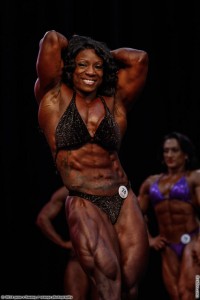 Hours later, long after staff realised he had disabled the emergency lock release, the fire service had to be called to break him out of there, and as the paramedics were wheeling him away to get his burns seen to, he turned his charred face towards me. He was smiling, smiling through what must have been extraordinary pain. It was a smile that seemed to say,
For Margie, it was worth it.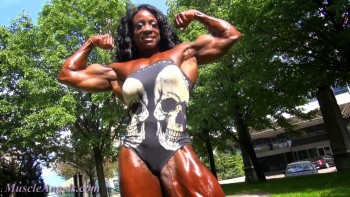 If you've got the requisite safety equipment,
Margie's on Instagram
. See dudes show total disregard for their health by getting up close to the heat
before the Ms Olympia
, enjoy
Margie's Toronto routine
, and leg fans especially should (re)visit Female Muscle Clips Margie previews -
Vol. 1
, and
Vol. 2
. Be
careful
though!
47
ASHA HADLEY
NEW ENTRY

IFBB Pro Physique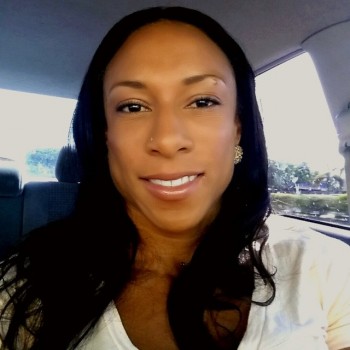 I walk the line,
says
Asha Hadley
,
between beauty and beast.
Above, what she calls her "non-gym face", below... well, I guess that's the "gym face" - and
MORE
!!!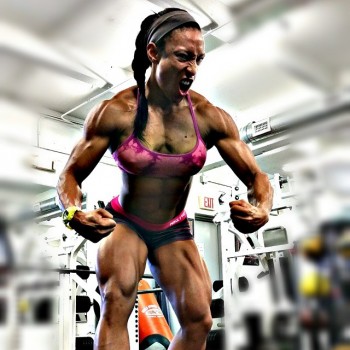 Now I should probably lay my cards on the table straight off and say that me and Asha, well, we definitely had a thing going on since she came into my life. She doesn't know about it, of course, but a thing it most certainly has been. I've been following
her Instagram
, or as I call it, Asha's treat of the day. But then I follow a lot of ladies. I've been completely unable to resist
her work with HerBiceps
- see
Images of 2014
for more on that - but I'm not exactly monk-like when it comes to a lot of my favourites. With Asha, though, it's gone beyond. I've been asking her fellow IFBB pros about her. Seriously, I don't seem to be able to help myself. I've just
got
to know...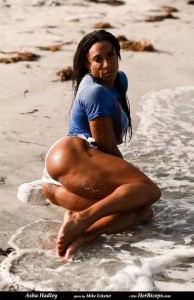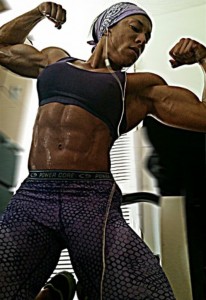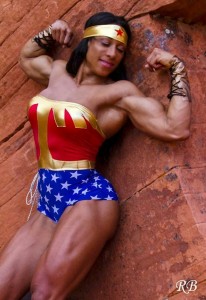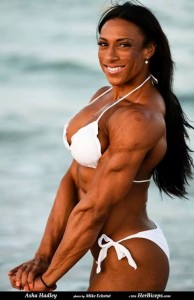 She's "committed". She's "dedicated". She's "focused". Now it seems to me that - whether they compete as a bodybuilder, in the physique division, in figure, whatever -
anyone
who gets to the upper echelons of the IFBB ranks, what Asha herself calls "that next level shit", is going to be these things. Surely dedication, motivation and focus are pretty much prerequisites. And yet these are exactly the words Asha's peers choose to describe her. Mustn't she therefore be unusually committed even for an IFBB pro? Obsessively dedicated? Unusually, even freakishly focused?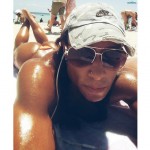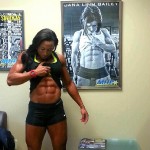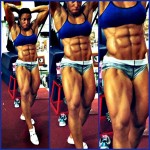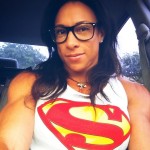 It's easy,
Asha says.
Just put in work 25 hours a day, 8 days a week!
Perhaps what they say is true. And the result of all Asha's commitment, dedication and focus is writ large on every single square inch of her divinely hot and hard body.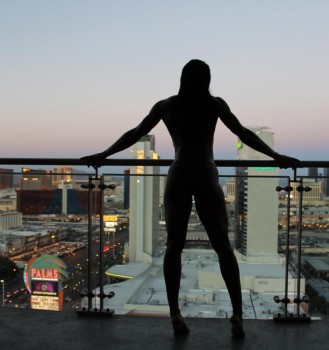 Try before you buy and watch what she can do with it on
tons of HerBiceps previews
. Start with
Asha very much in beast mode
and follow your nose. Or something. I need a lie down. And we're not even halfway through today's ten. Yikes!
46
BRANDI MAE AKERS
#56

NPC Bodybuilder, Intellectual Beefcake & Adult Entrepreneur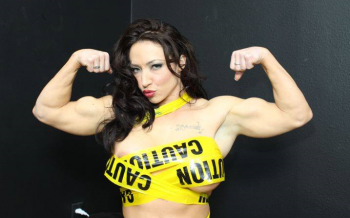 I am sort of a nerd as I love to read, love education and love to push myself analytically,
says
Brandi Mae Akers
, a woman, who, let's face it, isn't best-known for having a beautiful mind. Nevertheless, whenever she appears in documentaries (like
Jodie Marsh On... Steroids
) or TV talk shows (eg.
Katie Couric
), she comes across not only as strong and sexy, but also as keenly intelligent and disarmingly eloquent, and, in that respect, not unlike the original and still most successful of all the "Adult Entrepreneurs" of the female bodybuilding world,
Denise Masino
.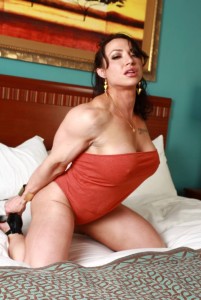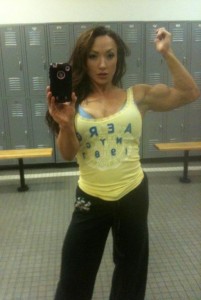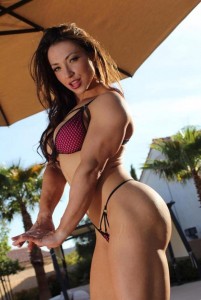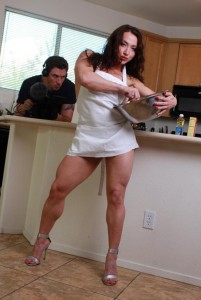 For now though, it's Brandi Mae's naughtier activities that we most associate with her.
XXX on Steroids
is what
her website
promises, and given her openness about her steroid use and the fact that unreserved hardcore is what you most certainly get there, there's no arguing with that description. The production values of the content continue to rise, and she has big names from the adult industry as her co-stars these days, which suggests her work is both making her name
and
making her fortune. And I doubt she would be so successful were she not able to combine her business acumen (and degree), with an ability to get inside the mind of the female muscle fan and produce the kind of content that fulfills, even exceeds, our deepest "darkest" fantasies.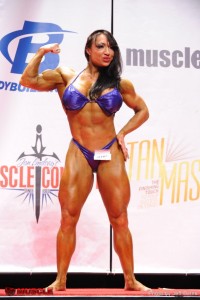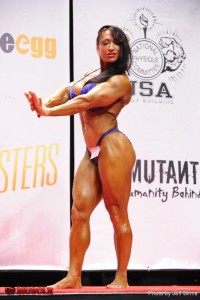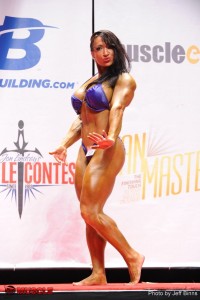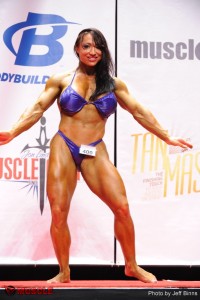 But we shouldn't forget that Brandi Mae is also a competitor, and, since 2009, a competitor in the Bodybuilding division (she had previously competed in Figure). In 2014 she was at the NPC USAs for the third time in her career, and placed 4th, her best ever finish by some distance.
The best part about competing for me is seeing my body change,
she says.
I love the look of being thick and hard. I am not shy by any means and absolutely love attention, so I love being on stage and the admiration.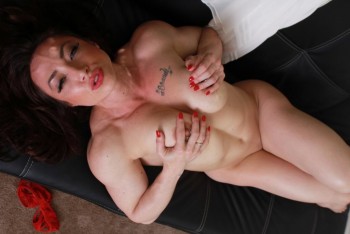 Keep up to speed with Brandi Mae's activities
on Twitter
.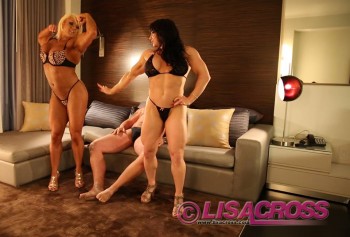 45
LISA CROSS
#35
IFBB Pro Bodybuilder, Author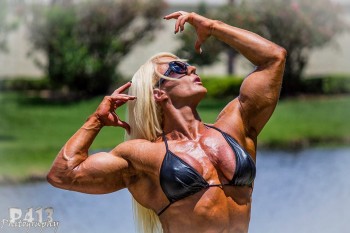 Oh, I am quite sure some of you readers have just gone fully apoplectic at finding
Lisa Cross
at #45, not least the one who had Lisa as his #1. He must be spewing with rage. In fact everyone who had Lisa on their list had her in the top twenty. Sorry, guys, but there just weren't that many of you. Then there's the reader who was moved to comment
Oh this is ridiculous!
when he found Lisa at "only" #35 last year. Who knows what abuse he's going to hurl when he finds Lisa in such a lowly position. I ain't happy, either. In any doubt how I feel about Lisa? Explore
FMS passim
. Want proof that I don't in any way doctor the results of the voting? Lisa at #45 is it.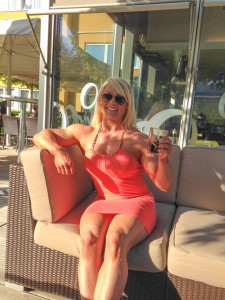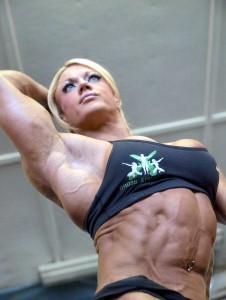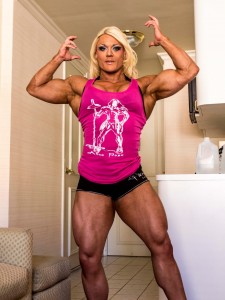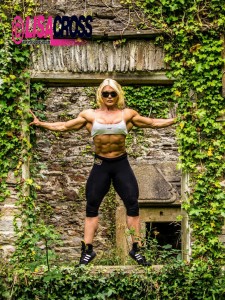 Is it a love or hate Marmite thing with Lisa? Or is it more Custard Cream - something so quintessentially British that only UK readers can fully appreciate it? Surely you don't have to be British to enjoy Lisa's description of a recently added member video from
her Hot Muscle Packed Raw Sex Power toting website
.
Surely
this has some kind of
universal
appeal: [I]
Invited a fan into my private gym and gave him a good workout using my Cock Pump
[Lisa's capitals]
which I picked up in Vegas on one of my sexy shopping trips. Tried to get the fan's cock up to the standard I require with the Cock Pump, then compared it to my favourite toy - a big black dildo. Eventually I decided to pleasure myself whilst the fan could no longer contain himself and showered me in hot spunk.
Not a whole lot of linguistic nuance to miss out on there...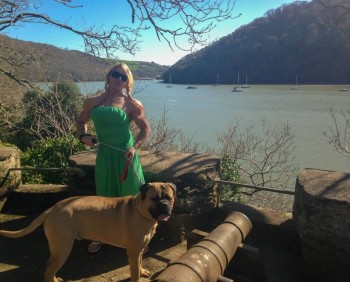 Or maybe it's none of the above. Maybe so many of you
didn't
vote for Lisa 'cos she's so good at what she does that she's got you believing she actually
is
The Devil
!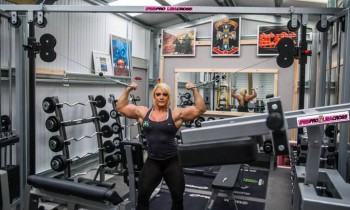 Which, if you do, would presumably make her recently-finished Rock and Iron Gym - where she is
enjoying the freedom of training without restraints of clothing
, apparently, and where you can, for a fee, get webcam access to Lisa training
sans
restraints via
MuscleGirlzLive
- well, that would make it...
HELL
!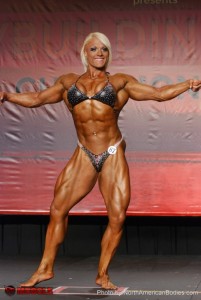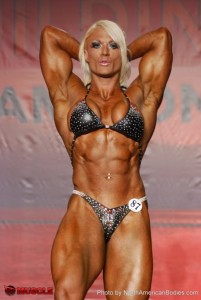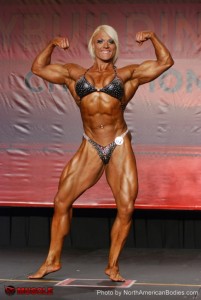 The prep has begun,
says Lisa.
Here we go again! Another season of pro female bodybuilding.
Are the majority of you really that scared of following her journey through it?! Don't visit
her Twitter
or
Facebook
then. Stay well away.
44
SUSANNA TIRPAK
#59

IFBB Physique Athlete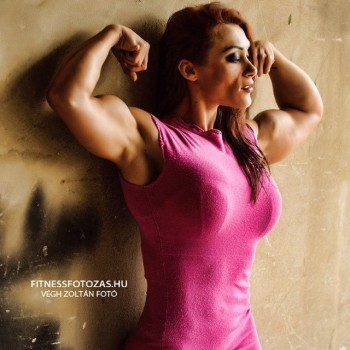 You'd have thought that winning the 2013 Arnold Classic Europe Physique title would have done wonders for the very lovely
Susanna Tirpak
's confidence. The truth, though, was somewhat different.
Instead of congratulating me, many people were "attacking" me, saying that I am way too glamour model-looking, too small and not hard enough for Physique,
she says.
These people almost made me believe I'm not good enough.
Don't you just
hate
"these people"?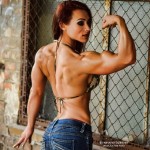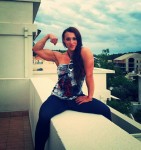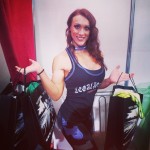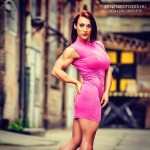 Having said that though, "these people" were right about one thing - those glamour model looks. In fact, commercial modelling was exactly what "skinny" Susanna was doing when, thanks to her brother, she had a life-changing moment.
I was starving myself back then and doing loads of cardio every day,
she remembers.
My brother was already lifting weights at this time had all these bodybuilding magazines and I couldn't help it, I had to check them out!
And when she did, she found the female physiques inside irresistible.
I loved all those beautiful women with their rock hard bodies and wanted to be just like them. So I started lifting with my brother...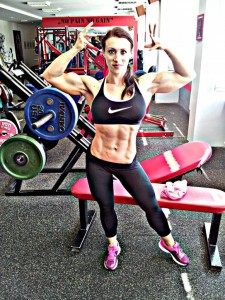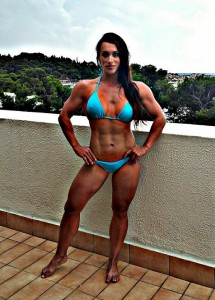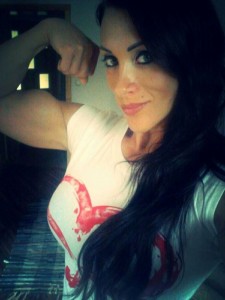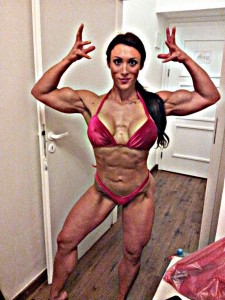 But despite their ability to spot a former model when they see one, the other observations "these people" made in the aftermath of Susanna's biggest win to date have thankfully not put her off remaining in the Physique division.
I spoke to a couple of people from the business and they convinced me that I should stay in Physique,
according to Susanna. Well, hurrah for them! And even better, Susanna is aware that the division has moved on since 2013 and that she will have to be "harder" the next time she competes.
My muscle size is good enough already, but Physique girls are getting leaner,
she says. A leaner, harder Susanna? I can't wait!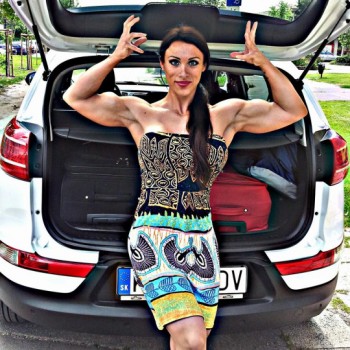 Watch her getting harder
on Facebook
and
Fitness Exposure
.
43
LARISSA REIS
#9

IFBB Pro Figure Competitor, Restauranteur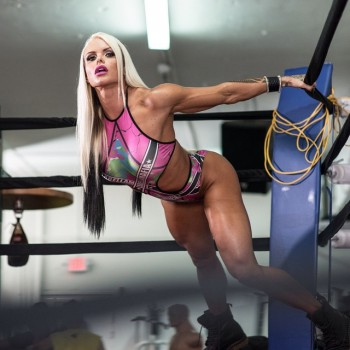 Once upon a time... well, in 2003, actually,
Larissa Almeida Reis
was doing some part-time modelling while she finished her Tourism and Hotel Management degree. Her body got noticed, and in December the same year
she appeared in Playboy Brazil as the Playmate of the Month
. She was noticed again, by a health food supplement store, who wanted to use this Playmate in a marketing campaign. From there, she was exposed to the world of Figure, and the rest, as they say, has been history.
My natural athleticism and fitness lifestyle opened up an amazing door of opportunity for me,
she says.
From that moment, my career path began to crystallize.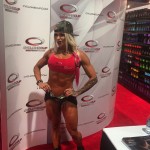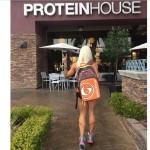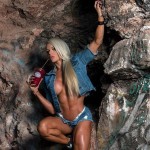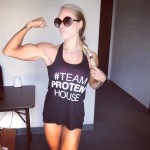 A couple of years after her Playboy appearance she was South American champion. By 2007 she had gained her pro card and made the move to the USA. She was the first Brazilian - male or female - to win an IFBB pro show, Atlantic City in 2009.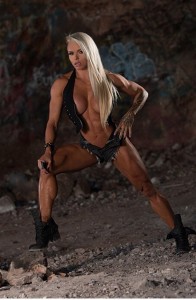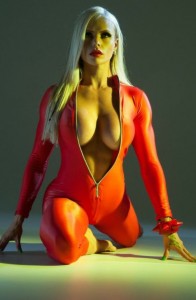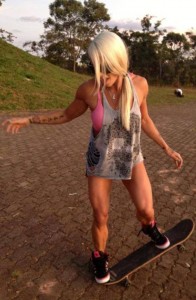 I like to go out there looking like a strong woman, because I am strong,
says Larissa. "Looking strong" must be her euphemism for "displaying my hot and hard body" because even when she is wearing more than a skimpy top and shorts that ride up her spectacular bum, she's wearing an outfit so skin-tight or a dress so revealing that little (or
nada
) is left to the imagination. Hers is an utterly intoxicating self-confidence.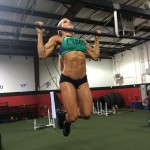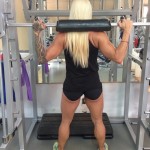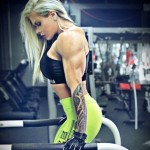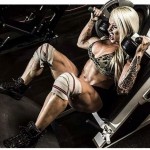 Get yourself intoxicated (in a responsible, in moderation kind of way, of course) on
Larissa's website
,
Instagram
and
Twitter
. I find you can also get quite a hit from, for example,
her back in this FMS recommended clip
. She can gurn with the best!
42
DANA LINN BAILEY
#58

IFBB Physique Pro , Runner-up Ms Physique Olympia 2014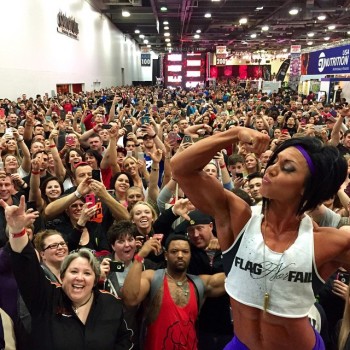 For me, the above pic - taken at the recent Arnolds - sums up nicely my own perception of
Dana Linn Bailey
- that she is much
MUCH
loved.
She's my idol,
says our #44
Susanna Tirpak
, and she is far from being unique in her admiration for the runner-up at this year's Physique Olympia. And it's not just the women, and it's not just the pros - look at the crowd in the pic -
everybody
loves Dana!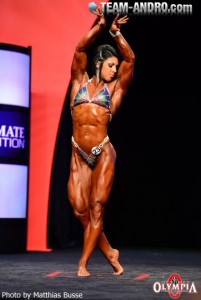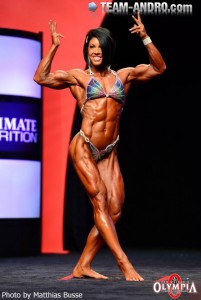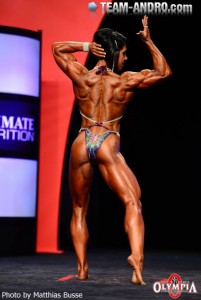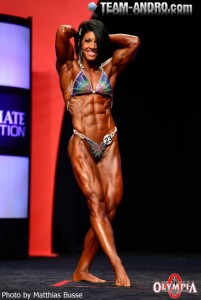 The other thing that strikes me about Dana is that she never ever looks like she's in anything but contest shape. Her muscle definition across her back is always perfect, those wondrous abs of hers are always on show. And it turns out there's a reason for that.
I don't believe in an off-season,
she says.
I don't quite understand when competitors go from looking fantastic for a show to looking like they haven't seen the gym in couple months during the off-season. My goal is to hopefully motivate and inspire others to want to work out and get in shape, so I need to look the part!
And perhaps therein lies the secret of her universal appeal. She's always "on".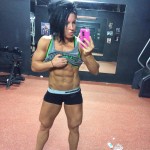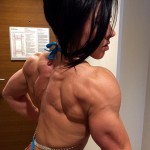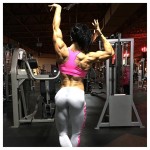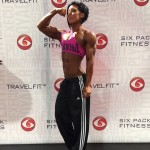 Who motivates the motivator? Well, coincidentally, one of the three inspirations she has mentioned in the past precedes her on our Hot and Hard list this year:
Larissa Reis
. And the others?
Pauline Nordin
and
Ava Cowan
. Why those women exactly?
They have that harder, more muscular look to them,
Dana explains.
And obviously they are hot!!!
I imagine her legion of fans would say much the same about Dana.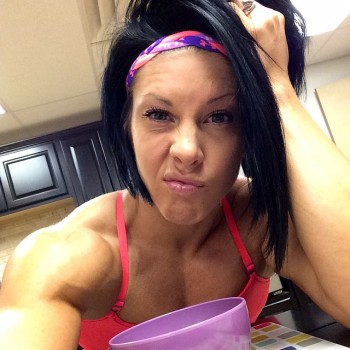 Watch Dana "train like there's no finish line"
on YouTube
,
her website
, her and her husband's
Flag Nor Fail
site and
Instagram
. She's
on Facebook
,
on Twitter
, she's all over. Inspirational, motivational, and never
ever
having a day off!
41
PENPRAGHAI TIANGNGOK
#17

IFBB Pro Fitness Model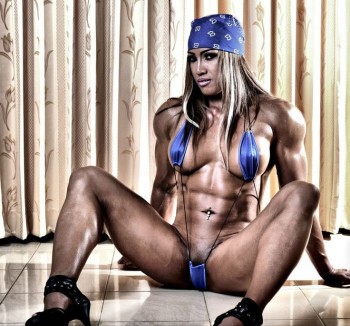 Apart from some vids on
her Clips4Sale page
(which seem to correspond with some work she did for Femflex in 2103), and
38 seconds of a webcam show
(an interesting 38 seconds, I grant you, as interesting as a clip on YouTube can be I guess, but it's a mere 38 seconds all the same), Penpraghai has been pretty much MIA in the last year.
Her Facebook
, not her.
Her Instagram
, not her either, and
her Twitter
... you get the idea.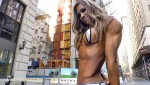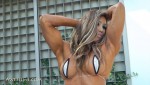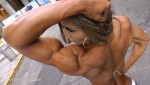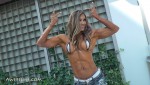 Her YouTube channel, Thai Muscle Goddess
, could just
possibly
have been her, but for over a year it's been inactive (which is not to say there isn't some quality product there if you've never dropped by before).
www.penpraghaitiangngok.com
takes you to a Tumblr with precisely three images on it - and only two of them (the most recent is "muscular" porn star
Jewels Jade
!) are of Penpraghai!!! Where
has
she gone?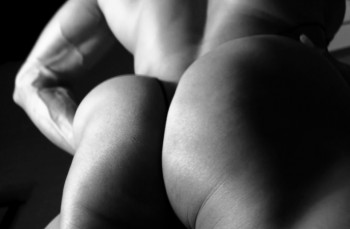 In her absence, rumours abound. Arrested in Thailand for possession of steroids (that may have been last year's rumour, can't be sure!), taking "a break" to undergo "massive" amounts of cosmetic surgery and/or a sex change, still out there but ripping schmugs off for non-existent pay-in-advance webcam dates and then blaming her ex-manager for hijacking all her accounts... And yet she
still
makes the Hot and Hard 100 list!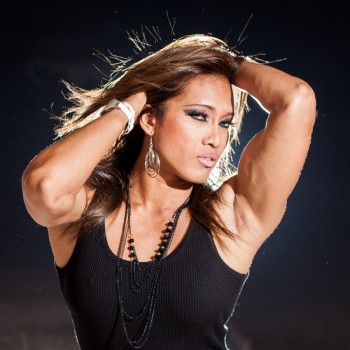 The search for Penpraghai continues...
In case you were curious, the four who made my personal top ten for the year were the AWOL Penpraghai Tiangngok, the Vesuvial Margie Martin, Asha "we've got a thing going on" Hadley, and, of course, the Devil herself, Ms Lisa Cross.
Thanks to all the lovely readers who have commented and emailed. Your kind words of praise and encouragement are what keep me, and therefore the blog, going.
The Hot and Hard 100 #40 to 31 is coming soon...