OK, you ready? Here are the next ten women in our Hot and Hard 100 countdown...
THE FMS
HOT AND HARD 100
60
ROSE BRUNNER
NEW ENTRY

IFBB Physique Pro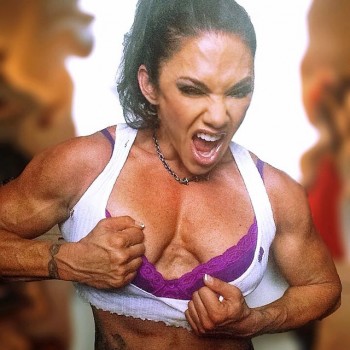 My love and passion for lifting began many years ago. As soon as I started, I fell in love with the iron. It not only transformed my body, it transformed my mind and gave me a sense of power. It was a place I felt I "belonged". The sounds of the gym... the clanking of the weights, heavy breathing and grunting, words of encouragement. A gym where you can not only smell the sweat, but also the power, and determination. It was home. I knew it would be with me forever.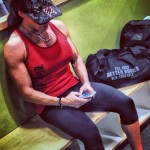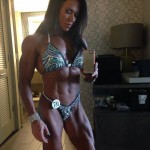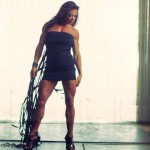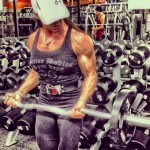 Our #60
Rose Brunner
first competed (in women's bodybuilding and mixed pairs) way back in the late 1980s. Marriage and children followed, but then in 2011 she returned to the stage as a figure competitor.
Figure was a great foundation to return to the sport but something was missing,
her website
tells us. So, it continues, the switch was made to Physique in 2012, and she fell in love all over again.
The posing, the routines, and the energy from the crowd was all she needed to know this is where she belongs, it was the missing piece.
She won her pro card in 2013 at the NPC Masters Nationals (one of those awarded to women who don't win their class but can't be ignored), and last year made appearances in Denver, Omaha and Tampa.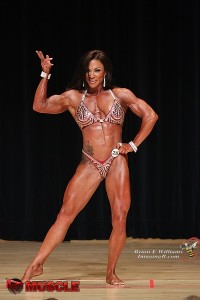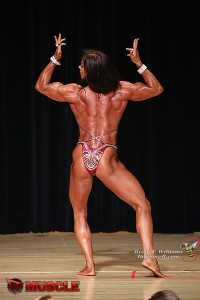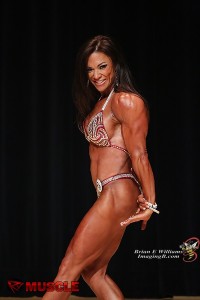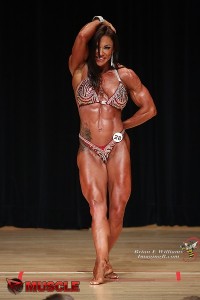 Rose made my list, and that of more than a few other voters. And I can only reason that if she didn't make yours it must be because you weren't aware of her (which I freely accept some responsibility for). No excuses for this time next year though.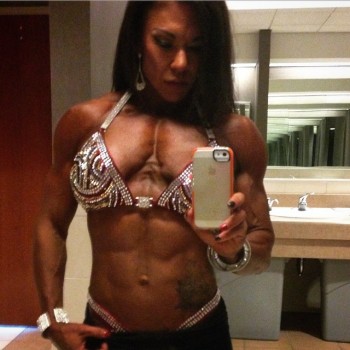 Spend some quality time with Rose
on Instagram
and/or
her website
. She's
written for RxMuscle
in the past, and if you like your hot and hard female muscle bikini clad, dripping wet, and fully pumped, you will probably want to watch
this
.
59
EMERY MILLER
#57

IFBB Pro Bodybuilder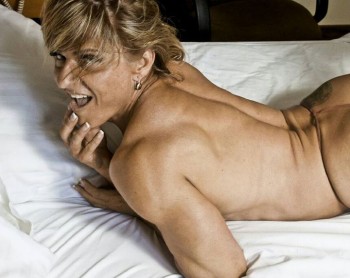 We noted last year that as she was on the verge of turning 50, Emery was the oldest woman on our Hot and Hard 100 list, and could therefore claim to be the hottest and hardest 50-year-old on the planet. Well, she's back on the list again this year, and both accolades still very much apply. She may have just celebrated another birthday, but as with so many of the women we adore when they reach a certain age, she looks far from another year
older
, but rather another year (if not several more)
younger
.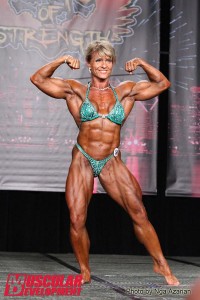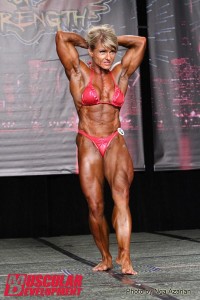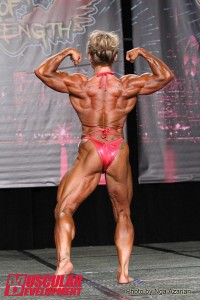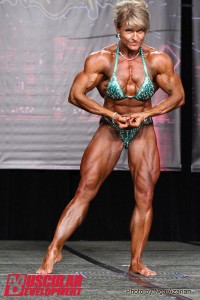 Emery, who readers may recall was once so obese she would get out of breath just eating, earned a 5th place in Toronto in 2014, matching her best ever finish as a pro (also Toronto, in 2012) and proving that age will not wither her. Or something.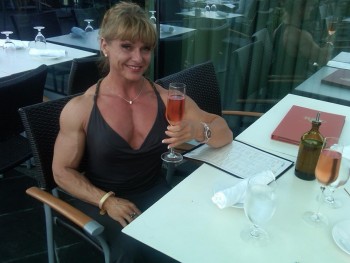 Enjoy
Emery in Toronto
courtesy of
watatiwatatio on YouTube
.
58
NATHALIE FALK
NEW ENTRY

IFBB Physique Pro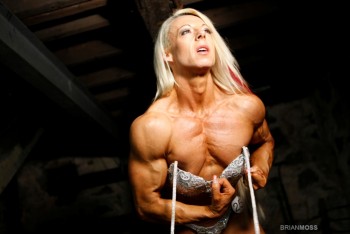 It's not my scene at all, but I always got the feeling looking at Nathalie's steely gaze that if you were to session with her it would probably end with her dumping you, beaten, broken and bleeding, into the street, that it would probably be sensible to get your hospital check-in done beforehand. After all,
Nathalie Falk
is so damn hard she lists MMA as a "hobby"! But when I bothered to actually find out what the real Nathalie was like, I discovered a highly intelligent, educated and intellectual woman, glamorous, sensual and totally feminine, and deeply passionate about her sport and about sculpting her body into the work of female muscle art it has become.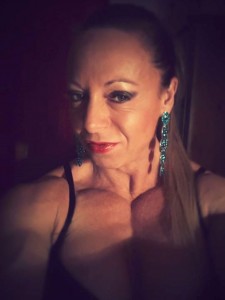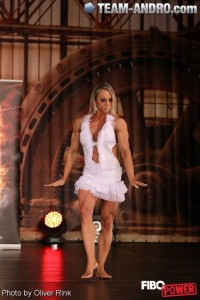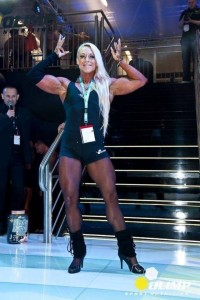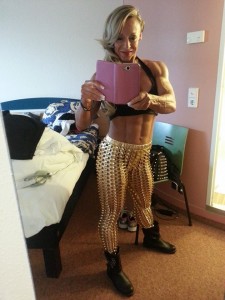 My idols were Cory Everson, Anja Langer, they had muscular bodies, but very feminine,
she says, and she has applied that old school template to her own physique with stunning results. The Physique division has given her the opportunity to refine her look even further, and last year at the Titans Grand Prix in Los Angeles she finished 3rd and won her first ever Olympia qualifying points.
My shape was good, hair and make-up were perfect... it was my day. It was really perfect,
she says.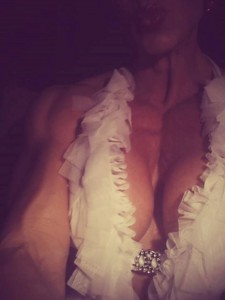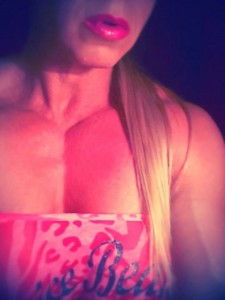 Her website
is "full of strength, power and sexy stuff", and there's also plenty of that (within the permitted limits, of course) on
her Facebook page
. You can also enjoy
a long and very good interview with Nathalie
(whose English is as perfect as her styling, and whose dress that day most definitely qualifies as "sexy stuff") at FIBO last year.
57
TARNA ALDERMAN
#37

Bodybuilder
Saturday night at my favorite spot,
Tarna's caption to the above pic reads.
Just standing around intimidating people!
Don't you just
LOVE
her?!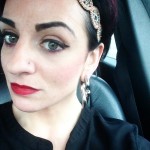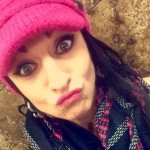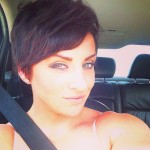 You readers who have been with us for a long time (and, even if a lot less than I love Tarna, I do love each and every one of you) will know how gushy I get when Tarna's on my mind - not least when she was one of our
Women of the Year
in 2012 - so on this occasion I've decided it's probably best if I let others do the gushing...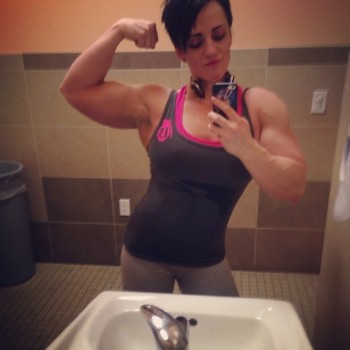 Such a little big beauty... Such a bombshell... A stunning woman... She really is the bomb... Nuclear hot!!!
It's a consolation (of sorts) to know there are those who can't help themselves either. They (we) even get all protective and stuff:
That dude
[Tarna's man}
has got himself a hold of something special. Hope he doesn't forget it.
Or else!!!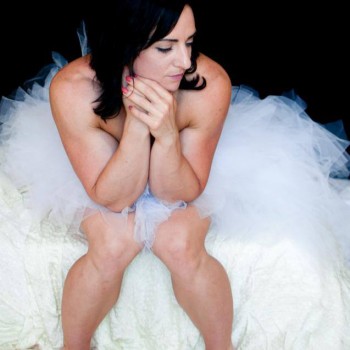 And recently, when Tarna's ex's new wife got nasty with her
on Facebook
, some of the many many women who Tarna's famous transformation has inspired came to her defence.
Booooooo to the hag! People only put others down when they're unhappy with themselves.
[Tarna]
I love your beautiful muscles. You're amazing, case closed.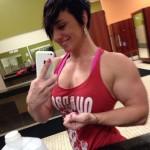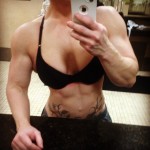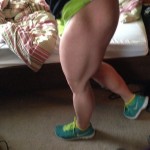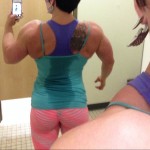 You're going to fall in love too if you watch (and you
MUST
watch till the end, cos that's when you'll fall in love)
this clip
.
[Enough now. Move on. - ed.]
In case you're wondering... 14".
56
SHEILA BLECK
#90

IFBB Pro Bodybuilder, 2014 IFBB Tampa Pro Champion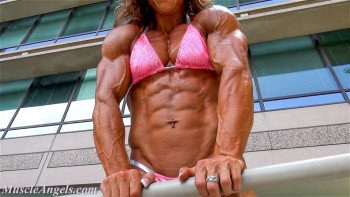 In my opinion at least, Sheila is the best poser in female bodybuilding today by some considerable margin. She alone brings back memories of the days when routines were long enough to be made into a kind of performance art unique to the sport - specifically to the females in the sport. She's the only woman still competing who takes her routines seriously enough to have music specially composed for them, and she has the physical ability
and
the artisty to make them as close to the great routines of yesteryear as the limited time the IFBB gives her to perform them will allow.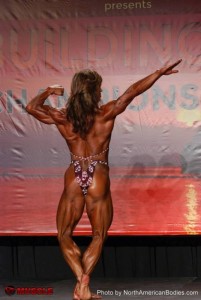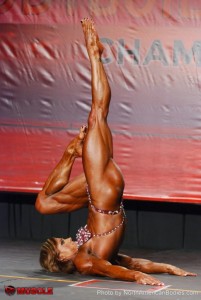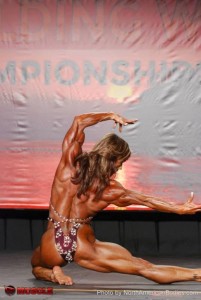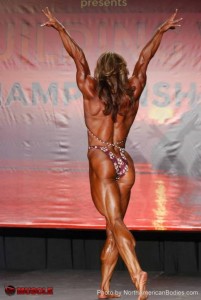 So it was great to see her back in 2014, and even greater to see her walk off with the title in Tampa. After the South American beasts Freitas, Oliveira and Bello had cleaned up the first three pro titles of the year, it was - again, in my opinion at least - a breath of fresh air that the last of the year's pro titles went to the best conditioned, most balanced, and best presented physique on show, rather than simply the biggest.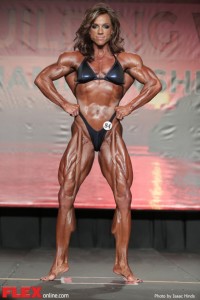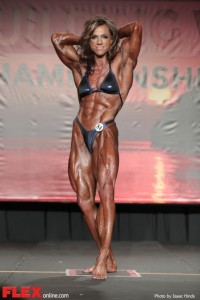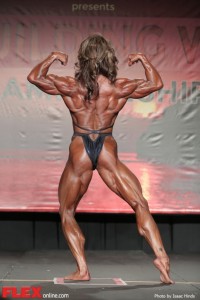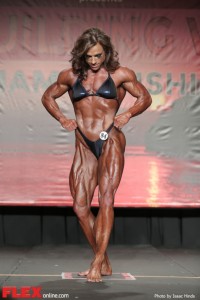 Tampa was Sheila's first win as a professional. Well-deserved, and long overdue.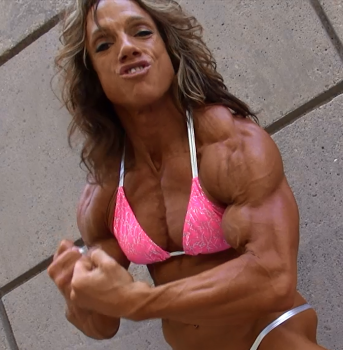 Watch Sheila's Tampa routine
here
, and fans of her
basso profundo
(such as I) will love this very brief
"interview" from the Olympia Expo
. It's not just that Sheila's voice is all about the bass, which you can hear anywhere, it's the
contrast
with her squeaky inquisitor that makes this clip a little thirty-second piece of heaven.
55
JAMIE PINDER
#79

IFBB Physique Pro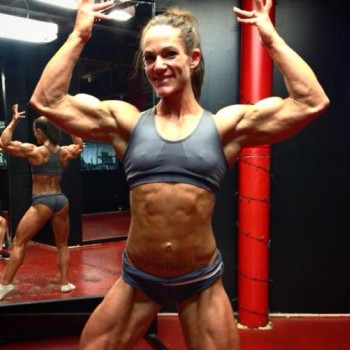 The greatest pleasure in life is doing what other people say you cannot do.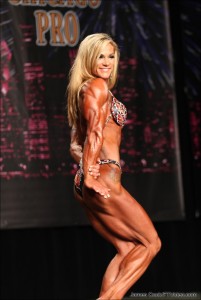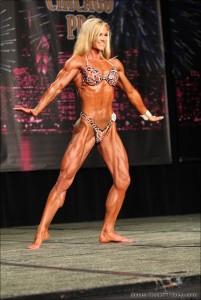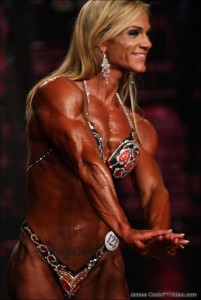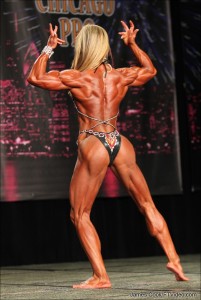 In response to finding Jamie's defiant mantra (above),
FMS
, on behalf of the legion of Pinderettes (male and female) confidently predicted Jamie wouldn't get to the Olympia after she failed to defend her Chicago Pro title. I was trying, in my own way, to get her mad, to make her resolve to prove me wrong. I imagined all the Pinderettes thanking me, appointing me chief Pinderette and stuff. Well, as it turned out, she
didn't
make it to Vegas in the end. Clearly she doesn't care a lot about what
I
say she cannot do...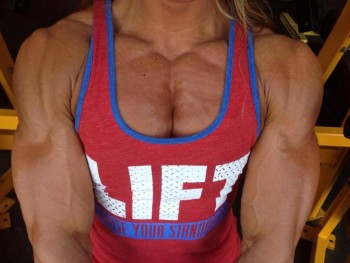 Nevertheless, one dose a year of Jamie in contest shape is more than enough to keep this Pinderette satisfied, but maybe I should try again and say there is no way Jamie can improve on her 2013 package. It'll all be downhill from here. That first Olympia of hers will be her last. She'll never qualify again.
NEVER!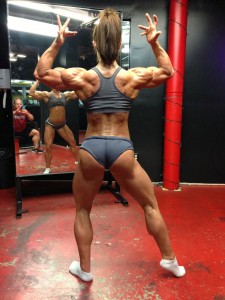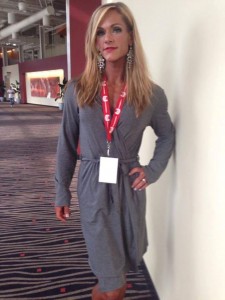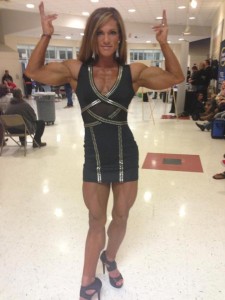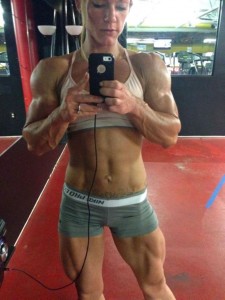 See also
Jamie Pinder's WOW Factor
, and
Jamie's YouTube channel
for training clips. Follow her this season (more shredded than ever?!) on
her Facebook
page.
54
NATALIYA ROMASHKO
#92

Sex Symbol of Modern Female Bodybuilding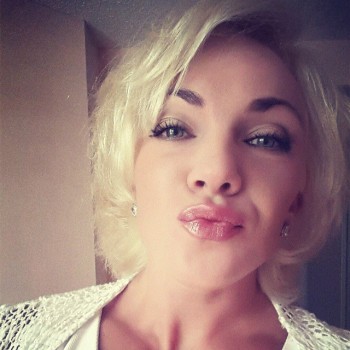 That's what it says on her Facebook page, anyway. Plenty of Nataliya-voting readers would agree - in fact, maybe it's one of them who's responsible for it!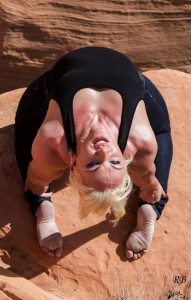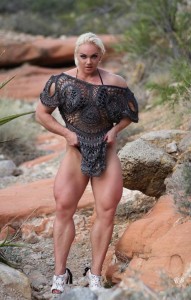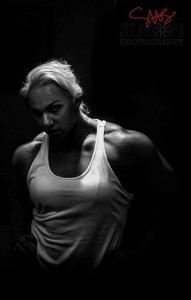 Nataliya, who married for the second time in 2014, hasn't competed for a few years now, but her appeal for fans has never been based on her contest appearances but rather her heart-stopping beauty and jaw-dropping size. As she herself puts it,
I represent a kind of exoticism in women's bodybuilding, and I like that.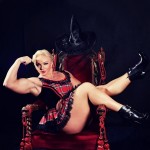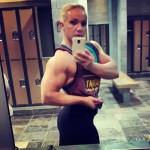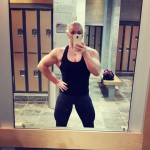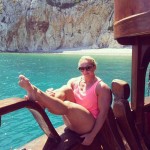 And so do the brethren.
Cover model looks with an incredible physique,
they say.
You can never have too much Nataliya.
One fan is left breathless by her "mile wide" back, another would "crawl really far" to muscle worship her legs. Her smile is "sexy", her eyes "lovely", or "stunning". She is (adopt Orson Welles' voice now)
probably the most beautiful female bodybuilder in the world.
Some of the fans may not be 100% clear on Nataliya's nationality, but they
do
know what they like!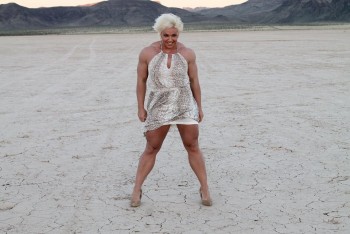 Dig the exoticism on
Nataliya's Instagram
.
53
SIERRA MANGUS
NEW ENTRY

NPC Physique Competitor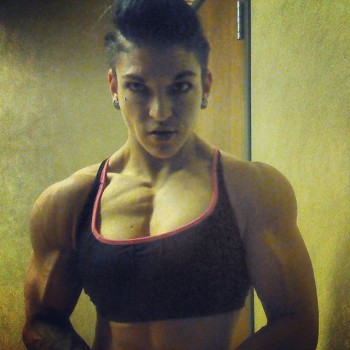 If you've been following the Hot and Hard 100 posts and clicking on the links, you've already seen
Sierra Mangus
. Did you spot her? She's in
the Melissa Wee Expo clip
. She's the girl whose backside Melissa can't help herself slapping.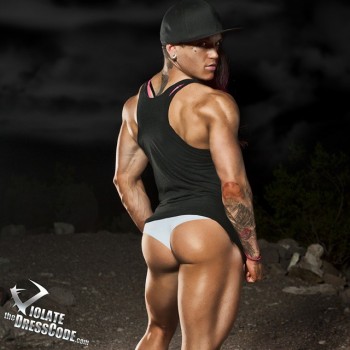 Melissa is not alone in finding Sierra's gorgeous glutes quite irresistible. If I was anywhere near them, I'm not sure I'd be able to stop myself, so God alone knows what trouble our old friend
C. Moore
(currently appealing a number of restraining orders) would get himself into. Strangers touching your behind may be a bit over the line, but there is some evidence that Sierra is not averse to a bit of (respectful-ish) attention (whether for her rear or not) in
another Expo clip from 2013
.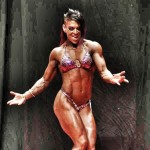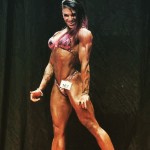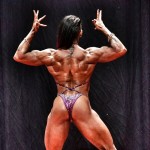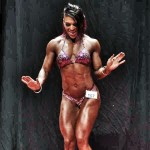 She seems like she's lots of fun. And if the pics are anything to go by, she has a lot of fun on stage as well.
Don't forget, the whole reason we do this is that its FUN,
she says.
I've seen people backstage SO uptight and strung out. By the time you get to backstage, all the work is already done, there's nothing more to do but enjoy the fruits of your labor! I have no idea what I was doing when this pic
[above, bottom right]
was taken, but I was clearly enjoying it.
And there's nothing sexier than a female bodybuilder loving every moment of her minute or so in the spotlight.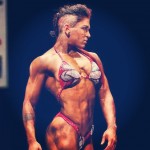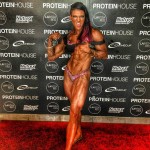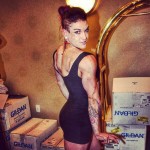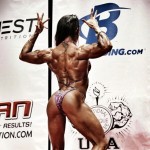 Glutes, abs (check out
this clip from HerBiceps
), beautiful pecs (
I paid for this chest in gym dues, DIY boobs, thank you very much,
she says), great back, terrific legs...
AND
she's gorgeous
AND
she loves it. Tell me, what exactly is there NOT to like? Get high on Sierra (sorry!) by following "maniacmangus"
on Instagram
and/or
Twitter
.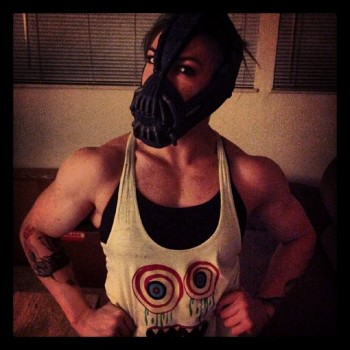 World Domination in Progress,
she tells us. Believe!
52
MARCIE SIMMONS
NEW ENTRY

IFBB Pro Physique Competitor, 2014 NPC Nationals Overall Champion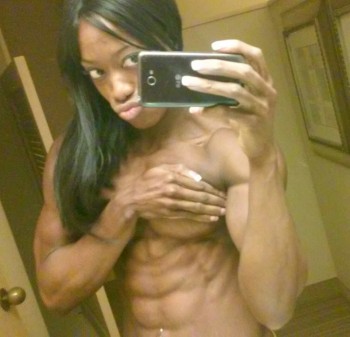 She is, she says,
A real-life superhero looking to inspire awesomeness in everyone!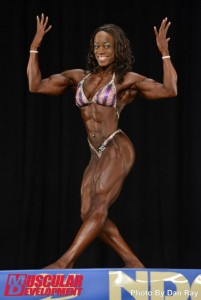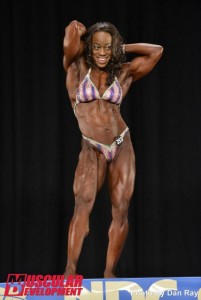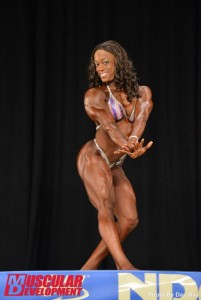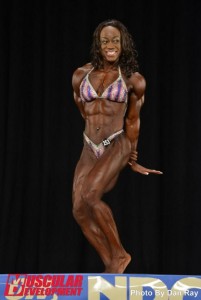 She won her first show, a Nationals qualifier, and a few weeks later won her second, the Nationals themselves. Her third show ever will be her first as a pro.
I've always been good at lifting heavy stuff,
she tells Dave Palumbo in
their post-Nationals interview
. She can leg press 430lbs (195kg) and is aiming for a 500lbs (225kg) deadlift.
I can eat candy and gain muscle,
she says.
I think I'm a genetic freak.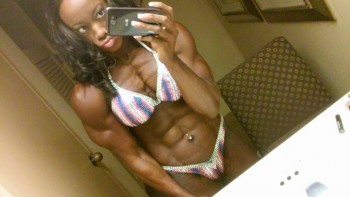 Marcie's abs take a bit of effort, though.
Six days a week. I picked the number, my number was 400,
she explains.
So I do 400 different reps, six days a week.
Ye Gods!
2,400 reps a week, 9,600 reps a month. And that's how I got my gnarly abs.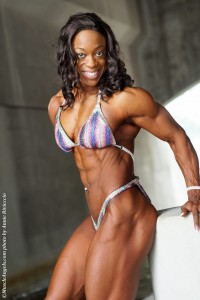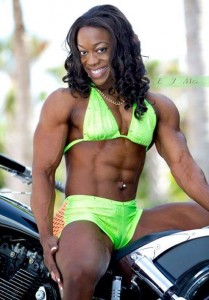 Could she actually be a superhero? Nah! It's impossible! Or
is
it?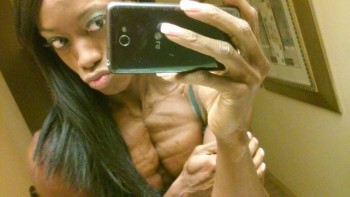 Previously on
FMS
,
Hot and Hard: Marcie Simmons IFBB Pro
.
51
JAY FUCHS
#93

IFBB Pro Bodybuilder, Switzerland's Strongest Woman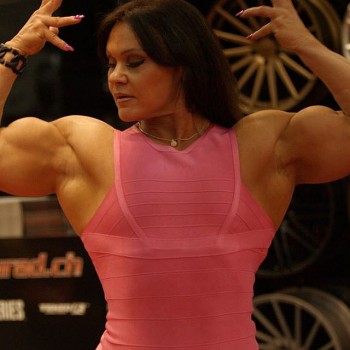 Double congratulations are in order. Firstly, at #51 in our Hot and Hard 100,
Jacqueline
"Jay"
Fuchs
is a full
forty
places higher than she was last year. And secondly, Jay got the much cherished pro card in the mail a couple of months ago. You can decide for yourself which of these momentous events means more to her!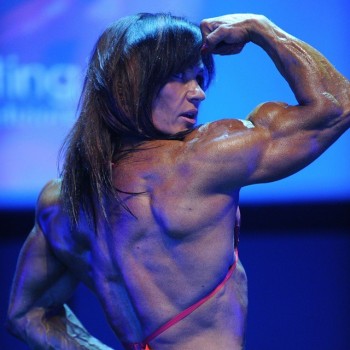 Seems to me that pro card has been merited for a while. After all, Jay won the Arnold Amateur Europe title way back in 2012, and she's had a pro body for a lot longer than that. Ironic then that she was only the runner-up in her last show as an amateur, the Trofeo Due Torri at the end of last year. Still, as I say, very much deserved.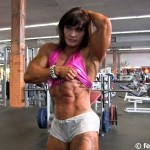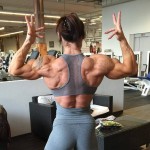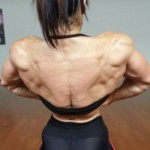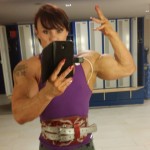 She'll hardly look out of place among the big girls. She is, according to one fan,
Mass at its best. Staggering, beefy off-season sexiness, with monster bulging guns that redefine massive, and it's absolutely awesome that she hasn't got implants and kept that huge beautiful natural chest. A divine lady, a perfect 10.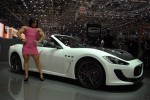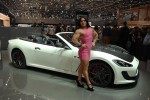 And she seems to have had
some mainstream media coverage
in her native Switzerland, and (perhaps as a result, or as well) has been in some demand for some muscle modelling assignments. There were pics of her and
Skadi Frei
bringing some muscular glamour to the opening of a men's clothes shop in Zurich a while back if I remember correctly, and very recently Jay was at a motor show, draped over and drawing attention to various high performance cars while looking sensationally muscle sexy in a pink dress that hugged every one of her gorgeous curves.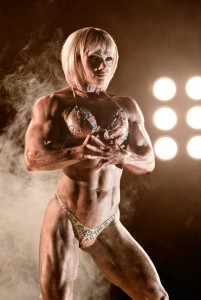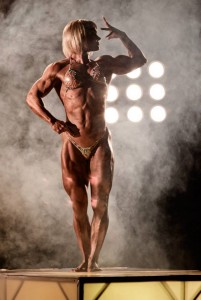 She also expresses her femininity through the work she's done with some more, let's say, "arty" photographers, and for me, Jay's appeal lies in her ability to remain extremely feminine and glamorous while being absolutely effin'
HUGE
.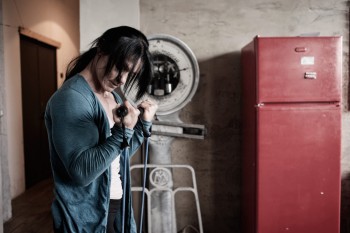 A spectacular example of muscular womanhood indeed. Enjoy the size in
this arm workout clip
(lots of close-ups as she takes her time with every single bicep growing rep), and explore the glamour on
Jay's Facebook
and/or
Instagram
.
I'd love to be able to tell you the next Hot and Hard 100 post was coming tomorrow, but unfortunately, you'll have to wait a little longer than that. I'm working on it, but I want to do every single one of these amazing women justice, and that, as I'm sure you will realise, can take a little time. Stay tuned, though, and as soon as it's possible we'll be seeing the first ten women who have made your top 50...