You've voted, I've counted.
Just over a year since we began our first ever Hot and Hard 100 Countdown and it's time to reveal who you the readers think were the one hundred hottest and hardest women in the world in this year. So, here we go again, in reverse order it's...
THE FMS
HOT AND HARD 100
100
TISH SHELTON
NEW ENTRY

IFBB Pro Physique Competitor & Fitness Model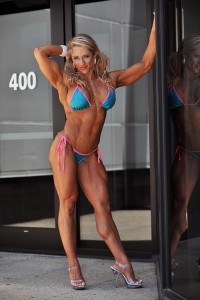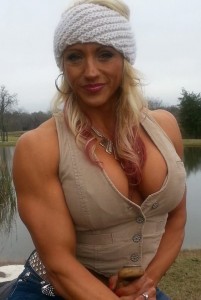 If this woman isn't the sexiest elementary school teacher in the world, then please do show me who is.
My dream to become a professional competitor started at age 16,
says 38-year-old Tish.
I'm fascinated by the power to change myself from frog to flower. I love the changes I make. I like to look in the mirror and be happy with the way I look. I look better now than I did in my teens and 20s.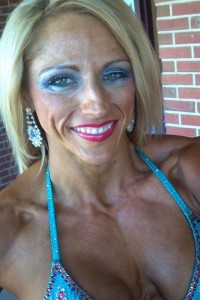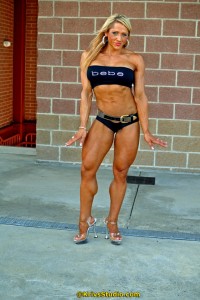 More Tish? I'm a total sucker for the Southern States accent y'all, so
this six-minute interview
comes highly recommended. You can also watch her muscles talking during her routine at this year's IFBB Europa Supershow
here
.
99
LINDSAY MULINAZZI
#33

Bodybuilder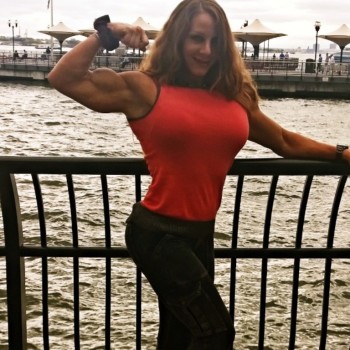 Still big all over and promoting
her Fitness Inferno brand
, Lindsay's popularity among readers may have waned a little since last year, but as she hasn't competed since 2007, I reckon making the list at all is an achievement. This pic of Lindsay in the Big Apple taken last month shows she's still very much got it where it counts.
98
ROSANNA HARTE
NEW ENTRY

Physique Competitor, Vocalist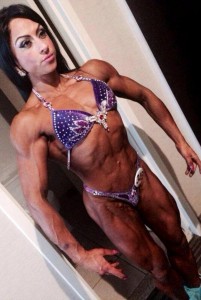 Can't quite believe that the Rosie Rascal wasn't on last year's list, but apparently, it's true.
Featured on FMS in 2014
for her vocal talents, and runner-up in her class at the Arnold Amateur, we're massively hoping to see Leeds' finest back on stage in a posing suit this year just that little bit more than we're digging her vocal work.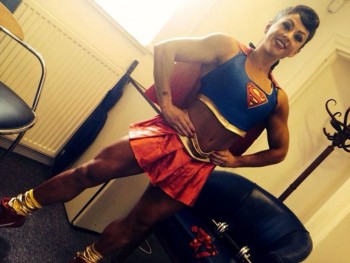 Decide for yourself which you prefer by checking out
some Rosie in the gym action from fitVids
and then dropping by
her Soundcloud
.
97
YAXENI ORIQUEN
#63
Former Ms Olympia, Female Muscle Legend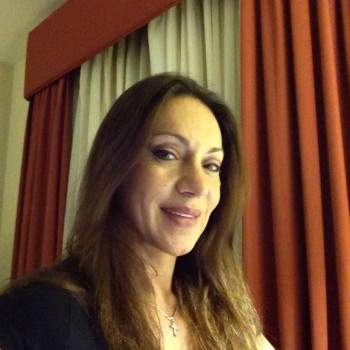 Our old friend El Mariachi will probably be spitting out his breakfast cereal (and wishing he'd voted) to see that his beloved Yaxeni, the woman he calls "the most spermalicious FBB God has ever created", has fallen 30-odd places on the list.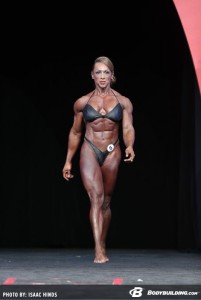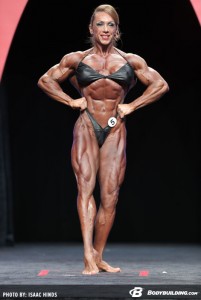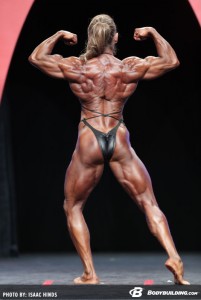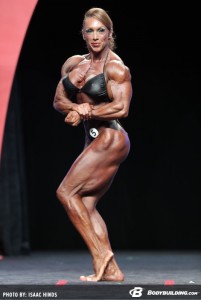 I hope he can console himself with the thought that all these amazing women are winners. In 2014 Yaxeni made the final top 6 posedown (perhaps the final ever top 6 posedown) at the Olympia for the umpteenth time, still looking head to toe exactly what she is - one of the finest female bodybuilders in the history of the sport.
96
RENATA HRONOVA
NEW ENTRY

Bodybuilder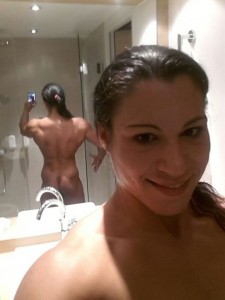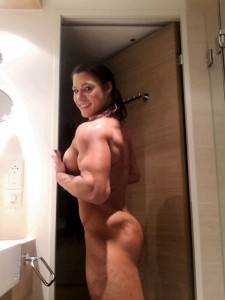 When she was still at school, Renata and a couple of schoolmates decided to go to the gym.
During one of my first workouts, the owner of the gym asked me how long I had been exercising,
Renata tells us on
her website
.
When I told him I trained my legs every other day, he said I was a genetic miracle.
Indeed!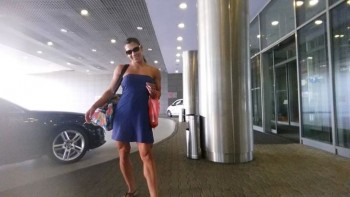 More Renata? Follow her around Europe and beyond "meeting fans"
on Facebook
.
95
LENKA FERENCUKOVA
NEW ENTRY

Physique Competitor, Bicep Goddess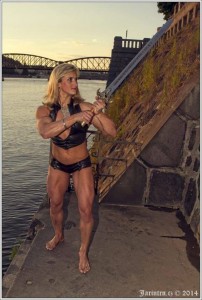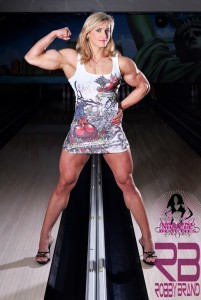 Czech muscular beauties are obviously like London buses - you wait an age for one to come, then two turn up at once! Whatever you do, don't say Lenka's all about the biceps...
Although I am very glad that some of you like my biceps so much that you offer me mar­riage, wealth, spon­sor­ship, sup­port, etc. with­out a sec­ond thought, I'm not just "that girl with big biceps", but one who wants to intrigue as a whole,
she says. We say it's a sad sign of the times that a woman with such genetic gifts finds herself having to compete in the Physique division these days.
94
BRITTNI KENT
NEW ENTRY

Bodybuilder, Super Saiyan, Fitness Fanatic, Atheist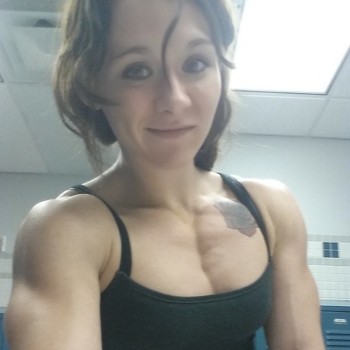 Well that's how she describes herself anyway! We say she's all those things and
the
Instagram
muscle-girl-next-door sensation of 2014.
Time for a story,
reads the caption to the above pic.
Once upon a time there was a sad, depressed girl who hated herself and everyone else in the world. She was super self-conscious, especially about her breasts (or lack thereof, to be more accurate). She thought about lifts and enhancements and implants, but that wasn't really her style.. When all hope seemed lost, she discovered weight lifting and now she's got the cleavage she always wanted, except better because it's made out of sweat and hard work.
Amen!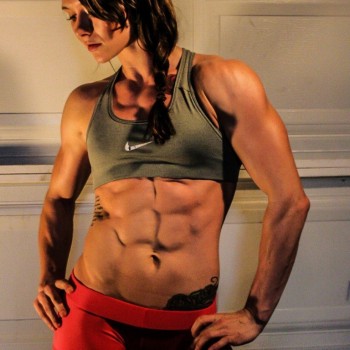 More Brittni? She's got
a YouTube channel
.
93
MINNA PAJULAHTI
#29

IFBB Fitness Pro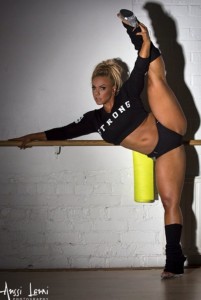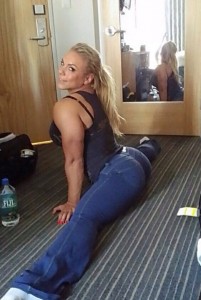 She's beautiful, she's muscular, she's flexible, and she never seems to grow a day older! Hard to believe that everybody's favourite "cheerdancer" is now well into her 30s and first competed in her native Finland as long ago as the year 2000.
I started weight training when I was 19 years old, after I had quit gymnastics,
says Minna.
I still wanted to compete and practise routines and I had always admired muscular bodies so fitness was a good choice for me.
And us it turns out!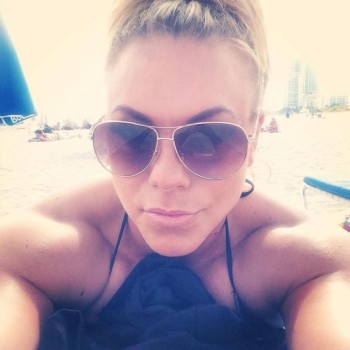 More Minna? Marvel at her flexibility (among other things) on
her Instagram
, and while you are in the marvelling mood, check out
this pic
. Big, isn't she?!
92
ANU LEHTORANTA
NEW ENTRY

IFBB Physique Pro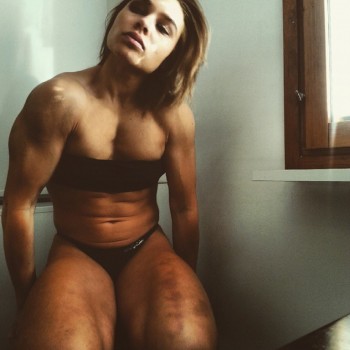 Apart from the fact that she's a compatriot of our number 93, she's planning to make her pro debut this year, and that she's 25 years old, there's not much I can tell you about the gorgeous Anu.
She's just perfect!
exclaims one poster on the forum whose first rule is you do not talk about it. Others praise
her natural look
and
her down to earth attitude that really comes through in the pictures
, though the most pertinent comment has to be:
a cute, fit, muscle babe who likes to post photos of herself in her underwear. What's not to like?
The brethren, it seems, are smitten. I know I am.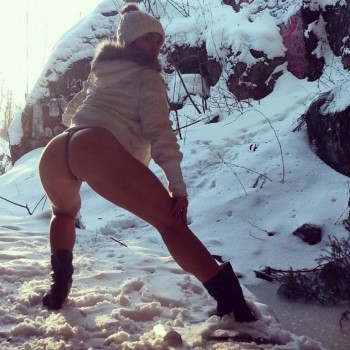 You can bet your house this isn't the last you'll see of Anu on
FMS
this year.
91
ANGELICA ENBERG
NEW ENTRY

Figure Competitor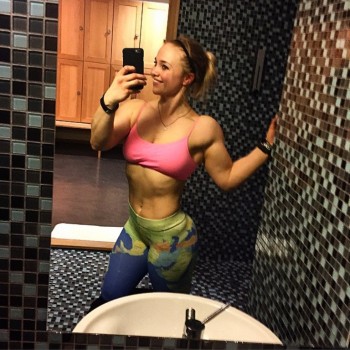 Angelica featured
on FMS in January
, when we noted, among other things, her penchant for wearing very little in front of the mirror and her admiration for a certain
Danielle Reardon
.
Sorry for all the selfies,
wrote Angelica on
her Instagram
last week,
but I felt pretty hot today.
One can only surmise, given the plethora of selfies she posts, that this was not the only day on which she felt like that.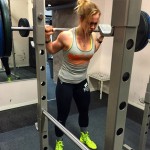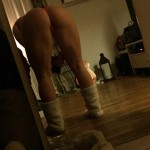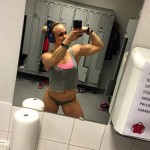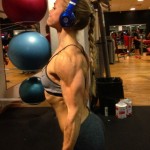 Aren't you glad you voted now? And they, dear reader, are only the first 10 women! Imagine the kind of bombardment of beauty and muscle that is going to be coming your way over the next week or so.
The countdown continues tomorrow...