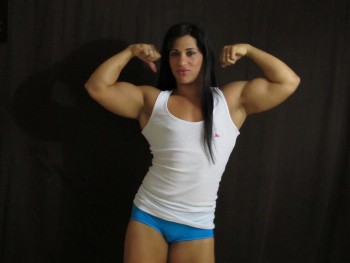 Milicia Young
from Panama says she likes to call them her
gorgeous guns
. Really. (I wonder what names other FBBs have for their peaks.) But back to Milicia, because the more I read her
AMG Lite
interview, the more I like her:
In competition I love the dieting, I love to take my body to de edge, and that makes me feel so good, I don't know why, but the harder the dieting and training gets for me that's like heaven. Off season is too easy, that's why I train so hard in off season so I can take my body almost to pass out. I am a machine. My arms are 15½ cold. I am like a road warrior. Nothing stop me.
Now, is that a sexy quote or what? And she's juicy all over: when you've finished feasting your eyes on her gorgeous guns, check out those lips.