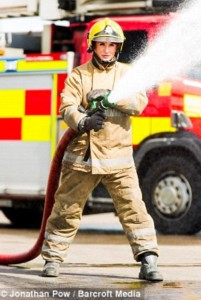 On 13th September,
a news report about Scottish NABBA champ Lorna Biggam by Barcroft TV
, a YouTube media resource that promises to show "the amazing side of life", went live. The story was picked up and run the following day by UK national newspapers
The Mail
and
The Mirror
, and from there, as so often happens, it went global and within a couple of days of the original report, you could read about Lorna
in Polish
,
Chinese
or pretty much any other language you care to mention.
On top of that, and this happens a lot less often, the media attention led to Lorna being invited, a couple of weeks later, to appear on
This Morning
, the most-watched weekday morning show in the UK, billed as "the bodybuilding, fire-fighting Supermum".

Lorna, now 40, had long had ambitions to become a competitive bodybuilder and in 2011, when a serious knee injury led to a long lay off from her kickboxing and triathlon hobbies, she decided the time was right to pursue that dream.
I needed a focus and it [bodybuilding] would strengthen my knee and fulfill my goals,
she says.
I went to watch NABBA Ms Scotland 2012 after being discharged from physio in March and set myself the goal to win in 2013, giving me a year of training.
As it turned out, she only needed six months, and her first competition was the NABBA England show in October 2012. In the Toned Figure class she placed 7th (out of 17), feedback suggesting she belonged in the more muscular Trained Figure category.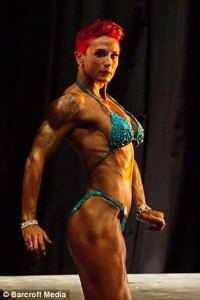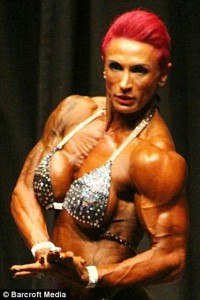 Her first Trained Figure appearance was at the independent Muscle Xcess Classic in Scotland the following year. Sadly, she didn't have any competition, but despite only having to show up to take home the trophy, Lorna made a big impression.
A hell of a lot of feminine muscle on her frame and not a million miles off Physique,
said
one reporter on TMuscle
.
Very athletic physique, she looks great! Excellent posing, fantastic competitor and I look forward to seeing her in the federation shows.
The reporter didn't have long to wait. The following week Lorna - this time with competition - was crowned NABBA Ms Scotland. Ambition achieved.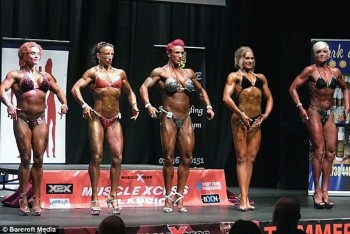 Lorna took a break from competition to have her fourth child in 2014, and it was here that
The Mail
found the angle for their story.
Pumping iron even when she was NINE MONTHS pregnant
[their capitals] was the headline, the article going on to inform readers that Lorna
was still bench pressing 100kg right up to her due date.
The Mirror
took a different slant though, focusing instead on the reactions Lorna gets when out and about.
People do stare at me and I've seen kids grab their mum's hand when they've caught sight of me in the supermarket,
they quote her as saying, though my favourite story in the original Barcroft TV report is of the reaction of two "heavily overweight" women at a local outdoor swimming pool.
One of them turned to the other and said "That's not nice at all",
recalls Lorna,
"I'd hate to look like that".
Both articles, to their credit, make a lot of the admiration of Lorna's own family - her husband, eight years her junior, is also a bodybuilder - and that admiration is shared by her male fire-fighting colleagues, who have "incredible respect" for her.
She's been in the service for 14 years, and though it would be totally wrong of me to say that anyone who has to be rescued from a fire is "lucky" as such, I can't help thinking that getting carried out of a burning building cradled in the arms of this magnificent hunk of womanhood wouldn't exactly be an unpleasant experience!
Lorna has been back on stage this year. Just ten months after giving birth for the fourth time she was winning the Muscle Xcess Classic again (I don't know if she had to beat anyone to do so this time around) and then she finished runner-up at NABBA Scotland to the woman who had won the title in her absence in 2014,
Rose Wallace
.
Rose, as it happens, has three children and, as well as bodybuilding, is a professional pole dancing instructor. Hear
that
all you media peeps? A pole-dancing, bodybuilding mother-of-three... Your next "Bodybuilding Supermum" story, perhaps?!
Read the full
Mail
and
Mirror
stories
here
and
here
. Lorna doesn't seem to do social media, but does pop up from time to time on
the Facebook page of her Muscle Xcess sponsors
.
Here she is, for example, talking pre-workout in a short video from there
.