QUEEN OF QUADS
Time to bow down again. The Queen of Quads and the Bringer of Quadgasms dresses up in her "official" costume for our penultimate day of quadtastic
Rolling Thunder
...
(KNOCKIN' ME OUT WITH THOSE)
BRAZILIAN THIGHS
1.
LUCIANA ANDRADE
From the archive, Rio's fondly-remembered
Luciana Andrade
and her Brazilian thunder thighs. It wasn't that long ago that Luciana was on our screens and in our female muscle lovin' heads, but they were very different times - and I'm not talking about download speeds or clip resolutions.
In Brazil,
Luciana said at the peak of her fame,
there is not much opportunity for female bodybuilders to get sponsors.
And as a result, like other Brazilian muscle pioneers such as
Monica Martin
and
Larissa Reis
, she made her home in the USA. It's indicative of the extent of the rise of Brazilian female muscle that this would cerainly not be a necessary career move these days.
CLOSE-UPs
MARIA LUISA BAEZA DIAZ
Now I'm not the biggest fan of the Figure, but when I get to the time to sit down and watch the best the division has to offer strut their stuff, I'm always impressed by just how much muscle these women actually carry, not least Chile's (as far as I know only) Olympian, Maria Luisa. Watch her in action at this year's Olympia
here
- she's up first after the black screen at about 1.50. Sadly her walk-on, which is kind of the best bit for appreciating her thighs, is missing, but luckily you can appreciate Maria Luisa (and her thighs) from all kinds of angles in this
Violate the Dress Code photo shoot clip
.
REMEMBER MY NAME!
VICTORIA QUADROS
Now I did know that there are Iniut tribes who name their children according to their characteristics as an infant, but I didn't know it happened in Brazil too!
Quad
ros. And it's not (as far as I can ascertain) a
nom de fer
, either, but her real surname. Sticking it through Google Translate, I was disappointed to find that it doesn't actually mean "girl with enormous quadriceps", but "pictures", "paintings", "frames" or "tables" (like
cuadros
in Spanish). But as languages are constantly evolving, who's to say what
quadros
might mean when this thigh phenomenon is finished with her evolution?!
Victoria's only 20 now, so there's plenty of evolution to come. And you can follow the most aptly-named woman in Porto Alegre on
her Facebook
and/or
Instagram
.
THIGHLIGHT
EMMA SUE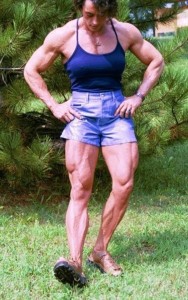 The forgotten beautiful beefcake of British female muscle,
Emma Sue
only competed twice as a pro after
winning the (then) EBBF Championships in 1999
. Those were the days! Jaw-droppingly huge women everywhere, and British female bodybuilders could get their pro cards by winning their national title. She was last seen at the NY Pro in 2010 (below), and you can
watch her routine from that show
with commentary by her sister - who, among other things, puts Emma's funkiness down to the fact that "she goes clubbing with her daughter all the time". Imagine walking into a club and finding Emma throwing shapes on the dancefloor... Maybe I should resurrect my DJing career!
But those gorgeous muscles weren't just for show on the stage and the dance floor though, as
this clip of Emma shoulder pressing 100kg on each side
demonstrates, she was a seriously super strong British Amazon. And there's quite a bit more of Emma in action on
her YouTube page
, and she's also on
Facebook
, updated (for the first time in two years) at the end of September with a request for info as to where she could find "that perfect warehouse" in South London in order to open a gym. Which kind of makes me think I should probably move back to South London with my dusted off decks...
CHLOE SANNITO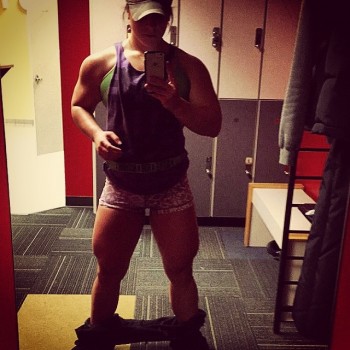 Chloe Sannito is going to be a competitor to watch in the NPC Figure Division,
Physique Posing reckoned in April 2014.
Leg development in any physique sport is the determinant of the best conditioning, the hardest worker, the one paying attention to the details. Chloe Sannito had the best legs I'd seen all summer,
they added. And at the time of the show they were talking about, Chloe was just 17!
By the end of the night, the buzz was all about Chloe Sannito, "the teen figure girl".
Chloe's 19 now, still a teenage Figure phenomemon, and the buzz shows no sign of dying down.
You can
read the full piece on Physique Posing
and watch Chloe tell her own story at the bottom of that page. Contest galleries of her first competition and her 2014 triumph at the NPC Chicago Ironman are available for your viewing pleasure
here
and
here
respectively. And
she's on Instagram
,
and
has been
filmed by Fit Vids
.
Those thighs ain't getting any smaller. And nor is the rest of her!
(KNOCKIN' ME OUT WITH THOSE)
BRAZILIAN THIGHS
2.
CINARA POLIDO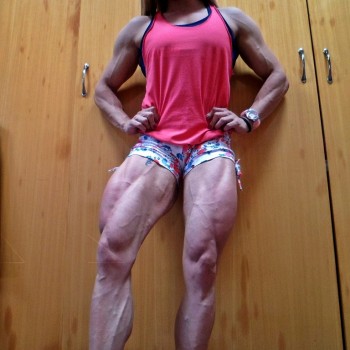 Who am I?
asks Cinara on her latest blog post. She calls herself a "Sports Consultant", an expert in the preparation of athletes for bodybuilding shows and in nutrition and training "for any purpose". She began weight training herself in 2000, and first competed in 2008. After a two-year break she competed again, and the last couple of years have seen her achieve spectacular results. In fact, since winning the NABBA Brazil title in 2013, she hasn't ever finished outside the top 3 in an international NABBA show, and is the reigning NABBA World Trained Figure (ie. Physique) champion.
On
FMS passim
, we've tended to get hypnotised by another part of Cinara's lower body, her spectacular glutes, but revisiting those clips now, it's hard to believe we missed how equally spectacular her thighs are. Marvel at how they come to life when she flexes down on them, each individual muscle rippling in glorious definition.
Now there might not be any beating "Quadros" as a name for a Brazilian female bodybuilder, but as I had the page open, I couldn't resist running
polido
through it as well. And the translation (would you believe?) is "polished". She's Ms Polished. Pretty apt as well I think you will agree, because "polished" is exactly how Cinara has looked every single time I've had the fortune to watch one of her NABBA performances.
And I expect we will next see Cinara at the NABBA Universe at the end of October, and I certainly wouldn't bet against Ms Polished adding that title to her World crown.
QUADS IN MOTION
And we leave you today, shakin' all over, with Brigita...
Enjoy!