What, if anything, has all this research into female muscle elevator selfies taught us?
1. BRAZILIANS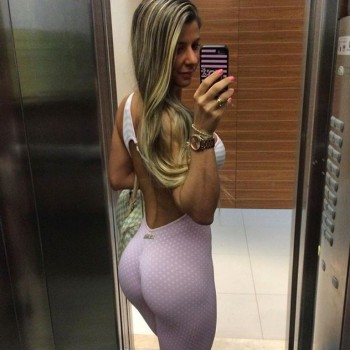 Juliana Taffarel
Female elevator selfies are, without question, a global phenomenon.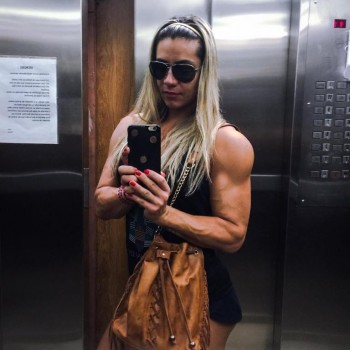 Andressa Ribeiro
However, the fact that our two biggest contributors to the genre -
Claudia Bonavoglia
and
Suelen Bissolati
- are both Brazilian is no coincidence.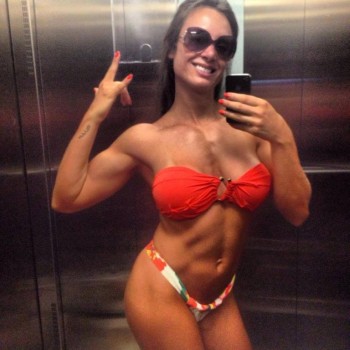 Carol Crozeta
Brazilian muscle women are all at it. Therefore, if you want to maximise your chances of being trapped in an elevator with a muscular woman, Brazil should, our research strongly suggests, be the only country you consider for your next destination.
2. GLAMOUR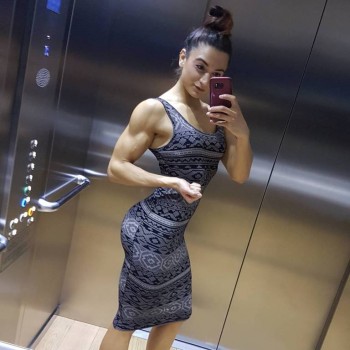 Christina Savva
In the same way that "normal" women like a picture of themselves all dressed up, muscle women appear to be as keen to snap themselves at their most glamorous.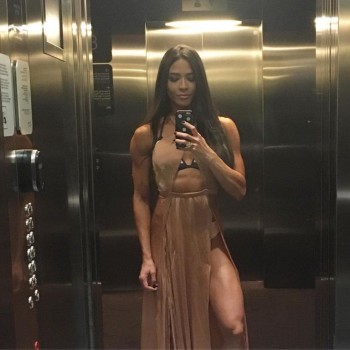 Renata Benigno
Glamour elevator selfies may involve obvious, surreptitious, or no flexing at all.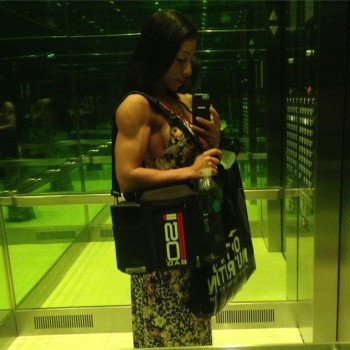 Stephanie Rowe
Our researchers found these are second only to the post-workout pump elevator selfie as the most common type of all elevator selfies. And lots of Brazilians in both groups!
3. ARM ADMIRATION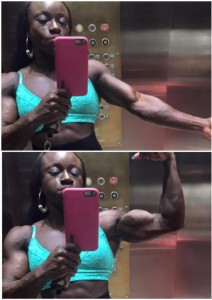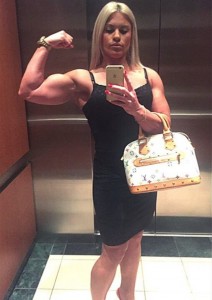 Chareece Moore
&
Tanya Hyde
Not so much a case of the classic "sun's out, guns out", more like elevator door closed, guns out. Or arms in a more general sense. Yes, abs get featured a lot, as well as legs, and (especially in - yes, you guessed it - Brazil) glutes packed into tight tight gym wear, but overall, if she's flexing in her elevator selfie, she's probably flexing her biceps.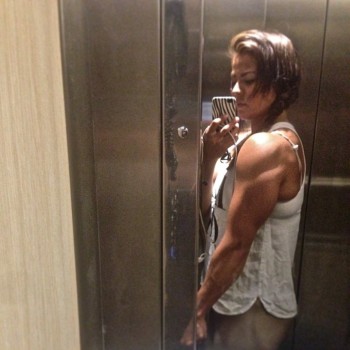 Ssssexy Sophie Arvebrink
Or triceps.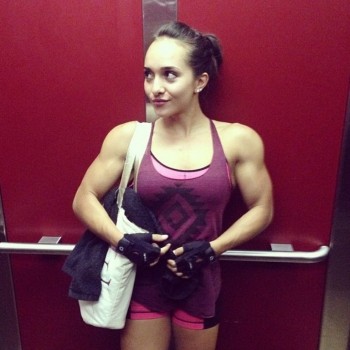 Vanessa Serros
But as with the glamour elevator selfies, flexing is very much optional.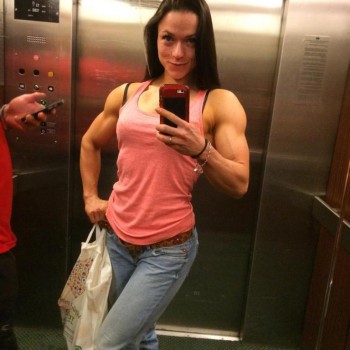 Galina Titova
Female bodybuilders and/or their fortunate elevator companions are just as likely to simply want to capture and celebrate the muscular curves and/or vascularity of their shoulders and unflexed arms as they are to make a muscle. And often look just as proud - if not prouder - to do so than when they
are
actually flexing.
4. NOT ALL WINNERS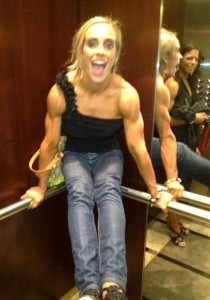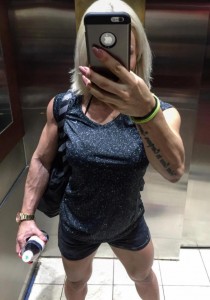 Nikki Venzara
& possibly
Paloma Parra
As with all selfies the two most common mistakes are 1. Moving and 2. Obscuring too much of your face with the camera. Above, whoever was snapping
Nikki Venzara
's elevator gymnastics (left) could have tried again, and only by triangulating the veins, the hair and the tat can we surmise that's
Paloma Parra
behind the iPhone.
Classic examples of what
not
to do.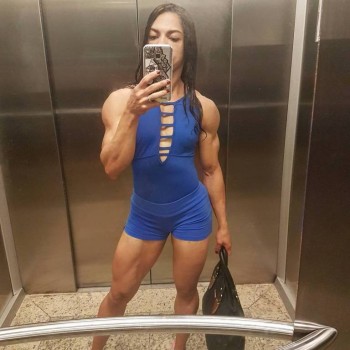 However, even when getting it wrong, the muscular female in the elevator can still make her selfie sizzle. Take, for example, the (unknown, but I can't help feeling Brazilian) lady above. Face almost totally obscured, but I for one am enjoying her shoulders, arms, legs and outfit immensely nonetheless. So, forgiven.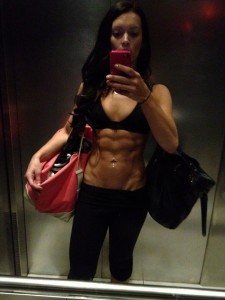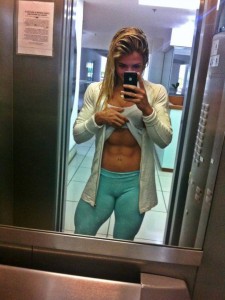 Roberta Zuniga
(right)
As is the lady obscuring only part of her face with the abs and the low low riders above left, and next to her
Roberta Zuniga
(yes, Brazilian) who is making the same face obscuring mistake, but is also showing off her abs and, delightfully, a whole lot more.
5. FAVOURITES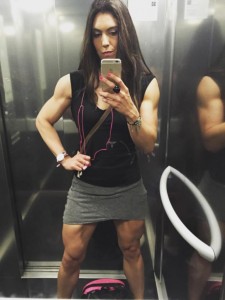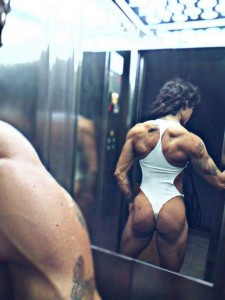 Sara Vanessa Rodriguez Munoz
(left)
When they get it right though, these selfies can be wondrous things. Personal favourites include the very hard to remember the name of
Sara Vanessa Rodriguez Munoz
(above left) with her shoulders, arms and veins, feathered quads and no nonsense hands on hips attitude. Great use of the elevator wall as a secondary mirror too, fgiving us a glimpse of her lovely arm from another angle. Top top stuff!
And next to her, probably my #1 female muscle elevator selfie for reasons that should be obvious to the reader, and not least of which is the fact that whoever that is, they have decided that what they are wearing is suitable for being out in public.
6. ARCHAEOLOGICAL FINDS
Who started this all off? Who was the first? I do like to think who started these niche female muscle photo genres and give credit where credit is due. I doubt they are actually the first examples of female muscle elevator snaps - I'd probably find them taken by Brazilians! - but they are the oldest I have come across. So step forward
Skadi Frei
and
Brigita Brezovac
- Skadi's a selfie, Brigita's probably taken by that lucky husband of hers - date, as far as I can ascertain, from the summer of 2012.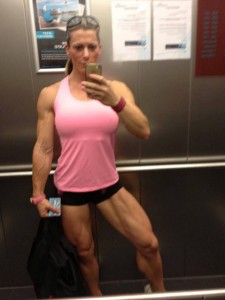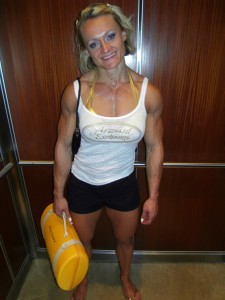 Skadi Frei
&
Brigita Brezovac
Which leaves us with just one final question to be answered. If old Swell here could be trapped in an elevator with any female bodybuilder, who would he choose?
Find out tomorrow! Who would
you
choose?