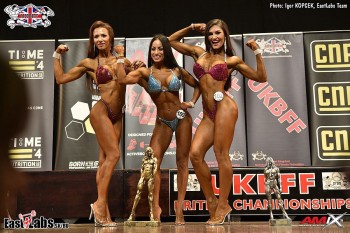 It's absolutely unprecedented! Krish Kataria (centre, 1st), Livia Melo (right, 2nd), and
Zulmira Woodrow (left, 3rd) flex their muscles after the up to 163cm Bikini class awards
Yes yes YES! It's absolutely unprecedented, and most welcome - FMS' favourite female muscle contest lensman, Eastlabs' Igor Kopcek, was at the recent UKBFF British Championships doing what he does so well. For once, I am able to put together a report on the show where my problem is not where to find images without big f*** off watermarks saying DO NOT F***ING COPY all over them, but how to choose which of the
2,799
(!) images of the female classes to include. I've been in heaven for the last few hours, and I don't mind admitting it. Mr Kopcek, I doff my chapeau to you, sir!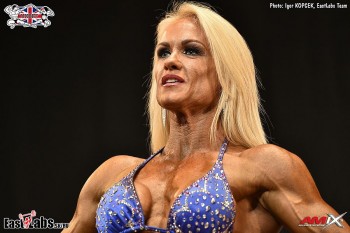 Jo Griffiths, 6th, Masters Bodyfitness
Of course, I'm still going to have whine about the paucity of information available regarding the results. Were it not for John Plummer's excellent reports on the UKBFF Facebook page (I ask you, what kind of federation has its results released via Facebook by a third party?), I'd know even less than the top six in each class that I do know.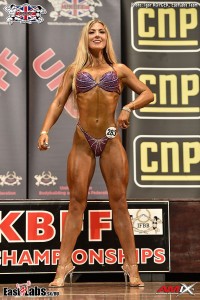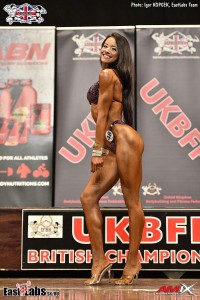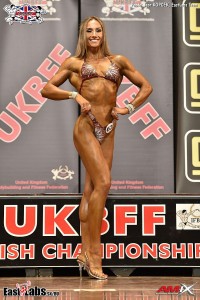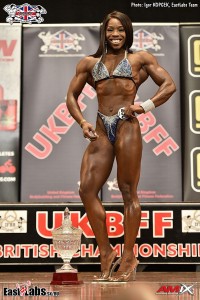 Many of the winners and high finishers from Nottingham (the show's now traditional setting) were those who had competed and in many cases done so well for Britain in Barcelona at the Arnold Classic Europe a few weeks before.
Sandra Mackie
became Britain's first ever "Wellness" Queen, and
Marta Mila
the new Junior Bikini champ.
Connie Slyziut
won her second consecutive Junior Bodyfitness title, and
Samantha Forbes
the up to 163cm Bodyfitness class before being crowned Overall winner too.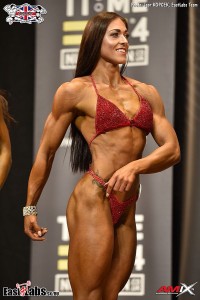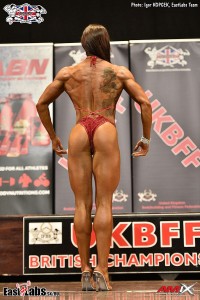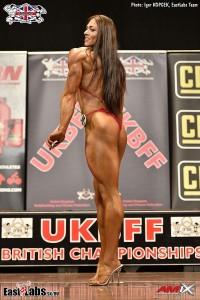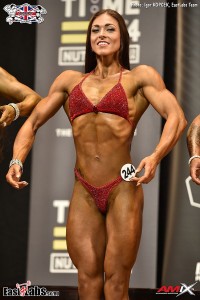 However,
Danielle Osborn
, Britain's big Bodyfitness winner in Barcelona, didn't fare quite so well. In the over 163cm Bodyfitness class, she placed only 3rd. Now I've got nothing against class winner
Anna Banks
, good on her, but if any of the UKBFF Bodyfitness judges would like to get in touch and explain to FMS exactly why it is that the woman on the right beats the woman on the left, I promise I will be all ears.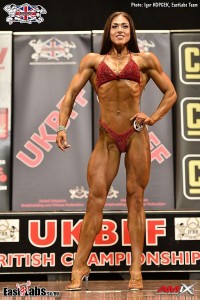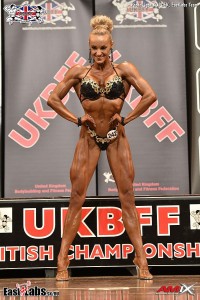 There was a tense few days after the photos from the Saturday had gone up on Eastlabs before Sunday's were added. Tense because Women's Physique was the sole female event on the Sunday. Had Igor just come for the Wellness and Bikini bums and flown home early? I wondered. Thankfully, the answer was no, and while he took more photos of just bums (and I mean "just", whole frame = a bum) in the Wellness and Bikini classes than all of the Physique division put together, by the following Wednesday, our Linda and her UKBFF Physique sisters had been added to the gallery. Phew!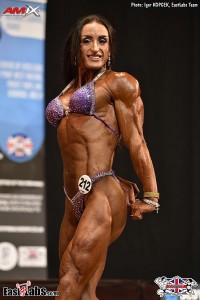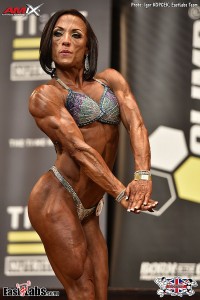 Physique Dreams: FMS fave Hayley Brylewski (left), and Anita Tryc (6th)
And talking of bums... Linda had a bit of an issue on and off stage.
I couldn't contract my quads or lower back, and I was shaking like a shitting dog,
she explains.
People have said it was because I was posing too hard and nerves, but no, it was my ASS. It had locked up and trapped my nerves in my back and legs.
And despite the pain and the "locked up" glutes, and her inability to flex her quads or lower back properly, and the "shaking like a shitting dog" (don't you just
LOVE
her!) she still placed 3rd!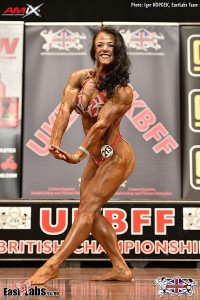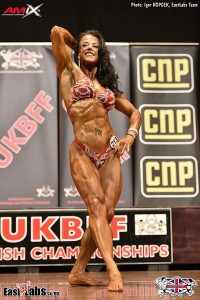 The contest marked the UKBFF British debut of the current NABBA Trained Figure Ms Universe
Emma Gormley
. Like Linda before her, Emma has made the switch to Women's Physique from the most venerable federation of them all. A lot less peeled, and somewhat more covered in the bum area than she was when she won last November, she placed 5th here in her first UKBFF national level appearance.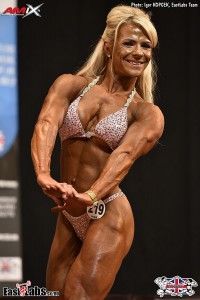 4th in the Physique class was UKBFF vet
Ade Bishop
, who FMS knew of (thanks only to Mr Kopcek and Eastlabs) from international contests such as the Arnold Europe and various Diamond Cups over the last couple of years. This was Ade in by far her best ever shape, and she was perhaps a bit unlucky not to be rewarded with a top 3 placing.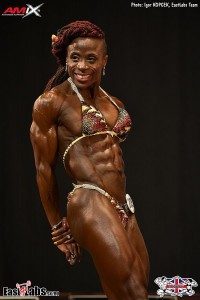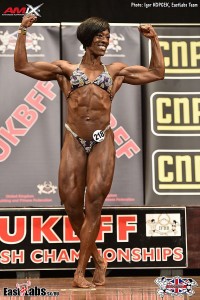 Ade Bishop (left, 4th), and Andrea Corbett (right, 2nd)
A lot happier - probably the happiest woman on stage even though she didn't win - was runner-up
Andrea Corbett
, another UK Physique trooper in European contests who rarely gets placed near the top. Again, nothing against Andrea, congratulations to her, but while I've got the UKBFF judge on the line educating me about the Bodyfitness criteria, perhaps they could also fill me in as to why Andrea finished above Ade.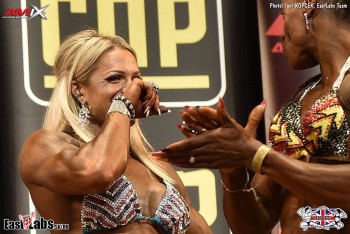 And the winner was...
Tune in tomorrow for a dose of serious star quality.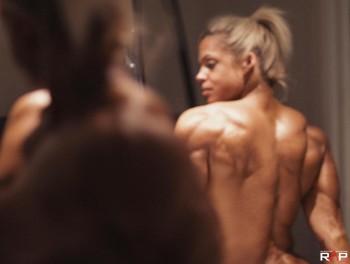 Isn't it a shame we - and more importantly all the wonderful UKBFF British ladies - have had to wait until 2017 to get top-notch, comprehensive, and
freely available
photo coverage? I can't help wishing Igor had been there in 2014 to see your Hot and Hard 100 #5
Sarah Williams
win the Physique title, or
Ria Ward
the year before that, or he'd been there back in 2011 to see
Rene Campbell
become the UK's Queen of Muscle, or indeed the year before that, when Rene was runner-up to
Lisa Cross
...
[seriously? 2,799 photos and you're still not satisfied? tut tut - ed.]
Full galleries
here
. Enjoy! It may be the one and only time...