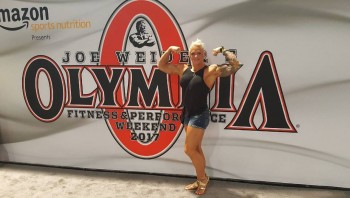 Female Bodybuilders still go to the Olympia shock!
Nicky Chartrand
(above) was just one of many so-called "proper" FBBs who convened (with the rest of the muscle world) on Vegas for the event, including the newly-crowned Queen herself. If the pictures of Helle with friends (considered and rejected by the editorial team) are anything to go by, she had a lot of friends there.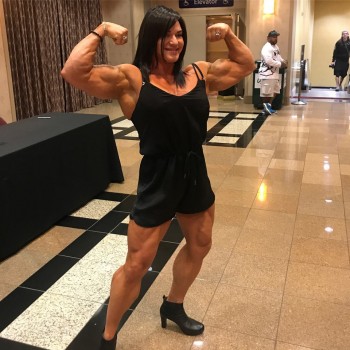 I should say I did argue that you only really get the sense of how big Helle is when pictured with friend, but I was outvoted and I'm not bitter. Besides, we have
Katie Lee
's many many interviews with various Olympian women to illustrate just how much a really big girl can be bigger than, say, a pretty big girl like
Heather Dees
.
See what I mean?
For a significant number of fans, these (usually pretty dull truth be told) interviews conducted by Katie were the highlight of their vicarious Olympia experience, and I must say if you turn the sound down and just watch Katie (or Heather, but I recommend Katie), specifically her arm, the 2 minutes 36 seconds just flies by.
And here's another "proper" FBB. Too big for this world, but not for the Olympia.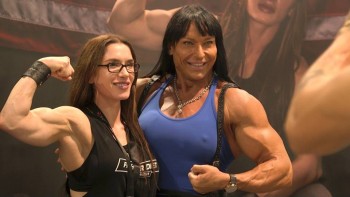 I'm thinking I should know who the other woman in this picture is, and I'm also wondering whether she is having her picture taken with Irene or Irene's having her picture taken with her, if you see what I mean. Irene certainly looks excited.
And also in that category...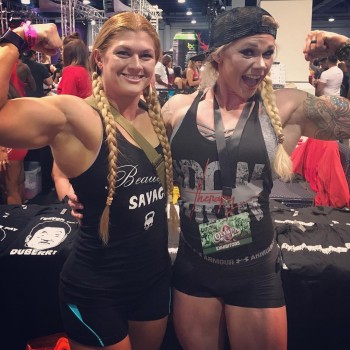 The too-tatted-for-some
Cammie Spindel
I know. But who's her (at least equally impressive - and much-less-tatted) friend? Perhaps this one is a bit easier to work out seeing as Cammie has a pass and her friend has a bag. If Cammie's friend is indeed a punter, then she is one very impressive punter. You could almost say Katie-like...
Our second installment of the divine Ms Lee and her massive, hypnotic arms sees Kaite (dwarfing and) catching up with another Figure Olympian,
Wendy Fortino
, who it must be said is a lot more entertaining than most female muscle interviewees.
And so to our award for the woman most about the Olympia...
I think it's fair to say it would be easier to count the women
Esther "Tete" Rodriguez Sosa
(see
FMS passim
)
didn't
get a picture with than those that she did. Our "Tete" selection includes "proper" FBB
Janeen Lankowski
, fellow Mexican
Sandra Grajales Romero
, pro Bikini's
sole Hot and Hard 100 rep
Yarishna, Las Vegas businesswoman
Larissa Reis
, and the one and only last Ms Olympia.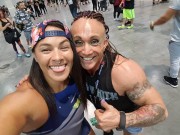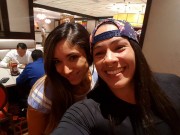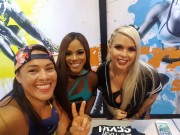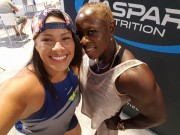 But it's not just at the Expo where the muscle is at, but everywhere. Or so it seems.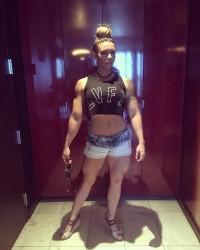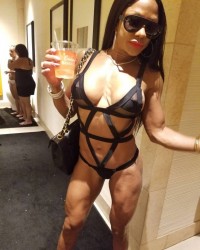 You could probably get a serious swoon on just using the lifts and walking around the hotel(s), stalking the corridors... Who the sizzlers above are I do not know (again, feel like I should, certainly wish I did) but there's no mistaking a glammed up Karina.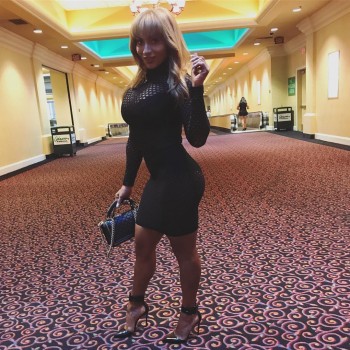 And for our third (and last) Katie interview, we move up a division to Physique, and the "super ripped"
Jodi Boam
. On this occasion, Jodi really is worth listening to ("I get to flex in Physique,
that
I love"), and you may not
just
want to watch Katie.
And finally, the award for the place most FMS staffers would have liked to have been during the Olympia goes to the swimming pool where Singapore's finest
Melissa Wee
was (really really) showing off (almost all) her very Christian yet sinfully sexy bod.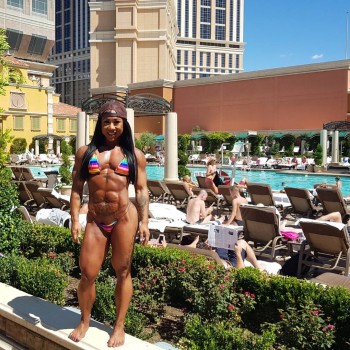 Forgive me Father for what I am about to do...