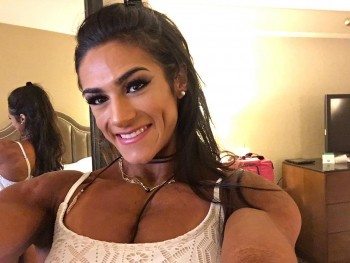 Seems it wasn't just my loins that were aflame then...
Anyone who was lucky enough to catch all the action from last weekend's Figure Olympia says that they've witnessed the most competitive line-up from top to bottom in the history of the show. 21-year-old superstar Natalia Coelho came out and absolutely lit the place on fire from the minute she hit the stage. The strides that we saw her make this year were about as dramatic as anything I can remember seeing in Figure, and when you consider she's just starting to discover how to manage her talent, it's scary to think how good she might be three years down the road.
Dave Palumbo,
Muscle in the Morning
, 26/09/17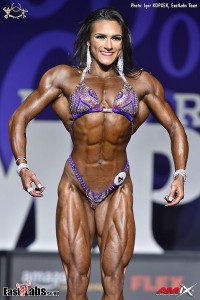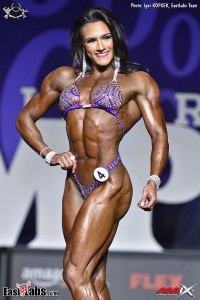 She was (and I believe still is) the youngest woman ever to become an IFBB Figure pro when at just 19 she earned her pro card at the 2015 Nationals, and since then her star has continued to rise. Last year she competed no fewer than six times, finishing in the top 4 placings on four occasions to qualify for her Olympia debut. In 2017 she only needed to compete twice before bagging her place, following up a 2nd in Orlando with victory at the Dallas Europa. This was Natalia's second Olympia, and - you don't have to take my word for it, just trust Dave - though she didn't place, she made heavy impact.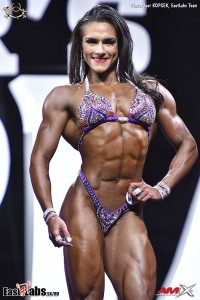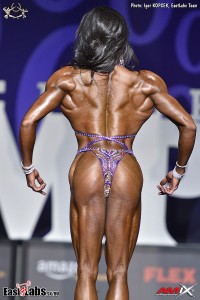 I imagine her lowly (non-)placing had something to do with exactly what left me and (apparently) much of the audience in the auditorium gasping for air - that incredible definition. Too much for Figure is what I've heard said, but more than enough for me. Her legs have been (rightly) lauded ever since she first stepped onto a pro stage (regular readers may remember Swell learning the correct term to describe them was "feathered" back in 2016), and they did not disappoint here either. But then there were her abs, which looked too perfect to be true (if you told me they were painted on I'd be tempted to believe you), and that pec line, those shoulders, and when she turned around glutes that seemed to ripple from top to bottom
and
side to side with every move she made. Gasping I was! Gasping in awe and excitement and wonder...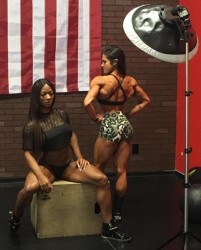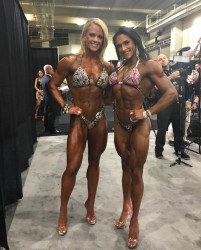 With Candice and Nicole backstage and elsewhere at the Olympia
Before I get too carried away, let's investigate just what it has taken for Natalia to attain such physical perfection, shall we? She'll tell you herself, it's got nothing to do with luck.
If you want to "look good" in front of thousands,
she says,
you must outwork thousands in front of nobody. Nobody sees how hard you work, they will say it's genetics, it's easy because you are young, or because you have more time than they do. Simply work harder and be more dedicated and passionate than they are.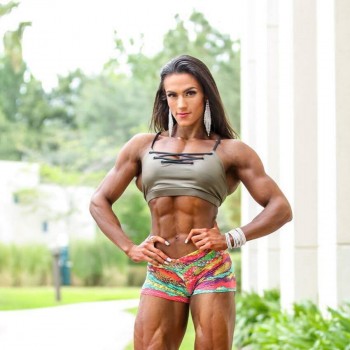 And in a world where passion and dedication are a given if you are going to get remotely near where Natalia is, her passion and dedication have been exceptional.
I moved from Brazil to the USA, leaving my father, friends, school and everything to work hard to achieve my dreams,
she says.
After studying bodybuilding - reading and watching many bodybuilders past and present, training techniques, nutrition videos etc., I decided to start competing. I knew it was all about a strong mindset, so I invested as much time working on my mindset as I spent training and prepping my meals. I started training to compete when I was 15, did my first competition at the age of 17, and turned pro at 19. I haven't stopped competing and I don't plan to.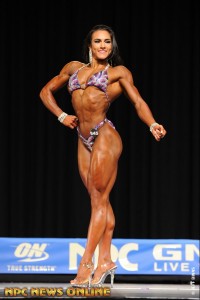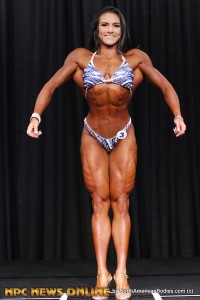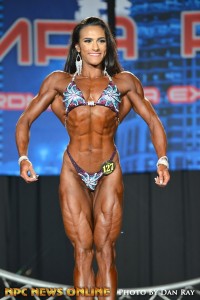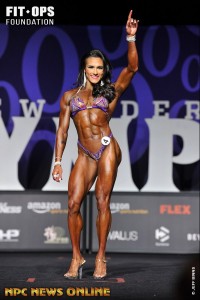 Natalia's progress: (top): 2015 NPC Nationals (left), and Miami Pro 2016;
(bottom) Tampa 2016 (left), and acknowledging the crowd at the Olympia
At 4am, I do my cardio, go to work from 5.30am until 1pm, then go to college and basically have class all day long. After college, I go home, get my pre-workout meal in, and go train late at night. After training, I go home, study, take one online class, and prep my meals for the next day.
No mention of sleep but one assumes...
We spend an increasing amount of time here at FMS in touch with brethren from around the world getting local news, local knowledge, opinions and views. Many of our contacts aren't quite as
au fait
with the world of Figure as we like to think we are, and we've been doing some experiments since the Olympia, with our Figure-hazy contacts as our guinea pigs.
Who are you looking at tonight?
they invariably ask us. We casually drop them a pic or two of one of those who finished above her - Latorya or Nicole,
Heather Dees
or
Sandra Grajales
, all gorgeous on the Olympia stage. Then we hit them with Natalia. And without fail,
without fail
it is as though a bomb has been detonated through their computer screen. She absolutely blows them away.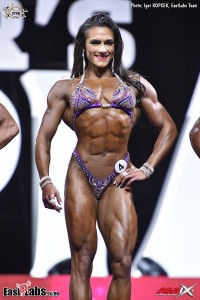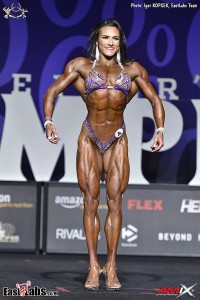 It is indeed scary to think how excited I might be getting looking at Natalia three years down the road. My ticker barely made it through her Olympia appearance this year. I really should schedule a check-up, but you know, it's finding the time to do it...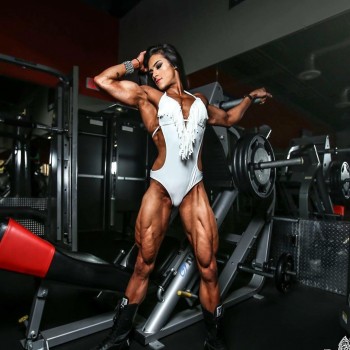 Watch a massive
Katie Lee
marvelling at Natalia's ability to prattle on about herself
here
(dedicated? passionate? 100% obsessed is what she is and I
LOVE
it!) and for those among you who are quite confident in your own heart's robustness, FMS invites you to have yourself
this volcanically hot Natalia-based treat
on us. Enjoy!