It's 2005, and 38 year-old
Mimi Jabalee
is about to take the Overall title at the 2005 Nationals. In her hotel room, three pictures destined for the Hall of Fame are taken...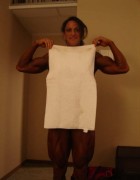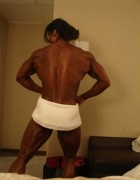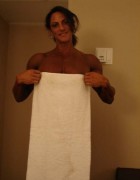 I believe they were probably taken by Mimi's then partner
Amanda Dunbar
, or at least that's the legend. And despite (or perhaps because of) her fairly short career and single pro appearance (Tampa, 9 years later in 2014), "legend" is a pretty accurate way to describe Mimi's place in the collective female muscle lovin' consciousness.
"One of the hottest female bodybuilders I ever laid eyes on," claims one lucky soul. "One of the most attractive women ever to grace the sport," says another. "A miracle of muscles," says one true believer, riffing on the theme because it was after Mimi "found Jesus", as they say (or perhaps it was the other way round) that she left the world of competition. She apparently devotes her life to a different religion nowadays.
No reason why we shouldn't keep worshipping in the same old way though!
Still rather gorgeous at 50
on Facebook
.