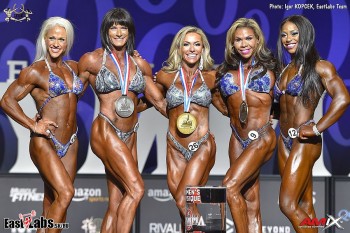 The judges, according to some fans, must have been "drunk". Or "asleep". Some of the placings (or non-placings) were "just an insult" to their favourite Physique Dreams. However, as we've seen before on FMS, apparently random placings are very much part of IFBB pro Women's Physique these days, so the wacky final verdict here may well have been incomprehensible, but it was hardly unexpected.
Plus ça change
.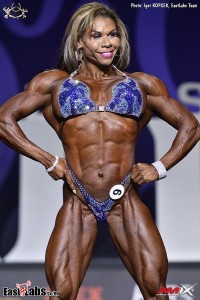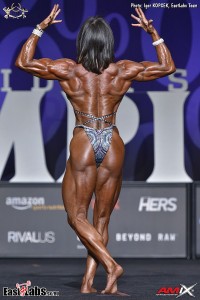 And anyway, the identities of the women occupying the two top spots behind Juliana were entirely predictable to anyone who's been following this Women's Physique season.
Heather Grace
(3rd) and
Jennifer Taylor
(2nd) have been the classiest acts of the 2017 circuit with a grand total of four pro show titles between them.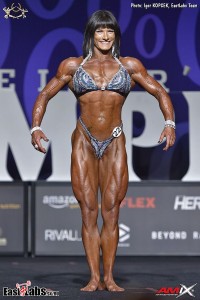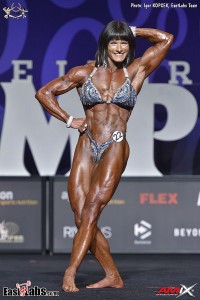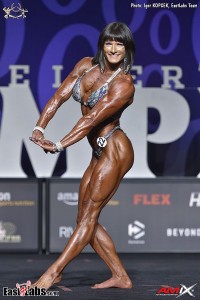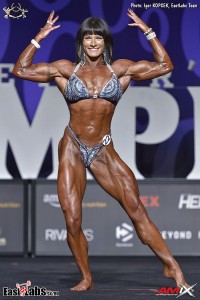 It's been an especially triumphant season for Jennifer, her first as a Physique competitor having previously worn her heels and kept her muscles under control in the Figure division. She is no novice then - this was her third consecutive appearance at the Olympia - but she adds her silver medal here to her runner's-up sword at the Arizona Pro (see
FMS passim
) and her golds in San Antonio and Tampa. Having ended last season as the 10th best Figure Olympian, she ends this as
La Malacarne
's closest challenger, which I think you will agree is quite an achievement. Rookie of the Year.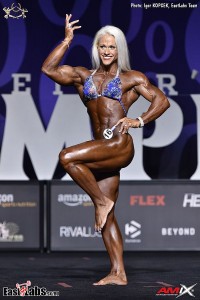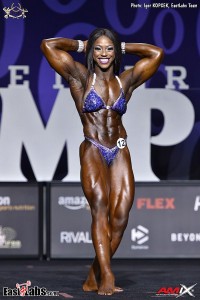 Also it could hardly be a surprise that
Kira Neuman
(4th) finished near the top for the third time in a row (she was also 4th last year, and 2nd in 2015), nor that the very gorgeous
Sheronica Henton
went one place better than her 6th on debut last year.
Which brings us to Dani.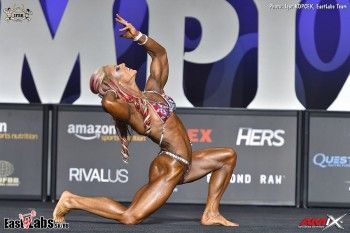 I think we are close to seeing the end of her as a competitor. She seems to be turning into a bit of a head case and didn't even train much the first half of this year. Sponsors dropped her, and her Olympia progress doesn't seem to be on track either. I'm afraid she'll get her ass handed to her this time and slowly fade away afterwards...
Well, I think it's safe to say that the above forum member's nice little half-baked Dani demise theory (posted mid-August) hasn't exactly turned out to be 100% accurate.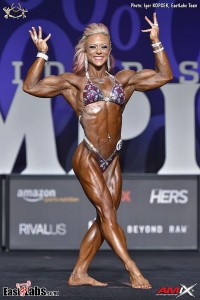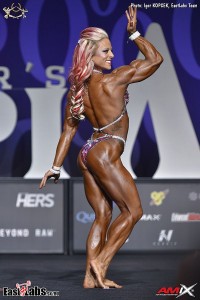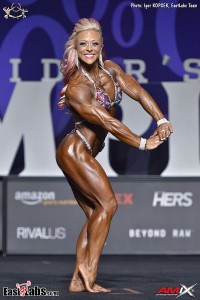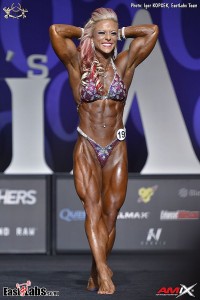 Yes, Dani had issues in the first half of the season that kept her out of the Physique International -
injury
issues. A cursory glance at
her Instagram
and she seems to be doing a lot of promotion (apart from the self-promotion) so the sponsorship deals haven't exactly run dry, and sure, 6th isn't exactly 2nd (where she was this time last year), but finishing runner-up to Juliana one year doesn't guarantee anything the next - ask Kira, she knows. As for "head case" - aren't they all? Isn't that part of the deal?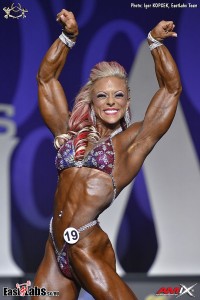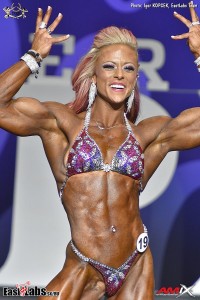 He's clearly not a Dani fan, whereas I'm proud to say I am. Anytime Dani's got a posing suit on I'm happy, and given the doom-laden predictions (our forum posting friend offered one of many) I was very pleasantly surprised to see she'd lost none of her sparkle and that bod is as spectacular as ever. Love the hair too! I could thank him for making my expectations so low I couldn't possibly have been disappointed by Dani's package, but that would suggest I had paid his fantasy theory some mind. I didn't.
But it did piss me off just a little bit. Can you tell?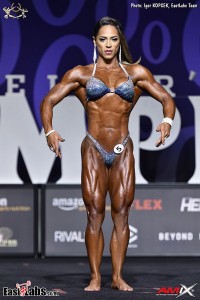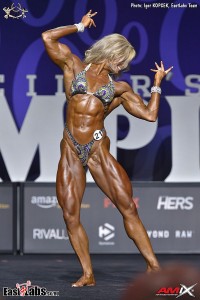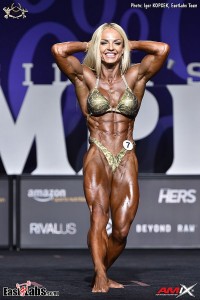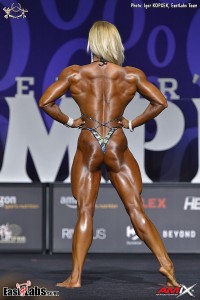 Places 7 to 10 were awarded to, in descending order, to: Ms Physique International
Daniely Castilho
(the second of four Brazilians, who made up the biggest national group apart from the Americans); former Ms Physique International (and the woman looking most likely to prove that Physique is the new 80s Female Bodybuuilding)
Autumn Swansen
; fan fave,
Hot and Hard 100 #7
and
actual
"head case" (in a good way)
Eleonora Dobrinina
; and top and only Asian
Penpraghai Tiangngok
(who I'm sure we all hope will still be performing her camshows in
exactly
the same way she did them before she was an IFBB pro - and now a top ten Olympian).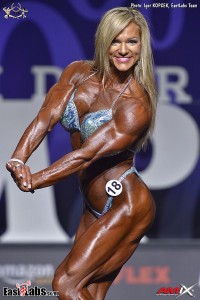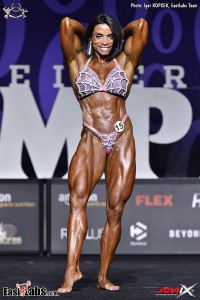 Now once we get outside these top ten the placings (or non-placings) do seem to become a bit random, but with the exception of
Jamie Pinder
, who was 11th, none of them had any Olympia pedigree to speak of - although perhaps I am doing a disservice to
Frances Mendez
(unplaced this year, 10th on two previous occasions in saying that. No fewer than ten of the eleven unplaced women were making their Olympia debuts, the only other first-timers to place were
Melissa Pearo
(13th) and the Amazonian
Candrea Judd-Adams
(15th). Rightly or wrongly, you get the feeling pedigree counts. Those Olympia judges apparently don't notice competitors unless they've seen them at least once before! Why did Candrea get the nod for 15th over
Marjorie Beck
, or
Tomefafa Ameko
, or any of the other unplaced women? Perhaps the answer is simply that this was Candrea's
third
Olympia appearance.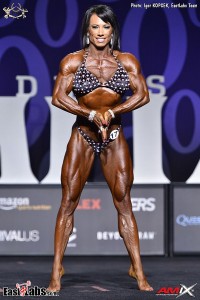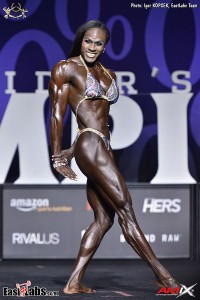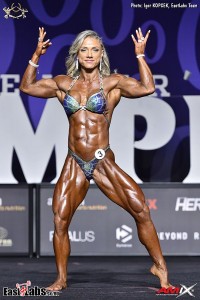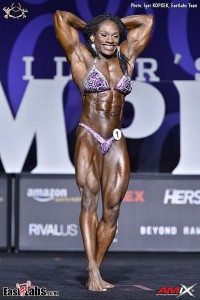 Perhaps it was something to do with her abs.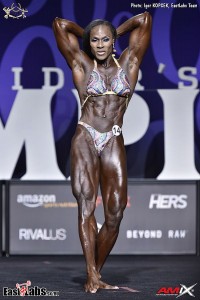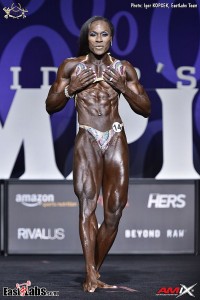 Either way, it's clear that at this level, the margins between the top ten and the unplaced are very fine indeed. It's telling we're almost at the end of today's waffle and I haven't even mentioned
Jodi Boam
, or
Margita Zamalova
, or the seriously beautiful
Keri-Ann Heitzman
, or indeed the seriously sexy
Doina Gorun
.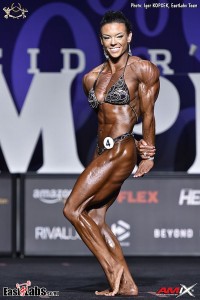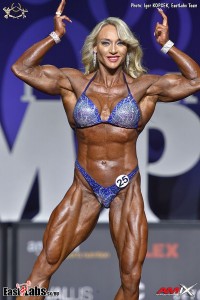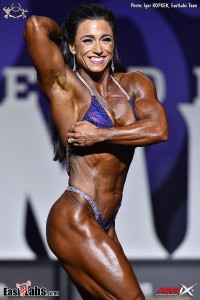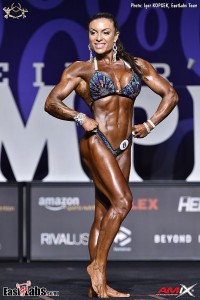 Telling in the sense that all of these women could have their own posts and there'd be no (or at least very few) issues getting the idea past the editorial hierarchy nor complaints from readers - who might, right now, be typing their complaints that I haven't given their personal fave enough pictures or enough words today...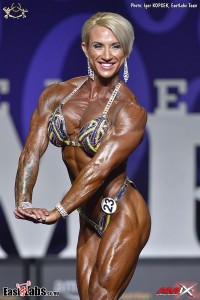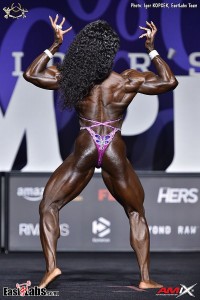 Fact is, there were 26 amazing women on that stage, and it can't have been an easy job choosing between such a magnificently muscled line-up. You have to go on something, and if that something is "she looks to have made improvements from what I remember from her last year", then there's not much we can do about it. Relax. Enjoy the muscle. There's plenty of it, and beautifully shot, as always,
by Igor Kopcek of Eastlabs
too.
Now, did I just feel sympathy for the judges?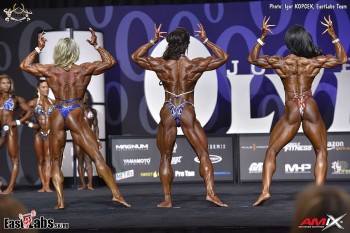 Tomorrow, we finish our Olympia review in (if I may say) style with, for many, the woman who should have won, probably the most muscular woman in the contest...