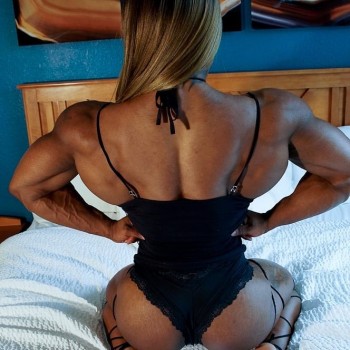 Do not adjust your set or whatever they say now. This blogger is looking forward to 2018. Yes, I too have read
the research that suggests the vast majority of prehistoric women had "stronger arms than today's elite female rowers"
, but let's face it, they didn't spend their weekends standing on plinths in fur posing suits while male members of their tribe passed judgement on them. My reasons for optimism are several, but what it all boils down to is a greater amount of female muscle on the planet than ever before. Well, at least since women stopped having to grind grain for up to five hours a day.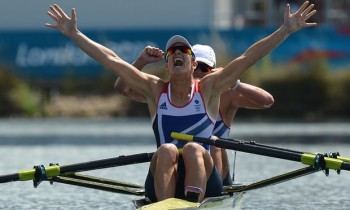 GYMS
Granted, this may not be the case everywhere, but here in the UK there are unprecedented numbers of women at the gym. And we're not talking about those who take out membership in January and have stopped turning up by February, we're talking about women who work out regularly over a period of time. These
so-called "Protein Princesses"
are one driving force in
a boom in the UK fitness industry that (according to the most recent research available) shows no signs of slowing down yet
.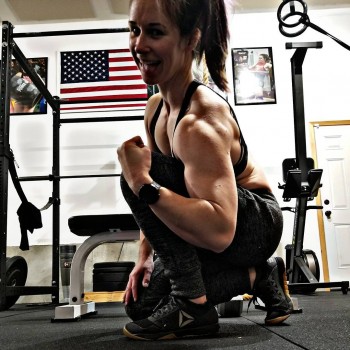 You can now buy protein shakes in all big supermarkets and even Poundland - just one (shocking!) example of just how mainstream working out has become for both women
and
men. So there is an ever increasing chance that your significant other either works out regularly or (if she doesn't do some other kind of physical activity) is thinking more and more about doing so. And if she does, you should get on it too my friend, or
she may be thinking about trading you in for a guy she met at the gym...
THE MEDIA
2018 will be the FMS' seventh year, and throughout that time we have paid especially close attention to female muscle-related stories in the mainstream (English-speaking) media. Every year there have been more and more stories, and every year the slant seems more and more positive. There are women conquering eating disorders, overcoming their bullying victim past, sculpting a far better body than they ever had before they became a mother... There are women with successful careers who also compete, women with successful competitive careers (pretty much exclusively at amateur level) gaining recognition in their regional media. There are Instagram's most followed "fitspirations", there are celebrities showing off their six-packs. And there are even stories about some of the freakiest beasts of all, like
Natalia Trukhina
.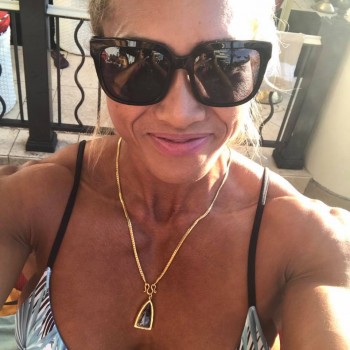 In December 2017 alone, we had
quite a bit of Natalia
, we had
Polish "Fitness Barbie Twins"
with their "bubble butts and sexy toned abs", and we had
UK celeb Gemma Atkinson having a go at those who said she was "too muscular to dance"
. We also had plenty of regional stuff - in Cumbria,
champion bodybuilder Tyler Jack was celebrated for her new job
in car sales, and in Chester, there was
the "Bodybuilding Beauty Queen Mum"
. More serious stuff too.
Can We Please Stop Criticising Older Women for Working Out Too Much?
was the headline in the Metro on the Thursday before Christmas, and in the BBC's celebration of
100 Women
,
the Thai woman "fighting stigma to become a bodybuilder"
was none other than
Penpraghai Tiangngok
.
SOCIAL MEDIA
Much of this media interest derives from social media itself. Stories fall into newsrooms pretty much ready made (as we have seen
previously on FMS
), mainly it seems via Instagram (and not Facebook or Twitter for some reason) - noted above, the Polish "Fitness Barbie Twins" from December in the
Daily Star
is another classic example. Even when the story isn't about muscles
per se
, a great body shown off on social media works. Last year we saw how the anti-government protests in Venezuela suddenly got a lot more coverage when
"Wonder Woman" Caterina Ciarcelluti became the face and body the global media picked up on
for their stories. And where did they get their images of Caterina working out? Her Instagram, naturally.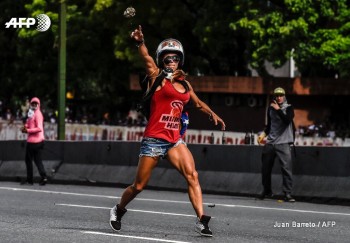 But the main effect social media has had has been to take the mainstream media out of the equation. More women get more inspiration from other women's transformative stories and positive messages on Instagram than anywhere else these days. The ones who make it to the mainstream media -
Brittany Rhodes
, for example, who appeared in a BBC documentary - are just the most followed tip of the "fitspirational" iceberg.
CELEBRITIES
Like it or not, a lot of women pay a lot of attention to what their favourite celebrities are doing, so also on that tip are women like
Davina McCall
(the 50-year-old UK TV presenter who featured in the Metro story noted above) and the other fit celebs we
featured on FMS last year
. Even
one of the Kardashians is apparently talking the weight training talk
these days, and if that isn't a sign that there's a female muscle bandwagon rolling through celeb world just begging to be jumped on, I don't know what is.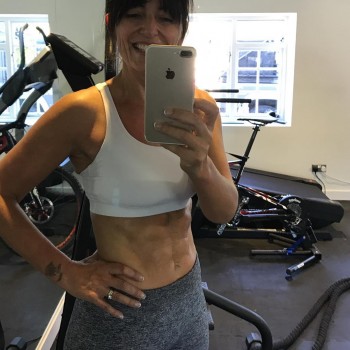 And then there was
2017's LOVE advent calendar - #staystrong
. No, they didn't put proper muscular women behind the virtual doors of their "seasonal online celebration of womanhood", but there is a lot of sweat and even plenty of flexing in there. Again, bandwagon jumping? Nothing wrong with that if you happen to think the bandwagon is the best looking bandwagon you have ever seen. Will it inspire? Well, it probably inspired quite a lot of messiness in teenage bedrooms and, despite the best intentions of Editor-in-Chief Katie Grand, probably not much else. But it's another sign that the world of celebrity, and even the previously size zero travesty fashion world are embracing - perhaps acknowledging is a better word but hey - that "Strong Is Sexy".
CROSSFIT
Lest we forget, other strength and muscle-building sports are available, and while that
Dorian Yates "Super League" thing
might have coaxed Shannon back into the free weights area, Crossfit is the biggest and (in this blog's opinion anyway) by far the best - not least because it's one of the very few sports where the top women get more attention (and more roles in blockbuster films) than the top men.
And
it's the most attractive to women who prefer a more functional approach to their fitness.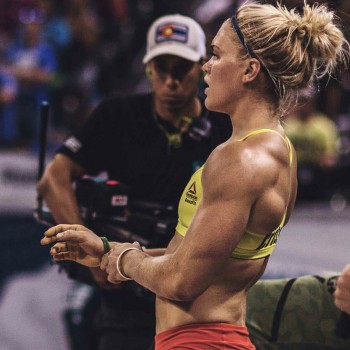 I don't have any actual data to go on, but personally knowing three women who have taken up Crossfit (or at least incorporated it into their training for other sport) in the last couple of years, I thought I would ask around my circle of female muscle
cognoscenti
. I wasn't very surprised to find that most knew at least three similar women, and then there's that one guy, well, that's why he does FMS' Crossfit stories.
So, it's all adding up. More gym membership. more media coverage, more social media inspiration, celebrity endorsement, and Crossfit's functional appeal. More muscle.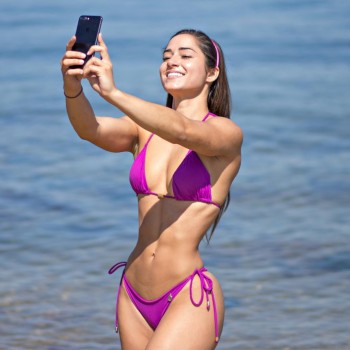 Well so what? you might be saying. How many of those gym bunnies are ever going to compete? And even if they do, they'll just be wiggling their bums in Bikini, or "Wellness" or whatever. Really, how many women are going to be inspired to build serious muscle via the media - social or otherwise - even if it's their favourite celeb showing off a bit of tummy definition on an otherwise borderline anorexic body? And as for Crossfit...
Go on, admit it, you have a major crush on
Brooke Ence
, don't you?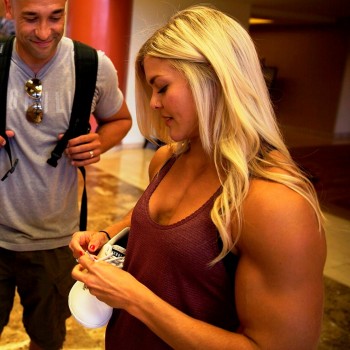 Point taken though. You're not a fan of the pastime, but "the sport".
THE SPORT
New territories
Over the last few years FMS has occasionally reported from parts of the world where "the sport" and more generally the idea of women weight training to build muscle and compete, have previously been unheard of, taboo, or even, in the extreme case of Iran, illegal. Another story that popped into our inbox in December was all about
how Asian women - "Female Bodybuilders" - were "smashing gender stereotypes"
.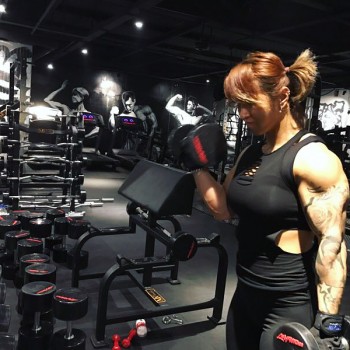 South Korea - one of those countries at the forefront of Asia's female muscle revolution - is currently producing new fan favourites at the rate of about one a week it seems. We've seen on FMS
how the Indian media has been celebrating its new wave of competitively successful muscular daughters
, how they have
their own outspoken celebrity muscular female
,
and
how in one state
a female bodybuilder actually secured financial support from her state government
so she could continue to compete internationally. Women in the Gulf states are also flocking to their (female-only) gyms in ever-increasing numbers, although they will probably never get the chance to compete (unless they have contests with an all-female judging panel and all-female audience, and there's never going to be many pictures of that floating around).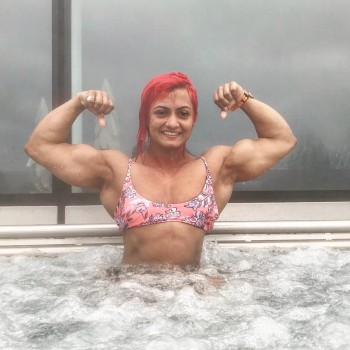 Point is, lots of women in Asia. If only a tiny minority take up weight training and only a tiny minority of them compete, that's still a lot more muscular women and a lot more female competitors in the world. And the more there are, the more that "stigma" Penpraghai and many more of her Asian iron sisters have to fight lessens, bit by bit, for the women that will follow them. A virtuous circle of ever-increasing female muscle!
Figure to Physique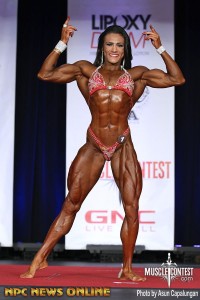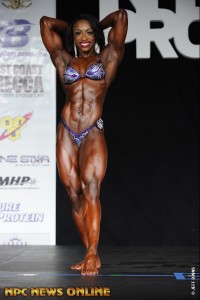 After a few years of what seemed an endless sorry parade of former pro FBBs "downsizing" into the Women's Physique division (with wildly varying degrees of success), the trend now seems to be for Figure ladies to kick off their heels and flex their lovely muscles. Recently we saw
Natalia Coelho's first Physique outing
, as successful a Physique debut as that enjoyed by
Shanique Grant in 2016
.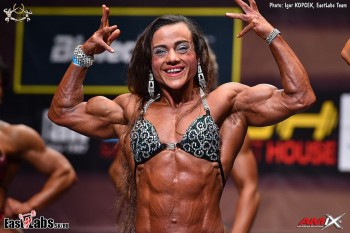 At the IFBB's Women's World Fitness Championships last month,
FMS Hot and Hard 100 heart-throb Gülüzar Tüfenk
flexed in anger for the first time - and obviously enjoyed it, even if she did about as poorly as she had been doing in Bodyfitness - and FMS also spotted
former Bodyfitness bomb and Czech dream Michaela Kohutová
also doing Physique for the first time. In the UK and following in
Carly Thornton
's thundersteps, 2017's British Physique champ
Donna Murphy
took her time about it, but she had also previously competed in Bikini, then Bodyfitness, before last year.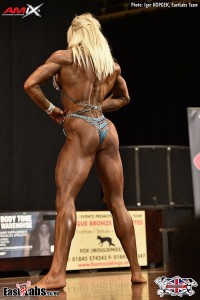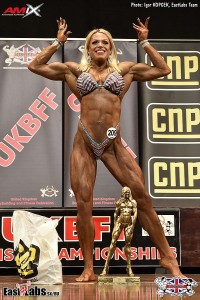 These are just a few examples. You can probably add your own from your own countries or among your own favourites. Women who are refusing not to grow.
IFBB Pro Bodybuilding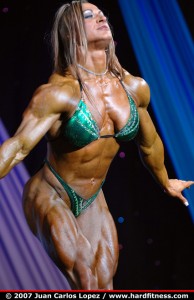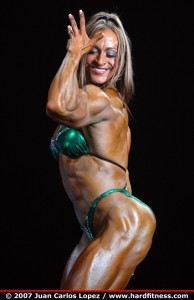 It's not difficult to see the dark side. Just the other day I was watching (I think it was) the 2007 Ms International with a couple of other heads.
Cathy Lefrançois
,
Colette Nelson
,
Kim Perez
,
Bonny Priest
,
Annie Rivieccio
,
Denise Masino
,
Betty Pariso
, Dayana, Yaxeni, Iris, and (another title she should have won)
Heather Policky
... The line-up was, as one of the heads drolly pointed out, like all your Christmases on stage at once. A decade on, what hope of such a quality contest?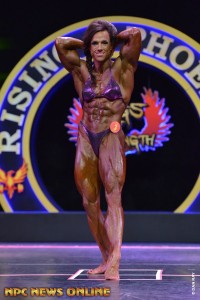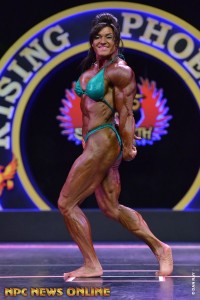 True enough. For all the positives to come out of the Wings of Strength takeover (a modicum of control for the women themselves, considerable prize money hikes, and most crucially, the survival of their sport), there simply aren't enough top quality FBBs still competing to make all the (few) shows essential viewing. However, every year Jake and Kristal (now just Jake apparently, but anyway) have added at least a little something, and 2018 will see potentially their most consequential additions yet.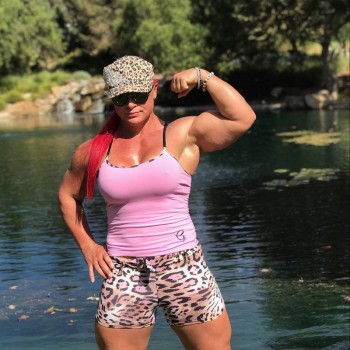 Timed to coincide (pretty much) with the Arnold Classic in Ohio in March, the Female Bodybuilding contest at the Hawaii Pro could well become "our Ms International" in the way that the Rising Phoenix has become known among the women as "our Olympia". At the time of writing there's no sense of how many of the biggest names the show might attract, but given how so many FBBs have got behind Wings of Strength's brainchildren before, there's no reason to doubt this event could, given time, grow into something a little more significant than the other RP qualifiers. And then there's Romania.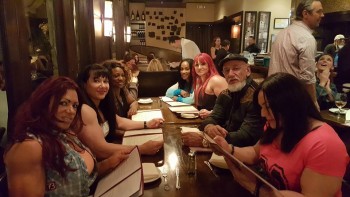 Scheduled for late November, the Wings of Strength Romania Muscle Fest (catchy eh?) will include the first IFBB pro Female Bodybuilding contest held outside North America since... I have no idea. Anyone? Was it pre-internet? Whatever. The first outside North America for a
very
long time. No surprises it will be in Romania given how cosy Alina seems to be with Jake these days, and it's also to be seen just how many Europeans or women from other continents might be able to compete. We shouldn't get too excited yet, but you have to start somewhere and it's most definitely a start.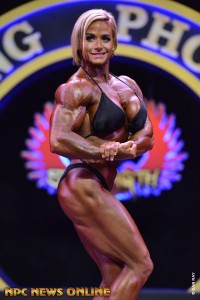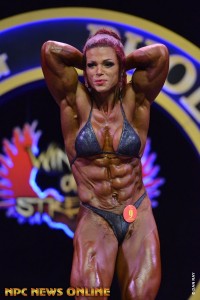 And get this - there are two more European events pencilled into the schedule (this is quite sudden - I literally just found out about this) - September, San Marino and October, Milan. Bloody hell! I need to book a flight ticket or two. For more info you should go to
the IFBB 2018 Pro Schedule
,
Tim Gardener Productions
, and (surely they will have more info soon)
Wings of Strength's events page
and
Instagram
.
I find myself even more optimistic than when I started the post!
September in San Marino anyone? October in Milan? November in Bucharest?
Regular posting will resume next Monday.