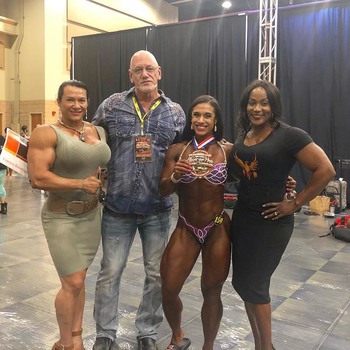 Kristina Mendoza
looks pretty damn pleased with her runner's-up medal, don't you think? Those around her - Alina, Lenda and WoS main man Jake Woods - had just as much - if not more reason - to be cheerful. This year's Ms Wings International Classic and the FBBing portion of the Chicago Pro were, as far as I can see, an utter triumph, and the latest and perhaps most convincing indication we've had that the Wings of Strength regime has not just helped IFBB/NPC Female Bodybuilding survive, but is also busy working on its future, one that may be as bright as Kristina's smile.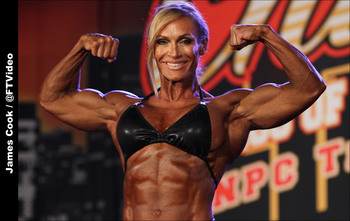 Why am I so convinced? Well, I have reasons. Enough to fill up two posts (kind of). So we'll get to why I am so happy about what I saw of the pro show later in the week. Today, it's all about the night before - the second Ms Wings International Classic.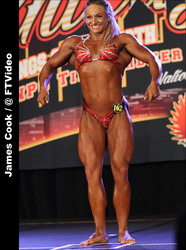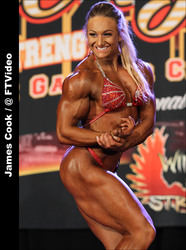 With just the one Lightweight, and only three Middleweight competitors, the main event was the Heavyweight class.
Paige Sandgren
made her (eagerly anticipated in my house and, I expect, many other houses) FBBing bow, and placed 4th.
I didn't get a pro card,
she wrote in her post-show afterglow,
but that doesn't even matter to me right now. I feel as if I found my home and a new family tonight. It just felt... right.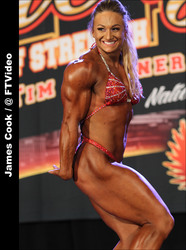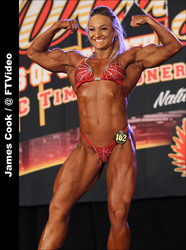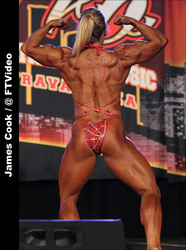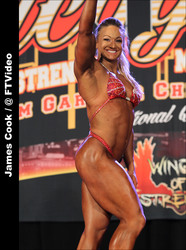 Looked very right to see Paige flexing with her fists. Very very right indeed. Looked like it felt right too. Look at her smile, look at her eyes all lit up. Paige has dipped her body in the new FBBing scene, and now there's nowhere else she'd rather be. Physique has lost one the sport's brightest young stars. 1-0 to Jake, Alina and Lenda.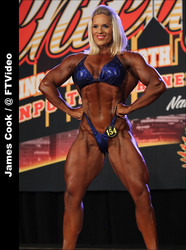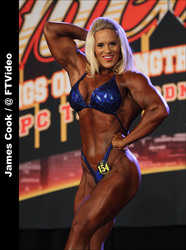 One place lower than Paige, but scarcely any less enthused, was the Wings of Strength booth regular at previous 2018 shows, the gorgeous
Noelle Rockwell
.
So grateful for the opportunity to compete with these beautiful women and represent the sport,
she reflected.
I definitely brought my best package to date, and I'm not done yet!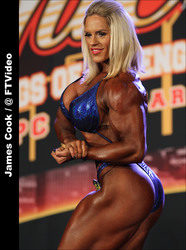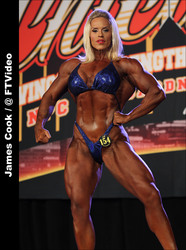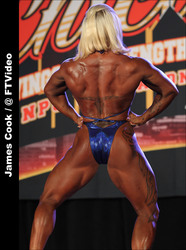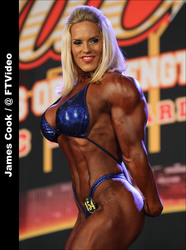 It was Noelle who last year weighed in with the comment that coined the phrase as Wings of Strength went wild on Facebook after Jake and Kristal split, and bad feeling exploded after the Rising Phoenix invites were announced. Re-reading
the post I did then
, I can't help wondering whether that was the moment that the (now) WoS prime movers started to wonder whether they should perhaps start to pursue a policy of recruiting youth over experience, whether bringing on a new generation of female muscle was going to be a lot easier than keeping the old guard happy! Either way, when the season dawned this year, it was women like Noelle and
Kristina Mendoza
who were at the booth at the pro shows, not the outraged from the previous summer.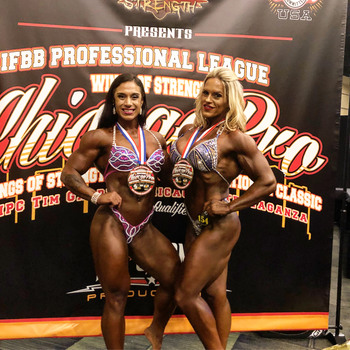 Just saying. If there was a change in policy, it's working.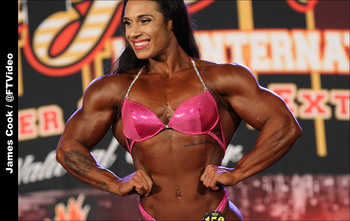 Noelle's "expo bestie" similarly brought her best, biggest and most ball-draining package to date
[please tell me you didn't just say THAT! - ed.]
, and was duly rewarded with her best ever placing - runner-up in the Heavyweight class.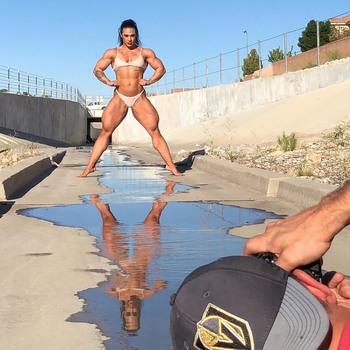 Previews of pre-contest photo shoots with Sean Nelson of HerBiceps had been suggesting it was going to be hard for fans in the audience to keep it in their trousers
[is this going to be a thing, this... new, shall we say "spicier" style? I'm not saying I'm against it - ed.]
, and that was exactly how it was - I imagine, I haven't heard a peep to the contrary, but haven't exactly had it confirmed either. What I will say is this, legendary lensman and Mr.
Annie Rivieccio
James Cook couldn't keep his legendary lens off Kristina. I've counted and he took more photos of her than of any woman on stage. So, James liked what he saw, and I like what James saw...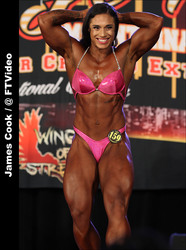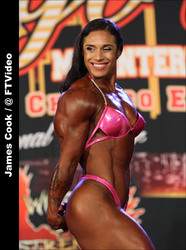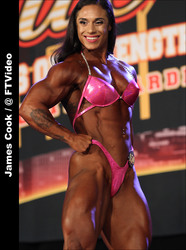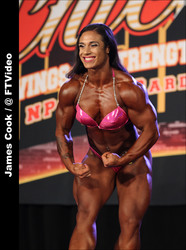 Her lush, powerful body is such a turn on,
says James...
Just kidding!
It's a forum comment re Kristina, potentially by one of the members of the audience in Chicago who faced a fight or flight (to the gents' for some relief) when Kristina was on stage.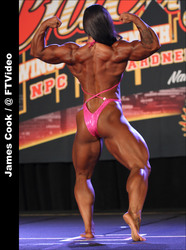 Those legs!
And to think, there are some men in the world who would claim to
not
find a body like Kristina's attractive! Surely one of Wings of Strength's biggest assets, amateur or pro.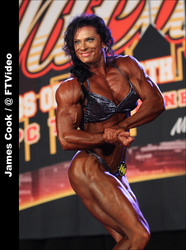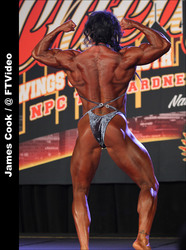 It was always going to take a special body to beat Kristina in this shape, and that turned out to be the relatively unheralded (and considerably more mature)
Tina Williams
.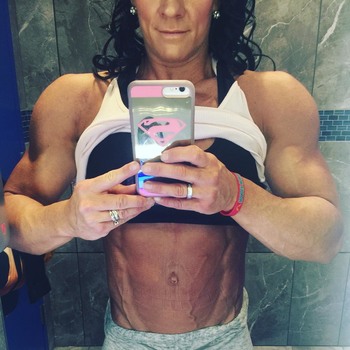 Tina was, if you noticed her at all, last seen just about making the top 3 in her Physique class at the NPC Masters Nationals in 2016, and only committed to moving up to FBBing last autumn. She did, however, have coach
Melody Spetko
to help her...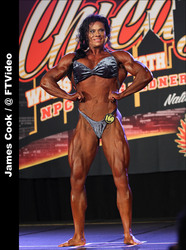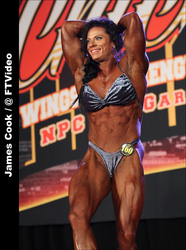 At the NPC Muscle Mayhem at the start of June she won a one-woman FBB class and also picked up the "Kim Chizevsky Extreme Conditioning Award".
[This award is] special to me,
she said afterwards.
Conditioning is the hardest thing for women, but the plan my coach put into place focused on just that.
And so Tina came into Chicago not only motivated but also battle-hardened. Coach Melody's plan to get Tina's conditioning in well before the Ms Wings then maintain size worked like a dream.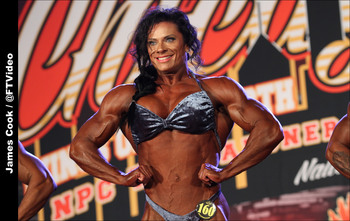 All the class winners got pro cards. Tina was back on stage the following day.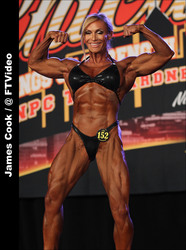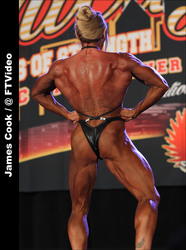 A more familiar body and face with a less familiar name would take the Overall title, however. When I saw the list of entrants I wondered who Middlewieight
Susanna Jacobs
was. When I saw the first pictures - despite some less than subtle facial work - I remembered she had "famously" got married at the Olympia a few years back. This was
Susanna
(bet you can't keep your)
Hand
(s above the table), competing under her married name for the very first time. Same effect though, they're still down there!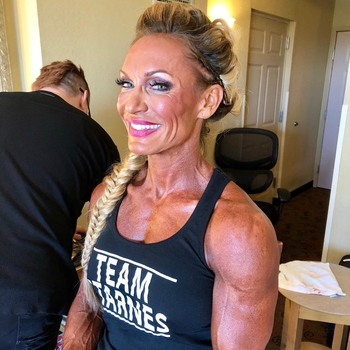 OVERALL champ and new IFBB pro!!! What an incredible weekend!
gushed Mrs Jacobs after day one of two.
I gotta do this whole pro debut thing tomorrow...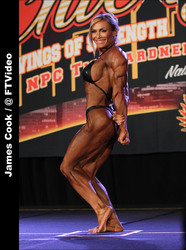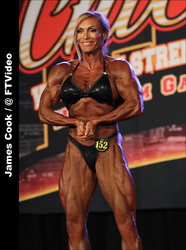 Having produced an amateur show that brought pleasure to (at the very least) me and James, the Wings of Strength team would, like Susanna and Tina, be back the next day with some fully paid-up members of "the big girls' club" - the pros. And, as promised, we'll be seeing how that event was just as much of a triumph later in the week.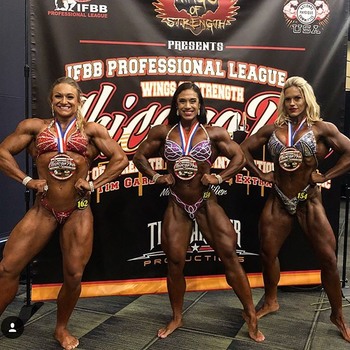 While short on the international flavour that was its stated aim at its outset, this year's Ms Wings definitely raised its own bar. Unlike last year's predictable coronation of
Elena Oana Hreapca
, this was a genuine contest, and the Heavyweight line-up was at least as good as any we have seen at the NPC Nationals for some years. Among that line-up were two of the sport's most wanted, one of them poached from the WPD. If you were not impressed, you are a harder man to please than I. Or James.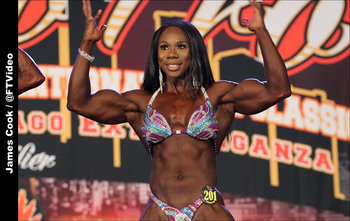 Check out all of James Cook's work from the first day in Chicago at
Gene X magazine
. We have only scratched the surface of the Ms Wings line-up here today, and, lest we forget, some rather exciting pro Physique and Figure ladies were on show as well.
Enjoy!