KA-BOAM!
Train Past The Pain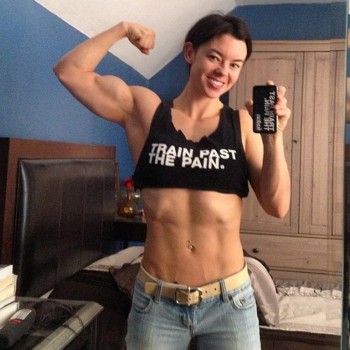 Fitness pro, "professional dork" (her words, not mine) and total dreamgirl (my words, not hers), Jodi Boam will (if all goes to plan) return to the stage in 2014, determined that her one and only Olympia appearance (2012) won't be her last. Follow her ever-impressive progress on her website, her Instagram or her Facebook page.
Don't Wish For It Work For It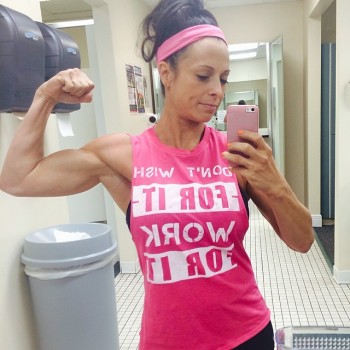 I think it is fair to say, on the evidence before us, that this (almost inconceivably) unknown vision of muscular beauty has been working for it. Hard. And for some considerable time. Hard work has, as they say, its rewards. In this case one split, lean, rock hard and oh so very very sexy bicep - the other one's probably not too shabby either. And whoever she is, she looks to be (quite rightly) rather proud of what all her hard work has achieved. Calling all ID specialists. We need to know!
Don't Just Win Dominate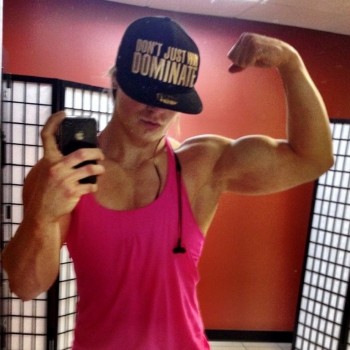 OK OK, I know this is not a T-shirt, and nor is it a vest, but Shayla "The Specimen" Turcotte's cap is surely available as a T/vest, it's just we can't find a picture of it! And anyway, look at her. Look at that arm, that shoulder, that pout! Still want to pick hairs? No, didn't think so. Shayla will be competing in Physique at the Canadian Nationals in July. You probably want to follow her progress on her Instagram (where she posts plenty of bare back selfies - just thought I'd throw that in there in case you were wavering). I've never really wanted to be on the receiving end of some female muscle domination, but Shayla might be able to change my mind...
Enjoy!