Well, anyone who was at the NABBA England last weekend will agree that we saw two of the best British female physiques ever to come out of this great country of ours, Lisa Cross and Jeannie Ellam. It was a nail-biting competition, with Lisa's amazing genetic proportions and symmetry against the rock-hard, ultra-conditioned Jeannie, who had dieted for 21 weeks for this show, and looked incredible. In terms of muscle mass it was close, but Jeannie's glutes, hams, and calves were tighter and drier than Lisa's, as was her lower back, which was shredded! Ultimately Jeannie won the day, but there was only a point in it. What was nice to see was the mutual respect they had for each other on stage, true sportswomen of the future.
MuscleTalk forum, 21/10/09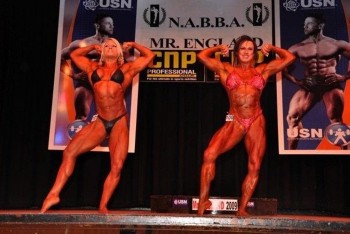 There's not many British female bodybuilders who have stood on stage next to
Lisa Cross
and come out the victor, but
Jeannie Ellam
is one. At the time of the 2009 NABBA England, it was Jeannie who had the greater contest experience, and, since her 2002 debut, had picked up a number of wins at local and regional UKBFF shows.
Later that year, at the NABBA Universe, Lisa was to finish runner-up again, this time to Brazil's
Larissa Cunha
, while Jeannie failed to place in the top 6. Now we all know what happened next for Lisa, but what about Jeannie? What did
she
do next?
Well before we answer that question, how about seeing what all the fuss was about? Here's Jeannie's routine from the UKBFF Leeds qualifier in 2008, just about a year before her "Clash of the Titans" with Lisa. Just listen to that crowd...
After leaving school Jeannie was in the RAF for seven years before qualifying as an aerobics instructor. Then, in 2002, she and her partner took over the Fitness Connection Gym in Dewsbury, West Yorkshire (and they run the gym - a stable that has produced many a male and female champion - to this day). After winning her first show in 2002 in the Trained Figure category, Jeannie says "I realised that heels weren't for me" and she turned to what was known as the Physique category, ie. Bodybuilding.
In 2004, just nine months after the birth of her first child - "I was training right up to the due date," she says - she competed and took 3rd place in a local contest. And from then on, her star just kept on rising. In 2006, 2008 and 2009 she won a trio of UKBFF North-East titles and was 3rd at the British finals in two of those years.
During this period though, Jeannie was becoming slightly miffed at the way female bodybuilding was being sidelined by the UK muscle media, writing to
BEEF!
magazine in 2007 to complain that the only reference they had made to the British championships that year had been a report on the Men's Bodybuilding category, while the women had been ignored. Two years later, increasingly frustrated at how the UKBFF were treating their female bodybuilders, she had switched over to NABBA.
Here she is in her last UKBFF show. Again, just listen to that crowd...
So, what
did
happen to Jeannie after 2009?
Another baby. And that meant a break from competition. She had plans, at the time, to return to the stage by 2012, but by then changes had happened within NABBA, and the Bodybuilding (known in NABBA as "Physique") category had all but disappeared.
So we next find Jeannie at the NABBA England in 2015, finishing runner-up to
Jody Shuttleworth
in the Trained Figure class, and qualifying for the NABBA Universe once again. A very different posing routine, and a very different look.
A bottom like that, and she didn't even place. At least she didn't have to wear heels!
But there is, thankfully, happier news. They say you can't keep a good woman down, and this year Jeannie has risen again to prove just that. So far she has avoided both the UKBFF and NABBA, and has enjoyed her most consistent success as a result.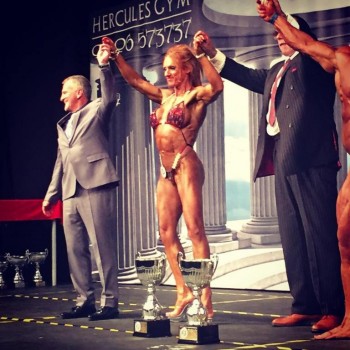 Instead, Jeannie has been competing in WABBA shows, and victory at the Hercules Olympia (above, in heels, you will note, and to me she looks as though she's looking forward to getting them off) was followed by victory at the WABBA British Grand Prix.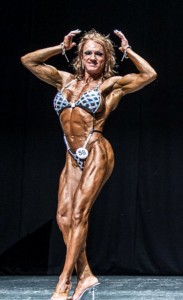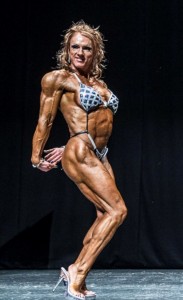 In WABBA, Jeannie reckons, she has found her new home.
If you want to be judged fairly on your body and nothing else,
she says,
then WABBA is the way forward.
And after the British Grand Prix, she travelled to Verona, Italy for the Worlds, and came home the World Champion. She's 47. It's only taken the best part of 15 years!
One of the first to congratulate her on
her (barely active) Facebook page
was none other than
Lisa Cross
, acknowledging the woman who she says "has helped and supported me since the start of my career". But it was another of Jeannie's Facebook friends who perhaps best summed up the it's-about-time mood of collective rejoicing within the UK Bodybuilding scene.
Finally Jeannie - judges with sense! So glad you've got the recognition you deserve for all your years of hard work.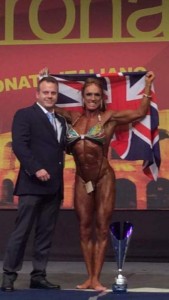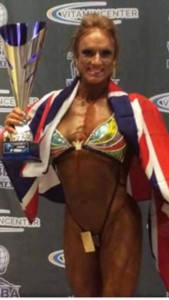 It's the years of hard work that she's put into not only her own physique, but that of the many men and women she has trained so successfully during her career. They've been years of hard work that she's put in while simultaneously raising her children and running her business, and they've been years during which she has had not one, but two federations let her and so many of her British sisters of iron down.
So, is she done now?
HELL NO!
Next stop, the WABBA Universe...