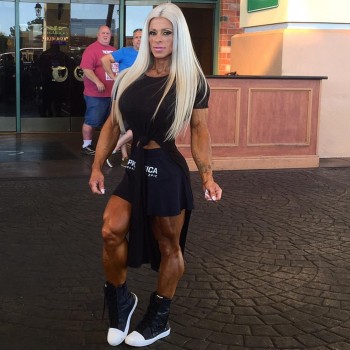 Guy on the left: "Told you they'd be bigger than you think."
The Olympia may have lost a few female muscle fans since 2014, but there's still the cream of the Women's Physique Division to enjoy (even if you are still shedding the occasional tear for Anne the Bodybuilder), and for many of those lucky enough to attend - such as our somewhat awestruck friends above - I dare say that the problem was not so much where to find the muscle as how to hide the tentpole.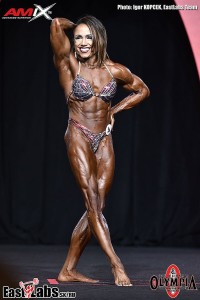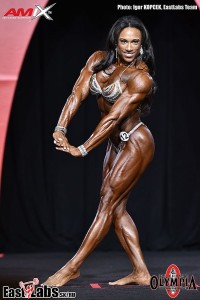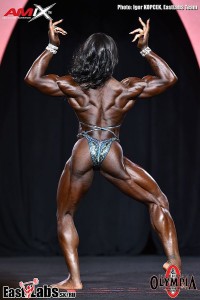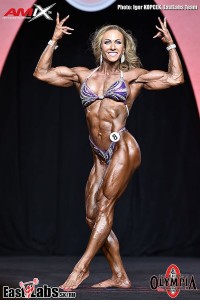 Covering, as it does, the considerable gap between the outer limits of Figure and the cusp of Heavyweight Bodybuilding, the WPD at the 2016 Olympia saw many of FMS' personal and reader favourites doing battle in Las Vegas before, for the third consecutive year,
Juliana Malacarne
was crowned Ms Physique Olympia again.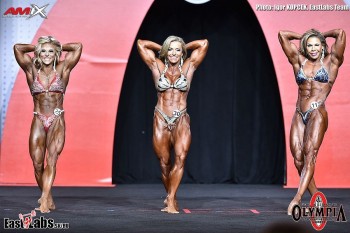 This year it was Dani who finished runner-up, and she felt "on top of the world" to do so.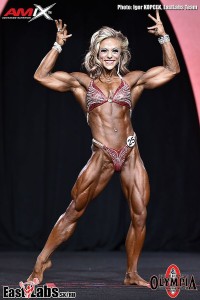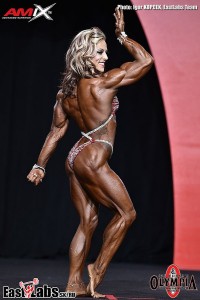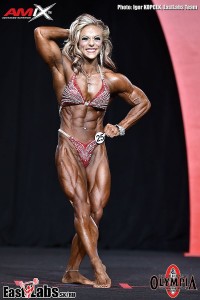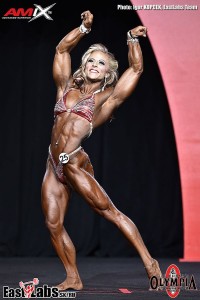 People keep asking me if I'm OK with the placing, thinking the answer is "No",
she wrote some days later.
Don't get me wrong I am dreaming of that number one spot, but for one reason or another I'm not ready for the title and I'm cool with that.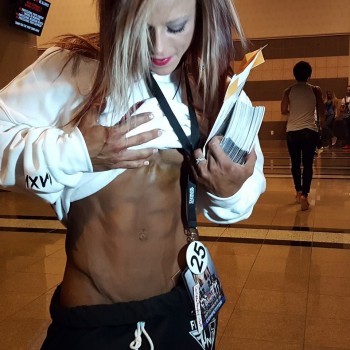 And it's good to know Dani is cool wandering around the "convention center" allowing fans to check out her abs and in the process revealing she's cool with wandering around commando. See what I mean? Muscle easy to find, tentpoles hard to hide.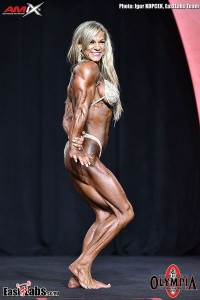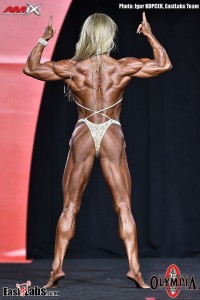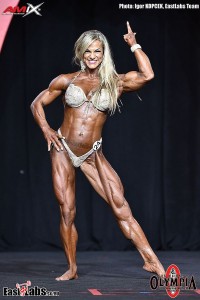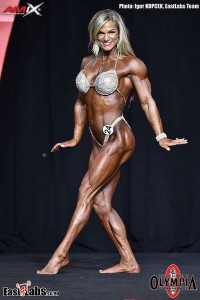 Jamie Pinder
joined Dani in the top 5, rounding off her comeback year in fine style and a beautiful posing suit.
I couldn't be more honored and proud to be fifth in the world!
she said, clearly as delighted as Dani.
The stage is my happy place.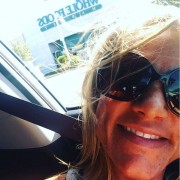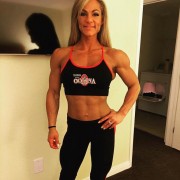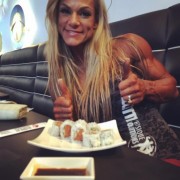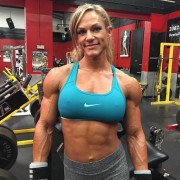 She must
really
enjoy the stage because it seems to me that whatever she's doing - stocking up before leaving for Las Vegas, modelling her new Olympia gear, having that first post-show meal, or even going "back to the grind" after the Olympia - Jamie looks pretty damn happy. And I'm not always a fan of them but I have to say I'm in a pretty happy place admiring Jamie v.2016's enhancements. How's
your
tentpole?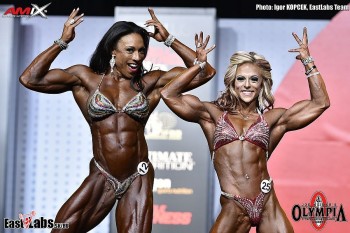 There were all sorts of swings and roundabouts in the placings...
UP
Sheronica Henton
(2015, unplaced; 2016, 6th)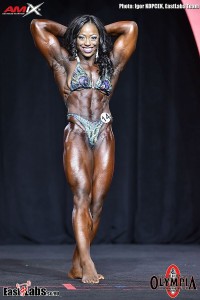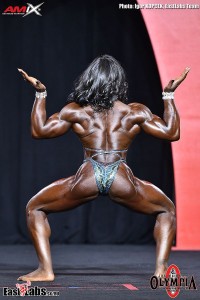 This weekend has really opened my eyes to what I am capable of achieving,
says Sheronica.
Such an amazing experience, I am so happy with what I accomplished.
And so she should be I reckon. I mean just look at those
ARMS!
DOWN
Erica Blockman
(2015, 8th; 2016, unplaced)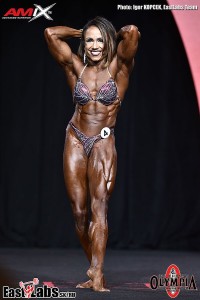 But
still
the World's Sexiest Fire Fighter by some distance.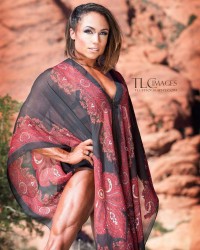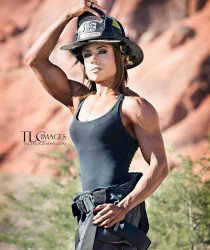 UP
Heather Grace
(2015, 11th; 2016, 3rd)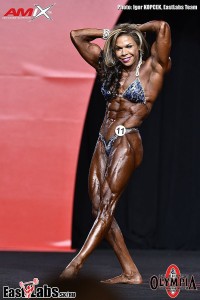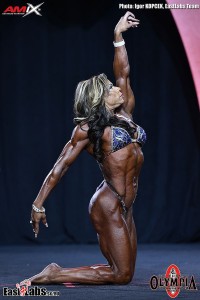 Having won in Colorado and been runner-up to Penpraghai in Arizona,
Heather Grace
brought momentum to the Olympia, and ended up as the least predicted name in the top 6. Even Heather herself was somewhat taken aback.
I can't even explain the rush of being called into that
[first]
group,
she told
her Instagram
followers after the pre-judging dust had settled.
It was an incredible experience.
'BOUT THE SAME... BUT NOT
Autumn Swansen
(2015, 5th; 2016, 8th)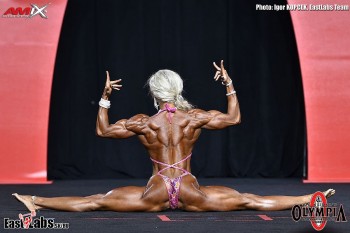 Kira Neuman
(2015, 2nd; 2016, 4th)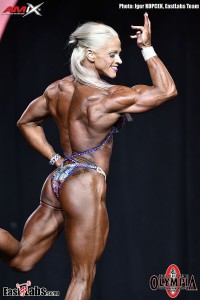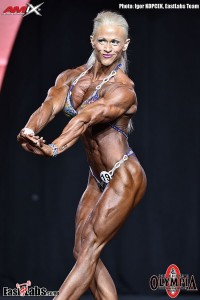 Nothing wrong with 8th, but having cracked the top 6 at her first attempt last year and then gone on to take the Ms Physique International in March, this female muscle fan was (surely) not alone in thinking Autumn's lean and flexy style would do even better here. Not so. Meanwhile Kira, so so good and runner-up in 2015, had a shocker at the International, and consequently was "elated" with 4th this time around.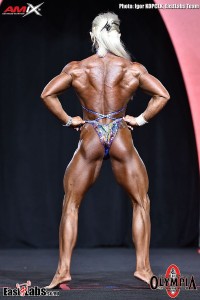 Maybe it's a mojo thing! Kira just got her groove back, as it were.
When I step on that stage I have one thing in mind
- she wrote afterwards with a winky emoji -
show 'em what I'm workin' with! You know!
Note that is
not
a question.
FAVES OLD & NEW
As always at the Olympia, I enjoyed some my long-time favourites in action - all beautifully captured by legendary lensman Igor Kopcek for Eastlabs, by no means the only but for my money by far
the best Olympia gallery
once again - but there were some new faces and bodies that have got my tentpole/mojo rising as well.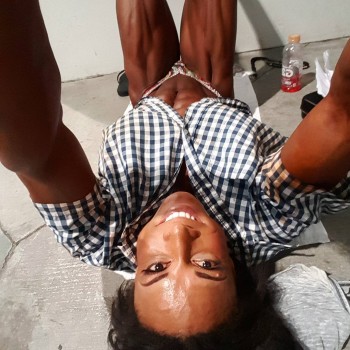 In the former category there was my Asha, in her own words "living the dream" at her debut Olympia (I know, it was a surprise to me that she'd never competed here before too) and bringing all her Amazonian majesty to the stage for 9th place.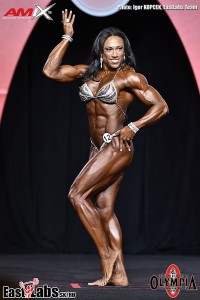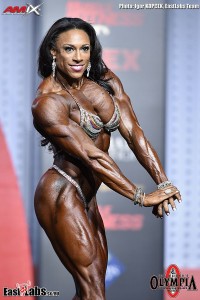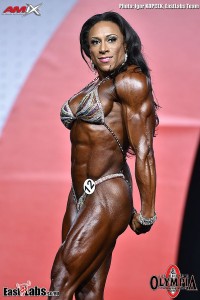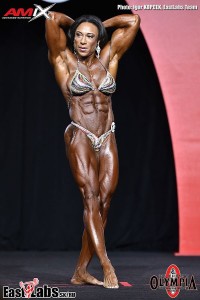 And this time last year
we were introducing the Gloriaous Gloria Faulls to FMS readers
, since when we've been hearting every little thing she does, not least
the victory at the Tampa Pro
that qualified her for an Olympia return. She finished slightly down on her 2015 showing - 11th compared to 7th - and in typical Gloria style, celebrated by posting a picture of herself in "beast tank" rather than a stage shot.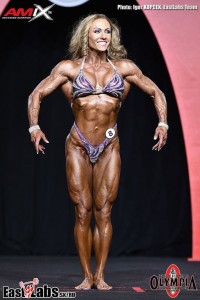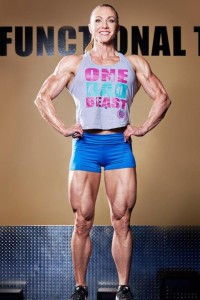 Very different sides of Gloria, but there's no hiding those incredible legs.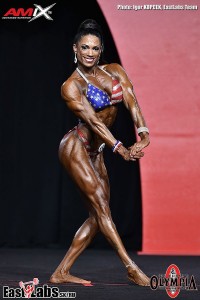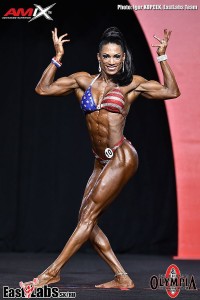 Faces and bodies not previously seen on FMS that made us stop what we were doing for a while included the star spangled
Jessica Gaines
(who the aforementioned Mr Kopcek took a
LOT
of pics of, just saying, I don't blame him!) and San Antonio Pro champion
Stacey Norris
, who we felt was particularly unlucky not to place.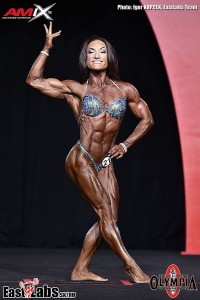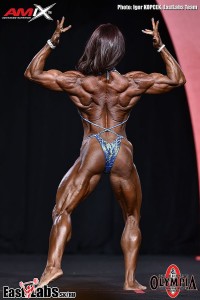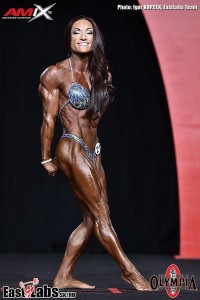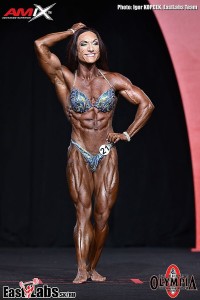 Branka brought the muscle from Croatia,
Antoinette Downie
from Barbados.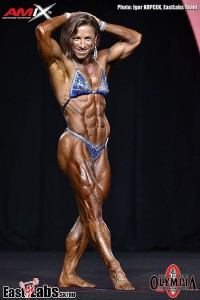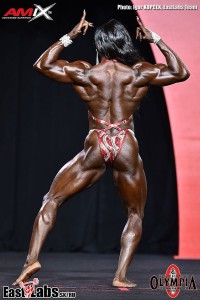 Candrea Judd-Adams
was all smouldering powerful sexuality.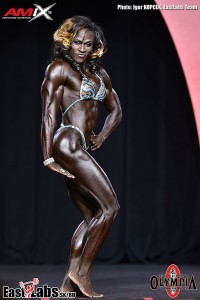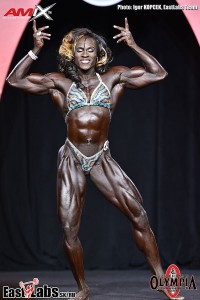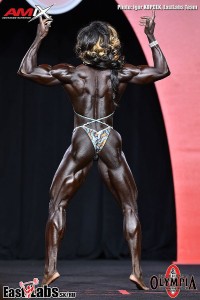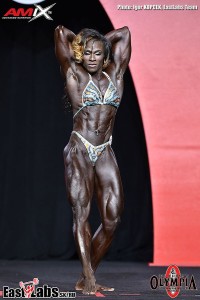 And I could go on and on and on. I really could.
Frances Mendez
,
Rosela Joseph
,
Michaela Aycock
,
Vicki Diaz
... I'm beginning to wonder if I shouldn't have spread this post out over a
month
or something.
Anne Freitas
, what a strange and beautiful-looking creature she is now, no wonder our friends up there look so aghast. And
Susan Smith
! I haven't mentioned the gorgeous
Susan Smith
yet!!!
Click on the names above for a peek, and I urge you to explore all of
Eastlabs' mighty Olympia gallery
at your leisure - you'll need at least a day for it. And fluids.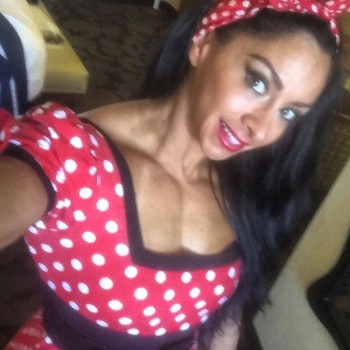 But before we go today, we should remember that British history was made on that Physique Olympia stage, It was, as I'm sure you know, made by
Rosanna Harte
.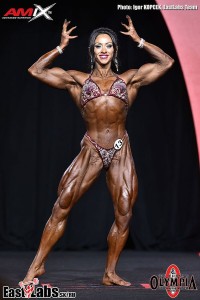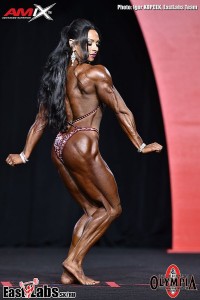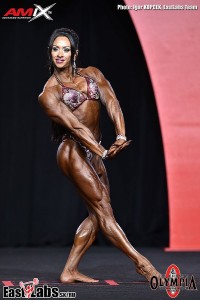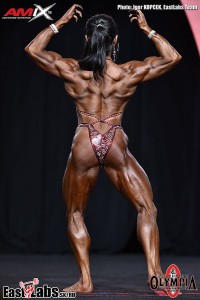 Her placing (a very creditable 12th) is kind of irrelevant. She's looked better I think - winning in Dallas earlier in the year for example - but much more important is the fact that she was there at all (and in case you're wondering what the women who, like Rosie, didn't make the top 10 did as soon as they found out, the answer can be found on
the Rascal's IG
). Yes, for the first time there was a British Physique competitor nibbling at the goodies, proving to all our wonderful WPD beauties that it can be done, that they really can make the Olympia. Rosie's gone done it, and she's planning to come back.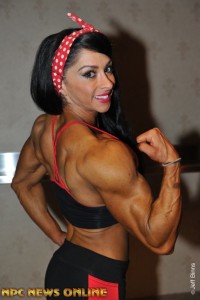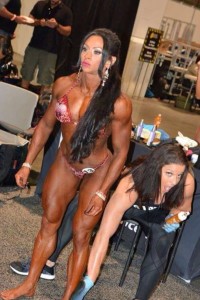 Still not as sharp as the top placing girls, or they had more muscle density and maturity so appeared leaner, probably a little of both,
was Rosie's conclusion after she had cast her expert eye over both herself and her competition.
That's my homework for the year,
she added. Can't wait to see her once that homework's done.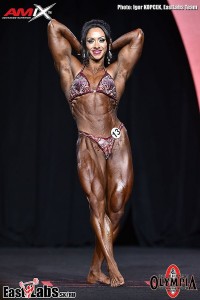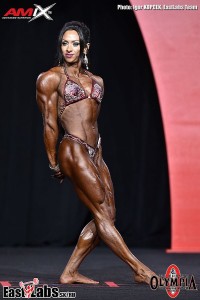 And we leave you, fittingly I think, with the Queen of Physique, unbeaten in the last three years and six contests. The woman who Rosie, Dani
et al
are gunning for...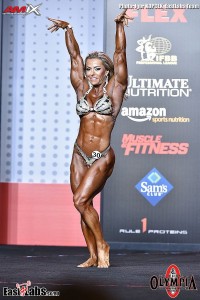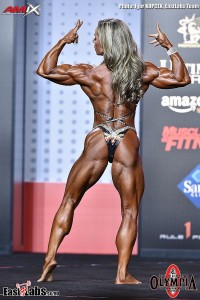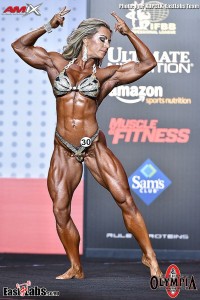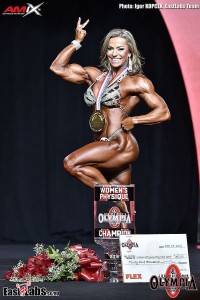 Enjoy!