(see also
Monday's post - As Nature Intended
)
AS NATURE INTENDED?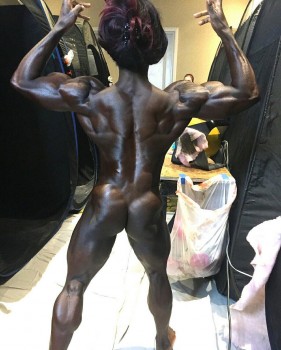 IFBB Physique pro
Rosela Joseph
, naked, and, in her own words, "shredded" just before (I believe) she competed, and finished 3rd, at the recent Tampa Pro.
Someone, whoever is the owner of the head we can just about see over Rosela's juicy right shoulder, is getting - perhaps - an even better view, but nevertheless, she is quite simply magnificent. Her dark, shimmering skin covers a body honed - sculpted - to its absolute peak. It's as though she is carved from stone. She is perfection.
And very far from a
natural
female body!
The most unnaturally built bodies on Earth will be strutting their collective stuff next weekend in Scotsdale, Arizona. Starting tomorrow, we present our own humble contribution to the mounting global excitement,
The FMS RP2016 Preview
.