SIMONE OLIVEIRA
Winner, 2014 Toronto Pro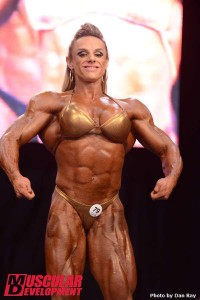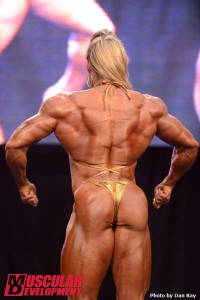 I wasn't (more's the pity) there or anything, and I don't have the eye-witness testimony of anyone who was, either, but I can't help thinking that when
Simone Oliviera
stepped - or perhaps "thundered" would be a better word - onto the stage for prejudging at the Toronto Pro three years ago, there were more than a few gasps. I imagine she might well have persuaded a few gentlemen who had perhaps come to the show for the other female divisions to make damn sure they weren't going to miss her routine that evening, and most of all I imagine more than a few female muscle heads who were there specifically to see the Female Bodybuilding line-up having to remain seated until the auditorium was almost empty before they scuttled back to their accommodation for a change of underwear before the evening show commenced.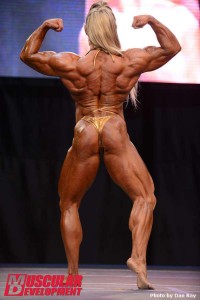 You wouldn't necessarily have expected Simone to cause such a stir. In a line-up that included
Lisa Giesbrecht
, who had won in Toronto in 2012; the massive international presence of
Christine Envall
and
Virginia Sanchez
; and exciting new pros
Margie Martin
and
Alana Shipp
, Simone wouldn't have been among the favourites if judged on past form, which suggested she wouldn't have the class, even if she did have the size, to win her first IFBB pro title at her very first attempt.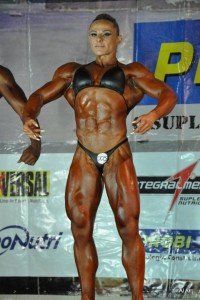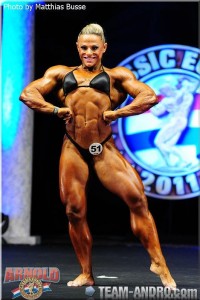 Simone's previous best: Brazilian champion (left) and 5th at the Arnold Classic Europe in 2011
She'd first come to the attention of fans back in 2011 when she'd won the Brazilian title and then gone on to finish 5th at the Arnold Classic Europe. The following year, however, she'd been bigger, but not better. Her conditioning was poor, and she'd finished way down in 10th. So it had been nearly two years since she'd competed, but on the other hand she was now being coached by
Anne Freitas
' (now) husband, and Anne had just won in Omaha, breaking the glass ceiling for Brazilian FBBs in the US...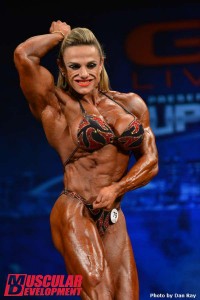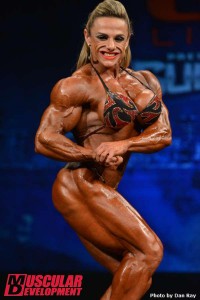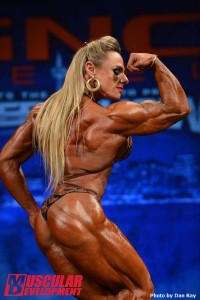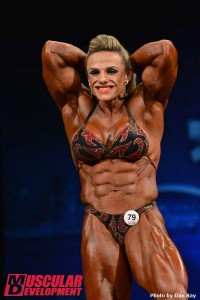 The scorecard reveals judging in the first round was close, with the super-shredded (but considerably smaller)
Alana Shipp
just one point behind Simone at the halfway stage. Simone was a unanimous winner in the second round though, leaving her with half as many points as her closest rival (that's good in case you didn't know). She had delivered a routine for the ages. One
we've featured before here on FMS
.
One of the best posing videos I've seen (and I've seen plenty),
reckons the reader who requested we feature Simone's performance on the blog.
Anyone who thinks that female bodybuilders aren't sexual needs to take a long, hard look at Simone on stage.
I doubt you, dear reader, fall into the "thinks-FBBs-aren't-sexual" category, but I'm sure you were up for the long, hard look. Personally, I've watched Simone's performance here over and over again, and I have to say that the question that keeps popping into my head is: "How on earth does that posing suit stay on?!"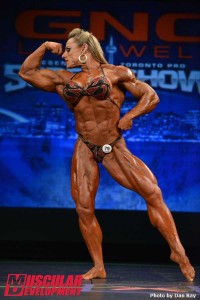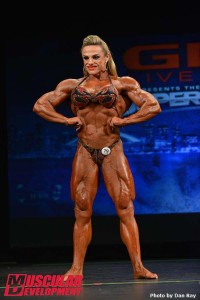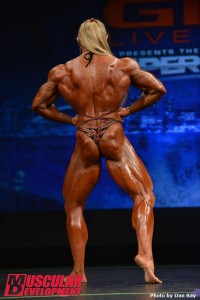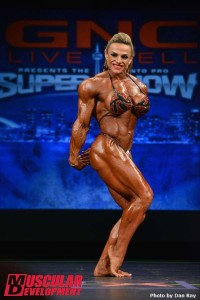 Simone went - with Anne - to the last ever Ms Olympia. She finished down in 13th, her conditioning (and posing suits) no match for the package she had brought to Toronto, and no match for the best of the best. She is rumoured to have stopped competing for health reasons, she is rumoured to have stopped competing at the request of her new husband. The truth may be that both (or neither) of these explanations are correct, but what we do know is that she has dropped off our collective radar completely.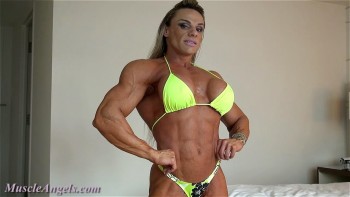 She shone all too briefly, and not always very brightly. But in Toronto on the weekend of 31st May-1st June 2014,
Simone Oliveira
shone brighter than the majority of FBBs ever have or ever will.
Inesquecível!
as they (probably) say in São Paulo.