SKADI FREI-SEIFERT
Runner-up, 2011 FIBO Power Pro Championships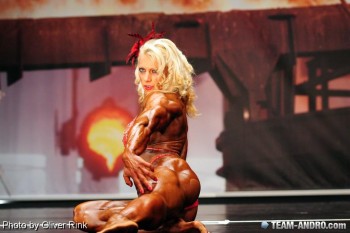 Once upon a time, the best female bodybuilders in Europe could strut their stuff in a pro show on a European stage. Six years and one month ago, ten of them - including a returning-from-career-threatening-injury
Helle Nielsen
, Italians
Giusy Caputo
and
Claudia Partenza
, big beasts
Daniela Sell
and
Roberta Tuor Zazzaron
, and Greek beauty
Elena Kavva
(plus
Cathy Lefrançois
, whose name is kind of European anyway) went glute to glute at FIBO Power. Just six years ago.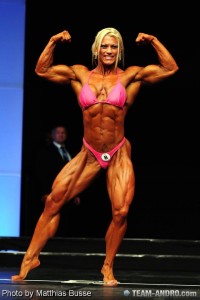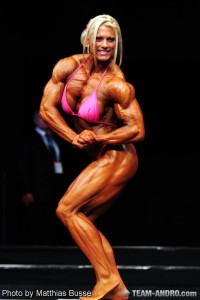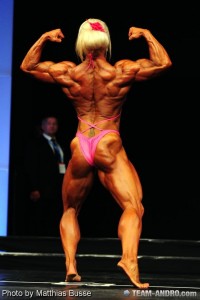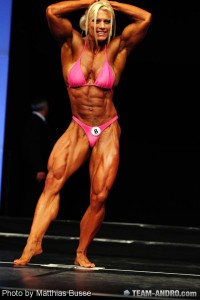 It was a triumphant return for Helle, but she has gone on to bigger and better things (and a name change). However, for
Skadi Frei-Seifert
, ex-basketball player, Sports Science graduate, former manager of the Swiss national cycling team, mother, PE teacher, and namesake of a Norse goddess, this was by far her finest hour.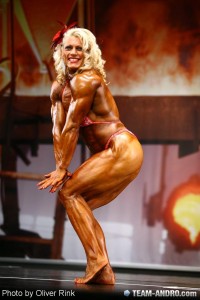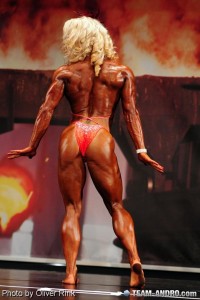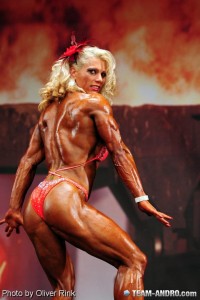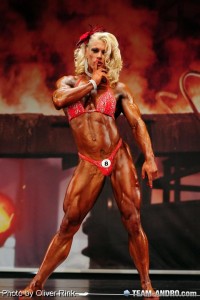 Pretty beefy in pink for the prejudging, Skadi seemed to have had several more applications of Pro Tan before the night show, where she was absolutely spell-binding with a flower in her hair, showcasing her her beautiful body with a routine that lives long in the memory - for me, one of the best of the decade. Let's remind ourselves...
An edit (albeit a skillful one from friend-of-the-blog
jlelmariachi
), and obviously not the original music, but you get the idea. Reminiscent of the down-and-dirty posing routines of the late '80s and early '90s, before the IFBB (in their infinite wisdom) told the ladies off and ordered them to downplay the sexy. Skadi's not for that though, her finger to her lips, those legs-across-the-body moves on the floor (I'm so jealous of a judge's POV sometimes), gyrating hips, the steamy looks over the shoulder...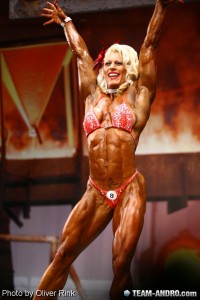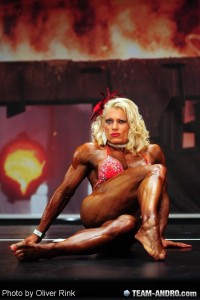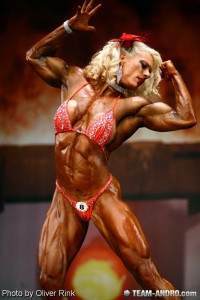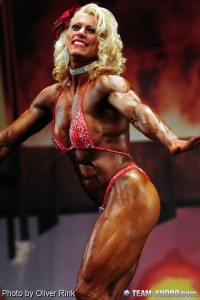 She'd started out in Bodyfitness seven or eight years before this, graduating to Female Bodybuilding around 2007. By 2010 she was a German champion and competing in pro shows in the US, her best result a top 6 finish (in a field of 19) at the Europa Battle of Champions in Hartford. Her runner-up spot at this show qualified her for her one and only Olympia appearance. She briefly returned as
a Physique competitor in 2013
, reviving the same routine as she had performed here, the same gorgeous, sexy woman, but wearing a lot less muscle (and Pro Tan). Something of a forgotten woman, I would say, she's now
Skadi Töpken
, but she's still the same damn fine-looking woman.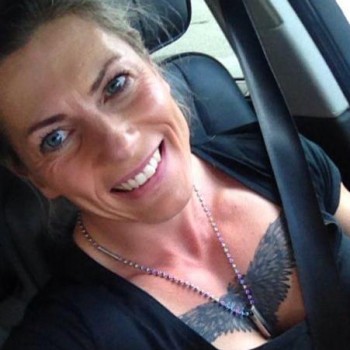 Tomorrow,
Rene Marven
. Can you guess which contest?
Enjoy!