For once a "Pic of the Week" that was actually taken and posted this week - last Wednesday to be exact - when WBFF Bikini Pro
Muna Breitem
wished
her Instagram
followers (all 13,800 of them) a good night with this selfie
meisterwerk
.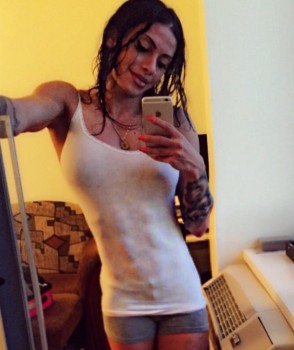 My abs don't show through my shirt like that!
complained one of those followers.
Indeed. And that's why Muna is our selection for Abs Week (and, for example, said follower isn't). She looks like she's fresh out of the shower too, which doesn't hurt!
Muna has
her own website
and
YouTube channel
, and there's also
a Facebook fan page
.
Abs like these in the WBFF Pro
Bikini
division? I am
impressed
.
Enjoy!